Vapers Digest 12th June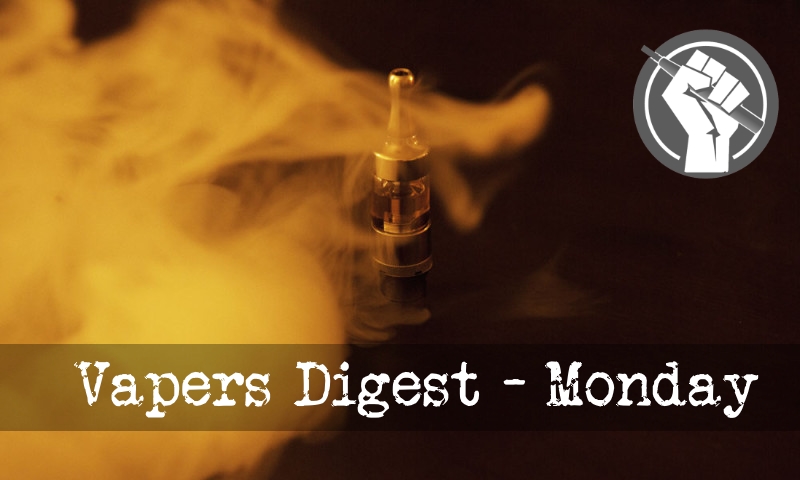 Monday's News at a glance:
Legislators Relying on Misinformation – Vaping More Effective Than Conventional Smoking Cessation Therapies – Finland's Nicotine Pouch Dilemma – 'No significant numbers' in Galway hospitals linked to vaping – ATR Commends Formation of New Tobacco Harm Reduction Caucus – Biden's FDA clears path for Chinese products – Tobacco Control Tactics and the Need for Enemies – Experts mull harm reduction strategy – Nicotine Science and Policy Daily Digest
Dave Cross, Planet of the Vapes
Consumers have responded to the European Union's SANT Committee Hearing that believes policy makers need to focus on harm due to cigarettes. These decision-makers are formulating policy on the back of "misinformation" and "innate prejudice towards harm reduction", according to the World Vapers' Alliance. The Alliance has also taken aim at The World Health Organization (WHO)'s director-general Tedros Adhanom Ghebreyesus as he denounced vaping and denied it works to reduce harm.

The SANT (Subcommittee on Public Health) held a hearing on "Preventing non-communicable diseases" to focus on possible solutions, on 1 June.
Than Conventional Smoking Cessation Therapies
Vaping using nicotine e-cigarettes is more effective for smoking cessation than conventional nicotine replacement behavioral smoking cessation therapies, according to findings published in The American Journal of Medicine.

Investigators conducted a systematic review and meta-analysis to determine how the safety and efficacy of vaping, with both nicotine and non-nicotine e-cigarettes, compared with that of conventional strategies for smoking cessation. A primary outcome was how nicotine e-cigarettes compared with non-e-cigarette smoking cessation therapies with respect to continuous abstinence from conventional cigarettes at 12 months; continuous abstinence at 6 months; point prevalence abstinence at 12 months; and point prevalence abstinence at 6 months.
---

---
Tobacco Harm Reduction or Abolition
The recent development on rules for nicotine pouches in the Finnish market has turned into a somewhat confusing and uncertain situation. While previously having one of the strictest abolishment strategies and even banning private imports under sanctions of large fines and even imprisonment, the Finnish market is now more or less unregulated while waiting for new rules to be put in place. This article explores the factors that triggered this sudden shift and provides insights into the anticipated future developments.

Previously, Finland banned the sale of nicotine pouches with a nicotine content exceeding 4mg without a doctor's prescription. This means that they were regulated by Fimea which is the national authority in Finland operating under the Finnish Ministry of Social Affairs and Health responsible for regulating and overseeing the safety, efficacy, and quality of medicines and medical devices.
---
Desde ANESVAP defendemos la protección al menor. El vapeo es para fumadores adultos exclusivamente. No podemos permitir esta desinformación que busca criminalizar el vapeo. El tabaco por cumbustión es la puerta de entrada al tabaquismo. #STOPBuloshttps://t.co/sUz2hxmmZ5

— ANESVAP (@anesvap) June 12, 2023
---
In Galway hospitals linked to vaping
A meeting of Regional Health Forum West was told that despite anecdotal reports of the damage caused by vaping, very few patients had presented to hospitals with health issues as a result of e-cigarette usage.

Chief Executive Officer of the Saolta Health Care Group, Tony Canavan (pictured), made the comments in reply to a question from Leitrim-based councillor Felim Gurn who said he had been told "the damage done over 30 years of smoking" was less than that caused "three years vaping".

Christian Spadini
Members of Congress can help save lives by joining the newly formed Tobacco Harm Reduction Caucus. In the interest of consumers, and to promote public health, Americans for Tax Reform calls on all senators to join the caucus and commends representatives Reschenthaler (R-PA) and Davis (D-NC) for starting the THR caucus.

After creating the group, both representatives sent out a letter urging their colleagues in the house and senate to join the caucus and raise public awareness on tobacco harm reduction.
---

---
Chinese products to flood US tobacco, nicotine market
The Food and Drug Administration (FDA) under President Biden is facing intense scrutiny for what critics have described as ineffective regulation of tobacco and nicotine, allegedly caving to political pressure to ban vapes and e-cigarettes as potential alternatives to traditional smoking while simultaneously allowing Chinese products to flood the U.S. market.

The FDA's Center for Tobacco Products (CTP) is charged with regulating the manufacture, distribution and marketing of tobacco products. However, the CTP has been under fire for its approach to vapes, e-cigarettes and other electronic nicotine delivery systems (ENDS).

And the Need for Enemies – Gerry Stimson
For Nigerian tobacco users
Harm's reduction strategy has been identified as a major tool to stem the dangers inherent in tobacco usage.

A cross-section of experts mooted this idea as part of concerted efforts to mitigate the hazards of harmful smoking in the country.

Drawing examples from Sweden's harm reduction strategy to combat tobacco-related deaths and improve public health, some international health experts urged African policymakers to adopt Sweden's Tobacco harm reduction strategy to combat tobacco-related deaths and improve public health across the continent.
---
A look back at how things have moved on or otherwise…
Dave Cross, POTV
The government's independent review "Making Smoking Obsolete" has been released and was met with comments describing it as containing "bold recommendations". It included contributions form experts including Professors John Newton, Linda Bauld and Robert West, and Louise Ross and Sarah Jakes from the New Nicotine Alliance.

"In 2019, the government set an objective for England to be smokefree by 2030, meaning only 5% of the population would smoke by then. Without achieving this objective, the government will simply not meet its manifesto commitment 'to extend healthy life expectancy by five years by 2035'. It will also prevent the government from fulfilling its ambition to save more lives as part of a new 10-Year Cancer Plan," said Dr Javed Khan OBE.
Dave Cross, POTV
Six days left to go before the world's premier nicotine event starts. The Global Forum on Nicotine, the only conference devoted to tobacco harm reduction, will take place 16 June at the Marriott Hotel in Warsaw, Poland. For those who can't fly, most of the conference presentations will be carried online.

Organisers of The Global Forum on Nicotine (#GFN22) say: "Travelling to Warsaw? Dust off the passport (and just double check it's still in date). Joining us online? Remember to register at the website for access to the live-streamed sessions and the full functionality of the conference platform, including Q+A."
---
Visit Nicotine Science & Policy for more News from around the World

---