Vapers Digest 9th June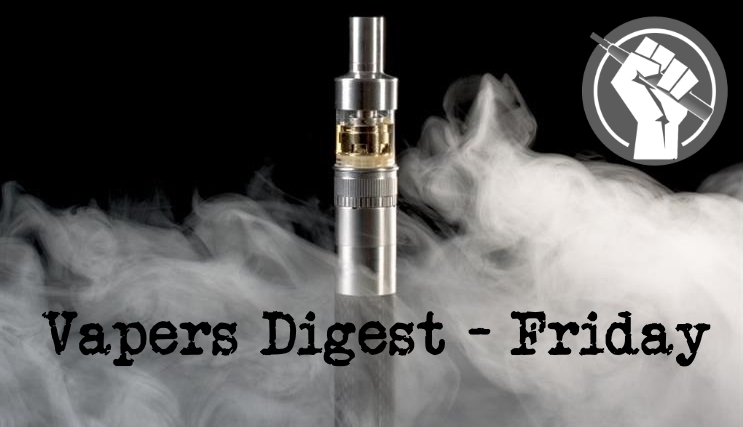 Friday's News at a glance:
Vaping myths: Medical experts answer your questions on vaping – Scientists exploring the impact of passive vaping – What the FDA Can Learn From the UK – "We can rid the world of cigarettes" – RCPCH Calls For Ban – ECigIntelligence Highlights Europe Concerns – Smoke Free Sweden Attacks WHO Failure – Anti-Vaping Activists Want Censorship – Tobacco Harm Reduction and the Teen Epidemic: – World Health Organization has gone rogue – World No Tobacco Day or No Smoke Day – Why Specialty Stores Are the Best Place – Lost Argument | Is Recreational Nicotine the Answer to FDA Quagmire? – A disaster in waiting – Do flavours used in vapes cause more harm – Nicotine Science and Policy Daily Digest
Medical experts answer your questions on vaping
Vaping has become one of the fastest growing trends in recent years. E-cigarettes, vape pens, and vaping are all known as the same thing. Vaping was originally developed as a tool to help people quit smoking.

However, vaping and the act itself, have developed many myths and misconceptions in recent years. Most of these incorrect myths have been driven by the media to produce headlines and contain very little scientific evidence.

This article will dispel some of the most common health myths associated with vaping.
Neil Shaw
Researchers are searching for volunteers to take part in a new study being launched into the potential health effects of passive vaping.

Experts from the universities of Dundee, Abertay, and St Andrews will collaborate on the Vascular Effects of Passive Exposure (Vape) study, which aims to determine what – if any – health impacts vaping in close proximity to others has on their vascular health.
---

---
Martin Cullip
It is becoming increasingly clear that the World Health Organization has lost the plot about health and common sense.

In a move that most people would find puzzling, at the 76th World Health Assembly at the end of May, North Korea was elected to the WHO's executive board. It is difficult to fathom why Kim Jong Un's global pariah has been welcomed with open arms by an executive body that decides approaches to health care and public health policies worldwide.

In his acceptance speech, the North Korean representative promptly used his country's new elevated platform to criticize the United States for having "the worst human rights record" because of its sanctions on Mr. Kim's dictatorial regime.
Dave Dobbins
The U.K. government is leading the way in providing life-changing support for smokers by offering vape starter kits and behavioral support to smokers in England. This groundbreaking initiative is a crucial step towards achieving the government's ambitious target of reducing smoking rates to 5% or less by 2030.

Unfortunately, the U.S. Food and Drug Administration seems to be letting this opportunity pass. While the agency continues to deny authorizations allowing new nicotine products, including many e-vapor products, to be marketed in the U.S., the U.K. has taken a science-based approach to reduce smoking among all age groups.
---
---
But nicotine is another matter
Swedish psychologist and One of the world's leading experts in the fight against smoking Carl Fagerström believes that the goal of living in a world without cigarettes is possible, but not so much without nicotine or without other types of tobacco products such as electronic cigarettes, nicotine patches and gum, or heated tobacco and snus.

,I think we can rid the world of cigarettes, But if we can rid the world of nicotine, that's another matter. Nicotine in the form of tobacco has been a culturally present drug throughout our history and getting rid of it would be like thinking of getting rid of caffeine or alcohol.

Four  from Dave Cross, Planet of the Vapes:
Professor Sir Chris Whitty, the Chief Medical Officer for England has passed further comment about vaping and raises the spectre of an e-liquid flavour ban. In an article distributed on the Gov.UK website, Professor Whitty goes beyond simply saying that that marketing vapes to children is unacceptable and should only have a role in helping smokers quit by speaking about flavours and cannabis.

He prefaces his comments by saying the key points about vaping are that it is safer for smokers, so they should switch, but non-smokers shouldn't use vape products and "marketing vapes to children is utterly unacceptable."
The Royal College of Paediatrics and Child Health has submitted a document containing its proposals for vaping to the Scottish government as part of the call for evidence as part of the SNP administration's public consultation. In it, the Royal College demands action on the advertising and promotion of vaping products – and says the government should stop promoting vaping as a quit smoking tool.

The Royal College of Paediatrics and Child Health (RCPCH) says it "is responsible for training and examining paediatricians. The College has over 19,500 members in the UK and internationally and sets standards for professional and postgraduate education. We work to transform child health through knowledge, research and expertise, to improve the health and wellbeing of infants, children and young people across the world."
While Governments in Europe are currently the most pro tobacco harm reduction supporting ones globally, with the most relaxed vape legislation, ECigIntelligence warns that forthcoming elections risk that position. The statement comes following new research conducted by Tamarind Intelligence.

ECigIntelligence says it is the leading provider of detailed global market and regulatory analysis, legal tracking, and quantitative data for the e-cigarette sector worldwide.
Advocates for tobacco harm reduction at the Smoke Free Sweden initiative have expressed their "deep disappointment and alarm" over comments made about vaping by the World Health Organization (WHO) director general, Dr Tedros Adhanom Ghebreyesus. Dr Tedros dismissed vapes being able to help reduce smoking rates and called their promotion to smokers as dangerous.

Dr Delon Human, the leader of the Smoke Free Sweden initiative said: "Against the background, that harm reduction strategies are fully accepted as part of tobacco control, in the Framework Convention on Tobacco Control, the WHO's dismissal of e-cigarettes as a harm reduction tool is a setback for public health….".
---

---
In Public Health Research
The evidence is unequivocal at this point: vaping is the most effective smoking-cessation tool that's ever been conceived. While that's good news for smokers looking for a viable way to quit cigarettes, it has created an existential dilemma for anti-tobacco activists: if there's no smokers, there's no tobacco use to demonize, tax and regulate.

Since vaping is markedly safer than smoking and helps millions of people quit cigarettes, tobacco prohibitionists have resorted to attacking the vaping industry instead of making a science-based argument against the use of our products. The authors of this just-published study in Tobacco Control unintentionally outlined this disingenuous strategy for the world to see.
Tobacco Harm Reduction and the Teen Epidemic: Health Impacts from Vaping
Despite laws prohibiting all tobacco product use by those under 21 years of age, youth smoking and vaping continue. While teens should neither vape nor smoke, some high school students have chosen to use nicotine products anyway and find ways around the laws. While more needs to be done to prevent this, we shouldn't push those that use vaping products to more dangerous ignited smoking products.

As this paper shows, while vaping has increased among high school seniors, the amount of smoking has plummeted. Because vaping is approximately 95% safer than smoking, the tradeoff of smoking for vaping has sharply reduced total teen risks in recent years.
Dr Jed Rose
This year's World No Tobacco Day rightly highlights the importance helping tobacco farmers transition to sustainable, nutritious crops under the banner, "Grow food, not tobacco." Securing the future for tobacco farmers and the communities in which they live in countries like Malawi is essential. But does the 'tobacco' in World No Tobacco Day also distract from the core objective – saving lives by helping people quit smoking?

A long-standing, well-respected principle in toxicology, dating back to the Renaissance scientist Paracelsus in the 1500s, states "Only the dose makes the poison."

For Vape Enthusiasts? – Christopher Stern
As the popularity of vaping continues to rise, the significance of specialty stores catering to vape enthusiasts cannot be overstated. A great example of this is the presence of devices like the r and m tornado on their shelves. These stores offer a unique and valuable experience for individuals passionate about vaping. They provide a range of benefits that cannot be easily replicated elsewhere. In this article, we will explore why specialty stores are the ultimate destination for vape enthusiasts, using the r and m tornado as a case study to delve into the expertise of their staff, the wide range of products available, the emphasis on quality assurance, sampling opportunities, customization options, community engagement, access to exclusive brands and products, support and troubleshooting services, education and awareness initiatives, and the foundation of lasting relationships.
Is Recreational Nicotine the Answer to FDA Quagmire? | RegWatch
When tobacco control's utopian dream of a nicotine-free society finally fades, what should its replacement be? How about a community brimming with tolerance for recreational nicotine?
According to tobacco control policy expert Clive Bates, the idea is not far-fetched, considering the chaos created by the U.S. Food & Drug Administration's failed attempt to regulate nicotine vaping.

Does Bates believe there's a future for vaping in the United States? Find out!
The Tobacco Products and Electronic Delivery Systems Control Bill:
Johannesburg – Amid much gloating and self-congratulations, the Department of Health finally briefed the Parliamentary Portfolio Committee on Health on the much-awaited Tobacco Products and Electronic Delivery Systems Control Bill.

Coinciding with World No Tobacco Day on 31 May, the briefing was an opportunity for the government to reveal its grand design to tighten tobacco control legislation and unleash its surreptitious agenda on the vaping industry in South Africa.
Unathi Nkanjeni
There is no evidence e-liquids or flavours used in vapes and other e-cigarettes cause more harm than cigarettes, a cardiologist and renowned expert in the field of tobacco harm reduction says.

According to Dr Konstantinos Farsalinos, mounting research suggests the use of flavours in tobacco harm-reduction products has led to a decrease in the number of global tobacco users.

This has resulted in some countries being able to get closer to reaching their commitments to the World Health Organisation's (WHO) framework convention on tobacco control which was developed as a response to the global tobacco epidemic, said Farsalinos.
---
A look back at how things have moved on or otherwise….
James Dunworth, Ashtray Blog
The UK government is publishing a review today that could lead to the smoking age being raised

Originally we understood this was to involve an increase in the age limit to 21. Information released today shows a more radical approach – increasing the age limit by one year, ever year, as has already been done in New Zealand.

Previous reports suggested that vaping would be included in this age limit rise, which we argued against. This now appears to have been dropped – possibly because Savid Javid sees vaping as instrumental in achieving the UK's smoke-free goals.
IBVTA
This week, Dr Javed Khan OBE published his long-awaited independent review into the government's ambition to make England smokefree by 2030. It provides a set of recommendations for the government's approach to reducing the numbers of people taking up smoking and helping smokers to quit.

One of the four headline recommendations in the review is to offer vaping as a substitute for smoking. This should be accompanied by accurate information on the benefits of switching, including to healthcare professionals. Dr Khan goes on to say:

"And as each year goes by, more smokers are wrongly persuaded that vaping is as bad for them as smoking, but the science shows us that vaping is far less harmful."

"The public understanding of the relative harms of vaping has worsened over time and is less accurate today than it was in 2014."
---
Visit Nicotine Science & Policy for more News from around the World

---