Vaping Digest March 22nd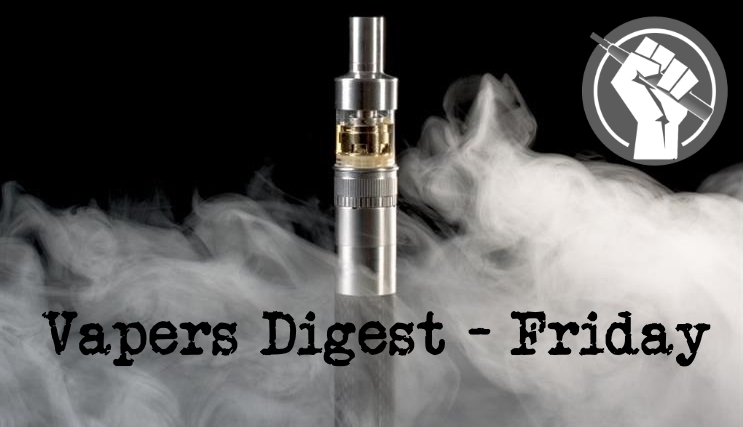 Friday's News at a glance:
Response to Press Release Announcing Proposed Ban on Electronic Cigarettes in San Francisco – Complete Prohibition of All Vape Sales – Is Vaping A Danger To Teens? – 10 Research Priorities – CRUK/ASH Report – Daily Mail's Breasts – FDA In Brief – How Tobacco Harm Reduction can positively affect forest cover – Marlboro maker teams up with Vice – Survey Claims Vaping Has Already Caused Heart Disease – People smoke for the nicotine – Teen Epidemic | Research Is Biased and Flawed – Public Opinion on Vaping? It's Complicated – Workers flock to 'illegal' on-the-job habit – Smokefree will mean vapefree in Wellington – Nicotine Science and Policy Daily Digest
Announcing Proposed Ban on Electronic Cigarettes in San Francisco
Michael Siegel, The Rest of the Story
Here is my point-by-point response to several of the statements made in the press release issued by City Attorney Herrera announcing the introduction of legislation to ban the sale of all electronic cigarettes in the city of San Francisco:

"City Attorney Dennis Herrera and Supervisor Shamann Walton today announced joint steps to curb the epidemic of youth e-cigarette use, which has erased more than a decade's worth of progress in reducing youth tobacco consumption."
Jim McDonald, Vaping 360
After banning the sale of flavored vapor and tobacco products last year, the city of San Francisco will now try to ban sales of all vapes, including online purchases. The city will not ban cigarettes.

"San Francisco has never been afraid to lead, and we're certainly not afraid to do so when the health and lives of our children are at stake," said City Attorney Dennis Herrera. "E-cigarettes have wiped out the hard-fought gains we have made in curbing youth tobacco use. Today we are taking action to protect our kids."
---

---
Five from Dave Cross, Planet of the Vapes
Full data are still to be released months after the Food and Drug Administration (FDA) declared there to be a vaping epidemic among teens. Rather, funded researchers obtain tenuous findings from statistical analysis exercises and garner explosive newspaper headlines. Meanwhile, Michael Perley discusses the issue on Regulator Watch.
"Association of Electronic Cigarette Use With Subsequent Initiation of Tobacco Cigarettes in US Youths" is a Boston-based study featuring the much derided Jessica Barrington-Trimis and Adam Leventhal. It claimed to demonstrate: "Tobacco-naive youths who initiate e-cigarettes may be at greater risk of subsequently initiating cigarette smoking" – in other words, a gateway effect from vaping to smoking.
Liz Saville Roberts on a no-smoking policy for Immigration Removal Centres. Rory Stewart failed to support tobacco harm reduction in his reply. Virendra Sharma wanted to know what reviews are planned looking at HNB products. Gareth Johnson is concerned about getting more smokers to switch to vaping.
Liz Saville Roberts asked the Secretary of State for Justice when the Prison and Probation Service (HMPPS) no-smoking policy will be extended to cover Immigration Removal Centres. The prison service has embraced the potential for vaping to deliver reduced exposure to tobacco-related harm.
---
---
The UK Centre for Tobacco and Alcohol Studies (UKTAS) launched an e-cigarette Priority Setting Partnership survey in January. Interested parties were asked for their opinions in identifying the top 10 unanswered questions for future research. Tobacco harm reduction expert Clive Bates has offered his personal take.

UKTAS said: "Smoking is the leading cause of preventable death. Although not yet available on the NHS, electronic cigarettes are now the most popular aid to smoking cessation, with 37% of smokers using them for quit attempts, and approximately 2.6 million adults currently using them.
Action on Smoking and Health (ASH) and Cancer Research UK (CRUK) have published the 5th annual report, "A Changing Landscape", on local tobacco control. It reveals that cuts to government funding have led to Stop Smoking Services declining across England. Almost half of the local authorities have lost any specialist quit advice provision.
With just over 50% of authorities still providing a specialist service, ASH and CRUK have called upon the Government to address funding so that public health and local authorities can coordinate tobacco control efforts properly and sustainably with adequate financial resources.
Professor Kefah Mokbel has written a letter to Health Secretary Matt Hancock and Education Secretary Damian Hinds warning them that vaping "could" lead to breast cancer in teenage girls. Coverage in The Daily Mail was called "evidence-free", "baseless" and a "scare story". Journalists added fake facts and mentions of "vibrant packaging" to the hit job for good measure.

Professor Kefah Mokbel plies his trade as a breast specialist at the private Princess Grace Hospital near Harley Street. He was named in Tatler magazine's Best Doctors Guide as one of the featured 'Top Breast Surgeons' in 2006, 2007 and 2013.
---

---
As part of continuing efforts to advance robust framework for oversight of e-cigs
To advance the FDA's comprehensive plan for tobacco and nicotine regulation, we're committed to developing guidance and regulations that will solidify the rules of the road for industry. Making the regulatory process more efficient, predictable and transparent for industry, while upholding the FDA's public health mission, is critical to ensuring the effective and appropriate regulatory oversight of tobacco products to protect kids and significantly reduce tobacco-related disease and death. Today's final guidance will improve industry's ability to comply with federal tobacco laws and regulations.
Can positively affect forest cover – Joseph Magero
Tobacco poses a major challenge, not just to health, but also to environmental sustainability. Today being world forest day, I thought it would be appropriate to tackle this matter.

First let me share some interesting statistics on tobacco farming. An estimated 200 000 ha of forests/woodlands are removed by tobacco farming each year. Deforestation mainly occurs in the developing world, amounting to 1.7% of global net losses of forest cover or 4.6% of total national deforestation.
Alice Hancock – FT
Tobacco giant Philip Morris International has teamed up with youth-focused Vice Media to promote vaping, in a move that has alarmed health campaigners.

Vice has agreed a deal with PMI to produce sponsored content endorsing ecigarettes, according to two people with direct knowledge of the arrangement. One said the deal would cost the tobacco group £5m and that the campaign was due to start in April.

Has Already Caused Heart Disease, But There's A Big Catch
Hank Campbell, Science 2.0
Survey results presented at the American College of Cardiology 2019 Annual Scientific Session led to a declaration that went well beyond the evidence – they said electronic cigarettes can lead to a dramatic increase in the odds of having a heart attack, coronary artery disease, and even depression, and used that to state, "These data are a real wake-up call and should prompt more action and awareness about the dangers of e-cigarettes."

Except "these data" did not show that, and they were forced to admit it.
But they die from the smoke : Prof. David Sweanor
Shahid Akhter, editor, ETHealthworld spoke to Prof. David Sweanor, Advisory Committee Chair, University of Ottawa Centre for Health Law, Policy and Ethics Adjunct Professor, Faculty of Law, University of Ottawa to know about trends and challenges in the smoking cessation interventions.

Cigarette smoking is huge both from an economic standpoint and globally. It's equivalent of about $850 billion a year. There are about 1.1 to 1.3 billion cigarette users worldwide. We also have other products like bidis in India and Kretek in Indonesia. We have lots of oral tobacco products in addition to that.
Brent Stafford, Regulator Watch,
Considering the ceaseless media coverage and the constant threat of retribution by regulators and anti-vaping non-profit health groups, one would think there exists a large body of scientific evidence to back up the claim that youth vaping has become a public health crisis; but apparently, there is not.
Or, if the evidence exists, it's not been made available to the public, the industry or to other researchers who specialize in tobacco harm reduction. Why not?
---
Inside Health, BBC Radio 4 20th March 2019
Thanks as always to @dnglos for the YouTubage
---
It's Complicated – Jim McDonald
A new survey shows that most Americans support regulations to control what outgoing FDA Commissioner Scott Gottlieb describes as a youth vaping epidemic. However, the survey questions were designed to get the answers the researchers wanted, rather than to simply measure public attitudes. And some questions were aimed squarely at promoting political actions the researchers support, as is the whole survey.

The AmeriSpeak Spotlight on Health survey was done by NORC at the University of Chicago. NORC (National Opinion Research Center) surveyed a nationally representative sample of 1,004 English-speaking adults online and by phone. The survey has a 4.12 percent margin of error.
Wellington – Felix Desmarais
Smokefree areas will soon also mean vape-free in Wellington, with "slightly tougher, stronger" wording in the Smokefree Wellington draft action plan.

The clarification came out of Wellington City Council's city strategy committee meeting on Thursday.
Alexis Carey
In offices and worksites across the country, there's a surprising revolution taking place.

Today, more and more Australian workers are ditching cigarettes in favour of vaping, even though the legal status of e-cigarettes is still murky in this country.

The Therapeutic Goods Administration classifies nicotine as a "dangerous poison" and while it is legal to buy vaping equipment in Australia, nicotine must be imported from overseas. But that hasn't stopped the popularity of vaping from soaring.
---
A look back at how things have moved on or otherwise….
Martin Dockrell, Public Health Matters UK
Our latest e-cigarette evidence review, authored by leading academics in the tobacco control field, found that e-cigarettes (ECs):

appear far less harmful than smoking cigarettes
are the most popular quit aid
have a role to play in reducing smoking rates

Use has increased in recent years and EC have become the most popular stop smoking aid in England, with the majority of users now ex-smokers having made the switch completely.
Loise Ross, The Counterfactual
As she retires a hero to many in the field of tobacco harm reduction and public health, Louise Ross has penned this blog, which starts below…

Looking back, but forwards too

In December 2017, I realised there were so many things I wanted to do apart from working for Leicester City Council, especially as my employer was being forced to severely cut our very successful service and blend it with other lifestyle services.

I announced my retirement, planned for the end of March 2018, explaining my rationale to each team member individually (an emotionally taxing episode; we're a very close team) with the words 'I want to enjoy some free time because you just don't know what's around the corner.'
---
Visit Nicotine Science & Policy for more News from around the World

---