Vaping Digest March 25th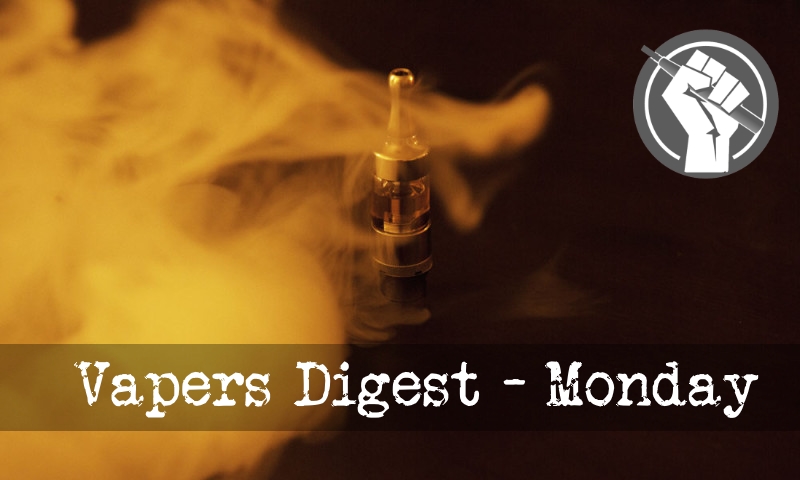 Monday's News at a glance:
All Of The Lies – Why Australia's ban on nicotine vaping is wrong – Vaping In The News  March 23rd – More Common Sense, Less Nanny – San Francisco Vapes Ban the Logical Next Step of a Harmful Campaign – Is JUUL Making Moves to Wipe Out Vape Shops? – Shameless Lies About Vaping – Flavored e-cigarettes help adults quit smoking – Global State of Tobacco Harm Reduction Report – The grownup who vapes – Nicotine Science and Policy Daily Digest
Dave Cross, Planet of the Vapes
Doctors Chadi, Hadland, and Harris have issued a 'call to action' in a paper published by the Substance Abuse journal. In "Understanding the implications of the 'vaping epidemic' among adolescents and young adults", the trio manage to include almost every lie about vaping.

The threesome work at the Boston University School of Medicine and the Boston Children's Hospital in Massachusetts. Hadland and Harris haven't been particularly prolific in their campaigning against vaping, although Harris' Twitter feed is something to behold. Chadi probably lists attacking tobacco harm reduction as a hobby on his CV.
Colin Mendelsohn, ATHRA
The arguments used to ban nicotine vaping in Australia are very weak, paternalistic and unethical, according to a new critical analysis.

The analysis by leading Australian researchers Wayne Hall, Kylie Morphett and Coral Gartner was just published in the international peer-reviewed medical journal Neuroethics.

Here are some of the key points raised in the analysis:
---

---
Kevin Crowley, Vaping Links
FDA: Interpretation of and Compliance Policy ~ Cigarettes are appropriate for public health. ~ Professor "Puff-N-Stuff" Glantz ~  Response to Press Release ~ The grownup who vapes ~ E-cigarettes not in the same category as cigarettes ~ Teen Epidemic: Expert Says Research Is Biased and Flawed ~ Health effects in COPD smokers who switch to electronic cigarettes ~ Nicotine stimulates receptors to boost memory in older adults ~ Arkansas Should Not Rely on Cigarette and Vaping Taxes for Income Tax Relief
David Hogberg
Last week Scott Gottlieb announced his resignation as commissioner of the Food and Drug Administration. Unfortunately and unexpectedly, Gottlieb's reign was a departure from lessening of government regulations so prevalent in other areas of the Trump Administration. His tenure culminated in siding with so-called and self-appointed public health experts who have ginned up hysteria about e-cigarettes and vaping. As a result, just yesterday the FDA moved to effectively ban flavored e-cigarettes from being sold in gas station and convenience stores, a policy that could actually harm public health. Go figure.
---
Are you London-based ex-smoker who has switched to #vaping? Researchers at University College London @UCL_TARG are seeking participants for a new study. Take part & receive £20 in vouchers – more details can be found below. https://t.co/hmYKUdw8DT

— IBVTA (@TheIBVTA) March 25, 2019
---
The Logical Next Step of a Harmful Campaign – Helen Redmond
he March 19 announcement by San Francisco City Attorney Dennis Herrera of steps to ban the sale of all e-cigarettes in the city is the logical culmination of an unrelenting nationwide campaign—one that hypes a so-called "epidemic" of teen vaping while ignoring the saved lives of adults who stop smoking combustible cigarettes and of teens who never start.

The press release uses classic drug-panic hyperbole: "San Francisco has never been afraid to lead and we're certainly not afraid to do so when the health and lives of our children are at stake." Earth to Herrera: Not one teen has died from vaping.
Ashleigh Smith
It all started with a Facebook post. TD Bowen, owner of Moon Mountain and former President of the Florida Smoke Free Association received a threatening letter from JUUL regarding one of his vape shops.

The letter, dated March 10, 2019, stated that a JUUL secret shopper "recently visited your location and the store associate did not request a valid government issued ID to verify that the individual attempting to purchase JUUL products was of legal age." The letter went to warn that "failure to conduct proper age verification" would result in the following penalties: first, a warning letter from JUUL, and second, JUUL would report the shop to the FDA via "Form 3389". The letter looked official.
---

---
Michael D. Shaw
Highlighted in the piece was an astonishingly mendacious pamphlet from the California Department of Public Health (funded by your CDC) entitled "Protect Your Family From e-Cigarettes—The Facts You Need To Know."  We were far from the only media outlet to criticize it harshly. In fact, the brochure was removed from the department's website, and is now only available in archives that have not yet been scrubbed.

One of the anti-smoking good guys who also spoke out against the California pamphlet is Michael Siegel, Professor in the Department of Community Health Sciences, Boston University School of Public Health.
Damon Jacobs
Although smoking rates are at a record low in New York City, the reality is that approximately two million adults in New York state still smoke tobacco cigarettes.

The disparity in who smokes grows larger each year. Those with poor mental health, those of low socioeconomic status, and LGBT individuals are much more likely to use cigarettes than individuals outside these groups. For people living with HIV, the smoking rate is triple that of the general population. These individuals are now "six to 13 times more likely to die of lung cancer than from AIDS-related causes," according to a 2017 study published in JAMA Internal Medicine.

Joseph Magero
The event took place at the Hilton Garden Inn Hotel, hosted by Campaign for Safer Alternatives (CASA), a pan-African tobacco harm reduction organisation based in Nairobi. Among attendees were tobacco harm reduction advocates, health advocates, electronic cigarette vendors, anti-tobacco advocates, medical students and journalists. The report was earlier also launched in Lilongwe, Malawi, an event which was hosted by an organisation affiliated to CASA.
Glenn McDonald
I blame Robert DeNiro. I've been a hopeless movie nerd all my life, and when I was a teenager, DeNiro was my favorite actor. Mean Streets. The Godfather Part II. The Deer Hunter. One thing about the man, and this is generally acknowledged by film scholars: No one looks cooler smoking a cigarette.

I'm embarrassed to admit it, but that's how I started smoking, 30 years ago. I got hooked, of course, and it's been an increasingly serious problem ever since. I've tried to quit dozens of times, using all the standard protocols — gum, nicotine patches, prescription drugs, 12-step programs, cognitive therapy, even hypnosis. Nothing worked.
---
A look back at how things have moved on or otherwise….
New Nicotine Alliance
Last Wednesday, the All Party Parliamentary Group for E-Cigarettes convened in Committee Room 18 at the House of Commons and the NNA was represented.

The subject of discussion was a very promising proposal to change the policy towards risk-reduced products on the parliamentary estate. Namely, that parliament – in keeping with the goal to "maximise the availability of safer alternatives to smoking" in the government's latest Tobacco Control Plan – should be setting an example to businesses up and down the country
Andrew Allison, The Freedom Association
The figures are better than I thought they would be. We sent freedom of information requests to the 28 councils in Yorkshire and Lincolnshire that are responsible for licensing. 27 responded. Out of those 27 councils, 8 ban vaping in one way or another. They are Bradford, City of York (which currently has a ban for private hire vehicles, but not taxis. This is changing soon, though, and there will be an outright ban), East Riding of Yorkshire, Leeds (which is about to implement a ban), North Lincolnshire, Rotherham, Scarborough (which allows passengers to vape, but bans drivers), and Selby.
Dick Puddlecote
When people talk of 'austerity' in this country, especially towards funding of public sector organisations and local authorities, it never really rings true to me considering that – daily – we hear of widespread public sector interference which is completely unnecessary.

One perfect example of this is local authority restrictions on vaping in taxis. Transport for London have a shameful policy – which they tweet regularly – saying that vaping is not allowed in a licensed vehicle at any time, even when the driver is alone and/or off-duty.
---
Visit Nicotine Science & Policy for more News from around the World

---