Vaping Digest July 12th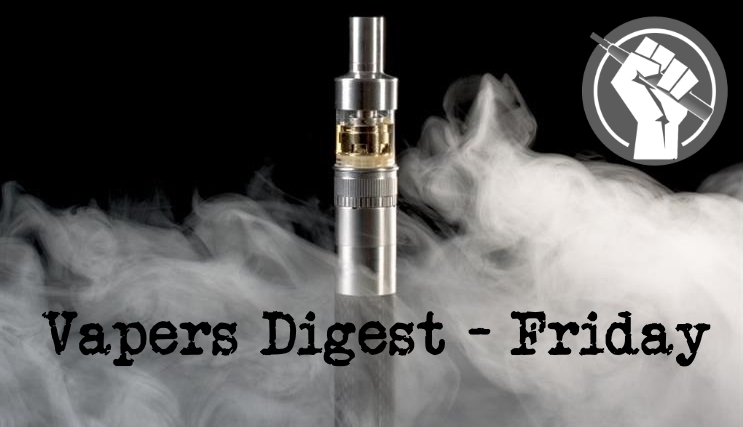 Friday's News at a glance:
With the National Health Interview Survey, Never Smokers May Have Smoked – Two U.K. Hospitals Allow Vape Shops – iQOS to be Launched Across GCC – Marijuana Legalization Doesn't Increase Youth Use – Parliament, Vaping and SmokeFree 2030 – NZ Car Ban – JUUL's San Fran Fightback – Imperial Targets Alt Market Expansion – Mouse-Brained Research – This little-known tobacco stock is a big winner – War Over Wokeness – Will an E-Cigarette Ban Do More Harm Than Good? – How FDA is Regulating E-Cigarettes – Edmonton Police Service Action Undercuts the Intention of Federal Government Vaping Regulations – Ohio lawmaker mocked on social media – Nicotine Science and Policy Daily Digest
Never Smokers May Have Smoked – Brad Rodu
Last week I revealed that, based on the 2018 National Health Interview Survey (NHIS), there were about 8.07 million American adult vapers, up from 6.9 million in 2017. I noted that there were 1.71 million vapers who were never smokers, which is also a substantial increase from the prior year – and potentially troubling. Let's take a closer look.

First, it's important to understand how the NHIS defines never smokers. They are not necessarily cigarette virgins; they just never smoked 100 cigarettes in their life, which is the cutoff for ever smokers.
In Bid to Promote Smoking Ban – NY Times
Two hospitals in England have allowed an e-cigarette company to open vape shops on their premises as part of a move by the hospitals to ban smoking in and around their buildings.

The ban was introduced last week at two of the largest health institutions in the Birmingham area as "a public health necessity," according to the BBC, because "smoking kills."

"Given that simple truth, we can no longer support smoking on our sites, even in shelters or cars," said Dr. David Carruthers, the medical director of Sandwell and West Birmingham Hospitals N.H.S. Trust, which oversees the hospitals.
---

---
iQOS was launched at Dubai Duty Free in December 2018 following a strong advertising campaign across the airport, and now it will be launched in the other GCC countries (Cooperation Council for the Arab States of the Gulf), which consist of all Arab states of the Persian Gulf except Iraq, ie: Bahrain, Kuwait, Oman, Qatar, Saudi Arabia, and the United Arab Emirates (UAE).

Philip Morris International (PMI) markets its iQOS device as a less harmful alternative to cigarette smoking. The iQOS device, is a Heat not Burn (HnB) smokeless alternative to combustible cigarettes and works by heating tobacco leaves known as Heets or HeatSticks. These refills which look like short cigarettes, must be inserted into the device and are heated up once it is switched on.
---
---
Doesn't Increase Youth Use—Any Lessons for the Vaping Debate?
Youth use of controlled substances is often deployed as a bargaining chip in drug policy debates. When it comes to cannabis, legalization laws are smeared for allegedly encouraging youth use⁠—but scientific evidence, including a review published this week, suggests otherwise.

This principle has implications elsewhere. For example, the increasing availability of vaping products has been attacked by the US Food and Drug Administration and other vaping skeptics for spurring a teen vaping "epidemic." But some research suggests that minimum legal sale age (MLSA) laws intended to reign in teen vaping have the unintended outcome of increasing teen smoking.
---

---
Five from Dave Cross, Planet of the Vapes
Bob Blackman has a head full of funding, Luke Pollard is concerned about bus shelters, and Anneliese Dodds wonders about a Serious Fraud Office investigation. Paul Farrelly wants to reduce nicotine levels as the government announces that it plans on "stamping out" smoking for good by 2030.

Conservative Bob Blackman wanted to know how much funding the Department for Health and Social Care has committed to spend on campaigns to promote the cessation of smoking in 2019-20.
Earlier this year, New Zealand's Smoke-free Environments Act was to be altered to make it illegal to smoke or vape if children were in a car. Despite having a more enlightened view towards vaping as a way of reducing tobacco-related diseases, the Health Minister plans on banning vaping in cars too.

Associate Health Minister Jenny Salesa announced the proposals, saying: "First and foremost this change is about protecting children. However, it is also part of the Government's commitment to achieving Smokefree 2025."
San Francisco's ban was just the latest in a list of parts of America that have jumped to restrict vaping in order to protect their tobacco revenue Almost two dozen cities and counties in California have enacted limitations on the types of products allowed to be sold. JUUL Labs, based in San Francisco, is not taking this lying down.

Following the decision to ban vaping, those who gain the most from the failed war on tobacco crowed with delight. Stanton Glantz called the city ban "a totally brilliant way of a local government basically saying to the FDA and to JUUL and the other e-cigarette companies that hey, we've got a law here and it should be followed."
Imperial Brands has been hit by the rapid growth of JUUL Labs. The one time generous dividend payer has announced that it plans to scrap its 10% dividend target. Although the 2019 dividend will remain unchanged, it plans a revised progressive dividend growth policy thereafter targeting expansion with its Next Generation Products (NGP).

Imperial is one of the world's biggest tobacco companies, servicing 160 markets and employing in excess of 30,000 people. The other side to Imperial is that its share price has taken a battering thanks to the vape boom – tumbling over 50% from a record high three years ago.
A research team at the University of California has tested Vuse electronic cigarettes and claims it caused stress-induced mitochondrial hyperfusion (SIMH) in "specialised cells". The terrible paper contains glaring flaws and was roundly attacked following publication because it did nothing more than bathe mouse stem cells in strong eliquid.

At the start, the team made the fatuous claim that vape products are "often targeted to youth and pregnant women". It continues: "Although originally introduced as safer or smoking cessation replacements, recent studies have shown that [electronic cigarettes] indeed cause various forms of toxicity."

Is a big winner from e-cigarette bans
In late June, San Francisco banned e-cigarette sales completely. That means no bricks-and-mortar sales. And no e-cigarette deliveries for online purchases.

Many cities already restrict vaping and e-cigarette sales. But San Francisco is the first major U.S. city to ban sales outright. Granted, it's a cultural and political outlier. But other cities are already considering similar laws. So this looks like the start of a bigger trend that could weigh heavily on certain tobacco companies.

Despite this threat, tobacco companies are still a great, recession-proof investment. And there's one tobacco stock that will benefit from the crackdown on e-cigs big time.
Is Turning Into a War Over Wokeness – Alex Norcia
It's a tale of two JUULs. Last month, San Francisco became the first city in the country to prohibit the sale of e-cigarettes. Though it would take about seven months for the policy to go into effect, it initially looked like a done deal in a city with a history of progressive legislation. But it's more complicated than that.

By the time the anti-vaping bill was passed into law, JUUL Labs—the vape powerhouse headquartered in San Francisco—had already put its own plans in motion, bankrolling an initiative called the Coalition for Reasonable Vaping Regulation to combat it.
Rachel Harrison
E-cigarettes have been at the center of a heated debate among policymakers, parents, and the public health community. On one hand, research shows that e-cigarettes are substantially safer than cigarettes, delivering nicotine through a vaporized mist rather than burning tobacco—which creates cancer-causing toxins. On the other hand, a surge in youth vaping in recent years has raised questions about teens getting hooked on nicotine and what the long-term health impact of e-cigarettes will be. But since vaping products have not been on the market long enough, the precise effects may not be known for decades.
Ned Sharpless
When I was Director of the National Cancer Institute (NCI), I would be frequently asked "What topic in cancer research and cancer care keeps you up at night?" I always answered this question the same way: "tobacco control in the era of e-cigarettes."

On the one hand, as someone trained in internal medicine and oncology, I am all too familiar with the devastating impact of combustible cigarettes on the public health: The 480,000 deaths per year in the U.S. from tobacco-associated cancers, emphysema, heart disease, stroke and the 34.3 million Americans who still smoke combustible cigarettes despite decades of efforts to help them quit.
Undercuts the Intention of Federal Government Vaping Regulations
Rights 4 Vapers
Last week the Edmonton Police Service (EPS) spoke to media about its partnership with the University of Alberta's Faculty of Nursing and their plan to tackle youth vaping. While everyone agrees that youth shouldn't vape, the EPS' approach to keep vaping products out of the hands of youth by taking vaping products off the shelves altogether is being met with resistance by those concerned with the impact that smoking has on public health.

"The EPS plan is a gross over compensation that will have dire consequences for adult vapers who rely on these products as a harm reduction tool to remain smoke free," said Dr. Chris LaLonde, a professor at University of Victoria and spokesperson for Rights4Vapers. "Prohibiting the sale of flavoured vaping products will limit accessibility of these products to adult smokers who may be want or use them as a way to quit smoking, consequently driving them to the illicit market."
Just another WHO smokescreen?
Could nicotine-free tobacco eliminate the scourge of smoking once and for all? The World Health Organization (WHO) seems to think it could. Now, they're pointing to research from the Technical University of Dortmund, which is currently developing tobacco with the world's lowest nicotine levels in hopes of helping smokers quit or reduce their habit. They're asking for trouble.

Of course, any innovation that gives consumers more options in how to beat their addiction is welcome. But there are many reasons to be skeptical of WHO's claims that this could eliminate smoking worldwide. After all, they're wrong about this kind of thing a lot.
Rep. Joyce Beatty (D-Ohio) was roasted on Twitter on Tuesday after posting a message warning her teen constituents about the dangers of e-cigarettes.

"Hey teens! Vaping isn't fleek or fire, that's why the State of Ohio launched #MyLifeMyQuit to show you that you don't need fat clouds to be radical!" the lawmaker tweeted.
---
A look back at how things have moved on or otherwise….
Dr Roberto Sussman, New Nicotine Alliance
I have just returned to my home in Mexico City after a 12-day academic visit to Queen Mary College (University of London). Even in my locality thousands of miles away, and elsewhere globally, the positive effects of health policies in the UK endorsing e-cigarettes as a substitute for smoking are widely known.

However, I would like to share how I perceived the vaping experience in London, as a foreign visitor and strictly from a vaper's perspective.
, Vaping Post
UK news website Echo is reminding vapers that e-cigarettes are not as endorsed around the world as they are in the UK. Caution must be exercised before travelling with the devices, as in some countries unknowing tourists could even face jail time if caught in possession of vaping products.
Harry Shapiro, Nicotine Science and Policy
As the first global state of tobacco harm reduction report is now in the tender care of the copy editors, time to cast an eye once again on the wacky world of THR.

Taking time out from the intellectual tour de force that is a Dan Brown novel, (Me? Jealous?), I turned my attention to Time to Deliver the recent WHO status report on how member states are doing to tackle noncommunicable diseases (NCD) in pursuit of the UN Sustainable Development Agenda goal of reducing NCD by a third by 2030. In shock news, the world is nowhere near achieving that and received a sharp slap on the wrist from the WHO – 'must do better' said the headmistress' report. One way of doing better says the WHO is to engage with the private sector, although of course as the report is at pains to point out, this specifically excludes the tobacco industry.
---
Visit Nicotine Science & Policy for more News from around the World

---