Vaping Digest July 15th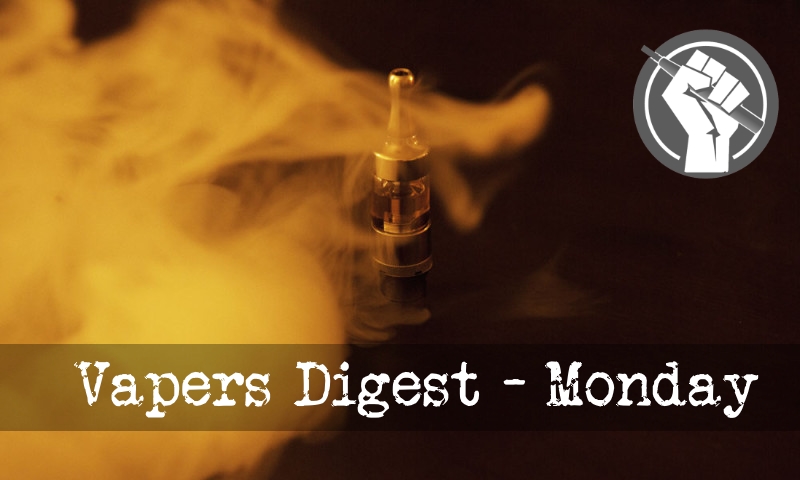 Monday's News at a glance:
Mainlining Tobacco Income – Vape Manufacturers Must Submit PMTAs in 10 Months or Shut Down – Vaping In The News – July 13th – Daily vaping while smoking doubles quit rates – American Lung Association Inadvertently Reveals the Truth – "Big Tobacco Lies. So Does Juul." – New Organization Forms to Confront the Epidemic of Popcorn Lung – Vape Ban Means More Smoking – Combustion is the prime source of disease – New data on e-cigarette use among New Zealand adults – Maharashtra cracks down e-cigarettes – E-cigarette Regulations Increase Prenatal Cigarette Use Among Teen Smokers – Nicotine Science and Policy Daily Digest
Dave Cross, Planet of the Vapes
The US State of Maine is hiking the cost of vaping by 43% to "protect the children". Its addiction to tobacco income is leading it to tax harm reduction – and studies demonstrate that when this happens fewer people quit smoking and fewer people continue to vape.

Democrat Joyce McCreight proposed the Maine legislation "to fund tobacco cessation and make sure tobacco products are taxed at the same rate". That she thinks vaping is a "tobacco product" highlights the crisis of thinking taking place.
In 10 Months or Shut Down – Jim McDonald, Vaping 360
Vaping manufacturers must submit premarket tobacco applications (PMTAs) within 10 months or remove their products from the market, according to an order issued today by federal District Court Judge Paul W. Grimm.

The judge struck down the FDA's 2017 guidance in May, agreeing with plaintiffs that the agency's 2022 PMTA deadline (which extended the due date for applications from 2018) was issued without following the rulemaking process mandated by the Administrative Procedures Act, and that the four-year delay the FDA granted vaping manufacturers was "so extreme as to amount to an abdication of its statutory responsibilities."
---

---
Kevin Crowley, Vaping Links
Tobacco "control" ~ Dear Senator Warren, the Revolving Door With Gottlieb Didn't Start at Pfizer ~ U.S. Adults' Attitudes Toward Lowering Nicotine Levels in Cigarettes ~ This little-known tobacco stock is a big winner from e-cigarette bans ~ Vape Shop Customers' Experiences of E-Cigarette Use, Vape Shops and the Vaping Community ~ Is low-nicotine tobacco just another WHO smokescreen? ~ Vaping influencer marketing is misunderstood ~ Mouse-Brained Research ~ U.S. federal judge orders FDA to implement 10-month deadline for e-cig applications ~ Vape Manufacturers Must Submit PMTAs in 10 Months or Shut Down
---
---
ATHRA
A large study in the US has found that smokers who vaped daily were nearly twice as likely to have quit smoking two years later than smokers who were not vaping. The study adds to the growing the evidence that vaping helps smokers to quit.

The study involved 8,000 smokers from the Population Assessment of Tobacco and Health (PATH) study and was published in Nicotine Tobacco Research this week.

Smokers were asked if they vaped at the baseline. Two years later they were assessed again.
---

---
A trio from Michael Siegel, The Rest Of The Story
Inadvertently Reveals the Truth About Many Vaping Opponents
An article published recently by the American Lung Association claims that vaping causes popcorn lung and COPD. There is no evidence to support either of these assertions. In fact, I'm not aware of a single case of either popcorn lung or COPD that has ever been diagnosed in a vaper without a history of cigarette smoking. Even active smoking itself is not associated with popcorn lung, and cigarette smoke contains about 750 times the amount of diacetyl (the putative cause of popcorn lung) than e-cigarette aerosol. So the American Lung Association is lying about the health risks of vaping.
And So Does Americans for Nonsmokers' Rights
A July 11 column by the American Nonsmokers' Rights Foundation (ANRF) is entitled "Big Tobacco Lies. So Does Juul." A large image shows a graduating college student with the quote: "We were literally going to be the first generation not addicted to nicotine. And then they made it taste like cotton candy and everyone is vaping and ADDICTED to nicotine."

The headline should more appropriately say: "Big Tobacco Lies. So Does Juul. And So Does the American Nonsmokers' Rights Foundation."
To Confront the Epidemic of Popcorn Lung
Prompted by the statements of anti-tobacco groups throughout the country claiming that vaping causes popcorn lung, a new organization was launched this past Thursday to confront this new and alarming epidemic among young people. The organization is called the American Popcorn Lung Association (APLA) and it has a Twitter feed (@LungPopcorn).

"Popcorn lung" is a serious, progressive lung disease that is technically known as bronchiolitis obliterans. The disease results in obstruction of the smallest airways in the lung. The disease is irreversible and can be fatal. A lung transplant is the only definitive treatment.

Vape Ban Means More Smoking – Guy Bentley
San Francisco's chief economist has confirmed that the city's ban on e-cigarette sales will increase smoking as vapers switch to combustible cigarettes.

On June 25, San Francisco's Board of Supervisors voted unanimously to ban the sale of e-cigarettes while leaving traditional cigarettes to be sold as freely as before. Rarely does U.S. anti-vaping legislation make global headlines, but San Francisco's decision was so extreme it attracted international attention.

Amid an uproar from vapers and bewilderment among public health professionals, little attention was paid to a revealing May 15 San Francisco Chronicle interview on the subject with the city's chief economist, Ted Egan.
Alexander Reisch
Shahid Akhter, editor, ETHealthworld spoke to Alexander Reisch, Managing Director at India Phillip Morris, to know about the implication for India of the US FDA authorization on the sale of IQOS in the US.

The discussion in India with respect to ENDS is bipolar. There are different opinions- some are for and some are against ENDS. I hope in the end, science would prevail because science tells the truth and India needs to look at the science either from institutions outside India or from their own institutions. With this, the discussion on ENDS will come to a conclusion.
Professor Richard Edwards
Around one in six New Zealand adults have tried e-cigarettes but only 2 per cent are using them currently, a national survey has found.

However, the research led by the Health Promotion Agency and recently published in the scientific journal Addictive Behaviours also found more than half (56.5 per cent) of current smokers had at least tried e-cigarettes.

Paper co-author, Professor Richard Edwards, who is Co-Director of the ASPIRE 2025 Research Group at the University of Otago, Wellington, says daily use is highest among current smokers (3.1 per cent) and among people who had quit smoking in the last year (9.0 per cent), but there was no daily use among people who have never smoked.
Shiv Kumar
Maharashtra Government has begun a crackdown on those selling e-cigarettes across the state.

Maharashtra Food and Drug Administration (FDA) will target shopkeepers and paan stall owners suspected to be
selling them in the first phase.

"We have begun a crackdown on the sale of electronic nicotine delivery systems," FDA Commissioner Dr Pallavi Darade said on Sunday.
Increase Prenatal Cigarette Use Among Teen Smokers
Michael Pesko
Earlier studies have shown passage of minimal legal sale age (MLSA) laws regulating the purchase of e-cigarettes among teens succeeded in reducing e-cigarette use, but may have unintentionally increased cigarette use by teen smokers. New research published in the Journal of Health Economics supports these findings.

The new study evaluates, for the first time, the effect of e-cigarette MLSA laws on pregnant teens in particular and finds the laws caused higher rates of prenatal smoking among teens who smoked prior to pregnancy, but not among non-smokers.
---
A look back at how things have moved on or otherwise….
Dick Puddlecote
Via new vaping media source Vapetrotter (which you should bookmark, by the way), it won't surprise you to learn that a vast impenetrable bureaucracy which lives solely on the basis of tens of thousands of employees earning their living by doing nothing but regulating, wants to regulate e-cigs further than the absolute shit-shower they did with the TPD.

The EU seems to have decided it wants to tax e-cigarettes. They don't have any moral or scientifc basis for doing so, but hey, salaries have to be paid and vaping is killing the treasuries of many an EU country.
George Gay – Tobacco Reporter
Working on  a shoestring, the New Nicotine Alliance U.K is encouraging smokers to switch to less risky products – while desperately trying to prevent others from botching the opportunity .
But You Can't Hide Facts About Smokeless Tobacco
Brad Rodu, Tobacco Truth
In a recent New England Journal of Medicine article, FDA researchers went to great lengths to conceal the fact that smokeless tobacco (ST) use has an entirely negligible impact on life expectancy.

The article, "Potential Public Health Effects of Reducing Nicotine Levels in Cigarettes in the United States," (here) by Benjamin Apelberg and colleagues, was the centerpiece of FDA Commissioner Scott Gottlieb's March 15 announcement of a radical nicotine reduction rule for cigarettes.
Carl V. Phillips, Daily Vaper
This week's headlines contain the all-too-familiar claim that a new study shows that vaping does not aid in smoking cessation, or even hinders it. Once again, this interpretation of the study results is wrong, and once again it is for most of the same reasons similar past claims were wrong. The error is not complicated, but it is easy for tobacco controllers to use it to manufacture anti-vaping results: Not every smoker who vapes is trying to switch, and smokers who have been vaping a while have already demonstrated they are not likely to switch.
---
Visit Nicotine Science & Policy for more News from around the World

---