Vapers Digest January 26th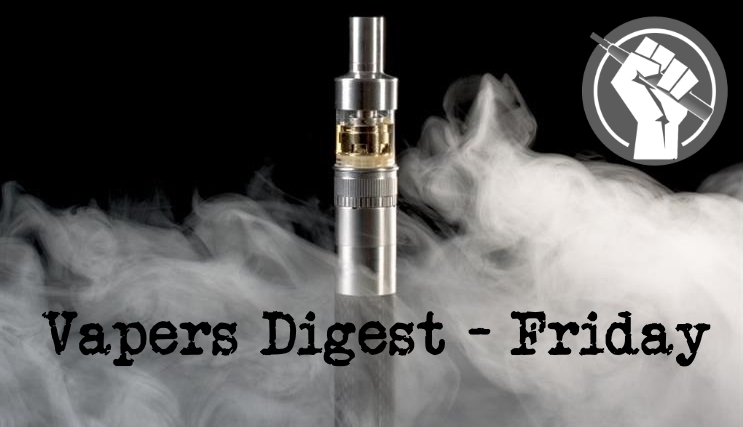 Friday's News at a glance:
A Great Day For Bureaucratic Intransigence – FDA vote throws doubt on iQOS as reduced-risk product – Indonesia plans giant vape tax – Hajek Is Looking For Answers – National Academies Report On E-Cigs: Just What The FDA Ordered – Building on the Success of Snus – Real Talk About Vaping – If quitting isn't an option, is vaping? – Vaping less harmful to lung fluids than smoking – Elderly Israeli couple arrested in Thailand for using e-cigarette – E-cigs, shisha to be illegal from Feb 1 – Nicotine Science and Policy Daily Digest
Dick Puddlecote
On Tuesday I wrote about how this was a big week for tobacco harm reduction. Also, it would appear, it was a big week for intransigent bureaucracy.

Reports from the European Court of Justice (ECJ) where the EU's ban on snus was being challenged were not just disappointing, but also quite astonishing! A number of tweets from Gerry Stimson, who was attending on behalf of the NNA, described how a succession of of bureaucrats outed themselves as being in denial about the evidence base behind snus and willing to blatantly lie to the court about it….
As reduced-risk product – Fergus Mason
An FDA panel voted yesterday to reject more than a million pages of evidence and dismiss Philip Morris International's claim that their iQOS heated tobacco product is a safer alternative to tobacco. While that doesn't write off hopes of the device being certified as a Modified Risk Tobacco Product, it's certainly a blow to the company's hopes.
---

---
Fergus Mason, Vaping Post
Despite having one of the highest smoking rates in the world the Indonesian government is planning a crackdown on the country's growing number of vapers. The move comes as politicians are already being accused of promoting tobacco sales.
Mawsley, Planet of the Vapes
A team from the Health and Lifestyle Research Unit at the Queen Mary University of London have carried out a study looking at the characteristics and appeal ecigs need to make smokers use them. They tested eight brands with a small group in order to discover how the characteristics influence reactions with users.
---
---
Just What The FDA Ordered
Carl V. Phillips, Daily Vaper
The much anticipated National Academies report on vaping and vapor products has just been released. The report, a massive review of the existing journal articles (only) that address various aspects of the subject, reaches most of the obvious conclusions. However, it is cleverly skewed to support the FDA agenda, and thus is about as anti-vaping as is possible without making blatantly absurd claims.
That E-Cigarettes Help Smokers Quit – Dr. Neil McKeganey
Efforts to prevent smoking have been remarkably successful in the United States, shrinking the number of smokers from more than 60 percent to almost 15 percent of the adult population — but with an estimated 36.5 million Americans still lighting up, attention is rightly turning toward helping more smokers quit, not just preventing them from ever starting.
---

---
Ehsan Latif, Foundation for a Smoke-Free World
Recently released data from Norway should cause public health professionals to sit up and take note. Cigarette users in Norway are turning to snus, a safer alternative to smoking, at a such a rate that snus users now outnumber cigarette users. In 2017, 12% of Norwegians used snus daily, compared to 11% who smoked cigarettes every day (a reduction from 22% in 2007). This switch to a safer product may come as a surprise to many in the tobacco control community, but not to those with a broad perspective of tobacco control, who recognize how smoking behaviors are evolving.
Michael Siegel
A recent report release by the National Academy of Sciences confirms that despite the opposition to vaping by many anti-tobacco groups and state health departments, use of these products is much safer than smoking, and there are no known long-term health effects associated with vaping.

This does not mean, of course, that vaping is safe. It just means that we don't know what the long-term effects may be. But it is important to stress that at this time, we don't know of any long-term adverse health effects.

Dale Smith
The legalization of cannabis isn't the only pending policy issue involving what people are smoking. The question of how many people smoke cigarettes and what, exactly, they're doing to their bodies and minds while they're doing it is also a serious public health question. At a Sixth Estate panel in Ottawa during National Non-smoking Week, experts explored the effectiveness of vaping as a harm-reduction tool for people trying to quit smoking cigarettes.
Omri Ariel
After the couple was arrested and paid a fine, the Israeli consulate in Thailand discovered that the use of e-cigarettes is banned in the country. The Israeli Foreign Ministry has issued a travel alert in light of the new revelation.

Colleen Carow, Ohio University
Pulmonary surfactant is a mixture of lipids and proteins that lines the alveolar region of the lungs, reducing the surface tension of the alveolar fluid, preventing lung collapse, and therefore decreasing the work of breathing. The very small particles in e-cigarette vapor can reach deep into the lungs. A number of studies have focused on how e-cigarettes affect the cells of the pulmonary airways or the deep lungs, but the OHIO team wanted to see whether e-cigarette vapor affects the ability of surfactant to reduce surface tension.
Singapore
Starting Feb 1, buying, using and possessing tobacco products like e-cigarettes, shisha and chewing tobacco will be illegal, the Ministry of Health said on Friday (Jan 26).

The new prohibitions on such "emerging and imitation" tobacco products are part of the first phase of amendments to the Tobacco (Control of Advertisements and Sale) Act, which were passed in Parliament in November last year.
Mawsley, Planet of the Vapes
The theme of this week's round up is 'evidence'; while some pretend it doesn't exist, others state it keeps on piling up in favour of vaping. Ironically, a researcher from the Truth Initiative does a very good job of ignoring the facts. One fact is the massive drop in deaths from cancer, something that could be continued with a vape-based harm reduction initiative in the States. Pinoy chest physicians are being asked to look at the literature from England, and Linda Bauld declares that it 'keeps piling up'.
---
A look back at how things have moved on or otherwise….
NNA media releases, 26th January 2017
The High Court has just announced that it will allow the ban on the smoking substitute snus to be referred to the European Court of Justice. Professor Gerry Stimson, who is leading the legal challenge to the ban by the consumer group, the New Nicotine Alliance, said:

"There's now a race to see whether European judges or British politicians will lift the ban first. They realise that with British men smoking four times as much as Swedish men we cannot justify continuing the ban on snus. If the European Court doesn't do it first, I hope that when Brexit happens the bonfire of regulations will begin with this stupid ban on the world's most successful safer alternative to smoking."
To Be Aired In The High Court – Dick Puddlecote
This morning sees the start of an extremely interesting case brought in the UK High Court to attempt to lift the EU ban on snus. It is led by snus manufacturer Swedish Match and supported by the New Nicotine Alliance (NNA) to give a consumer aspect to proceedings.

You can read about the basis behind it at the NNA website here.
Kevin Crowly, Vaping Links
The positioning of Government and health organizations clamoring for "less smoking" is becoming dangerously close to a sitcom without the laugh tracks. Posturing of health officials in the United States has reached a "beyond unacceptable level" – now at the point of being a tragedy.
---
Visit Nicotine Science & Policy for more News from around the World

---