Vapers Digest January 29th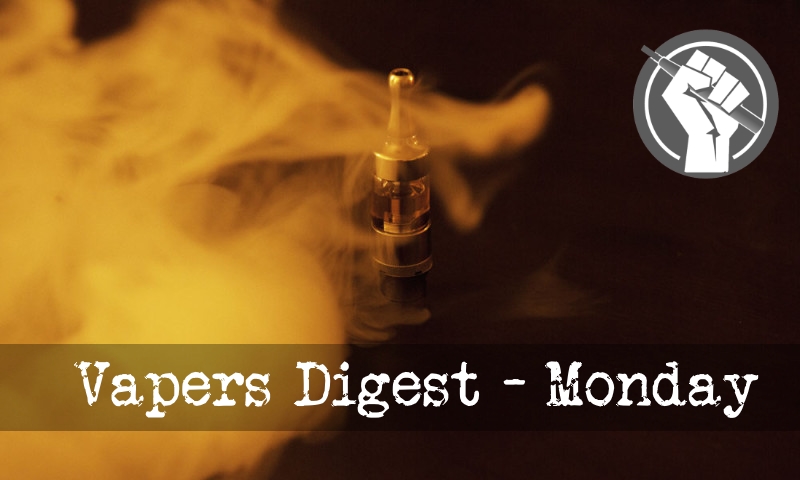 Monday's News at a glance:
Police, pharma raids hit every Malaysian vape shop – Sensory Enhancement Or Addiction? – FDA vote is a setback – but not a disaster – for iQOS – American academics release new report as NNA takes on the EU over snus – Why Was The National Academies Report So Wrong About The Gateway Effect? – Cancer Research Ad Provokes Attacks – To vape or not to vape in public … – UK accused of hypocrisy – Beware: No e-cigarettes in Thailand – Vaping In The News 27th January – Nicotine Science and Policy Daily Digest
Fergus Mason, Vaping Post
In a shock move, Malaysian police and pharma regulators launched a series of coordinated raids at 3pm today which appear to have hit every vape shop in the country. Liquids were confiscated and contact details for suppliers were taken.

The International Network of Nicotine Consumer Organisations (INNCO) has told Vaping Post that every vape shop in Malaysia seems to have been raided in a coordinated operation by police and regulators from Pharmaceutical Services.
Geoff Cliff
Presently fighting off the effects of a severe cold, combined with a bad bout of Winter Blues, and worry over the imminent loss of my beloved pet Border Collie, I am sleeping poorly at present. That means my having too much time to ponder the meaning of life, the universe and everything – especially in the early hours of the morning when all is quiet. As the thoughts flow, I reach from time to time for my electronic cigarette, inhaling its familiar vapour tinged with my current favourite flavour called Winter Nip.
---

---
Fergus Mason
Yesterday was an important day for PMI's iQOS device, and for the whole future of Heat not Burn in the USA. Following a long bureaucratic process an FDA advisory panel discussed, then voted on, PMI's claim that iQOS is a Modified Risk Tobacco Product (MRTP), a decision that could decide whether or not it goes on sale in the United States. It went better than it might have done, but unfortunately the results were still disappointing.
As NNA takes on the EU over snus
A new evidence review by the USA's leading science organisation has given qualified support to vaping as a harm reduction tool. Meanwhile a British advocacy group is trying to overturn the EU's hated snus ban in the face of opposition from its own government, and Indonesia's vaping community is pushing back against plans for a brutal tax on e-liquids.
---
---
So Wrong About The Gateway Effect?
Carl V. Phillips, Daily Vaper
As previously reported, the recent National Academies of Sciences, Engineering, and Medicine (NAS) report on vaping and vapor products declared that there is an evidence of a gateway effect – that vaping causes teenagers and young adults to start smoking. The reality is that there is no such evidence. So how did the report authors make that mistake? The easiest explanation is that they just lied about the evidence, as tobacco controllers often do. But in this case the problem seems to be genuine ignorance about how to do proper science.
Mawsley, Planet of the Vapes
People with an axe to grind, a desire to troll or who have swallowed the lies put about took issue with Cancer Research UK's (CRUK) advert on Facebook. You'd have thought that clearing up the 10 most asked questions with factual answers would have been helpful – not according to those who slammed the organisation.
---

---
Professor Gerry Stimson talks about his impression after the hearing

Lana O'Neill, South Africa
While consumers are well aware of and used to the regulations around smoking in public places, the law is still 'grey' regarding e-cigarettes and vaping in public places.

According to Stacey Bonser of Tuckers Inc., quite hefty penalties are laid down for businesses that contravene the law governing tobacco smoking in public areas, with fines as steep as R50 000 for the business owners or persons who are in control of such public areas.
On overseas tobacco control – Jamie Doward
Freedom of information requests reveal that the Foreign Office and the Department for International Trade have been championing the interests of British American Tobacco. This is despite the government being forced to draw up new guidelines for UK embassy staff after it emerged in 2012 that the UK ambassador had been lobbying the Panama government on behalf of BAT.
Tobacco firm to STOP selling Marlboro cigarettes in the UK
The US-based tobacco giant, whose major brands include Marlboro and Chesterfield, has pledged to stop selling cigarettes in the UK within the next decade.

Philip Morris International (PMI), a multi-national tobacco firm with products sold in more than 180 countries, is aiming to move towards selling smoke-free products and away from cigarettes that kill millions every year.

The Foreign Ministry issued a travel alert on Thursday, informing Israelis going to Thailand that electronic cigarettes are illegal in the country. The alert followed the detention of an elderly Israeli couple last week for possession of e-cigarettes in the Land of Smiles, and a fine of some NIS 4,000. They were also threatened with arrest.
Kevin Crowley, Vaping Links
Altria seeks state review of tax policy ~ Will we ever get the truth behind the FDA's devastating vaping rule? ~ Shocking cigarette development could change everything ~ Public Health Consequences of E-Cigarettes (4) ~ Japan's IQOS Experience Suggests Product Could Reduce U.S. Cigarette Consumption ~ A Big Week For Tobacco Harm Reduction ~ I could be wrong… ~ Vaping less harmful to lung fluids than smoking, study shows ~ Why D.C.'s proposed $2-a-pack increase in cigarette taxes is wrong ~ Joint Statement
---
A look back at how things have moved on or otherwise….
And Wins The First Round – Dick Puddlecote
Yesterday I wrote about a challenge to the EU-wide snus ban by Swedish Match and the NNA that was being heard in the High Court and my thoughts on why it should succeed. Well, the outcome was indeed successful as the case was given leave to appeal to the European Court of Justice despite being opposed by the Department of Health.
But FDA backs off another step – Fergus Mason
The Welsh government's health agency issued a new position statement on vaping this week, which admits that vaping is safer than smoking but repeats earlier demands for a flavour ban. Meanwhile research from the USA adds more proof that age limits on e-cig sales increase teen smoking, while a less positive paper from UCSF tries to resurrect the discredited gateway argument.
Ashtray Blog
The Welsh government may have failed to ban e-cigs in public places, but they're determined that if you do use e-cigarettes to get off tobacco cigarettes, you're not going to enjoy it.

In its latest attack on vapers,  Public Health Wales has stated:

"confectionary-like flavours of e-liquid should not be permitted, in order to reduce the appeal of vaping to children and young people."

According to Ashley Gould from Public Health Wales (PHW), only children like sweet flavours and vaping companies who sell sweet flavours are deliberately targeting children.
---
Visit Nicotine Science & Policy for more News from around the World

---