Vapers Digest 9th September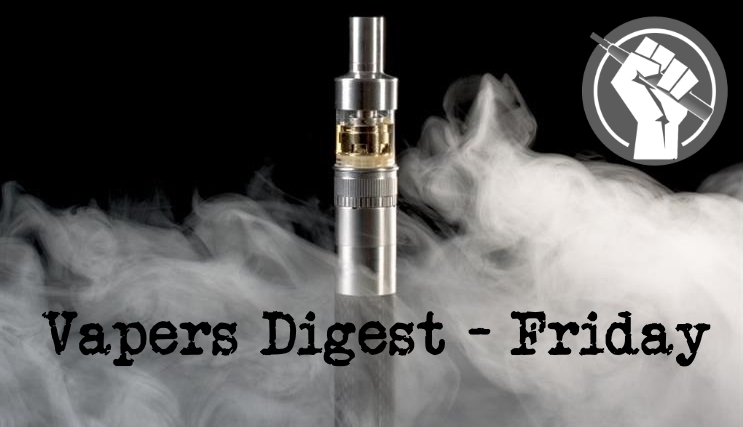 Friday's News at a glance:
EVALI: What It Is – Vaping Promotes Smoking Cessation – Smoking laws light up the path – Intersessional developments – New Paper Calls for "Middle-Ground" – Misinformation is deadly –  CASAA Takes The Bureau To Task – More Raids On Illegal Disposables – Vape Voucher Pilot Success – Another Thai Twist – WVA is Back on the Road – Facts For Dentists – Juul Will Pay States $439 Million – FDA Misreports PMTA Acceptance Numbers – Steve Forbes Blasts FDA Vaping Rule – Australia's publicly funded 'vaping facts' – What do e-cig cases tell us about where US FDA might go – Vaping could reduce Australian smoking rates – Science and the evolving debate about snus – Multnomah County's ban on flavored vapes – Alternative Tobacco Products – Kenya: Achieving THR – Nicotine Science and Policy Daily Digest
And Why Nicotine Vapers Shouldn't Worry About It…
James Dunworth, Ashtray Blog
EVALI stands for E-cigarette, or Vaping, product use-Associated Lung Injury. It refers to a severe, sometimes fatal, respiratory illness. Symptoms include shortness of breath and chest pains.

EVALI was first recorded in 2019, when a sudden spate of respiratory illnesses broke out in the USA, leading to 68 deaths by February 2020.

In this post I look at the causes of EVALI and the impact on vaping. Please note this article has been updated after a new study by Dr Colin Mendelsohn (see further reading), who also kindly checked this article for accuracy.
More Data From the UK – Cameron English
The UK's National Health Service just published the results of its survey Smoking, Drinking and Drug Use among Young People in England. The media amplified the report's finding that teen vaping increased slightly, from six to nine percent, between 2018 and 2021. Headlines and commentary were everything you'd expect from public health officials and journalists.

"Doctors say children are being targeted by e-cigarette companies, with bright packaging, exotic flavors and enticing names," BBC reported. One official with the Royal College of Pediatrics and Child Health told the news outlet he was "deeply disturbed" by the rise in teen vaping.
---

---
For a small government – Martin Cullip
A Johnson government, with its tendency to lean towards state intervention, and a pandemic, which lead to restrictions not seen for decades, has left the UK in an era where the big hand of Whitehall is the norm.

Rolling back the size of the state was put front and centre of Liz Truss' leadership campaign, and she has promised to govern "as a Conservative". In almost the same breath, she will need to put together a plan to prevent people from freezing to death this winter. Her plans to lead as a "low interventionist Thatcherite" will meet significant resistance in a climate where the public expects the government to step in.
The secrecy continues – COPWatch
We are now in the intersessional period leading up to COP10 and some developments are worth noting. You might recall that elections of the Bureau for COP10 were held during COP9 last year, with Eswatini becoming Chair and Oman, Netherlands, Uruguay, Sri Lanka, and Australia filling the other committee places. The FCTC website reports that this new Bureau met for the first time during the last week of April. What happened there is somewhat of a mystery. What was discussed? What was agreed? Has any information been shared with the Parties? The answer is we just don't know. This was yet another secret meeting, driven by the FCTC Secretariat and a cherry-picked group of countries.

The next Bureau meeting is scheduled for the autumn – will we have the same uncanny sensation of being left in the dark after that one too?
---
---
Approach to Vaping Regulation – Alex Norcia
Four highly regarded tobacco control scholars are calling for a policy agenda on e-cigarettes that balances curbing youth use with promoting vaping products as tools that can help adult smokers switch to safer nicotine alternatives. Their agenda—which consists of making e-cigarettes more easily and cheaply available than cigarettes, but also of reducing cigarettes' nicotine content and banning a range of flavored vaping and tobacco products—is certain to draw criticism both from anti-nicotine zealots and tobacco harm reduction proponents.

In a short paper appearing in Health Affairs, a leading, peer-reviewed health policy journal, Kenneth Warner, Cliff Douglas and Karalyn Kiessling, all of the University of Michigan, and Alex Liber of Georgetown University acknowledge that many Americans remain confused about the relative harms of nicotine use
For people trying to quit smoking – Kim Murray
The Oncology Nursing Society (ONS), which represents 100,000 nurses, has an admirable goal of improving the quality of life and outcomes for patients with cancer. The relationship between smoking cigarettes and cancer is an essential focus for them. A leading cause of cancer deaths in the United States is lung cancer, with about 80 percent of those cases attributed to smoking. Unfortunately, ONS seems to not understand the role tobacco harm reduction products can play in helping adults quit smoking and reduce their cancer risks.

Information about nicotine is a priority when healthcare providers interact with people who smoke. In a recent survey of physicians, 80 percent incorrectly believed that nicotine causes cancer, cardiovascular disease, and chronic obstructive pulmonary disease.

Six from Dave Cross, Planet of the Vapes:
The anti-vape Bureau of Investigative Journalism (the Bureau) has published an article alleging that Philip Morris International is not telling the truth about its heated tobacco products. The Consumer Advocates for Smoke-free Alternatives Association (CASAA) responded by taking it to task for the lack of evidence3 to support its claims.

The Bureau of Investigative Journalism's article "Philip Morris misleading the public about nicotine in heated tobacco" makes a number of claims including that IQOS "contains a lot more nicotine than the maker claims".
Following on from last week's coverage of swoops in West Yorkshire and Lancashire, stores in Northamptonshire and London have been subjected to police and Trading Standards officer raids and become the focus of national newspaper stories for supplying illegal vapes to teenage children.

West Northamptonshire Council Trading Standards officers conducted a series of test purchases with the assistance of a 16-year-old girl. The teen would enter stores and attempt to purchase vape products to see if the stores abided by legislation preventing them from selling to underage customers.
Giving out vape starter kit vouchers on the NHS could help even hardened smokers quit, according to a new study from the University of East Anglia. Researchers worked with GPs and the NHS stop smoking service, which is commissioned locally by Public Health at Norfolk County Council, to set up a pilot vape shop voucher scheme to help patients who had tried and failed to quit smoking in the past.

The pilot study was part-funded by Norfolk County Council, and the evaluation showed large scale success. Forty-two percent of the "entrenched" smokers who were referred to it and redeemed their vape voucher were found to have quit within a month.
Last year, a Thai Minister called for the country to overturn its harsh ban. Then, by May, a leading regional harm reduction advocate said legal vape sales were only months away from happening. Despite it looking a possibility that Thailand would reverse its anti-vape stance, Public Health Minister Anutin Charnvirakul recently announced that the ban will remain in place "to protect youths".

In 2021, Thailand's Digital Economy and Society Minister, Chaiwut Thanakamanusorn, told local media that vaping is safer for people trying to quit smoking. Additionally, he announced he was looking at ways vaping could be legalised to offer a less harmful alternative to smoking regular cigarettes.
Starting on October 5th, the World Vapers' Alliance (WVA) returns on the road with its #BackVapingBeatSmoking tour to deliver a message to policymakers that vaping can save 19 million lives in Europe. The campaign will launch on October 5th in Strasbourg, France with a Don't Let 19 Million Lives Fall protest art installation and will spread across ten cities within six countries during October – November 2022.

The campaign comes together as the Europe-wide tobacco legislation, Tobacco Products Directive (TPD), is being reviewed by the European legislators.
Dentistry website claims that 80,000 unique visitors access the online portal each month. The practitioners have been exposed to a number of misleading campaigns about vaping recently, fortunately Dr Richard Holliday and Professor Elaine McColl address this with a fact and evidence-based article aimed at clearing up misconceptions.

Recently, hospital consultant Nick Hopkinson told journalists: "Vaping is much, much safer than smoking, so if smokers switch across completely to vaping that will bring a big benefit to their health and the health of those around them.
---

---
To Atone for Past Sins – Jim McDonald
Juul Labs has agreed in principle to pay at least $438.5 million to 33 U.S. states (and Puerto Rico) to settle allegations the company deceived consumers and engaged in youth-oriented advertising and marketing. The settlement also requires Juul to adhere to certain standards in its future marketing.

The settlement is the result of a two-year investigation led by the attorneys general of Connecticut, Oregon and Texas. The $438.5 million figure is based on a six-year payment schedule. It could go as high as $470 million if the company spreads payments to the states over 10 years, according to Texas Attorney General Ken Paxton.
Jim McDonald
The FDA announced Thursday it has rejected 800,000 of the approximately one million synthetic nicotine product marketing applications submitted by the May 14 filing deadline. Of the 800,000 receiving Refuse to Accept (RTA) letters, the FDA says more than 700,000 were rejected in the last month.

The agency now says 85 percent of submitted synthetic nicotine premarket tobacco applications (PMTAs) have been reviewed for basic filing requirements, which means about 150,000 PMTAs have yet to receive a determination of any kind.
Ontologies and tobacco, nicotine and vaping products with Sharon Cox
In this episode we talk to Dr Sharon Cox about developing an ontology around nicotine and tobacco products. Sharon also talks about the importance of ontologies and how they are essential for improving research. She talks about how to manage disagreements when developing a system that categorises and defines products, behaviours and properties.
Steve Forbes Blasts FDA Vaping Rule
To hear the FDA and other public health officials tell it, you'd think e-cigarettes are as lethal as the traditional tobacco kind. As this segment of What's Ahead explains, the opposite is true. The only thing vaping and tobacco have in common is nicotine, which is addictive, not lethal. It's all the other stuff in tobacco, like tar, that make cigarettes so life-threatening.

Vaping is actually very effective in helping people quit smoking—far more so than nicotine patches, gums and lozenges. This is why Britain and other countries encourage its use. Antivapors point to the rise in e-cigarette usage among teenagers over the last decade, but they ignore the dramatic drop in teen tobacco smoking.
And you're not alone. A new campaign sheds light on nicotine use and vaping
Since 2017 the Vapour Products Association of South Africa (VPASA) has continued to educate South Africans about vaping. This month, the not-for-profit delves even deeper with a campaign focused on the origins and uses of nicotine, an ingredient found in some vape liquids.

In its purest form, nicotine is an alkaloid, a naturally occurring organic compound, produced by the nightshade family of plants. Despite its bad reputation as a key ingredient in cigarettes — the main reason many people think it is responsible for the harmful effects of smoking — nicotine can also be found in chewing and pipe tobacco, snuff, pesticides, e-cigarettes, vapes, and medicinal nicotine replacement therapy (NRT) products, such as patches, gums, lozenges, and sprays.

Need investigation – CAPHRA
"The vaping lies getting peddled in Australia are an outrageous misuse of public expenditure which should be directed towards improving Australia's healthcare system," says Nancy Loucas, Executive Co-ordinator of CAPHRA (Coalition of Asia Pacific Tobacco Harm Reduction Advocates).

Her comments follow the New South Wales Government ramping up its threats to law-abiding retailers about vaping products and continuing to stand by a controversial $300,000 joint 'education campaign' on vaping with the Department of Education.
Smoking rates and save lives – Colin Mendelsohn
RELAXING AUSTRALIA'S HARSH REGULATIONS on vaping could save the lives of 70,000 – 104,000 Australians by 2080 and prevent untold suffering.

These were the findings of a modelling study published today in Nicotine and Tobacco Research which estimates the public health benefit of relaxing the harsh, restrictive laws on vaping nicotine in Australia. The study was conducted by leading Australian researchers A/Prof Coral Gartner and Professor Ron Borland and an elite team of US researchers led by Professor David Levy.

The impact of vaping is based on making vaping as widely and legally accessible in Australia as it is in the US. It uses Australian data where available, but also bases some calculations on US data where it is not.
About where US FDA might go on other alternatives? – Barnaby Page
Another day, another judgement in the saga of the US vapour industry's cases against the Food and Drug Administration (FDA) over its handling of the premarket tobacco product application (PMTA) process, and this time it's the court's decision in the case of Bidi Vapor and five other firms against the agency.

While no more conclusive for the industry as a whole than any of the other judgements in similar cases – which have certainly not all reached the same conclusions – it's worthy of note for the spotlight it puts on the FDA's approach to applications
Lars Rutqvist
Is misguided and bad for public health – Jacob Grier
Adults in Oregon can walk into any state-licensed liquor store and buy all kinds of flavored liquor, from cinnamon whiskey to whipped cream vodka. At Oregon grocery stores, they can buy caramel stouts, fruity sour ales and mango hard seltzers. Cannabis is legally sold in the form of milk chocolate bars and pink lemonade jellies. But if a new proposal passes the Multnomah County Commission, it will soon be illegal to sell flavored tobacco or nicotine products to adults.

The popularity of flavored alcohol and cannabis belies the allegation that flavored tobacco or e-cigarettes are aimed exclusively at youth, but the proposal to ban these products is worse than hypocritical.
To Alternative Tobacco Products
The high smoking prevalence has been closely associated with increased smoking-related diseases. Alternative tobacco products are predicted to be one of the solutions that can help reduce smoking prevalence and improve public health quality. This issue was highlighted in an online discussion held by Alomedika themed "Reducing the Harm of Smoking: Is Tobacco Harm Reduction Feasible?"

World Health Organization (WHO) former Director of Policy Research and Cooperation Tikki Pangestu said Indonesia is home to 69 million smokers. Aside from its impact on public health, the high number of smokers also affects the socio-economic aspect. The reason is that the government is shouldering the health budget burden due to smoking prevalence.
Without Evaporating Freedoms – Edam Shem
Whether chewing, sniffing, or smoking, tobacco consumption is a tradition woven in the genealogical history of human existence. Despite causing over seven million deaths annually, tobacco use is widespread, especially among adolescents. The World Health Organization (WHO) found that nearly eighty percent of the world's one billion smokers live in low and middle-income countries. The reason for this is not apparent, but rich or poor, we know many people love to smoke, and that is not entirely a bad thing if it is their choice.
---
A look back at how things have moved on or otherwise….
---
Visit Nicotine Science & Policy for more News from around the World

---