Vapers Digest 7th September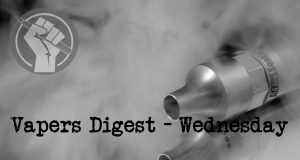 Wednesday's News at a glance:
La OMS continúa ignorando a los vapeadores (The WHO keeps ignoring vapers in its last report) ~ Tobacco control intervention: Banning e-cigarettes to make things worse, say experts ~ Laws need to be neutral, non-discriminatory and pro-citizen ~ Correcting the myths about vaping. Interview ~ Alcohol and Drug Foundation misleads on youth vaping ~ INNCO: Weekly Issue | Sept 5th, 2022 ~ Strong Reasons To Follow UK's Success ~ Dryft Alleges Swedish Match Drove It Off the Market ~ Brazil Threatens Fines For Retailers Selling Vapes
Alberto Hernandez, World Vapers' Alliance (WVA)
La Organización Panamericana de la Salud (OPS), subsidiaria de la Organización Mundial de la Salud (OMS) en el continente americano, publicó recientemente su Informe sobre el control del tabaco en la región de las Américas 2022. En él, la OMS se muestra una vez más incapaz de reconocer el papel que puede jugar el vapeo a la hora de reducir los daños causados por el tabaquismo.
Alberto Hernandez, World Vapers' Alliance (WVA)
The Pan American Health Organization (PAHO), the subsidiary of the World Health Organization (WHO) in the Americas, recently published its Report on Tobacco Control for the Region of the Americas 2022. In it, the WHO once again fails to recognize the role that vaping can play in reducing the harm caused by smoking.
Bangladesh's goal of becoming a tobacco-free country by 2040 will be hindered if e-cigarettes are banned, experts said Thursday.

They were speaking at the webinar "Save Vaping, Save Bangladesh" organised by the Bangladesh-based Voices of Vapers.

The experts addressed the recent proposal to ban vape and other alternative and heat-not-burn tobacco products in a new amendment to the country's tobacco control legislation.
Prof. Bejon Kumar Misra, The Times Of India
The governments at the centre and state are duty bound to provide adequate healthcare and preventive health facilities to the citizens but as of now, unfortunately, we are the victims of discriminatory policies which lack clarity and transparency in the decision making process. It is high time we revisited some of our existing laws to encourage harm reduction products and right of the consumers to make an informed choice. 
---
I am proud and humbled to have won the "Energiser Bunny of vaping promotion" award for Australia, 2022
Presented recently by the esteemed Emeritus Professor Simon Chapman AO
I will wear it as a badge of honour and promise to keep beating my drum until the lies about #vaping stop pic.twitter.com/LU9eNWNgZB

— Colin Mendelsohn (@ColinMendelsohn) September 5, 2022
---
Innco
Hi Dear Friends,

It's always a pleasure to greet you. We had a great time on Saturday during our Virtual Social Event: "Bring your own Joke" where we heard a ton of great jokes. We thank you very much for assisting and enjoying some time with us.

We kindly remind you about the survey forwarded by our Executive Director Charles Gardner, in case you haven't got the chance to fill it out. We appreciate your vast cooperation and help.
---
One from Dave Cross, Planet of the Vapes
The Coalition of Asia Pacific Tobacco Harm Reduction Advocates (CAPHRA) has welcomed the Action on Smoking and Health report showing vaping success in the United Kingdom. "Smoking in Britain is dramatically falling, largely because adults keen to quit have been able to switch to considerably less harmful vaping," says Nancy Loucas, Executive Coordinator of CAPHRA.
---

---
Hannah Hammond, CSP
Nicotine pouch maker Dryft is suing Swedish Match, alleging the company drove it off the market with "a series of sham legal actions."

Swedish Match brought these legal actions against Dryft because it knew it could not compete fairly with Dryft based on the qualities and prices of its nicotine pouch product, Zyn, Dryft alleged in a lawsuit filed on Aug. 2 in the U.S. District Court of the Central District of California. Swedish Match declined comment to CSP, saying it does not comment on pending litigation.
---

---
Harry's Blog 104:
The term was coined by an economist to explain why those with seemingly opposing interests can sometimes find themselves in accord with one another. His example was how those campaigning for Prohibition found unwitting common cause with bootleggers whose fortunes were made with the passing of the Volstead Act. Regarding the battle over vaping, it's more to do with the Baptists aiding the bootleggers to preserve their existing mega bucks.

The narrative constructed by those who oppose tobacco harm reduction (THR) through the use of safer nicotine products (SNP) is that the whole business is a Big Tobacco ploy to hook kids on nicotine through the promotion of cool products in order to compensate for falling cigarette sales.
Hold Successful DC Rally Ahead of Industry-Killing PMTA Deadline & November Elections
Vaping advocates from across the country descended on Washington D.C. on Saturday to show support for small vapor businesses and to demonstrate to President Trump that their votes have the power to change the upcoming election. Vaping advocates demanded President Trump push for the Food & Drug Administration to reform the Pre-Market Tobacco Application (PMTA) process or extend the cutoff before the looming deadline of Sept. 9. With 14,000 small businesses in jeopardy of vanishing overnight, the FDA is still tracking towards the Sept. 9 deadline requiring small businesses to file pricey and burdensome PMTAs to keep their products for sale.
---
Visit Nicotine Science & Policy for more News from around the World

---