Vapers Digest 9th May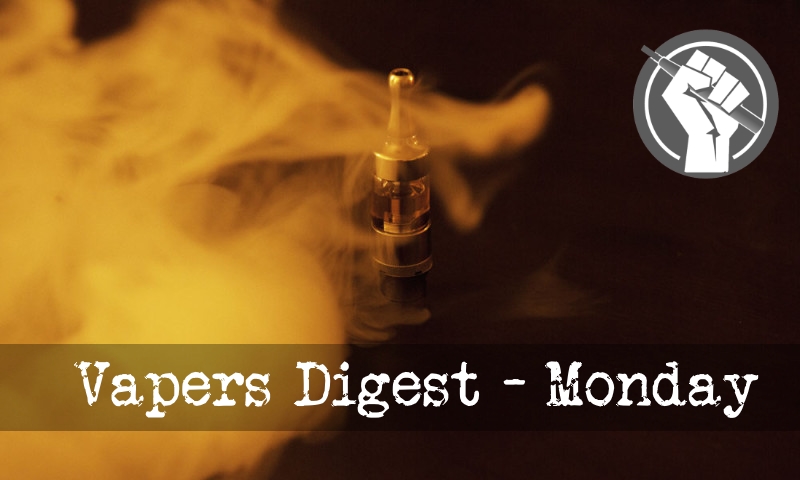 Monday's News at a glance:
Vape Britain: Huge new drive to wipe-out smoking in England by 2030 – Sorry, not sorry: I have been paid for work I have done – Campaign for Tobacco-Free Kids — Can History Repeat Itself? – Swedish Match in buyout talks with Philip Morris – Multi-sector groups gather to push for comprehensive vape regulation – Groups push signing of vape bill – Vaping: Caught in the Crossfire with Clive Bates – The Advocates Voice – Communication and Engagement – Hamilton Morris & Ethan Nadelmann discuss Drug Policy – Nicotine Science and Policy Daily Digest
Huge new drive to wipe-out smoking in England by 2030
A review commissioned by the Department of Health is expected to recommend promoting e-cigarettes as a less harmful alternative for existing smokers, when it reports later this month. Health Secretary Sajid Javid appointed former Barnardo's Chief Executive Javed Khan to lead the inquiry in February. Ministers want to make England "smoke free", defined as fewer than one in 20 people smoking, by the end of the decade.

Mr Khan said: "In my review I have considered a range of critical interventions that will make the most difference. For example, I've looked at the promotion of vaping as a less harmful alternative; a greater role for the NHS in ending smoking and the need to tackle illicit tobacco sales"
I have been paid for work I have done for tobacco companies and vaping organizations
I have been banned from attending the Ottawa Model Conference on Smoking Cessation, the same conference where I have been a guest speaker a couple of times in the past, because of my association with the tobacco industry and vaping organizations.

Cynthia Callard from Physicians for a Smoke-Free Canada has made it clear that she does not want to receive emails from me and if I send her something she will not reply.

People I know in traditional tobacco control organizations have "ghosted" me; they will no longer speak to me or answer my emails.
---

---
Can History Repeat Itself? – Kim Murray
A recent press release by the Campaign for Tobacco-Free Kids (CTFK) expresses displeasure over a Connecticut bill that says all vapor products would have to be sold in age-restricted locations. Despite helping millions of American adults quit smoking, organizations like CTFK have exaggerated the issue of youth use of these products while ignoring the benefits these products provide for adults who smoke.

Since 2019, the legal age to use commercial nicotine products in Connecticut is 21. The state needs to do a better job of enforcing current laws to prevent youth use of nicotine instead of passing more laws. Restrictive laws don't fix problems, they generate additional problems by creating customers for illicit products.
---
---
With larger rival Philip Morris
Swedish Match said on Monday the European tobacco products maker was in discussions with U.S. rival Philip Morris International Inc for a possible takeover offer.

The talks were in progress, but it was uncertain whether an offer will be made, Philip Morris said in a separate statement.

Swedish Match has a market capitalization of 120.92 billion Swedish krona ($12.04 billion), according to Refinitiv data. Philip Morris has a market capitalization of $153.37 billion.

To push for comprehensive vape regulation – Jan V. Escosio
Philippines — The collective stance of more than a million vapers was expressed Friday in a gathering to push for the enactment of the comprehensive Vape Bill into law that will regulate e-cigarettes, heated tobacco products (HTPs), and other novel tobacco products to protect minors while providing adult smokers with less harmful alternatives.

The proposed bill, once enacted, can help the 16 million Filipino adult smokers to kick the deadly smoking habit according to Dr. Lorenzo Mata, president of anti-smoking advocacy group Quit for Good as he clarifies that smoking, not nicotine, kills.
Kaithreen Cruz
VARIOUS groups pushed for the signing into law of the Vape bill, or the "Vaporized Nicotine and Non-Nicotine Products Regulation Act," to provide adult smokers with "better alternatives" and to "end the smoking epidemic in the country."

These groups — Nicotine Consumers Union of the Philippines (NCUP), Philippine E-cigarette Industry Association, Consumer Choice Philippines, Quit for Good, Vapers PH, Vaper Ako, Pro Vape, Philippine Tobacco Harm Reduction Advocates Inc. and the Coalition of Asia Pacific Tobacco Harm Reduction Advocates — held a rally on May 6 in Quezon City to reiterate their call for a comprehensive vape regulation.
---

---
With Clive Bates

Communication and Engagement – Part 2
Discuss Drug Policy
---
A look back at how things have moved on or otherwise…
Michael Landl
The EU Scientific Committee on Health, Environmental and Emerging Risks (SCHEER) final opinion on e-cigarettes is a step backwards for vaping and for public health. It is based on weak data, ignores crucial scientific evidence and experience from consumers, and has been designed in such a way that it ignores vaping's biggest strength – its power to reduce the harm from smoking.

Last year, SCHEER was appointed by the European Commission to produce a report on vaping and its health impacts. Their preliminary report, released in September, was met with widespread criticism from scientists, public health experts and vapers. Riddled with old data, cherry picked studies and a general lack of knowledge about vaping, it painted a bleak picture.
Could Be Heard by the Supreme Court – Jim McDonald
A group of small vaping companies has petitioned the U.S. Supreme Court to review its lawsuit challenging the validity of the FDA's vaping regulations, after the action was rejected previously by a federal district court and circuit court of appeals.

The lawsuit, Moose Jooce, et al v. Food and Drug Administration, challenged the FDA Deeming Rule on grounds that it violates the Appointments Clause and First Amendment of the Constitution. The action, which consolidated three separate complaints by small vaping businesses, was decided in favor of the FDA in February 2020 by a U.S. District Court judge. On Dec. 1, 2020, a three-judge panel of the District of Columbia Circuit Court of Appeals upheld the earlier decision.
---
Visit Nicotine Science & Policy for more News from around the World

---