Vapers Digest 11th May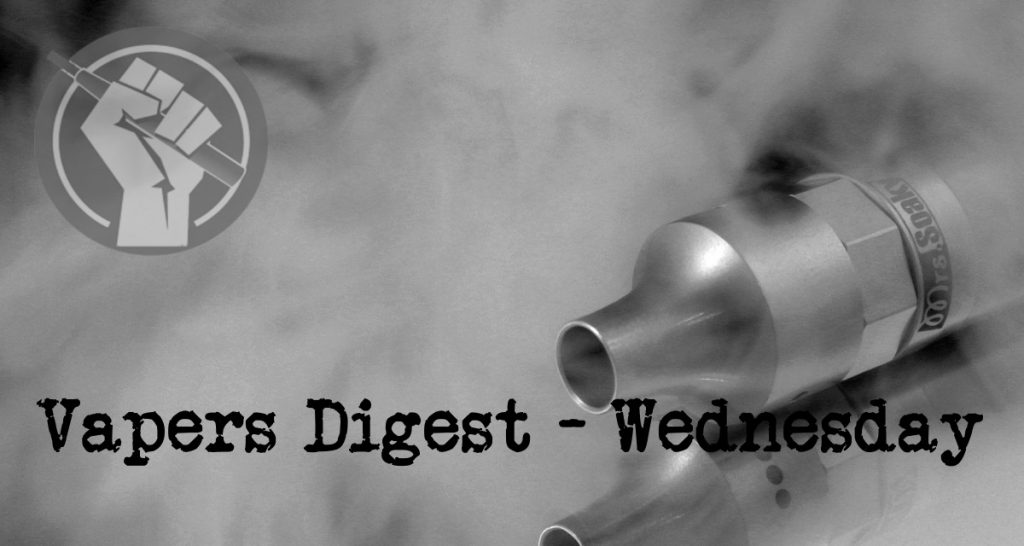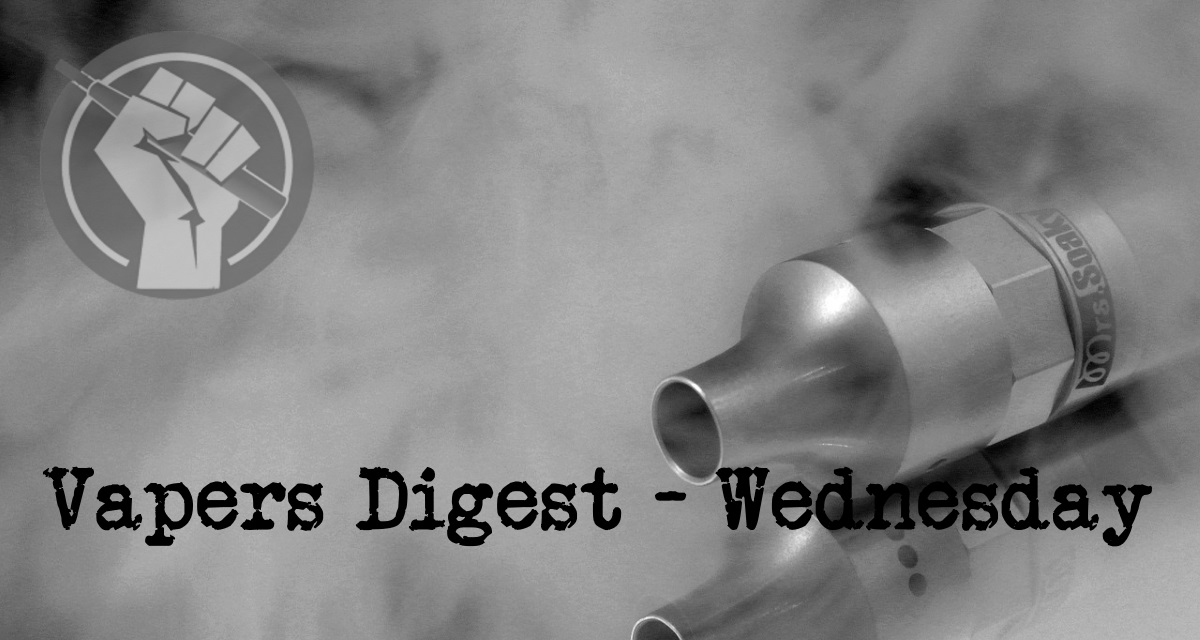 Wednesday's News at a glance:
Will Brazil rethink its vaping prohibition? – Smoking cessation policies in Brazil and UK: – Tobacco Control Act didn't significantly reduce teen smoking – Vapes introduced to Whanganui mental health ward – Hong Kong's Ecig Swansong – Scotland Fury – New Zealand Mustn't Sabotage Its Goal – Flavor Ban Bills Are Dead in Colorado and Connecticut – Colorado Senate's Rejection of Flavored Nicotine Ban – Hawaii Bill to Ban Flavored Vapes – Maria Papaioannoy from Rights4Vapers – Anti-Vaping Bias Undermines E-cigarette Research? – Is There a Place for E-Cigarettes in Tobacco Addiction Treatment Policy? – Nicotine Science and Policy Daily Digest
Clive Bates, The Counterfactual
O Brasil vai repensar sua proibição de vaping?" Brazil is consulting on lifting its ban on vaping products. Will it recognise the perverse consequences of prohibition and shift to risk-proportionate regulation? We argue it should rethink its approach to nicotine.

Brazil's public health agency, ANVISA, has been consulting on whether the long-standing policy of prohibition of vaping products should be retained or lifted. The consultation questionnaire seeks comments on a technical document.

Shortcut to full response (PDF). Here's my take…
Center of Excellence for the acceleration of Harm Reduction.
In a recently published paper, "Health protection, public policies for smoking cessation and regulation of electronic cigarettes in Brazil and the UK: a study of comparative public law", by Costanza Nicolosi, expert in the economics of legal regulation and Ph.D. in law, the author analyzes the legal approach taken by two countries, UK and Brazil, in e-cigarettes' regulation, marketing, and production

Some countries have no specific control on e-cigarettes, while others implement a series of bans: in such a fragmented landscape, every action taken by public authorities can affect the way consumers approach e-cigarettes.
---

---
Didn't significantly reduce teen smoking
Lindsey Stroud | Taxpayers Protection Alliance
In 2009, then-President Barack Obama (a former smoker) signed the Family Smoking Prevention and Tobacco Control Act (TCA). The landmark legislation gave the U.S. Food and Drug Administration (FDA) the authority to regulate tobacco products, including cigarettes, cigars, smokeless and other tobacco products. The law also banned the sale of flavors (other than tobacco and/or menthol) in combustible cigarettes and included various regulatory requirements for tobacco manufacturers, including advertising and other restrictions.

In his statement, Obama remarked that the "law will reduce the number of American children who pick up a cigarette and become adult smokers." While reducing youth use of cigarettes is laudable, the TCA essentially deemed all tobacco products as the same.
---
Clive Bates: The Worst Merchants of Doubt https://t.co/tZtPGOo5Ek

— CASAA (@CASAAmedia) May 10, 2022
"Previously unreleased EU documents obtained by @Snusforumet reveal the European Commission's DG SANTE exaggerated claims about member states' desire for EU-wide regulation and calls to ban tobacco-free nicotine pouches"https://t.co/Frmlqc6UhQ

— European Tobacco Harm Reduction Advocates (@europethra) May 11, 2022
---
Mental health ward as it aims to become smoke-free by June 27
Plans are underway to make Te Awhina, Whanganui Hospital's mental health ward, smoke-free by the end of June.

The ward began the transition to go smoke-free on April 18, and has seven weeks to complete the process before June 27.

Tobacco control co-ordinator for the Public Health Centre, Rosie McMenamin, said the choice of day was to inspire change in the ward.

"We have chosen June 27 to align with Matariki and to strengthen the message around positive change," McMenamin said.

Three from Dave Cross, POTV:
Vape stores have been left with no alternative to closing and users of tobacco harm reduction products like vapes and heat-not-burn devices risk stiff penalties. Once a common-sense and legal reduced risk route out of smoking, now illegal products that will spawn black market smuggling routes and the criminalisation of ordinary citizens.

With the implementation of this ridiculous, retrograde policy, vape stores have been forced to dump existing stock and shut up shop for good. A once thriving ecig business sector has died, and those left attempting to provide 95% safer solutions to tobacco related disease have been driven underground.
Scotland's proposed vape restrictions have been slammed by a swathe of industry and consumer voices. The Association of Convenience Stores, the Scottish Grocers' Federation, and the director of We Vape all hit back in response to government proposals that have been supported by ASH Scotland.

Public Health minister Maree Todd said: "Reducing exposure to the promotion of vape products is the best way to protect non-smokers, young people and children from experimenting with these products."
New Zealand must not sabotage its Smokefree 2025 goal, says the Coalition of Asia Pacific Tobacco Harm Advocates. With the rise in anti-ecig propaganda, the country risks the advances made. Latest research shows that vaping has not become an issue in Kiwi schools.

"New Zealand is at risk of not achieving its decade long Smokefree 2025 ambition if commentators continue to demonise the most effective quit-smoking tool we have right now," says Nancy Loucas, Executive Coordinator of the Coalition of Asia Pacific Tobacco Harm Reduction Advocates (CAPHRA).
---

---
Colorado and Connecticut – Jim McDonald
Flavored Nicotine Ban Will Save 100,000 Lives
Earlier today, the Colorado Senate Appropriations Committee overwhelmingly rejected HB 1064, an attempt to prohibit flavors in all nicotine products including reduced-harm alternatives like e-cigarettes. Americans for Tax Reform would like to commend the bipartisan opposition of committee members who voted against this deeply misguided bill.

Tim Andrews, ATR's Director of Consumer Affairs said, "This courageous and sensible decision will continue to allow for more than 100,000 lives in Colorado to be saved by switching to vaping, extrapolating from modeling by Georgetown University Medical Center.
Awaits Governor's Signature – Alex Norcia
On May 3, the Hawaii House of Representatives passed legislation that would ban the sale of flavored vaping products. Previously passed by the Senate, the bill now moves to the desk of Governor David Ige, a Democrat. If he signs it, Hawaii will become the fifth state to prohibit flavored e-cigarettes, joining Rhode Island, New Jersey, New York and Massachusetts.

Described as surviving a "rollercoaster legislative session" by Honolulu Civil Beat, House Bill 1570 passed the House with the needed two-thirds majority—36 state representatives voted in favor, 15 in opposition—and launched a debate that could pit the state against federal policy.

New Study Raises Questions – Cameron English
Inexperienced journalists commonly make a mistake known as "burying the lede," or hiding the most crucial aspects of a story underneath lots of distracting and less significant information. Scientists often make an analogous mistake, by emphasizing less important results from their research while minimizing others that are more relevant, especially because they're related to public health.

Case in point: a study published last week in the American Heart Association's (AHA) journal Circulation reported an association between dual use of e-cigarettes and combustible tobacco and increased cardiovascular disease (CVD) risk over a six-year period. The paper's results, as we'll see, clearly support vaping as a low-risk alternative to smoking, but the AHA did its best to downplay this result.
Shares on the vaping issues in Canada.
Tobacco Addiction Treatment Policy? – Leah Lambart
Tobacco remains a leading cause of preventable disease and premature death in the world, responsible for 5.4 million deaths annually. Diseases include but are not limited to cancer, cardiovascular and pulmonary diseases, respiratory tract infections, osteoporosis, reproductive disorders, gastrointestinal ulcers, and diabetes. A lifelong smoker has an approximately 50% chance of dying prematurely from a complication of smoking. Overall, smoking causes 1 in 10 adult deaths worldwide (Benowitz, 2010; Rom, Pecorelli, Valacchi, & Reznick, 2015; World Health Organization, n.d.).
---
A look back at how things have moved on or otherwise…
Swedish MEP Sara Skyttedal believes the European Commission's "ideological opposition" to all tobacco and nicotine leaves ignorant on the science on Swedish snus and cancer. And progress on the EU's Beating Cancer plan may suffer as a result.

"The fact that the Commission nevertheless persists in the view that snus causes cancer is both surprising and, to be honest, quite remarkable," Skyttedal tells Snusforumet.
In the light of the global pandemic, there have been calls to abolish, repurpose or revitalize the World Health Organization. I am firmly in the revitalize camp. Naturally, most of the hindsight has focused on the WHO's response to infectious diseases. In April 2021, Covid-19 deaths are approaching 3 million worldwide. However, according to the WHO, tobacco-related deaths exceed 8 million annually. So what would new thinking on the WHO's approach to tobacco policy look like? Here is my seven-point reform plan.
---
Visit Nicotine Science & Policy for more News from around the World

---