Vapers Digest 13th May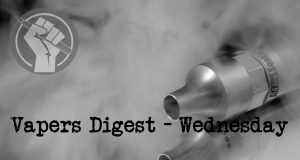 Wednesday's News at a glance:
The American Heart Association tries to bury the truth about e-cigarettes ~ Smokers who switch to e-cigarettes may adopt other healthy routines ~ New study finds global adolescent vaping is low ~ New Study Finds that Switching from Smoking to Vaping Reduces Heart Disease Risk by 34% ~ Local Vape Businesses to FDA: We're Helping Smokers Quit. Why Are You Trying to Stop Us? ~ America's Assault on Nicotine Product Innovation Will Cost Millions of Lives ~ Proposed tax on alternative nicotine products retrogressive – experts ~ Experts Warn against Heavy Imposition of Tax on Nicotine ~ NEW Saving Chalo ~ Quitting Survey Needs You ~ Research: Covid-19 And Vaping ~ Now For The Cartoons ~ Vaping advocacy group launches an art installation in Brussels to tell policymakers that flavours matter ~ Brunswick Vapers Look Elsewhere ~ FDA Issues Marketing Decisions on Vuse Vibe and Vuse Ciro E-Cigarette Products
Kim Eckart, University of Washington, Medical Xpress
Adult smokers who shift to using to e-cigarettes may have more chances to improve health and well-being, according to new research from the University of Washington.

The study monitored changes in health and social functioning among smokers at two stages in adulthood, age 30 and again at 39. Approximately one-third of smokers shifted to vaping some or all the time by age 39. This group reported better physical health, exercised more and had more active social engagement, the study found.
Society for the Study of Addiction, Medical Xpress
A new study published today in the scientific journal Addiction has found that approximately 8.6% of adolescents reported using e-cigarettes (vaping) in the past 30 days, but only 1.7% engaged in frequent vaping. This suggests most adolescents who vape are experimenting but not making it a habit.
---
---
---
Martin Cullip, Town Hall
A new paper by the Institute of Economic Affairs has proposed the need for an "innovation principle" to guard against over precaution when faced with innovative new products entering a market.

To illustrate this, the paper discusses the varying regulatory treatment of reduced risk nicotine delivery products in different countries. The paper suggests that this varying treatment has created a series of natural experiments by which to judge which regulatory approach – from the liberal on the one hand and the prohibitionist on the other – to determine which leads to the most beneficial outcomes.
Martin Mwita, The Star
Sin tax increases proposed by the government threaten to deprive Kenyan smokers of their lifeline to a healthier future and risk delivering a massive boost to illicit trade, a lobby group has said.

The Campaign for Safer Alternatives (CASA)that advocates for less harmful options to help smokers quit has  said by more than doubling the excise duty on alternative nicotine products, such as e-cigarettes and nicotine pouches, the Finance Bill 2022 would put these significantly safer options out of reach of smokers.
KSN News
SIN tax increase proposed by the Government threaten to deprive Kenyan smokers of their lifeline to a healthier future and risk delivering a massive boost to illicit trade, a lobby that advocates for less harmful options to help smokers quit warned on Monday.
---

---
"They can blame vaping for almost anything–indiscriminately."

If you missed 'Vaping and Tobacco Truths with @BradRodu' you can watch the full episode replay by clicking the in-video link at the end of the clip–and don't forget to subscribe!https://t.co/KG66ppoSpJ

— CASAA (@CASAAmedia) May 11, 2022
---
---

---
THREE from Dave Cross, Planet of the Vapes
A new survey has been launched to look at what it's like to quit smoking. It is being conducted by the public health departments in Herefordshire and Worcestershire. It says the aim is to help more people quit smoking, but vapers face a set of questions about quitting vaping instead.
Researchers at the Institute for Health Research in Aurora, Colorado, and the Department of Health Systems Science at the Kaiser Permanente Bernard J. Tyson School of Medicine in Pasadena have conducted a study looking at the association of vaping with contracting Covid-19 and the possible severity of the disease.
Dr Heather Lynn Wipfli of the Population Sciences and Public Health at the University of Southern California, Los Angeles, is angry. She's mainly angry because, as a typical adult, she doesn't understand a cultural media form. In this case it's anime – or more particularly vaping appearing in anime cartoons.
---
World Vapers' Alliance
 A global alliance of vapers gathered in Brussels today to call on European policymakers to stand against possible bans on vape flavours. The World Vapers' Alliance (WVA) displayed an art installation in front of the European Parliament with a simple message "Flavours help smokers quit". 
John Swinconeck – Portland Press Herald
Vape stores in other cities already are seeing more Brunswick customers in the weeks before the Brunswick's flavored tobacco and nicotine ban goes into effect.
On May 12, the FDA issued decisions on several Vuse Vibe and Vuse Ciro e-cigarette products, including the authorization of six new tobacco products through the Premarket Tobacco Product Application (PMTA) pathway. The FDA issued marketing granted orders (MGO) to R.J. Reynolds Vapor Company for its Vuse Vibe e-cigarette device and accompanying tobacco-flavored closed e-liquid pod, as well as for its Vuse Ciro e-cigarette device and accompanying tobacco-flavored closed e-liquid pod. For each device, two versions of the Power Units were authorized to reflect different battery manufacturers described in the company's applications. In total, the products receiving MGOs include:
---
Visit Nicotine Science & Policy for more News from around the World

---