Vapers Digest 16th May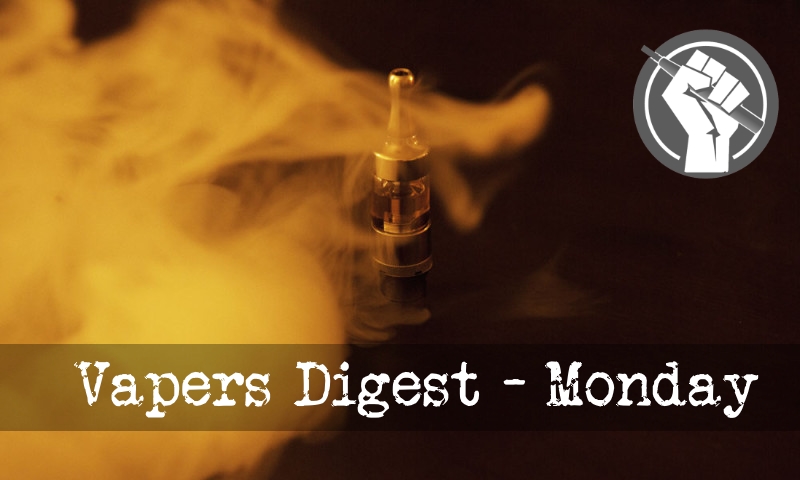 Monday's News at a glance:
E-cigarettes 'as safe as nicotine patches' for pregnant smokers – Colorado Flavored Vape Ban Voted Down – Anti-Vaping Hysteria Is Deadly – The Highfalutin' Hubris of Public Health – Fines are Fine – Guidelines For Healthcare Professionals – FDA Authorizes Yet More Unpopular Vuse Products – FDA Delivers Failing "Report Card" to Judge Grimm – What low-income smokers have learned from public health pedagogy – Signing Vape Bill Will Ensure Legacy For Philippine President – Health Canada's Confused Message on Vaping – Vape consumers rejects ban on vape – Nicotine Science and Policy Daily Digest
For pregnant smokers trying to quit – Nicola K S Davis
E-cigarettes are as safe to use as nicotine patches for pregnant smokers trying to quit, and may be a more effective tool, researchers have revealed.

Smoking in pregnancy can increase the risk of outcomes including premature birth, miscarriage and the baby having a low birth weight. But stubbing out the habit can be a struggle.

"Many pregnant smokers find it difficult to quit with current stop smoking medications including nicotine patches and continue to smoke throughout pregnancy," said Dr Francesca Pesola, an author of the new study who is based at Queen Mary University in London.
In Big Loss for Prohibitionists – Alex Norcia
On May 10, a Colorado Senate committee voted against a bill that would have banned flavored e-cigarettes as well as most flavored tobacco products. With the legislation unlikely to be revisited in the foreseeable future, it represents a notable stemming of the tide of bans around the United States.

Colorado's House Bill 1064 has been the subject of intense focus this past week. Besides media coverage and campaigning, the sums thrown at lobbying—Altria and Reynolds American reportedly spent $149,000 and $173,000, respectively, on lobbying against the bill, while the Michael Bloomberg-funded Campaign for Tobacco-Free Kids (CTFK) shelled out around $181,000 to support some 25 lobbyists in seeking to get it passed—illustrated the stakes.
---

---
Natalie Dowzicky and Danielle Thompson
The war on drugs is winding down, and the war on tobacco is ramping up. E-cigarettes, a safer nicotine-delivery alternative, have contributed to plummeting use of traditional cigarette smoking. Yet the Food and Drug Administration (FDA) has effectively made it harder for cigarette smokers to switch by limiting vapes from the market. The agency also recently announced a ban on menthol cigarettes and flavored cigars, which will push more products onto the black market, with all sorts of unintended consequences.

"As tobacco, e-cigarettes, and e-liquids transition from legal to illicit, law enforcement agencies will more aggressively interfere with production, distribution, retail sales, and in some cases even individual use," wrote Jacob Grier
---
Calling all Spanish #vapers , you're need now more than ever.
Sign the @anesvap petition to avoid the closure of specialised #vape shops. https://t.co/692n68yhDm

— European Tobacco Harm Reduction Advocates (@europethra) May 13, 2022
"There was no evidence that initiation with e-cigarettes as the first product tried was associated with cigarette progression (nor cigarettes as first product and e-cigarette progression)."https://t.co/PXKZcuLpsp

— European Tobacco Harm Reduction Advocates (@europethra) May 16, 2022
---
Amanda Wheeler
For anyone tempted to suggest that our nation's top health officials could begin shoring up their badly eroded credibility through public dialogue, the FDA's new head honcho Robert Califf has a message for ordinary Americans: sit down and shut up.

Asked about complaints from the public at an April 29th journalism conference, Califf declared "I'm 70 years old, I'm relatively impervious to critique." After "surviving a harrowing confirmation process," he mused, "what are they going to do to me now?"

That sort of towering arrogance from federal officials is all too familiar to those of us working in the field of nicotine policy – that is, finding innovative ways to help Americans quit cigarettes which take nearly half a million lives each year.

Two from Dave Cross, Planet of the Vapes:
The UK Vaping Industry Association says that large fines are suitable for vendors who sell to underage purchasers or pass off illegal non-MHRA listed vapes as legitimate according to a UK trade organisation. It has called on the authorities to impose whopping £10,000 fines for vape sellers who break the law.

Scottish authorities have recently blamed a "significant rise" in vaping in schoolchildren north of the border on sellers who are flouting current regulations – particularly, selling non-MHRA registered disposable vapes that contain and illegal amount of nicotine.
Louise Ross, Retired Stop Smoking Service Manager, Leicester, Clinical Consultant for the NCSCT, Business Development Manager for the Smoke Free app, and Chair of the New Nicotine Alliance has written a comprehensive article for healthcare professionals, describing the implementation of smoking cessation guidelines for best practice.

"Some healthcare professionals feel disheartened by the reluctance of patients who smoke to consider quitting, but the new NICE guidance gives us new strategies to explore," says Louise Ross.

She explains how the one applicable to smoking cessation is a long guideline, and not all of it is relevant to primary care practitioners.
---

---
Two from Jim McDonald, Vaping 360:
With a court-ordered report due next Monday on its progress reviewing marketing applications for the most popular vape products, the FDA has authorized yet more products that few people use.

The agency issued Marketing Granted Orders to Reynolds American (RAI) for its Vuse Vibe and Ciro e-cigarettes, along with tobacco-flavored refills. Vuse is the brand name used by RAI—formerly known as RJ Reynolds (and now a subsidiary of British American Tobacco)—for all of its vapor products.
Last Friday the FDA delivered the first PMTA review status report mandated by U.S. District Court Judge Paul Grimm. The report was originally due April 29, but the FDA asked for and received a two-week extension.

The agency estimates it will not complete review of Premarket Tobacco Applications (PMTAs) for the most popular vaping products for more than a year from now—or nearly three years after the Sept. 9, 2020 PMTA submission deadline. If the progress report were a report card, by anyone's standards the FDA would earn an F.

From public health pedagogy: A narrative inquiry
Susan Veldheer, Robin Redmon Wright, Jonathan Foulds,
Objectives: Health advocates have been working to educate the public about the harms of smoking for more than 50 years. Recently, smoking rates have reduced more slowly among people with low incomes. The purpose of this study was to evaluate what low-income smokers may have learned from a lifetime of exposure to public health education and how this knowledge may have translated into smoking-related behaviors.

Methods: We used narrative inquiry and elicitation interview techniques. Interviews were recorded, transcribed verbatim, coded, and organized into themes using the constant comparative method.
For Philippine President – CAPHRA
"Philippine President Rodrigo Duterte will create an enduring legacy by signing the Vape Bill into law before he leaves office, and we are confident he'll do just that," says Peter Dator, President of consumer group Vapers PH and CAPHRA member.

CAPHRA (Coalition of Asia Pacific Tobacco Harm Reduction Advocates) has joined other vaping advocates encouraging the outgoing President to approve legislation to give the green light to less harmful nicotine alternatives.
Health Canada's Confused Message on Vaping | RegWatch
It's hard to believe, but this month is the fourth anniversary of nicotine vaping products becoming legal in Canada. It's been a brutal four years, and much of the blame lies at the feet of Canada's health regulator.

Joining us today to discuss Health Canada's wrong turn on vaping is Martin Cullip, International Fellow at the Taxpayers Protection Alliance and prolific writer on harm reduction policy issues for major publications such as InsideSources, Center Square, Townhall, and Filter.
Malaysian Vapers Alliance (MVA) has called for the Ministry of Health (MoH) to separate vape and cigarettes as it is not right to categorise both differently.

The local vape consumer association's statement responds to MoH's inclusion of vape in its generational end game proposal to ban the sale of cigarettes to anyone born after 2005.

MVA president Khairil Azizi Khairuddin said that globally, it had been recognised that vape and cigarettes are two different products.

"There is considerable evidence from international public health bodies showing vaping to be less harmful than cigarettes.
Michelle – ecigclick
Media Bias, World Vape Day, World's Biggest Vape Graffiti & More Vape News!
---
A look back at how things have moved on or otherwise…
European Tobacco Harm Reduction Advocates
On 29 April, the Scientific Committee on Health, Environmental and Emerging Risks (SCHEER) published its Final Opinion on e-cigarettes. The Preliminary Opinion, published in September 2020, had attracted significant criticism and 691 submissions to the public consultation. We hoped that the SCHEER committee had listened, and that the final Opinion would take our submissions into account, but we find ourselves greatly disappointed!

We find that many of the problems highlighted during the public consultation on the Preliminary Opinion have not been adequately addressed, or addressed at all in the final report. Important EU data has been ignored, potential harms exaggerated and there is an over emphasis on youth initiation while the impact of vaping on  adult smoking cessation is virtually ignored.
The countdown has started – David Palacios Rubio
The EU Commission will soon reveal the outcome of the Tobacco Products Directive (TPD) implementation report, a long-awaited document that will assess the strengths and weaknesses of the legislation and which could become the first step in the reformulation of the European approach towards tobacco-alternative products.

Since 2019 the EU Commission has carried out different assessments with industry members, commissioned research to in-house scientists and third parties, and put in place a validation workshop to check the consistency and accuracy of all the findings.
---
Visit Nicotine Science & Policy for more News from around the World

---