Vapers Digest 18th May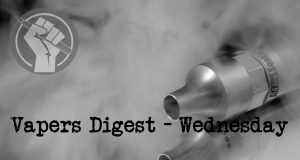 Wednesday's News at a glance:
Swedish MEP: DG SANTE must clarify 'fabricated' nicotine pouch ban data ~ Expert reaction to study looking at e-cigarettes versus nicotine patches for smoking cessation in pregnant women who smoke ~ Vaping more effective than patches for pregnant women, study finds ~ E-cigarettes may be more effective than nicotine patches in helping pregnant women who smoke quit, and are just as safe ~ Tobacco control: getting to the finish line ~ Federal government's changing vape strategy shifts focus away from cigarettes, advocates fear ~ EcigSummitUS2022 ~ La Jolla Lies ~ Philippines: Sign The Bill ~ Global pollution kills 9 million people each year, study finds
Snusforumet
Swedish MP Sara Skyttedal sees as "very serious" the possibility that DG SANTE "fabricated data" about member states' views on a possible nicotine pouch ban.

"It is difficult to free oneself from the suspicion that officials at the European Commission fabricated data in order to oppose alternatives to cigarettes," Skyttedal tells Snusforumet.

"If that is the case, then of course it is very serious."
Prof John Britton, Science Media Centre
Prof John Britton, Emeritus Professor of Epidemiology, University of Nottingham, said:

"This study is an important development in managing the sometimes seemingly intractable problem of helping pregnant smokers to quit.

Smoking in pregnancy is a major health hazard to the unborn and newborn baby, causing the loss of up to 5000 babies every year and possibly impairing development throughout the child's life.
Dr. Colin Mendelsohn
Vaping nicotine in pregnancy is more effective than nicotine patches and does not appear to be more harmful, according to a landmark study published today in Nature.

The randomised controlled trial of 1,140 pregnant women at 24 hospitals in the UK compared vaping a refillable vaping device (n=569) to nicotine patches (n=571). Only minor support was provided for both groups. The trial was led by Professor Peter Hajek from the Queen Mary University in London.
Queen Mary University of London
While many women stop smoking when they become pregnant, some find it difficult to stop, particularly those from disadvantaged socio-economic backgrounds. Two stop-smoking medications have been tested with pregnant smokers so far – nicotine replacement treatments such as nicotine chewing gum or patches, and bupropion – an antidepressant. Nicotine replacement was shown to have only limited effects, while bupropion had none.
---
"if somebody produced a vaping product with this toxic profile and nicotine delivery, everybody would laugh, it would never get through the door, it's a ridiculous product" says @Clive_Bates of VLN cigarettes. #EcigSummitUS2022

— Tom Gleeson (@Rathmacan) May 17, 2022
---
Robert Beaglehole, Ruth Bonita, The Lancet
Tobacco control is not working for most of the world. Four out of five of the world's smokers are in low-income and middle-income countries. In these countries where most of the eight million deaths caused by tobacco occur each year, rates of tobacco use are falling only slowly.

Globally, the overall number of tobacco users has barely changed. Only 30% of countries are on track to achieve the WHO adult tobacco use target of a 30% reduction in prevalence by 2030 and most countries are not on track to achieve the Sustainable Development Goal 3.4 for non-communicable diseases; its achievement will require a much more ambitious tobacco target.
---
Laura Osman, The Canadian Press, CTC News
In the eight years or so since he opened his first vape shop in Ottawa, Ron Couchman said a great sense of community has been lost. A former cigarette smoker himself, Couchman said he remembers when his store operated almost as a support group for people trying to find a healthier alternative to cigarette addiction.

"We could teach other people how to vape when people were struggling to get off cigarettes, we'd play board games and have movie nights," Couchman said.
---
#EcigSummitUS2022
#EcigSummitUS2022
Professor Ann McNeill – if reviewers see "nicotine is highly addictive" in a paper (and not referencing smoking), they should send it back to the author(s).

— KimMurray (@KimMurrayTPA) May 17, 2022
FREUDIAN SLIP from @FDATobacco at #EcigSummitUS2022 "We're not dispelling misinformation." Ya, we know.

— Amanda Wheeler (@amandawheeler32) May 17, 2022
@ChaunceyGardner asks FDA's Matthew Holman how the agency weighs youth use of e-cigs vs. potential adult cig deaths in PMTA applications. Points out FDA has authorized products v few ppl use. Again, no clear answer from FDA. #EcigSummitUS2022

— Guy Bentley (@gbentley1) May 17, 2022
Got to ask my question. How do we get the other side to engage with us! #EcigSummitUS2022 @rights4vapers pic.twitter.com/CXnwcFwGT7

— Maria Papaioannoy-Duic  (@papaioannoy) May 17, 2022
---
TWO from Dave Cross, Planet of the Vapes
La Jolla is a beautiful place: Rugged coastlines, pine trees, sandstone canyons, world-renowned golf courses and clifftop ocean views. It's a place where people visit expensive boutiques and dine on the waterfront. Also, it's a place where parents have been subjected to the anti-vape deranged outpourings from Dr Laura Crotty Alexander. "E-cigarettes are harmful to your health," she says.
"Philippine President Rodrigo Duterte will create an enduring legacy by signing the Vape Bill into law before he leaves office, and we are confident he'll do just that," says Peter Dator, President of consumer group Vapers PH and CAPHRA member.
---

---
---

---
Classed As Drug Addict For Using CBD – Neil Humber
If the story about Ray Yeates, the vaper refused oxygen because he vapes is shocking enough, his treatment prior to this could be classed as even worse.

I've been contacted by Jackie Awrey, a friend and fellow director alongside Ray at the Tobacco Harm Reduction Association of Canada.

And she wants the world to know just how desperate Ray's current plight is, and how he got to the awful life threatening position he's in.
Charles Gardner
On May 6, 2020, the American Journal of Public Health (AJPH) published an article by Brian Erkkila, Patricia Kovacevic, and Derek Yach titled, "Restricting Flavors in ENDS Could Have Repercussions Beyond Youths' Use." The authors review recent US Food and Drug Administration (FDA) regulatory guidance on electronic nicotine delivery systems (ENDS), including plans to restrict access to nicotine vaping 'flavors.'  The new FDA restrictions were driven, in part, by concerns about underage nicotine vaping.
---
Visit Nicotine Science & Policy for more News from around the World

---