Vapers Digest 20th May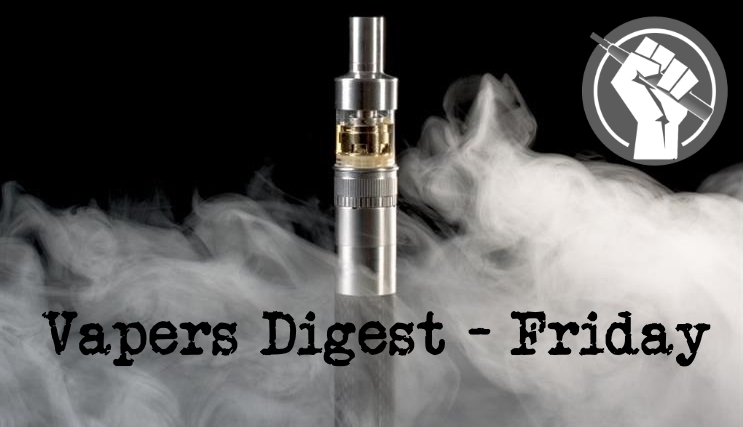 Friday's News at a glance:
Lessons From History: Why Vape Bans Don't Work – What are people's views about the risks of vaping? – FDA Accused of Spreading Misinformation – US, global experts discuss vaping, smoking at e-cigarette summit – Alum sees place for e-cigarettes in smoking cessation – Texas Cops Investigated for Violent Arrest of High School Vaper – What Is Tobacco Harm Reduction? – ADPH On Smokefree 2030 – Vape Review Due Soon – Art Installation for Brussels – Criticism as Brian King Named Director – Don't Let Fears of Teen Vaping Slow Push – Swedish Flavour Ban Will Put 150,000 Lives At Risk – Misleading position of the EU Commissions' on vaping – Analysis of Flavored Vaping Products – More countries in Southeast Asia eye legalized smoke-free alternatives – Nicotine Science and Policy Daily Digest
James Dunworth, Ashtray Blog
In Australia in recent months, there has been a surge in calls to regulate vape devices. There's just one problem. In Australia, vape devices are currently banned. And when something is banned, you can't regulate it.

Presumably regulators thought that when they banned vaping, the many people who relied on vape products would just stop using them. While some did (with a subset going back to smoking), others have inevitably resorted to the black market.

This is, of course, history repeating itself. We know from countless examples that banning a popular product doesn't work. The best known example is probably US alcohol prohibition – a ban which had truly disastrous consequences.
About the risks of vaping? – Dr Katherine East, King's College London
In December 2021, I talked with three public engagement groups as part of my Society for the Study of Addiction Academic Fellowship, which focuses on understanding people's views on the risk of vaping and how these views can be modified.

All groups thought vaping is less harmful than smoking but is not risk free.

The adult group pointed out that no behaviour, including vaping, is risk free. They also thought that vaping is not risk free because it involves putting something into your body that's not meant to be there. However, they thought that vaping emissions do not harm people other than those using a vape.
---

---
At E-Cigarette Summit – Alex Norcia
The annual E-Cigarette Summit in Washington, DC, is perhaps the most eclectic conference in tobacco control. Consumer advocates, vape shop owners, academics, researchers, regulators and industry executives all gathered on May 17, as they have for the past several years.

Perhaps more than anything, the conference is a rare opportunity to publicly levy questions at higher-ups in the Food and Drug Administration (FDA), an agency not known for its transparency. So it didn't take long for attendees to rise during the Q&A sessions and ask Matthew Holman, the director of the Office of Science at the FDA's Center for Tobacco Products (CTP), and Kathleen Crosby, the director of CTP's Office of Health Communication and Education, why the FDA has continued to communicate so poorly the "continuum of risk"—the idea that some nicotine products are significantly safer than others.
At e-cigarette summit – Alina Doodnath
A range of experts, including representatives from the US Food and Drug Administration (FDA), recently met at the annual E-Cigarette Summit to discuss policies and regulations guiding the use of vaping products and their role in tackling smoking cessation.

The conference, held in Washington DC on May 17, featured contributions from medical experts, FDA representatives and other stakeholders on issues surrounding tobacco addiction, health risks to young people, nicotine use and management in relation to smoking cessation as well as comparative policies in countries such as the United Kingdom and New Zealand.
---
Woeful inaction from @TwitterSupport @Twitter in the matter of @INNCOorg suspension.
If a human has examined this they have badly misjudged what is happening
If 'intelligent' machine :- it wants ditching or should pass the case to a discerning human who may understand the issue

— Alan Beard (@Alan_Beard1) May 20, 2022
The ratio 😂

Note that all 8 retweets were quote tweets denouncing this particular bit of disinformation pic.twitter.com/dFfciBdkdR

— Phil (@phil_w888) May 19, 2022
---
In smoking cessation
In the field of tobacco control, Michael B. Siegel, M.D. '90, is a lone wolf. The Boston University public health professor stands at odds with most of his public health colleagues on one matter: e-cigarettes.

During his medical internship at Berkshire Medical Center in Pittsfield, Mass., Siegel saw that most people are admitted to the hospital for preventable reasons: smoking, alcohol, drugs, poor diet, and lack of exercise. "We can counsel every patient who walks in the door about smoking," he said, "but wouldn't it be more effective to have mass public health campaigns that reduce smoking? You'll have a much larger impact on the public's health."
Of High School Vaper – Jim McDonald
The Galveston County (Texas) Sheriff's Office is investigating a May 6 incident in which two of its deputies allegedly used excessive force to arrest a Dickinson High School student who had been caught with a vaping device at school.

Eighteen-year-old student Keitherine Williams was caught in a restroom by school staff holding a vaping device. After leaving the school, Williams was stopped by two Galveston Sheriff's deputies, who allegedly beat the teenager before arresting him.

Four from Dave Cross, Planet of the Vapes:
Today, Friday 20 May, sees the launch of the latest Global State of Tobacco Harm Reduction (GSTHR) Briefing Paper, 'What is Tobacco Harm Reduction?'. The paper has been revealed by public health agency Knowledge·Action·Change (K·A·C), which produces the GSTHR, at an event in London.

"Tobacco harm reduction is a potentially life-saving intervention for millions of people across the world. To those who currently use high-risk tobacco products, like cigarettes and some oral tobaccos, it offers the chance to switch to a range of safer nicotine products (SNP) that pose fewer risks to their health. And, while it is a relatively new addition to the arsenal of global public health solutions, its effectiveness builds on decades of success with earlier harm reduction initiatives," write the authors.
Ruth Tennant (Association of Directors of Public Health) and Hazel Cheeseman (Action on Smoking and Health) have added to the debate over the Government's plan to make England Smokefree by 2030. Their contribution comes on behalf of the UK Association of Directors of Public Health.

The UK Association of Directors of Public Health is funded by annual corporate subscriptions from members' employing organisations. The core purpose of the Association is independent advocacy for the health of the population and leadership for its improvement and protection.
The Department of Health and Social Care commissioned a review to be conducted that would look at how to address reducing smoking in the UK. Javid Khan has completed his review, and all indications are that his findings will be hugely supportive of vaping and the role ecigs can play in tobacco harm reduction.

Announcing the launch of the review, the government said: "Plans to enable people across the country to live longer, healthier lives are moving forward with the government's announcement of leads for 2 significant independent reviews to tackle health disparities.
A global alliance of vapers gathered in Brussels to issue a call on European policymakers to stand against possible bans on vape flavours. The World Vapers' Alliance (WVA) displayed an art installation in front of the European Parliament with a simple message "Flavours help smokers quit".

The World Vapers' Alliance says it "amplifies the voice of vapers around the world and empowers them to make a difference for their communities. Our members are vapers associations as well as individual vapers from all over the world".
---
---
Of FDA Center for Tobacco Products – Alex Norcia
Brian King, currently a higher-up at the Centers for Disease Control and Prevention (CDC) in Atlanta, will become the new director of the Food and Drug Administration's Center for Tobacco Products (CTP), the FDA announced on May 20.

An epidemiologist, King has spent more than a decade at the CDC, most recently as the deputy director for research translation at the Office on Smoking and Health (OSH). He will assume his new role on July 3, 2022. His predecessor as permanent director, Mitch Zeller, retired in the spring after a contentious career; the CTP has since been headed by Michele Mital on an interim basis.
---
---
Slow Push to Get Older Smokers to Switch – Jessica R. Towhey
An enhanced focus on mental health among the nation's adolescents may provide inroads to stemming vaping among youths, according to mental health professionals at a summit on electronic cigarettes in Washington, D.C. Tuesday.

Participants ranged from representatives of the Food and Drug Administration (FDA) to vape shop owners. A significant part of the event was dedicated to youth vaping. The overall conclusion: The desire to achieve the impossible — zero vaping among young people — should not prevent a public health strategy that achieves positive goals, such as fewer users of traditional cigarettes.

Michael Landl
In March 2022, the Swedish government proposed a bill to ban all vape flavours except tobacco and menthol. If passed, the proposed law is scheduled to go into effect at the beginning of 2023.

We believe that passing the law will be a disastrous mistake, and science proves it. Flavours play a vital role for smokers who want to quit. Adult consumers who have used vaping to quit smoking say that flavours other than tobacco were a decisive factor in preventing them from returning to smoking. By using flavoured e-liquids, they are 230 per cent more likely to quit smoking than tobacco-flavoured ones.
Chiara Nobis
The EU Commission published yet another statement that spreads misinformation and false myths about vaping last week. The EU Commissioner for Health and Food Safety, Stella Kyriakides, questioned the effectiveness of vaping as a smoking cessation aid, attacked nicotine and claimed vaping would be a gateway to smoking.

The statement is a written response to a question asked by MEP Sara Skyttedal regarding the future treatment of vaping and snus, and how the Commission plans to deal with them in light of Europe's Beating Cancer Plan.
Distracting from the real problem? – Barnaby Page
We're very used to hearing, from the defenders of new nicotine products, the argument that while vaping has clearly increased among young people it's also contributed to an equally clear decline in their smoking of combustibles. The discussion is usually in the specific context of US schoolkids, but it applies in other countries too.

That, however, is not the only way in which focusing on the downsides of novel products is disguising the reality of nicotine consumption among the young, according to US public health scholar Jeffrey Drope.
As a Harm Reduction Method (PDF)
The report Vaping Works. International Best Practices: United Kingdom, New Zealand, France and Canada, published by Property Rights Alliance in Summer 2021, outlined several proven strategies for reducing the harm of tobacco and nicotine use in countries around the world.1 Among the best practices for harm reduction presented in the report was ensuring the freedom and accessibility of flavored vaping products, as a useful alternative to much more harmful cigarettes.

Despite the positive track record of flavored vaping products in achieving harm reduction in various countries, flavor bans continue to be proposed and enacted. In Europe alone, Denmark and Estonia have banned all flavors except tobacco and menthol; Finland and Lithuania have banned all flavors except tobacco; and Hungary and Ukraine have banned flavors altogether.
One in 12 teens have vaped recently
A new Australian study examining global rates of vaping amongst teens has found one in 12 reported recently using a vape. And far from making vaping less available, higher tobacco tax was found to be associated with higher rates of teen vaping.

The research, published this week in Addiction, was conducted by the University of Queensland using funds from the Department of Health and a number of grants.

The peer-reviewed study examined the responses of 151,960 teens, typically aged 13 to 15 years, from lower-middle, upper-middle and high-income countries who participated in the World Health Organisation's Global Youth Tobacco Survey.
Eye legalized smoke-free alternatives
Philippines – More Southeast Asian nations are looking at adopting tobacco harm reduction as state policy and legalizing smoke-free products following the lead of the Philippines, which may soon have a law that regulates less harmful alternatives to cigarettes like e-cigarettes and heated tobacco products.

A draft legislation to legalize e-cigarettes is now at a sub-committee of Thailand's Parliament, and several top officials of Thailand, including Digital Economy and Society Minister Chaiwut Thanakamanusorn, expressed support for the legalization.
---
A look back at how things have moved on or otherwise….
24 Share Updates
Patients with chronic obstructive pulmonary disease (COPD) who abstained from smoking or substantially reduced their cigarette consumption by switching to heated tobacco products (HTPs) showed consistent improvements in respiratory symptoms, exercise tolerance, quality of life, and rate of disease exacerbations.

This was the key finding of a groundbreaking study by a team of Italian researchers published in March 2021 in the scientific journal Internal and Emergency Medicine. It is the first-ever study to describe the long-term health effects of HTP use in COPD patients.
Christopher Snowdon, Velvet Glove Iron Fist
Carl Phillips has written the definitive critique of low quality vaping research (available in draft form here). He looks at the most popular studies (as measured by their Google Scholar ranking) and concludes that the whole field is plagued by fatal flaws. Some of the problems are intractable, but researchers could get closer to answering the key questions if they improved their methodology and looked at the issue down the right end of the telescope. Most of the time they can't be bothered or they deliberately choose sloppy methods to get the answers they want.
---
Visit Nicotine Science & Policy for more News from around the World

---