Vapers Digest 23rd May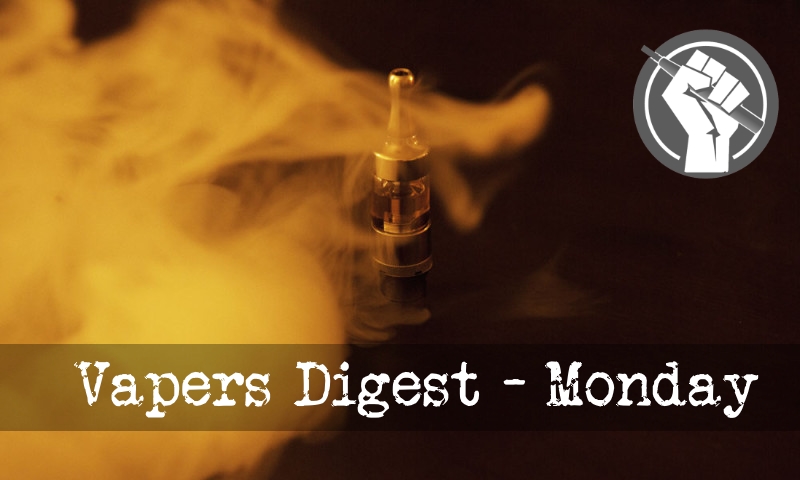 Monday's News at a glance:
Homeless Cessation Support – Vape advert restriction proposals – Raise your voice to back vaping – EU consultation is open! – Call for UK to promote snus and nicotine pouches – Former WHO officials endorse harm reduction – Harm reduction tagged as missing strategy in WHO's tobacco control – Federal regulations may kill Nevada vaping businesses – Thailand ready to legalize smoke-free products like the Philippines – Smoking, Quitting and Vaping by Professor Lynne Dawkins – With No Regulatory Experience, Brian King Will Be CTP Director – Legislation Drives Product Change- Nicotine Science and Policy Daily Digest
Dave Cross, Planet of the Vapes
In a new study published in BMC Health Services Research, a team led by University College London's Dr Sharon Cox asked 99 individual homeless services across the UK how they support reducing smoking through various policies and cessation support options. The paper contains powerful support for vaping and highlights the need for further action.

Sharon Cox, Jaimi Murray, Allison Ford, Lucy Holmes, Deborah Robson, and Lynne Dawkins say: "Tobacco smoking is a leading cause of premature death and disease and is strongly associated with deprivation and health inequalities. Homelessness and housing shortages are growing problems in the UK, leading to exacerbated poverty and poor health. Smoking rates are exceptionally high amongst adults accessing homeless support services, with rates ranging between 57 and 82%, this is up to four times higher than the national UK average (14.1%)."
Spark retailer anger – betterRetailing
Independent retailers have shared concerns over new proposals to further restrict the advertising and promotion of vaping products by the Scottish government.

Under new plans, the advertising of e-cigarettes, through leaflets and flyers and in-store media would be banned, alongside free or cut-price samples.

The government claims more stringent measures are needed because of a rise in people taking up e-cigarettes as a "lifestyle choice" rather than to quit smoking.
---

---
Dave Cross, Planet of the Vapes
Consumers' vaping experience is often dictated by legal limits on products, says analysis company ECigIntelligence. Legal rules on e-cigarette products have produced sharp differences in the features available to consumers in different countries, a new tracker from ECigIntelligence reveals.

ECigIntelligence is the leading provider of detailed global market and regulatory analysis, legal tracking, and quantitative data for the e-cigarette sector worldwide. It is published by Tamarind Intelligence, which also produces CBD-Intel and TobaccoIntelligence.
EU consultation is open!
Many politicians and anti-vaping voices call for vaping to be treated the same way as smoking. This would spell disaster for vapers and public health. Millions of vapers could be forced back to smoking due to flavour bans and other restrictions on the accessibility of vaping to the people that need it most.

For too long, lawmakers have ignored vapers' opinions, meaning the most important voices – those of the consumer – and their lived experiences are missing and misunderstood. So when we have the opportunity to raise our voices, we need to take the chance. The EU Commission opened a public consultation, and you can participate till 17 June 2022.
---
Misperception of the health effects of nicotine could be one of the reasons many smokers do not switch to non-combustible products, such as e-cigarettes, which reduce the risk of smoking-related diseaseshttps://t.co/Kylh38qdKZ

— European Tobacco Harm Reduction Advocates (@europethra) May 23, 2022
I was honored to offer closing thoughts at the E-Cigarette Summit US, including a respectful call for the end of the "cancel culture" around those many leading scientists who, based on strong evidence, advocate the promise of e-cigarettes for millions of inveterate adult smokers. https://t.co/2z3laAWwAu

— Cliff Douglas (@cdoug) May 22, 2022
---
To reach smoke-free 2030 goal – Lorraine Mullaney
The UK government is likely to miss its 2030 smoke-free ambition for England because the government is not supporting the full range of reduced-risk products, namely snus and nicotine pouches, according to an advocate for snus and vaping.

Mark Oates, director of pro-vaping association We Vape and founder of the Snus Users Association (pictured), believes the government needs to do more than merely remind the public of what it already knows – that smoking is bad for you. Instead it needs to take action to promote alternative measures.

ETHealthWorld
Mumbai: Two former officials of the World Health Organization (WHO) endorsed tobacco harm reduction as a crucial strategy for reducing the health burden caused by tobacco amid WHO global treaty's failure to meet goals.

Prof Robert Beaglehole and Prof Ruth Bonita, who both worked with the WHO, said the missing strategy in WHO and Framework Convention on Tobacco Control (FCTC) policies is harm reduction, as the number of tobacco users has barely changed since the global treaty was implemented 17 years ago. They called for an independent review of WHO's tobacco control policies to save the millions of lives that are at stake.
---

---
Brian King Will Be CTP Director – Jim McDonald
FDA Commissioner Robert Califf has selected Brian King to be the new director of the agency's Center for Tobacco Products. King is currently working at the Centers for Disease Control and Prevention (CDC), in the CDC Office on Smoking and Health.

King will take over in July. Until then, CTP Deputy Director Michele Mital will continue serving as acting director. Mital has held that position since early April when longtime CTP Director Mitch Zeller retired.
In WHO's tobacco control – Manila Standard
Two former World Health Organization officials identified harm reduction as the missing link in the global body's tobacco control policy, as the number of tobacco users has barely changed since the treaty was implemented 17 years ago.

Prof. Robert Beaglehole and Prof. Ruth Bonita, who both worked with the WHO, said the missing strategy in WHO Framework Convention on Tobacco Control policies is harm reduction.

"Most people smoke because they are dependent on nicotine. Tobacco harm reduction reduces the harm caused by burnt tobacco by replacing cigarettes with much less harmful ways of delivering nicotine; these alternatives have great potential to disrupt the cigarette industry,"

May kill Nevada vaping businesses
The fate of Nevada's vaping industry is now in the hands of federal regulators, with some businesses fearing they may have to close their doors.

Congress granted the Food and Drug Administration new authority this year intended to close regulatory loopholes on synthetic nicotine and e-cigarettes to curb an epidemic of youth use and addiction. But vaping manufacturers and owners of retail shops say mounting regulations on flavors, synthetic nicotine and vaping devices pose economic harm to a fledgling industry.

The products, vaping businesses say, are designed as an alternative to cigarettes and to reduce known health hazards related to smoking and chewing tobacco.
By Professor Lynne Dawkins
Smoke-free products like the Philippines
Thailand may soon become the next Southeast Asian nation to embrace tobacco harm reduction as a national policy at pace with the Philippines which is on the verge of enacting a law that regulates e-cigarettes, heated tobacco products and other less harmful alternatives to combustible cigarettes.

Thailand's possible regulatory shift comes on the heels of the Philippine Congress' approval of the Vaporized Nicotine Products Bill or Vape Bill which only awaits the President Rodrigo Duterte's signature to become a law.
---
A look back at how things have moved on or otherwise…
Says Royal College of Physicians – James Dunworth
The Royal College of Physicians (RCP) has released a major report calling for the UK government to promote electronic cigarettes via a mass media campaign.  This would form part of a campaign that returned funding for anti-smoking campaigns to at least 2008 levels.

The suggestion is just one of a number of recommendations the RCP has made to encourage the use of vapes for smokers who can't or won't quit.

Vape products currently include a message that says they contain nicotine which is highly addictive. (This even applies when the product does not actually contain nicotine, i.e. devices and tanks, requiring a supplementary message saying "only when used with nicotine".)
Christopher Snowdon, Velvet Glove Iron Fist
I've written an article for Brussels Reporter about the clouds gathering over vaping in the EU. Last year, the EU's Scientific Committee on Health, Environmental and Emerging Risks (SCHEER) published a preliminary opinion on electronic cigarettes. As I said at the time…

The final draft was published earlier this month. Some of its claims were toned down but it remains a one-sided and inaccurate piece of work. So what? Well, as I say in today's article…
---
Visit Nicotine Science & Policy for more News from around the World

---