Vapers Digest 25th May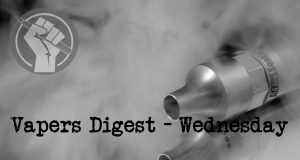 Wednesday's News at a glance:
Vaping is an "environmental disaster", say anti-vaping nuts ~ E-cigarette use costs $15 billion a year?!? ~ Expert reaction to paper on e-cigarettes and spending on health services in the US ~ SMOKING, ADDICTION & MENTAL HEALTH CONDITIONS – WE NEED YOU! ~ Vaping Works Better Than Nicotine Patches for Pregnant Smokers ~ Vapers deliver an open letter to Swedish MPs and ask to stop the ban ~ Unpacking the Unintended Consequences of E-Cigarette Policy in the Northeast ~ Tempting Progress | U.S. Vaping Industry Nurtures Wins & Ponders Losses ~ EU's Misguided Attacks ~ New Direction For Australia? ~ Cost of Vaping Research Rebuffed ~ Tobacco's Ever-Evolving Legislative Landscape ~ Hong Kong customs officers seize illegal smoking products worth millions of dollars at three control points
Christopher Snowdon, Velvet Glove Iron Fist
The Lancet has published a letter from three French academics arguing for a clampdown on e-cigarettes on environmental grounds. The authors give the game away early on by saying the quiet part out loud…

With the vape market mainly owned by the tobacco industry, it is legitimate to question whether vaping is more eco-friendly than smoking… [my emphasis]
Christopher Snowdon, Velvet Glove Iron Fist
Anti-vaping quackademics from California's Bay Area are at it again…

Use of electronic cigarettes costs the United States $15 billion annually in health care expenditures — more than $2,000 per person a year — according to a study by researchers at the UC San Francisco School of Nursing.
Science Media Centre
A paper published in Tobacco Control looks at healthcare utilisation and expenditures attributable to current e-cigarette use among US adults.

Prof Jamie Brown (in part)

"These results appear to be based on two key assumptions."

"First, that the identified associations between e-cigarette use and poor health status are caused by e-cigarettes. The majority of people who use e-cigarettes are also former or current cigarette smokers.

Prof Peter Hajek (in part)

"This is a baffling piece of work. The authors report that people who use e-cigarettes have poorer health and incur higher health costs than non-smokers, but it is not clear…
---
CASAA In Action
May is Mental Health Awareness month. To mark this vital promotion of knowledge and curiosity about mental health CASAA is opening an ongoing forum and dialogue among members to shed light on the connections between combustible tobacco use and substance use and mental health challenges. We want to hear your experiences and interest in this topic.

How you can get involved:

Share your video and written testimonials with CASAA (details below)
Become a THR Ambassador in your community
Read articles featured on CASAA.org from experts in the substance use and mental health fields
Check out the Tobacco Harm Reduction Research Project
Helen Redmond, Filter Magazine
A new study published in Nature Medicine found that pregnant smokers were more likely to quit when using e-cigarettes than nicotine patches. The finding is great news, because patches have "limited efficacy in this population," as the researchers noted—and quitting smoking during pregnancy decreases the risk of a host of adverse health complications to both parent and baby.
---
World Vapers' Alliance
Yesterday, the global vaping advocacy group World Vapers Alliance delivered an open letter to the Swedish parliament urging policymakers to stop the flavour ban.

World Vapers' Alliance held another protest to stand against the ban on vape flavours. The group marched in front of the Parliament with the slogan "Flavours help smokers quit" during parliament's session and delivered an open letter to members of parliament to urge them to vote against the ban.
Mazen Saleh, Sarah Wall, RStreet
From the time they were first introduced into the market, e-cigarettes have been at the center of a public health debate about their value as smoking-cessation devices versus their appeal to adolescents and potential youth uptake. Since 2019, elected officials in the Northeastern region of the United States—defined herein as Maryland to Maine—have put more weight on the risk of the latter, enacting regulations and legislation that aim to quell youth uptake.
---
Brent Stafford, RegWatch
With the deadline for PMTA submissions for synthetic nicotine products now closed, the U.S. vaping industry is again held hostage to FDA's plodding regulatory review process and closed mind regarding the authorization of nicotine vapes.

FDA's track record is dismal, issuing Marketing Denial Orders for millions of existing products and refusing to allow non-tobacco flavors. Is there any reason to believe the agency might approve synthetic nicotine products?
---
We're back! pic.twitter.com/vDQiJUXp2R

— INNCOorg (@INNCOorg) May 25, 2022
https://twitter.com/jkelovuori/status/1529198774400294918
---
TWO from Dave Cross, Planet of the Vapes
The EU Commission published yet another statement that spreads misinformation and false myths about vaping last week. The EU Commissioner for Health and Food Safety, Stella Kyriakides, questioned the effectiveness of vaping as a smoking cessation aid, attacked nicotine and claimed vaping would be a gateway to smoking.
Australia has rejected the old administration and voted in a new government – which must end anti-vaping hysteria, says the Coalition of Asia Pacific Tobacco Harm Reduction Advocates. Until this week, Australia has been in the grip of science-denying prohibitionists bent on denying easy access to tobacco harm reduction products.
More unreliable research has been pumped out of the University of California San Francisco. Professors Wang, Sung, Lightwood, Yao and Max have published work claiming that vaping places "substantial" costs on healthcare services. Independent harm reduction experts Professors Jamie Brown and Peter Hajek have expressed their bewilderment with the findings.
---

---
---

---
Colin Mendelsohn, ATHRA
The Royal Australian College of General Practitioners has been named as a recipient of the WHO World No Tobacco Day awards for the latest update of its smoking cessation guidelines.

The new guidelines acknowledge a role for vaping in helping smokers quit based on a rigorous review of the scientific evidence.

The guidelines provide up-to-date, evidence-based recommendations for a wide range of health professionals to use when assisting patients to quit smoking.
Dave Cross, Planet of the Vapes
Statements by doctors observing the beneficial impact of treating COVID-19 patients with nicotine patches kicked Stanton Glantz into speedily inventing a new study, where he links vaping to smoking and declares it dangerous. It was promptly dismantled by the Institute of Economic Affairs' Chris Snowdon.

"Smoking depresses pulmonary immune function and is a risk factor contracting other infectious diseases and more serious outcomes among people who become infected. This paper presents a meta-analysis of the association between smoking and progression of the infectious disease COVID-19," write Patanavanich and Glantz in their paper.
---
Visit Nicotine Science & Policy for more News from around the World

---