Vapers Digest 27th May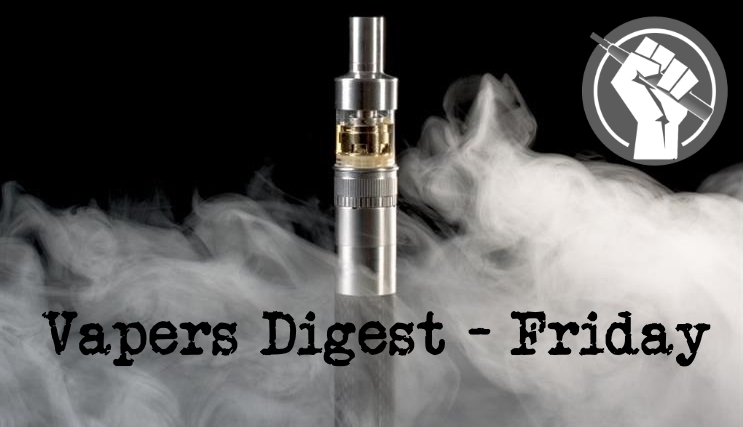 Friday's News at a glance:
European Commission call for evidence – European Commission wants to hear from you – Documents Shed New Light on the FDA's Plans – An Open Letter From Ex-Smokers to Tobacco Control – Preggers May2022 – K·A·C's Briefing Papers – Researchers Repeating Mint Errors – Ex-WHO Officials On The Attack – New Zealand's winning approach – E‑Cigarettes as Harm Reduction for Pregnant Smokers – Kyriakides: weak evidence of ecigs effectiveness – Use of alternative nicotine – Biden's Menthol Ban – Experts walk fine line on risks of vaping – Estimates of Cross-Border Menthol Cigarette Sales – Livestream set for 'World Vape' and 'World No Tobacco' days – Gov't proposes prohibition of distribution, import and transport of e-cigarettes – Nicotine Science and Policy Daily Digest
European Tobacco Harm Reduction Advocates
Last Friday, 20 May, the European Commission launched a call for evidence to evaluate the  legislative framework for tobacco control, which will include the Tobacco Products Directive and the Tobacco Advertising Directive.  The evaluation will assess if current tobacco control legislation has achieved its objectives and how it can support future commitments, namely a "Tobacco-Free Generation" by 2040, as set out in Europe's Beating Cancer Plan.

The rationale behind the consultation is given as the need for legislation to keep up with the "rapid rise" in emerging products, such as nicotine-free vaping products, nicotine pouches and heated tobacco products, which have entered the EU market. Other areas of concern they identify are online sales and social media, we know that some member states have already banned online sales and there has been growing calls to ban advertising and promotion of vaping products on social media.
Christopher Snowdon, Velvet Glove Iron Fist
The European Commission is asking for feedback on its Tobacco Products Directive (TPD). The call for evidence closes on 17 June 2022 and is intended to "assess to what extent the framework has fulfilled its goals and whether it is able to support a 'Tobacco-Free Generation' by 2040". A new TPD is likely to be proposed and brought into law in the next few years.

Anti-vaping lobbyists will be pushing for a ban on e-cigarette flavours, many of them with the help of Mike Bloomberg's $160 million slush fund. These backdoor prohibitionists see it as the best way to wreck the market because politicians don't understand how important flavours are ('tobacco' flavour, which apparently doesn't count as a flavour, is horrible in my opinion and isn't used by most vapers). The TPD exempts e-cigarettes and heated tobacco products (HTPs) from the ban on 'characterising flavours' unless the Commission can demonstrate that there has been "a substantial change of circumstances".
---

---
On the FDA's Vape Authorization Plans – Alex Norcia
Documents obtained by Filter provide insight into the Food and Drug Administration's early planning of its much maligned premarket tobacco product application (PMTA) process to authorize e-cigarettes—or not—as "appropriate for the protection of public health." They suggest, among other things, that the FDA may ultimately envisage a path to authorizing flavors other than tobacco and menthol, despite not having done so yet—and that the agency's tendency to favor the largest companies, mostly with ties to the tobacco industry, has deep roots.
---
---
You're Killing Us. Literally – Marc Slis
I smoked for 41 years and then finally quit smoking with vaping more than eight ago. I've owned and operated a vape shop for nearly seven years, helping more than 2,000 people in my small community to quit smoking with the help of flavored vapor products.

And I have a message for the Food and Drug Administration and its "Tobacco Control" allies: Your treatment of vaping is killing people. And you need to stop Tobacco Control, by which I mean the legislatures, regulatory bodies, policymakers, academia and research, the public "health" lobby groups and, of course, a complicit media. I'm painting all of you with the same brush because, from my perspective, all that matters is the end result.

Four from Dave Cross, Planet of the Vapes:
A new paper published in Nature Medicine looked at how well e-cigarettes worked for smoking cessation in and following pregnancy. The research found that electronic cigarettes "may be more effective than nicotine patches in helping pregnant women who smoke quit and are just as safe".

Professor Linda Bauld, a respected expert in the area of pregnant women and tobacco harm reduction, celebrated the paper and its findings, and issued her gratitude to Professors Hajek, Griffiths, Przulj, Smith, Pesola, McRobbie, Naughton, Sasieni, and "our other colleagues involved at the 24 research sites".
Knowledge·Action·Change has spoken about the launch of its latest in a series of Briefing Papers as part of the Global State of Tobacco Harm Reduction project. Titled What is Tobacco Harm Reduction?, the publication provides a detailed introduction to the principles, history and evidence for this vital public health strategy.

For the 1.1 billion people across the world who smoke combustible cigarettes, tobacco harm reduction is a potentially life-saving approach. Like other forms of harm reduction, it recognises that simply quitting isn't possible for all smokers. People smoke for the nicotine, but nicotine itself does not cause smoking-related death and disease – it's the chemicals inhaled in tobacco smoke.
Researchers at the Duke University School of Medicine in North Carolina have produced work saying that vapers are "inhaling potentially dangerous levels of a synthetic cooling agent used to mimic mint and menthol flavours". They are repeating the errors they made when claiming daily use of mint and menthol eLiquids exposed vapers to high concentrations of a carcinogenic additive called pulegone.

Lead author Professor Sven-Eric Jordt has a history of producing electronic cigarette research that is always negative about vaping and frequently criticised by independent scientists and harm reduction experts. This latest study weas presented to the American Thoracic Society 2022 International Conference – the American Thoracic Society is a devotedly anti-vape body.
Professor Robert Beaglehole and Professor Ruth Bonita have taken The Lancet and the World Health Organisation's Framework Convention on Tobacco Control to task. What makes their contribution significant is that both of them once worked for the World Health Organisation.

The Framework Convention on Tobacco Control was attacked in a report last year by the UK's All-Party Parliamentary Group for Vaping. It was a move welcomed by John Dunne, Director General of the UK Vaping Industry Association, who said: "It's about time that the vaping industry stood up against the World Health Organisation."
---

---
INNCO
It's always a pleasure to greet you. In case you missed any of the speakers or panels of the E-Cigarette Summit US 2022, Ms. Nancy Loucas has made a convenient list with the links to watch every presentation, you can find it here.

The complete Global Forum on Nicotine programme has been revealed, if you like to check it out, you can do it here.

The Topic of the month is the statements of over 100 respected scientific and public health organizations that have reviewed the evidence and agree that safer nicotine alternatives are in fact safer. If you like to tweet these statements is as easy as just clicking any statement you will like to post. Check them out here.

Dr. Colin Mendelsohn's book is now available as E-Book, you can find it on Amazon US, Amazon AU, and Booktopia.
For Pregnant Tobacco Smokers – Jeffrey A. Singer
Last week U.K. researchers published a study providing more evidence of the harm‐​reduction potential of nicotine containing e‑cigarettes—this time for pregnant women who smoke tobacco.

The randomized controlled trial, begun in 2019, included 1,140 participants from 24 UK hospitals. Pregnant women who smoked were placed on either nicotine patches or refillable nicotine e‑cigarettes to replace tobacco. The researchers found both replacement methods to have an equal safety profile. However, low birth weight was less frequent among the e‑cigarette arm of the study compared to the nicotine patch arm. At the end of the pregnancy, 10.7 percent of those who vaped remained abstinent from tobacco cigarettes, compared to 5.6 percent who used nicotine patches.
Special Select Committee, Malaysia, 24 May 2022
Effectiveness in helping smokers to quit – Chiara Nobis
Prof. Riccardo Polosa, founder of the CoEHAR, and Carmine Canino, President of ANPVU, signed an open letter to reply to the European Commissioner Stella Kyriakides statement regarding the effectiveness of ecigs as a smoking cessation tool.

Hard times for the e-cigarettes front: the effectiveness of low risk products in helping smokers who struggle to quit is questioned.

Less than a month ago, the European Commissioner for Health Stella Kyriakides replied to a formally submitted parliamentary question by the Swedish member of the European Parliament Sara Skyttedal (Group of the European People's Party) regarding e-cigarettes and snus.
Is one way of harm reduction – Kariuki Michael
Proposed new taxes on e-cigarettes and other alternative nicotine products have attracted significant attention since their announcement in the national Budget speech.

Treasury Cabinet Secretary Ukur Yatani's commitment to protect the health of citizens is to be commended. But there is concern among many in the public health community that his proposals to make tobacco harm reduction products less affordable will negatively affect efforts to cut Kenya's stubbornly high smoking rates.

Harm reduction is a concept that is widely accepted in the treatment of drug addiction, yet seems to receive less support in our country when applied to the treatment of smokers.

Will Perpetuate Injustice in Black Communities – Karl Abramson
The failed prohibitionist policies of the past are back. On April 28, the Biden Administration announced its intention to use U.S. Food and Drug Administration powers to ban menthol-flavored cigarettes and all flavored cigars, including premium cigars. Advocates of these proposals disingenuously claim the prohibition will "advance health equity," while ignoring concerns about the expected criminal justice ramifications that inflated prohibition will have on historically marginalized communities.

Family members of George Floyd, Trayvon Martin, and Eric Garner have called on the Biden Administration to reconsider the proposed ban, predicting it will "unleash a Category 5 unintended consequences storm in our communities."
Following the Comprehensive Tobacco Flavor Ban in Massachusetts
On June 1, 2020, Massachusetts became the first state in the US to ban all flavored tobacco product sales, including menthol cigarettes. Recent research has estimated the reduction in cigarette sales in Massachusetts following the comprehensive tobacco flavor ban, but noted that missing data on border states was a major limitation of the findings. This letter replicates the procedures of Asare et al. with 1540 state-months and then adds Asare et al.'s missing states with 2420 total observations for the period January 2017 to July 2021. The replication confirms Asare et al.'s adjusted estimate for the reduction in menthol cigarettes, which falls within their 95% confidence interval. However….
Jessica Towhey
An enhanced focus on mental health among the nation's adolescents may provide inroads to stemming vaping among youths, according to mental health professionals at a Washington summit on electronic cigarettes.

Participants ranged from representatives of the Food and Drug Administration to vape shop owners. A significant part of the event was dedicated to youth vaping. The overall conclusion: The desire to achieve the impossible — zero vaping among young people — should not prevent a public health strategy that achieves positive goals, such as fewer users of traditional cigarettes.
'World No Tobacco' days – sCOPe
Interest, insight, and intrigue around World Vape Day on 30 May and World No Tobacco Day on 31 May are set to be boosted with sCOPe's two-day global broadcast.

#sCOPe22 will see Asia Pacific, African, European, North American and Latin American Tobacco Harm Reduction (THR) consumer advocates livestream for eight hours each day from 0700 CDT / 1300 BST.

sCOPe's return on #WVD22 and #WNTD22 follows its around-the-clock five-day livestream in November last year during COP9 – the 9th Conference of Parties for the World Health Organization (WHO) Framework Convention on Tobacco Control (FCTC).
Of distribution, import and transport of e-cigarettes – Nelson Moura
Macau authorities have proposed a prohibition of the production, sale, distribution, import, export and transport of e-cigarettes and vapes in the SAR.

According to changes proposed today by the Executive Council to the local tobacco control law offenders would be punished with a MOP4,000 (US$500) for any of these actions, with private entities handed a fine between MOP20,000 and MOP200,000 possibly imposed.

Under the current law an e-cigarette is defined as any product, or any component thereof, which can be used to inhale vapor, with or without nicotine, by means of a mouthpiece, including a cartridge, a reservoir, as well as the device without a cartridge or reservoir.
---
A look back at how things have moved on or otherwise….
24 Share Updates
Consumer advocacy groups in the Asia-Pacific region under the Coalition of Asia Pacific Tobacco Harm Reduction Advocates (CAPHRA) are joining the celebration of World Vape Day on May 30, with a call on the World Health Organization (WHO) and governments around the world to provide smokers with a better choice and spare them from almost 50-percent mortality rate linked to smoking.
ET Edge Insights
The World Health Organisation (WHO) predicts a staggering over 1 billion smokers into 2025 and beyond, indicating that tobacco control measures which are aimed at curbing adoption and encouraging quitting are proving to be not as effective. Countries are hence rethinking their traditional tobacco control policies; by adding a 'harm reduction' approach, to offer adults who would otherwise continue to smoke, scientifically substantiated less harmful products as alternatives.
---
Visit Nicotine Science & Policy for more News from around the World

---