Vapers Digest 30th May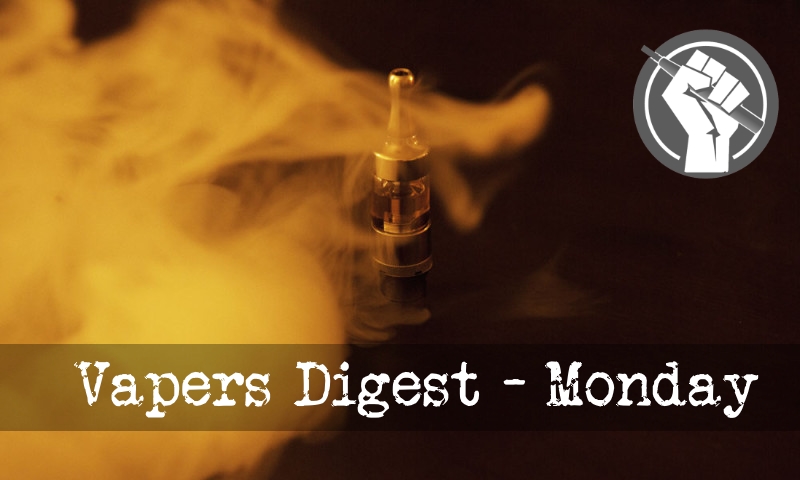 Monday's News at a glance:
Speakers stress need for THR strategy – The War on Drugs Didn't Work. The War on Vapes Won't, Either – Scotland Goes Toilet Crazy – Why Do They Lie? – Is Health Canada's Tobacco Control Directorate "fit for purpose"? – The Cost Of E-Cigarettes – Study Raises Questions About Anti-Vaping Bias At FDA – Without nicotine alternatives, Kenya's tobacco industry is growing – E-Cigarette Flavors, Devices, and Brands Used by Youths – Nicotine Science and Policy Daily Digest
TBS Report
Speakers at an event urged policymakers to incorporate Tobacco Harm Reduction (THR) strategy in their tobacco control plans and establish safer alternatives such as vaping products as smoking cessation medium like progressive nations around the world.

To commemorate World Vape Day 2022, Voice of Vapers Bangladesh organised a panel discussion titled "The Need for a Tobacco Harm Reduction Strategy: Achieving the Government's Health Agenda & Revenue Ambitions" held at a Dhaka hotel on 28 May, reads a press release.
The War on Vapes Won't, Either – Brad Esposito
Every morning I leave my home in Sydney and walk to the train station, skipping over the forgotten carcasses of dozens of hyper-coloured, "disposable" vapes. They are littered in the gutters, in the bushes, on the street. The technicoloured reminder of addiction, battery-filled and crumpled metal, these discarded cartridges are a daily reminder that our government's war on vaping is not working. But for almost anyone paying attention, that isn't surprising.

In every state and every town, illegal (not doctor-prescribed) vapes are sold brazenly. In rural towns, on trendy city high streets, and underneath office blocks, a combination of service stations and general stores have added "vape seller" to their already endless inventories, right next to the whipped cream chargers. The particularly brave (or dumb) shopkeepers have taken to stickering their windows in big red letters: "VAPES".
---

---
Dave Cross, POTV
Cathkin High School is state secondary school in Cambuslang, Scotland, with over one thousand students on the roll. The establishment on the outskirts of Glasgow is in the news following outrage over a crackdown on vaping that included closing most of its girls' toilets.

It hasn't been a great 2022 for Cathkin High so far. In January, police had to speak with the leadership team following a spate violence. Videos appeared online showing girls from the school fighting in the street and "stomping" a lone, young girl. The violence was so widespread and on such a level that a local police spokesperson said, "police officers and teachers … were not sufficient … to tackle the problem."
---
"Have you heard of the Global Tobacco Regulators Forum – no? Nor had we. Even more secret than COP, it's another WHO meeting organised behind closed doors. GTRF makes Davos look positively transparent"https://t.co/3djxV3jCXe

— European Tobacco Harm Reduction Advocates (@europethra) May 29, 2022
"Conclusions. Usual flavors used by youth vapers in the United States were unchanged after 2020 restrictions on cartridge-based e-cigarettes. Youths used brands and devices exempt from the restrictions."

Naughty, naughty! https://t.co/Zep4PU4WC6

— Frank Baeyens (@FBaeyens) May 29, 2022
---
Dave Cross, POTV
Electronic cigarettes disrupted traditional approaches to tobacco control. As vaping took off, the benefits became clear and the body of supporting independent research grew. Despite this, a sizeable number of tobacco controllers have engaged in denialism and lying. Professor Peter Sandman, a professor of environmental journalism at Rutgers University, has offered up a theory as to why they do it.

Last week saw the release of the Tobacco Atlas report, a document produced by Vital Strategies and Tobacconomics – funded by billionaire Michael Bloomberg. The authors claim smoking rates are falling but the truth is that the overall global figure has stubbornly remained static.

Directorate "fit for purpose"? – Dr. John Oyston
On World No Tobacco Day (May 31st 2022) let's look at the state of tobacco control in Canada. The Tobacco and Vaping Products Act is currently up for review. A recent Evaluation of the Health Portfolio Tobacco and Vaping Activities from the Office of Audit and Evaluation was critical of Health Canada. A draconian vape flavour ban is in the works. Health Canada committed to reducing smoking rates to 5% by 2035 but is not on track to meet this goal. It is time to consider the question:

There are about four million Canadians who still smoke. Every month, about 4,000 of them die from smoking-related diseases. Health Canada's Tobacco Control Directorate is not rising to this challenge or mounting an effective response to this ongoing carnage. In particular, it is ignoring the data that shows that vaping can reduce smoking deaths and assist smokers to quit.
---

---
Chuck Dinerstein – ACSH
From the academic center of the city by the bay comes a new study on e-cigarettes – in this instance, looking at the modeled health costs. Is their conclusion that "healthcare utilization and expenditures attributable to e-cigarette use are substantial and likely to increase over time" true? I will give them a B for the math but, at best, a D for the underlying assumptions and narrative.

While the use of e-cigarettes by adults seems relatively stable at about 3%, e-cigarette use by youths has risen. In 2018, 7.6% of young adults (18-24) were "users." For context, the CDC estimates that 12.5% of the population smokes, predominantly those aged 24 to 64. It is undeniable that smoking cigarettes negatively impacts your health and drives up the use and cost of healthcare.
Anti-Vaping Bias At FDA – Cameron English
A new study sheds light on a worrying trend at the Food and Drug Administration: the agency appears to be funding low-grade vaping research and using it to justify strict e-cigarette regulation.

"The health care costs attributable to vaping are already substantial and likely to increase." So concluded the authors of a study just published in the journal Tobacco Control. They based this conclusion on the results of a model that compared the self-reported vaping habits and health care consumption of a few thousand participants from the National Health Interview Survey (NHIS). Exclusive use of e-cigarettes generated $1.3 billion worth of health care expenditures in 2018 alone, they found.

Kenya's tobacco industry is growing – Joseph Magero
This World No Tobacco Day, Kenya appears to be further than ever from reducing cigarette sales and smoking. Its decision not to have any smoking reduction plan or policy since 2015, is proving to be good news for the smoking industry. For, without it, the government's cocktail of ignoring nicotine replacement therapies and banning tobacco alternatives is leading to a surge in cigarette sales, according to global market researchers, in an unexpected windfall for the country's cigarette producers.

For those of us who clamour for nicotine alternatives, the irony is we are frequently silenced by campaigners who claim we are lobbying for tobacco firms – as if saving thousands of Kenyans dying every year could never be our sincere motive.
Used by Youths Before and After Partial Flavor Restrictions in the United States: Canada, England, and the United States, 2017–2020
Objectives. To examine the impact of US restrictions implemented in February 2020 prohibiting flavors other than menthol and tobacco in cartridge-based e-cigarettes.

Methods. We analyzed 5 cross-sectional waves of the International Tobacco Control Policy Evaluation Project Youth Tobacco and Vaping Surveys, conducted online with youths aged 16 to 19 years in the United States, Canada, and England, for differences in usual e-cigarette flavor, device, and brand reported by past-30-day vapers (n = 9512) before (2017, 2018, 2019), during (February 2020), and after (August 2020) implementation of US flavor restrictions.
---
A look back at how things have moved on or otherwise…
Harry Shapiro
Globally most smokers know or at least have a strong inkling their habit is bad idea. They may have lost family and friends to cancer or some form of lung disease. They themselves may now be easily out of breath where once they were active sportspeople. They tell researchers they want to quit. But millions don't. Why?

There are many reasons; ritual, culture, accepted behaviour among peers, and maybe the power of advertising (although more diminished these days). But the primary reason must be that they enjoy the feeling they get from consuming nicotine.
Rachel Davies – Vaped
Who do you believe when it comes to vaping and science? While the Royal College of Physicians (RCP) was releasing a report about Smoking and Health in 2021, full of support for vaping. The World Health Organisation (WHO) was announcing their campaign for World No Tobacco Day 2021, demonising vaping.

So why do these two scientific institutions offer such vastly different opinions of vaping? Some of this is about which parts of the world they are responsible for.

In the case of the RCP, it's very much a view from the UK. The WHO has a much larger remit, and has to consider policies for the whole of the world, and this includes global regions where tobacco smoking is increasing.
---
Visit Nicotine Science & Policy for more News from around the World

---