Vapers Digest 6th May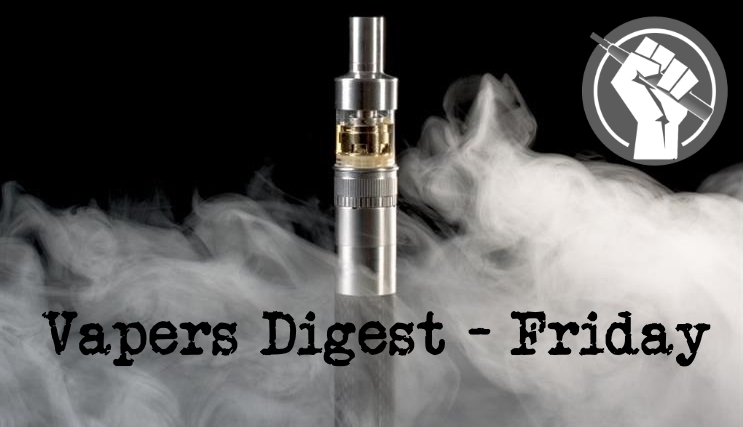 Friday's News at a glance:
Digital minister backs e-cig sales – "Vaping promotion ban would hit disadvantaged hardest" – President Biden should use Small Business Week to save lives – A Confused Approach to Harm Reduction – Hawaii: Flavored Vape Prohibition Passed – As US FDA moves towards a menthol ban – Cochrane's April Update – Global Livestream To Expose Anti-Vape Agenda – Consumers Respond To Thai Threat – Thai Minister Champions Tobacco – European Awareness Campaign Launched – First Time Vapers Survey – Parliament – Australia's vaping policy – New Zealand must not sabotage its Smokefree 2025 goal – BfR-Forum aus Verbrauchersicht unbefriedigend – How biased is the media? – Hong Kong police make first arrests – Nicotine Science and Policy Daily Digest
INNCO | Weekly Issue | May 2nd, 2022
It's always a pleasure to greet you. The Topic of the month is the statements of over 100 respected scientific and public health organizations that have reviewed the evidence and agree that safer nicotine alternatives are in fact safer. If you like to tweet these statements is as easy as just clicking any statement you will like to post. Check them out here.

The Global Forum on Nicotine announced its lineup for Panels One and Two. Panel One will be live-streamed. It's titled 'Academic freedom and the ghost of Senator Joseph R. McCarthy'. Hosted by Kevin McGirr, it features Marewa Glover, Sree Sucharitha, and Brad Rodu. A hot topic in nicotine science and THR, but rarely tackled head-on. Panel Two is titled 'Safer nicotine products – it's not all about vaping.'
Would hit disadvantaged hardest – Ryan Nixon
SCOTS shopkeepers have raised concerns about the suggestion of outlawing in-store displays in a response to a Scottish Government consultation.

The Scottish Grocers' Federation (SGF) says a ban on the display of vapes in Scotland's shops would be "irrational and hit disadvantaged communities hardest".

The convenience store trade organisation has highlighted its objections about any such move in an official response to a Scottish Government consultation on the advertising and promotion of vaping products.
---

---
Small Business Week to save lives – Martin Cullip & Kim Murray
This year, President Joe Biden publicly lauded small business week (May 1-7) remarking that "small businesses across America have shaped and embodied our Nation's entrepreneurial spirit and driven our economy forward." In this year's statement, the president acknowledged how the "pandemic … devastated America's small business community."

Unfortunately, thousands of small businesses are struggling and are not being acknowledged by the government. The most underappreciated small businesses are in the vapor industry. Despite helping thousands to quit smoking, vapor product manufacturers and the vape shops that sell harm reduction products are mistakenly accused by many in the tobacco control field of being "Big Tobacco".
Marc Hyden
If you want consistent approaches from the government to society's many problems, then you're likely to be disappointed. Nowhere is this clearer than in the responses to the tobacco and opioid epidemics—both of which have proven incredibly deadly. Despite tobacco and opioid-related deaths both being inextricably linked to addiction, many states treat them differently and have adopted different responses at their own peril, but there's a better way.

Many policy experts and researchers have rightly pointed out that for years, the United States has relied on an abstinence-only approach to tobacco, drugs and sex, and the results have been embarrassingly bad.
---
Excellent listening to @NannyFreeState talking with @RobbieRinder just now – smoking is responsible for half the health disparities in UK, levelling up should include making safer alternatives to smoking (non combustible products) more accessible to smokers. pic.twitter.com/Lu6vYpt2fh

— Jessica Harding (@jetsipha) May 6, 2022
"Si no hubiera sido por el vapeo, jamás hubiera dejado de fumar mis 2 cajetillas diarias. Sin duda el vapeo me salvó de esa adicción tan horrible que es el tabaco", Enrique Alcoriza, uno de los más de 5.000 usuarios que han firmado nuestra petición⬇️https://t.co/BDIjcfKvaX

— ANESVAP (@anesvap) May 6, 2022
---
Jim McDonald
Anti-vaping activists in Hawaii have finally succeeded in passing a ban of flavored vaping and tobacco products, after many years of trying. The state House Tuesday passed an amended version of HB 1570 by a vote of 36-15. The bill passed the state Senate earlier.

The bill will now go to Governor David Ige to be signed into law (or vetoed). If Ige signs the bill—as expected—it will take effect July 1, and Hawaii will become the fifth U.S. state to prohibit flavored vapes.
What might it mean for novel products? – Barnaby Page
The US Food and Drug Administration (FDA) has taken only the first concrete steps toward ending menthol flavours in combustibles, but already there is ample speculation both on how it might all go horribly wrong, and on how it might be the country's biggest tobacco control triumph in years. Less commented on has been what it might mean for novel nicotine products, which wouldn't be entirely covered by the ban.

Certainly, the long-mooted proposal to prohibit menthol – now the subject of a comment period that extends to 5th July (along with a ban on all non-tobacco flavours in cigars, which has excited much less interest) – is the most dramatic step the FDA has taken since the 2009 Tobacco Control Act (TCA) made menthol the one exemption from a general flavour prohibition.

Seven from Dave Cross, Planet of the Vapes:
The Cochrane Tobacco Addiction Group conducts a monthly review of studies looking at the use of e-cigarettes to help people stop smoking. It has issued an updated briefing (April 2022) that contains all the new information published in peer-reviewed journals.

The Cochrane Tobacco Addiction Group is a highly respected independent organisation that reviews all evidence regardless of outcome. It attributes a level of confidence in the findings to the work and factors it into its conclusions. The work done by the Tobacco Addiction Group then feeds into decision making processes by employers, public health professionals and national policy makers in government.
sCOPe is back! Last year's popular global livestream featuring leading Tobacco Harm Reduction (THR) advocates will broadcast again on both World Vape Day (#WVD22) and World No Tobacco Day (#WNTD22). It has announced that European, African, Indian, North and South American, and Asia Pacific THR consumer organisations will discuss, in one-hour blocks, advocacy and issues in their countries and take questions from viewers.

The two-day #sCOPe22 livestream will broadcast for WVD22 on 30 May and for WNTD22 on 31 May. It will run for eight hours each day from 0700 CDT / 1300 BST.
Thai Public Health Minister Anutin Charnvirakul has spoken out against legalising vaping. Despite being called upon to adopt an evidence-based approach to regulation, the minister has been subjected to pressure from conservative health groups. He has stated that ecigs should remain illegal in order to protect farmers and the tobacco growing industry.

Currently, the act of vaping in Thailand can lead to arrest, fines, and possible imprisonment. Public Health Minister Charnvirakul addressed the board members of the Thai Health Promotion Foundation and told them: "The ministry will not support the legalisation of e-cigarettes."
Following yesterday's article about the Thai Department of Health, the United Nations and the World Health Organisation wanting to protect the tobacco industry, Asa Saligupta, Director of ECST (ENDS Cigarette Smoke Thailand), says: "Public Health Minister Anutin Charnvirakul may not support the legalisation of e-cigarettes, but most politicians and the public do, with legal vape sales only months away."

Mr Saligupta's comments follow the Public Health Minister publicly claiming his Ministry will not support legalization during a meeting with the Thai Health Promotion Foundation (ThaiHealth).
The Independent European Vape Alliance, which claims to be "the only pan-European vaping association", has launched a new campaign aimed at educating smokers about the harm reduction potential of vaping compared to combustible tobacco. It says that "far too few smokers know the actual facts about e-cigarettes, making them less likely to switch to a significantly less harmful alternative."

The Independent European Vape Alliance says it is, "the only pan-European association aimed at uniting national associations, companies, manufacturers and wholesalers in the vaping industry and providing them with responsible representation at the European level."
First time vapers value specialist advice in helping them quit conventional cigarettes, according to the UK Vaping Industry Association. In research conducted by the trade organisation, the results highlighted areas in need of improvement to help smokers quit.

More than half of current vapers (57%) have highlighted the criticality of good advice to a successful quit of their smoking habit according to a new study. However, the research conducted by the UK Vaping Industry Association into the level, quality and source of advice that vapers received when they were trying to quit smoking also revealed that there is significant room for improvement in terms of the guidance that smokers can access when making a life changing decision to give up their habit.
Labour's Emma Hardy asked about the environmental impact of disposable vapes, pointing to the benefits of banning them. Conservative Daniel Kawczynski asked about the potential to use Brexit to diverge from Europe's Tobacco Products Directive. He asked a similar question to the Department of Health. Finally, Sir Charles Walker pressed on the subject of Smokefree 2030.

Emma Hardy, the MP for Kingston upon Hull West and Hessle asked the Secretary of State for Environment, Food and Rural Affairs if he will make an assessment of the potential for single-use vaping pens to be recycled including the plastic body, the circuit board, and the battery components.
---

---
Is preventing smokers from quitting – Colin Mendelsohn
An important new study published today has found that Australia's harsh regulatory policy on vaping has SLOWED the decline in smoking compared to other similar countries with less restrictive policies.

The study examined smoking rates and cigarette consumption in 6 jurisdictions with different regulatory environments for vaping. Australia has the harshest restrictions on vaping and the lowest vaping rates.
Its Smokefree 2025 goal – CAPHRA
"New Zealand is at risk of not achieving its decade long Smokefree 2025 ambition if commentators continue to demonise the most effective quit-smoking tool we have right now," says Nancy Loucas, Executive Coordinator of the Coalition of Asia Pacific Tobacco Harm Reduction Advocates (CAPHRA).

Ms Loucas' comments follow a recent return of anti-vaping media coverage, including claims that vaping is akin to past generations getting hooked on deadly smoking.

BfR-Forum unsatisfactory from a consumer perspective
Ende April fand in Berlin ein Verbraucherforum des Bundesinstituts für Risikobewertung (BfR) statt. Das Forum trug den Titel "Chancen und Risiken der E-Zigarette". Wir waren als Konsumentenverband vor Ort, um uns über die aktuelle Studienlage zu informieren und um in Einzelgesprächen unsere Sicht als Verbraucher darzulegen.

Eingeladen waren zahlreiche bekannte Referenten aus den Bereichen Wissenschaft, Forschung, Politik und Verbraucherschutz. In der abschließenden Podiumsdiskussion nahm ergänzend noch der E-Zigaretten Händlerverband "Bündnis für Tabakfreien Genuss" (BfTG) teil.
Michael Landl
Many vaping activists believe that one reason for most misconceptions about vaping is the way in which the media covers the issue. Ordinary people are constantly exposed to claims that vaping causes erectile dysfunction, makes you blind or is the cause of EVALI. While at the same time, almost nobody covers the fact that about 82 million smokers have been able to quit thanks to vaping. One of the most significant public health victories in the last few decades goes unnoticed by large portions of the public and decision-makers alike. Instead, every bogus study or survey gets enormous media coverage whilst every truthful and enlightening report is passed over.
Thailand can save lives and promote innovation by legalizing nicotine alternatives
Bangkok, TH – As Thailand considers revising its ban on harm reducing nicotine delivery products, a global consumer advocacy group is praising the actions of Digital Economy and Society Minister Chaiwut Thanakamanusorn, who has recognized the importance of harm reduction in saving the lives of smokers who want to quit.

"The growing body of evidence from countries around the world points to a steep decrease in smoking rates once we allow harm reducing nicotine alternatives such as vaping products, snus, nicotine pouches, and heated tobacco products," said Yaël Ossowski, deputy director of the Consumer Choice Center. "The smoking rate in the United States, Canada, and the United Kingdom are already at historical lows.
Under law banning sale of e-cigarettes
Hong Kong police made their first arrests under a law banning the sale of electronic cigarettes after two men were allegedly caught with the items on Wednesday. The suspects, aged 28 and 31, remained in custody as of Thursday. They were being held on suspicion of selling and possessing a poison in Part 1 of the Pharmacy and Poisons Regulations, as well as selling alternative smoking products.

The law, which came into effect on Saturday, bans the import, sale and manufacture of electronic cigarettes, heated tobacco products and herbal cigarettes, with offenders subject to a maximum fine of HK$50,000 (US$6,370) and six months' imprisonment. Consumers are still allowed to smoke vape gadgets.
---
A look back at how things have moved on or otherwise….
Satyajeet Marar, Spectator Australia
As Covid-19 continues to wreak havoc in the world, killing hundreds of thousands in India while triggering fears about another lockdown in Perth, it's becoming evident that a coordinated global response to future health crises will be paramount. And we should expect that the global bodies that take up the task are capable of handling the challenge. The South-East Asia Director of the World Health Organization recently wrote about the need to build a healthier world as the global economy recovers from Covid-19.
Tobacco Reporter
The U.K. Vaping Industry Association (UKVIA) has joined the chorus of voices condemning the World Health Organization (WHO) for its urging of countries to take an aggressive anti vaping stance ahead of a crucial health summit later this year.

According to leaked documents reported in the Daily Express, the WHO plans to use November's COP9 summit in the Netherlands as a platform to tell leading international health figures that e-cigarettes are as dangerous as smoking tobacco.
---
Visit Nicotine Science & Policy for more News from around the World

---