Vapers Digest 4th May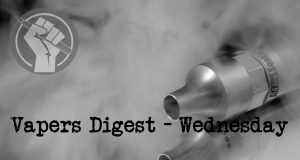 Wednesday's News at a glance:
Fighting The Wrong War ~ State's latest tobacco 'protections' are trying to kill us ~ Why is Harm Reduction an important aspect of public health? ~ Kenya Plans to Raise Taxes on Vaping ~ Unfair to ban vape sale, says MVIA ~ Thailand should allow legal import and sale of e-cigarettes: Digital Minister ~ Vape shops close as Hong Kong ban on sale of e-cigarettes takes effect ~ Desperate Hong Kong Vapers Stock Up as Sales Ban Takes Effect ~ Final version of the Vape Bill better than current laws—medical experts ~ White Coats, Fuzzy Facts? ~ The war against youth vaping: a message for Australian authorities ~ Important new study. Vaping is effective in helping Australian smokers quit. ~ FDA Needs To Promote Tobacco Harm Reduction, Not Institute Additional Bans ~ The FDA Uses Its New Authority To Close Off the Last Remaining Legal Option for Vapers Who Like Flavor Variety ~ Grand Scheme – NJOY Approved & Menthol Cigs Cancelled ~ Proposed Scottish vaping restrictions would be counter-productive, says ACS
Clive Bates, Tobacco Reporter
Yes, the tobacco companies worked hard to acquire a terrible reputation over many decades. With the publication of authoritative reports on smoking and health in the early 1960s, the tobacco companies entered a prolonged existential battle with reality. Emerging science threatened one of the most lucrative cash cows ever milked. What became known as the tobacco wars were fought over doubt, the marshy no-man's land between ignorance and certainty, and it was ugly. That war essentially ended around the turn of the century with ignominious defeats in the courts and at the hands of the U.S. states' attorneys general.
Steven Greenhut, Pasedena Star-News
I consider myself a rational person, someone who is swayed by solid data and persuasive arguments, yet every afternoon after my work is done, I jump on my three-cylinder Triumph motorcycle and take an exhilarating ride along country roads, city streets and freeways. The statistics suggest that this is a very bad idea.
Prathiba Raju, ETHealthWorld
The dramatic increase in global health over the past century and a half is one of the stellar accomplishments of humanity. We have emerged from a world where even the wealthiest nations had very high rates of child mortality to one where even some of the poorest now have sufficient centenarians to warrant research. Life expectancy in poor countries is now higher than it was in the wealthiest nations of the 1800s.
---
Tobacco Reporter
Kenya's Treasury Cabinet Secretary, Ukur Yatani, has proposed to change the excise tax on liquid nicotine to Sh70 ($0.60 cents) per milliliter in a bid to make it less accessible to users, including school children and the youth.

Vaping industry advocates warn the new proposals to raise excise tax on nicotine products will push safer alternatives for smokers out of reach and help the black market thrive, according to The Standard.
New Straight Times
The government's proposal to implement a ban on vape sale, which will be tabled in Parliament in July, is unfair to the local vape industry, said the Malaysian Vape Industry Advocacy (MVIA).

Its president Rizani Zakaria said vaping and traditional cigarettes are two completely different products and should not be regulated the same way.

"The decision made by the Ministry of Health (MoH) to equate the vape and tobacco industry by imposing a ban on products is unfair to the vape industry.
---
---
Cheryl K. Olson, Tobacco Reporter
In an earlier edition of Tobacco Reporter, I described the globally widespread, misplaced fears about the health risks of nicotine—and the critical need for credible messengers to counter those fears (see "Watch Your Mouth," Tobacco Reporter, March 2022). People generally trust their doctors for health information. Smokers do too.1 The limited data available suggest smokers trust their doctors over other sources of information on e-cigarettes2 and that most patients using e-cigarettes would appreciate at least a brief discussion or handout.3
---

---
Dr Colin Mendelsohn, ColinMendelsohn.com.au
NSW Health and Australian health authorities are engaged in a well-meaning but misguided attempt to eliminate youth vaping which will do more harm than good. Clive Bates and David Sweanor explain why this campaign is flawed in a submission to Health Canada. The very same reasons apply to Australia (modified and reproduced with permission).
Dr Colin Mendelsohn
---
---

---
In this special report from the Grand Canyon in Arizona, the United States RegWatch executive producer Brent Stafford provides commentary on the FDA's recent marketing granted order for an NJOY nicotine vape system and discusses the potential impact of the proposed federal ban on menthol cigarettes.
---
 David Shrimpton, Talking Retail
The Scottish government is consulting on new regulations on the advertising and promotion of vaping products to ensure they are only used as an aid to stop smoking and prevent young people and adult non-smokers from starting to vape. The consultation proposals would restrict in-store promotional displays, leaflets and flyers or billboards, the distribution of free or cut-price samples, and sponsorship.
---
Visit Nicotine Science & Policy for more News from around the World

---