Vapers Digest 29th April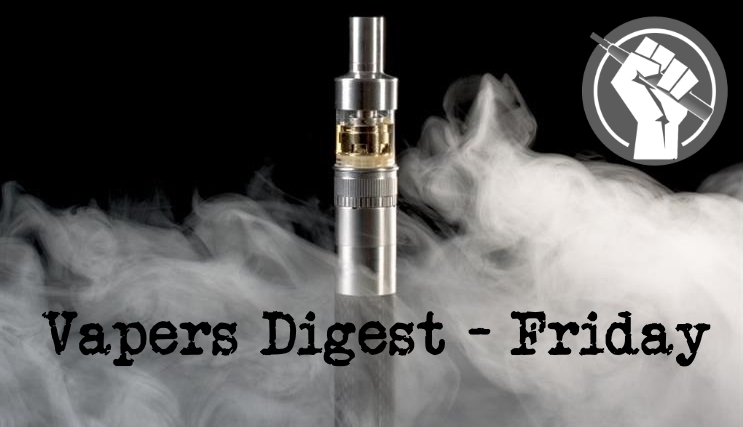 Friday's News at a glance:
Health Canada heading in the wrong direction on tobacco and nicotine policy – ETHRA April news roundup – Vapes and Methadone: An All-Round Harm Reduction Story – FDA Will Ban Menthol Cigarettes – Flavour Bans: The Evidence – No Contaminants – Venezuela Takes The Lead On Vaping – The Guardian Promotes Ignorance – Parliament This Week – The Carceral Politics of Menthol Prohibitionism – Opponents of ban on flavoured vape sales – Thailand's Health Minister won't stop legalization – April 2022 with Assistant Professor Alex Liber – Holding WHO Accountable – Nicotine Science and Policy Daily Digest
On tobacco and nicotine policy – Clive Bates
Health Canada's review of its tobacco and vaping legislation focuses only on reducing youth vaping. It shows no awareness of the links between smoking and vaping, between adults and adolescents, and the case for harm reduction at all ages

This blog takes a critical look at Canada's ongoing review of its tobacco and vaping legislation. Health Canada produced a discussion document to inform the review, posed twenty-two questions and invited comments. Responses from me and David Sweanor are set out below.
European Tobacco Harm Reduction Advocates
ETHRA's monthly roundup of news: Czech vow to support harm reduction – How safe is your vape? – COP out – Irish vapers say no to bans – Political support for flavours in Sweden – NNA discusses TRPR – Studies say THR works. Read on for more.
---

---
An All-Round Harm Reduction Story – Helen Redmond
Danielle Russell is a third-year PhD student at Arizona State University, and a co-investigator on a current study examining access to methadone during COVID-19.

She herself began taking methadone around 2006. As a former drug user, she's a member of Urban Survivors Union (USU), advocating for the rights of people who use drugs and for methadone clinic reform. And she's the board chair of Sonoran Prevention Works—an organization that works to improve the lives of Arizonans who use drugs through street-based outreach, organizational capacity-building and statewide advocacy.
---
Sweden: at present, the Moderates , the Center Party and the Sweden Democrats have demanded that the part of the government's proposal to ban #vape flavours be rejectedhttps://t.co/IVLrJDdrDA

— European Tobacco Harm Reduction Advocates (@europethra) April 29, 2022
Are you upset about Canada's proposed vape tax? Are you worried that this will effect how you get your vaping products? Well… we have the perfect opportunity for you share your thoughts on this matter. Call an MP and say NO to the proposed vape tax!!! #vapingsaveslives pic.twitter.com/enByk2602o

— Rights 4Vapers (@rights4vapers) April 29, 2022
---
Remains Silent on Menthol Vapes – Jim McDonald
After 12 years of discussion, the FDA today announced concrete steps to ban sales of menthol cigarettes and flavored mass-market cigars. The agency has issued a draft rule, and will accept public comment on the controversial measure from May 4 to July 5.

The FDA announced its intention to ban menthol cigarettes last spring, and said it would have a draft rule ready within a year. Last week, the White House Office of Management and Budget completed its review of the FDA's proposed rule.

Five from Dave Cross, Planet of the Vapes:
Professor Michael Siegel, Department of Community Health Sciences at the Boston University School of Public Health, and university research assistant Amanda Katchmar have conducted a study looking at the impact of American restrictions and bans on flavoured electronic cigarette products.

The bans and restrictions on flavoured product sales were introduced with the aim of preventing teen access.
The Centre of Excellence for the Acceleration of Harm Reduction in Italy conducted research looking at flavoured e-liquids. The study team found no contaminants in all the e-liquids tested and evidence that they carry an 80% lower risk than smoking. They also discovered a metal content below the levels permitted by the World Health Organisation for drinking water.

Researchers at The Centre say: "The debate over the safety and efficacy of electronic cigarettes demands strong and accurate evidence by the scientific community. The growing body of knowledge on alternative nicotine delivery systems and the potential benefits for human health if compared to conventional cigarettes pushed researchers to analyse ecig liquids, which differ in nicotine percentages, type and flavours."
Venezuela is taking a lead in South America by ignoring pressure from various Bloomberg organisations. It has announced it is mapping out a plan for favourable regulation for vaping and other tobacco harm reduction products. Bloomberg organisations are active in the continent, pressing governments to restrict or ban alternative nicotine devices.

Mariam Bolívar, president of the Association of Vapeo de Venezuela, relayed the news through her personal Instagram account
The Guardian newspaper is promoting a warped viewpoint on vaping and a ridiculous report, painting them as reasonable contributions to the harm reduction debate. Its headline might state that vaping is "definitely" better than smoking, but what followed is a repetition of half-truths and hysterical lies.

Opinion writer Gideon Meyerowitz-Katz's wrote: "Is it better to vape than smoke? Definitely, but it's still worse than quitting entirely". As openers go, it's an opinion that can be supported by the statements made by British public health organisations.
Lord Jones was wondering about the carcinogen levels in smokeless tobacco products. Ben Bradley was asking about the government's Smokefree 2030 ambition, the Tobacco Control Plan, and how the Department of Health plans to improve public understanding of the alternatives to tobacco.

In the House of Lords, Lib Dem Lord Jones asked Lord Kamall if the government is aware of any analysis of carcinogen levels in smokeless tobacco products and if so, what assessment has been made of this analysis.
---

---
Jacob Grier
It's hard to imagine that the country that gave birth to Big Tobacco may soon sentence Americans to prison for selling menthol cigarettes or flavored e-cigarettes. Yet in states that have forbidden these products, arrests and prosecutions are already occurring. The Food and Drug Administration is also expected to imminently announce a federal ban on menthol cigarettes and to order the vast majority of e-cigarettes off the market. Whatever the public health merits of these policies, there is a danger that they will hit a tipping point at which they go beyond mere regulation to full prohibition—and as with past prohibitions on drugs and alcohol, they will likely give rise to illicit markets requiring police enforcement. It is therefore vital that we consider them not only for their impacts on public health, but also as emerging issues in criminal justice.
Make 2nd attempt to have it suspended – Aidan Cox
Opponents of a ban on the sale of flavoured vaping products in New Brunswick are making a second attempt to have the new law suspended.

Lawyers Mel Norton and Joan Kasozi argued in the New Brunswick Court of Appeal on Tuesday that a Court of Queen's Bench judge incorrectly left out evidence when he denied an injunction to have the ban suspended last month.

They also argued that Justice Terrence Morrison erred in not finding irreparable harm caused by the new legislation under the Tobacco and Electronic Cigarette Sales Act, which, as of last September, effectively banned the sale of all vaping products mimicking the flavour of anything aside from tobacco.

Won't stop legalization of vaping – Adam Judd
"Public Health Minister Anutin Charnvirakul may not support the legalization of e-cigarettes, but most politicians and the public do, with legal vape sales only months away," says Asa Saligupta, Director of ECST (ENDS Cigarette Smoke Thailand).

Mr. Saligupta's comments follow the Public Health Minister publicly claiming his Ministry will not support legalization during a meeting with the Thai Health Promotion Foundation (ThaiHealth).

With draft legislation before a sub-committee, the ECST Director remains confident that the vaping bill will be passed by Thailand's parliament this year.
Jamie Hartmann-Boyce, Nicola Lindson
In the April episode Jamie Hartmann-Boyce talks with Assistant Professor Alex Liber, Department of Oncology at Georgetown University's School of Medicine, Washington DC, USA. Alex Liber discusses his work at the intersection between markets, public policy, and public health. Alex Liber discusses global tobacco control policy research and tax and price policy. He talks about why different countries react differently to policies and to why tobacco control is seen as the battle of politics, business, and health. He discusses the need for comparative regulatory language. Alex discusses the different e-cigarette policies adopted around the world.
Henry I. Miller Jeff Stier
The Covid-19 pandemic should be a wakeup call that there is something very wrong—irreparable, even—at the World Health Organization. This revelation shouldn't come as a surprise. After all, the WHO is a constituent of the relentlessly incompetent and politicized United Nations.

From the beginning, government officials, health experts, and analysts have raised concerns about the WHO's bungled response to the coronavirus, accusing the organization of misplaced trust in the Chinese government, which initially tried to conceal the outbreak in Wuhan. Taro Aso, Japan's deputy prime minister and finance minister, even derided the WHO as the "Chinese Health Organization."
---
A look back at how things have moved on or otherwise….
Purpose of the Inquiry

This APPG inquiry will consider the opportunities the UK's exit from the EU presents for devising new UK legislation for vaping products and other reduced risk nicotine delivery systems post-Brexit.

The intention is to propose regulatory divergence from the EU to ensure that UK legislation aligns with the Government's position on tobacco harm reduction, improves public health, and strengthens the UK's standing as the world's most progressive nation on tobacco harm reduction.
Véronique Trillet-Lenoir, a Member of the European Parliament's Special Committee on Beating Cancer and former oncologist, agrees that vaping is less harmful than tobacco. This is excellent news.

It is very encouraging to see that European policymakers who have a say in how vaping is regulated are beginning to listen to the scientific community and to consumers. It is proof that vapers' voices are starting to be heard.
---
Visit Nicotine Science & Policy for more News from around the World

---