Vapers Digest 27th April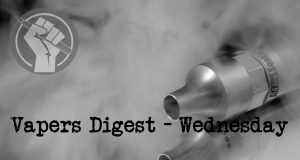 Wednesday's News at a glance:
German agency: 'nicotine pouch risks are low' ~ 'Keep nicotine bags away from young people, but do it differently for adult smokers' ~ Hypocrisy: Science Journals Refuse To Publish 'Tobacco Industry' Research ~ Health Canada's Latest Consultation on Vaping Is Confusing Itself and the Public ~ Views on vaping are softening in post-pandemic Canada ~ Egypt Legalizes E-Cigs ~ New federal tax on vaping too high ~ Doctors' Recommendations ~ BAT Act To Prevent Youth Access ~ INNCO Weekly Issue | April 25th, 2022 ~ Use Common Sense In Vape Flavor Ban Debate ~ FDA Authorizes NJOY Ace, a High-Strength Pod Vape ~ FDA Authorizes NJOY Vapes in Its Biggest Positive Decision Yet ~ FDA Issues Marketing Decisions on NJOY Ace E-Cigarette Products ~ Mitch Zeller's Legacy of Lost Tobacco Harm Reduction Opportunities ~ Smokers rush to stock up before e-cig ban starting Saturday
Stefaan Hendrickx, Jorn Lelong, DeMorgan
Sinds ze gewoon in de krantenwinkels te vinden zijn, wagen steeds meer jongeren in ons land zich aan nicotinezakjes. Hoe schadelijk zijn die? 'Jongeren kunnen er snel afhankelijk van worden', zegt Stefaan Hendrickx van het Vlaams Instituut Gezond Leven, een onafhankelijk expertisecentrum.

(English) Since they can be found in the newsagents, more and more young people in our country are taking up nicotine pouches. How harmful are they? "Young people can quickly become dependent on it," says Stefaan Hendrickx of the Flemish Institute for Healthy Living, an independent center of expertise. (Google Translate here)
Cameron English, American Council on Science and Health (ACSH)
In order to preserve their "independence," a growing cadre of medical journals is refusing to publish any research conducted by vaping-industry scientists. It's a policy marred by hypocrisy that will exclude good science from the peer-reviewed literature.

"Censorship of science is deeply troubling on many levels," the ACLU argued in 2007. "At the most basic, it affronts the fundamental premises of the scientific method … For science to advance, knowledge must be shared. Without the free exchange of ideas, science as we understand it cannot exist and progress."
---
Martin Cullip, Inside Sources
Health Canada's (HC) Tobacco Products Directorate has embarked on a public consultation to inform a mandated legislative review of the vape-related aspects of the Tobacco and Vaping Products Act (TVPA), which was last amended in 2020. Even though the public is invited to comment, HC is sending confusing messages with this process, which suggest it is somewhat confused.
Mario Canseco, BIV
In 2018, Health Canada took some major steps to deal with the use of vaping products across Canada. The measures, which arrived after news stories in the United States focused on a marked increase in the consumption of these products by young Americans, were well received by Canadians.
Tobacco Reporter
The vapor industry has welcomed Egypt's decision to allow the import and commercialization of e-cigarette product.

"The lifting of the ban highlights the Egyptian authorities' progressive approach to e-cigarettes and sets the stage for the creation of a regulated market rich with business opportunities, through serving the demand for easily accessible, quality products by legal age (adult) consumers across the country," wrote RELX International, a leading player in the segment, in a statement dated April 24.
---
Seth Harris, SaltWire
With the threat to ban flavours, limit bottle and device sizes, and cap nicotine levels always looming, the vaping industry has to stay aware and up to date on all incoming regulations. We must ensure we have an adequate understanding and respond to all government proposals.
---
Fine analytical work … flavour bans increase youth smoking. Oh dear, predictable and predicted: yet that's what @BloombergDotOrg is spending millions of dollars on. Nice job @drkellyhenning – what does it take for you and Mr Bloomberg to admit an error and stop causing harm? https://t.co/aiccidsaQ9

— Clive Bates (@Clive_Bates) April 26, 2022
---

---
TWO from Dave Cross, Planet of the Vapes
A new piece of research published in JAMA Network Open has found that more American doctors are talking to patients about switching from smoking to vaping – but only because the smokers are pushing for it. The work also provided more evidence that doctors still have a woeful level of knowledge when it comes to electronic cigarettes.
British American Tobacco is targeting 17,000 retailers with its youth access prevention campaign. The campaign is called VERIFY and aims to provide retailers and store staff selling vape products information and support materials to prevent sales to underage customers.
---
---

---
Josh Burnett, Honolulu Civil Beat
I was disappointed by recent Civil Beat coverage on a proposal at the state Legislature to ban flavored tobacco and vape products, "Hawaii Seemed Poised to Adopt a Vape Flavor Ban Then Came the Amendments." It seemed largely one sided and appeared to unfairly question the motives of some of the lawmakers.

In 2009, I established Volcano as Hawaii's original vape shop. Since that time, we've grown to 16 locations providing customizable vape products that are an alternative to tobacco for adults in the islands.
Jim McDonald, Vaping 360
For the first time, the FDA has authorized a modern pod-based vaping product used with high-strength nicotine salt refills. The agency today issued marketing granted orders for the NJOY Ace device and three refill pods, allowing them to be legally sold in the U.S.
Alex Norcia, Filter Magazine
On April 26, the Food and Drug Administration (FDA) authorized several NJOY Ace vaping products. It is the most significant positive decision to date on the premarket tobacco product applications (PMTAs) that all vapor companies had to file with the agency. Decisions were expected in September 2021; as late as this move comes, it's an official endorsement of sorts of vaping as a harm reduction alternative to cigarettes, and offers some hope to former smokers who rely on far-less-harmful vapes.
---
Michelle Minton, Filter Magazine
On April 8, Mitch Zeller punched the clock for the last time at the Food and Drug Administration (FDA), retiring after nearly a decade as director of the Center for Tobacco Products (CTP).

Just weeks later, he spoke to his former agency about his long career. In an interview published on the FDA's website, Zeller lauded his former colleagues. "In the face of some disappointments that we've experienced over the years, no one's given up," he said. "We lick our wounds, take a deep breath, and get on with our jobs." He boasted that "it's a short list" when it came to what more could have been done under his stewardship.
Smokers in Hong Kong flocked to stock up on e-cigarettes before the ban on all alternative smoking products took effect on Saturday.

From April 30, no person may import, promote, manufacture, sell, or possess for commercial purposes alternative smoking products, including electronic smoking products, heated tobacco products, and herbal cigarettes.
---
Social media peeved by WHO's anti-smoking campaign
The World Health Organisation (WHO), as part of a digital campaign against nicotine consumption, has claimed that using tobacco products increase your chances of contracting the novel coronavirus. In one post, it also accused tobacco lobbyists of trying to manipulate policy-making by having tobacco listed as 'essential' to allow its sale and delivery during lockdown.

But the triumphant note of the message didn't get the anticipated response on social media. Smokers were joined by non-smokers as they pilloried the multilateral body over the campaign as well as its response to the pandemic.
To November 2021. Stay tuned
In light of the COVID-19 global pandemic and its impact on the conduct of international global conferences and travel, the Bureaus elected by COP8 and MOP1, after consulting the host country, have decided that convening the Ninth Session of the Conference of the Parties to the WHO FCTC (COP9) and the Second Session of the Meeting of the Parties to the Protocol to Eliminate Illicit Trade in Tobacco Products (MOP2), scheduled for November 2020, is no longer possible.
---
Visit Nicotine Science & Policy for more News from around the World

---