Vapers Digest 25th April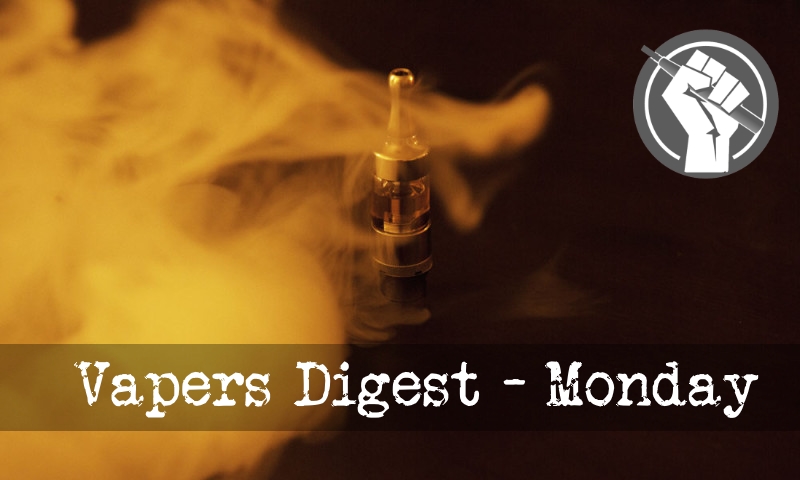 Monday's News at a glance:
Health misinformation can be deadly – Vaping in schools: how concerned should we be? – America's Blinkered Battle – New NZ DG Must Review Ecigs – Vaping Down Under with Dr. Colin Mendelsohn – Pretty Brutal | State of U.S. Vaping 2022 – Govt 'will not legalise' e-cigarettes – China issues draft rules to control production – Washington's Juul settlement – Effect of flavored E-cigarette bans in the US – Nicotine Science and Policy Daily Digest
Kim Murray | Taxpayers Protection Alliance (Alternative Link)
Every 4 seconds, someone in the world dies from the morbidities caused by smoking. However, it is a little-known fact that it's the smoke that causes disease and death, not nicotine. For those who can't or won't quit smoking, tobacco harm reduction products offer a safer alternative to combustible tobacco.

Unfortunately, too many people mistakenly believe that the most dangerous thing about smoking is nicotine. Marginalized communities have the highest prevalence of smoking and, as a result, they suffer the greatest health inequities. Many falsely believe that nicotine causes cancer. When people who smoke perceive nicotine replacement therapy or nicotine vapor products to be as harmful or more harmful than smoking, they are less likely to use less harmful products when attempting to quit smoking.
How concerned should we be? – Christina Quaine
Has vaping become the 2022 equivalent of sneaking a fag round the back of the bike sheds? Sarah*, an English teacher and behavioural leader at a secondary school in the North of England, certainly thinks so.

"More and more, it's becoming a massive issue in my school. We have kids vaping here on a daily basis. We suspect that it's going on at every break time, every lunchtime, in every toilet. Our kids would never dare have a cigarette in the school toilets but they'll vape because they know you can't really smell it and you can't really prove who it was," she says.
---

---
Dave Cross, Planet of the Vapes
The US Centre for Disease Control and Prevention (CDC) makes the statement: "Tobacco use is the single most preventable cause of disease, disability, and death in the United States". While this makes sense, the problem is that vested interests have redefined tobacco to include anything that includes nicotine. A new attack on menthol flavoured products and a marketing denial order confirms things are still going to get worse in the States.

The conflation of vaping with smoking allows bigots and prohibitionists incorrectly to paint electronic cigarettes as containing child-friendly flavours and be a tobacco industry product geared towards the ensnaring of teens through irresponsible branding and marketing practises.
---
---
Dave Cross, Planet of the Vapes
The attitude and actions of the next Director-General of Health will be key to New Zealand achieving Smokefree Aotearoa 2025, says the Coalition of Asia Pacific Tobacco Harm Reduction Advocates (CAPHRA).

"This person could make or break Smokefree 2025. He or she advises the Government, oversees regulation, and has the final say on new vape store licences. It's an incredibly important position when it comes to New Zealand effectively addressing tobacco," says Nancy Loucas, Executive Coordinator of CAPHRA.

Dr. Colin Mendelsohn
---

---
RegWatch
According to industry analyst Michelle Minton, the future for nicotine vaping in the United States looks "pretty brutal," following the FDA's marketing denial orders, the vape mail ban, and the loss of synthetic nicotine as an ingredient in nicotine vapes.

In the battle against anti-vaping forces, no one is more tenacious than Michelle Minton, a senior fellow at the Competitive Enterprise Institute in Washington, D.C.

As a researcher and writer on regulatory issues, Minton has delivered many hard-hitting articles and reports exposing corrupt motivations and tactics behind the most egregious efforts to destroy vaping.

Bangkok Post
Public Health Minister Anutin Charnvirakul insists the Public Health Ministry will not support legalising electronic cigarettes in the country.

He made his remark on Monday during a meeting with board members of the Thai Health Promotion Foundation (ThaiHealth) to discuss tobacco control.

Mr Anutin, in his capacity as chairman of the ThaiHealth board, said he has noticed e-cigarettes trending among teenagers and some of them are aiming to have sales legalised. "The ministry will not support the legalisation of e-cigarettes," he said.
Control e-cigarette production
SHANGHAI, April 25 (Reuters) – China's tobacco regulator on Monday issued draft rules to strictly control e-cigarette production, as it tightened oversight of the industry.

The State Tobacco Monopoly Administration said it would "reasonably" control the scale of e-cigarette production capacity to prevent overcapacity.

Foreign investment in the retail of e-cigarette products would be banned, the regulator said, and it would review foreign investment in production, requiring e-cigarette firms that want to list in China or abroad to obtain pre-approval.
Relies on a sting quota to keep e-cigs out of teens' hands
Not to imply that they aren't already, but stores selling e-cigarette supplies should be extra careful about carding customers from now on.

The state's recent settlement with Juul, the purveyor of nicotine-laced vaping liquids, comes with more than its healthy price tag of $22 million for marketing its products to the state's youth. No guilt was admitted, which is how settlements work, but there's more than just a cash payout involved.
What does the evidence show? – Michael Siegel, Amanda Katchmar
Abstract: The United States federal government, along with many state and local governments, have passed restrictions on electronic cigarette ("e-cigarette") sales with the stated purpose of preventing youth use of these products. The justification for these restrictions includes the argument that youth e-cigarette use will re-normalize youth smoking, leading to increased rates of cigarette smoking by teenagers. However, in this paper, we propose an evidence-based version of this model based on several years' worth of longitudinal and econometric research, which suggests that youth e-cigarette use has instead worked to replace a culture of youth smoking. From this analysis, we propose a re-evaluation of current policies surrounding e-cigarette sales so that declines in e-cigarette use will not come at the cost of increasing cigarette use among youth and adults.
---
A look back at how things have moved on or otherwise…
Clive Bates interview:
Tobacco control expert Clive Bates has been a key figure in the push back against misinformation in the debate about vaping. He tells Tom Gockelen-Kozlowski why retailers should back the industry in the years ahead

Even before a spate of lung injuries was wrongly apportioned to conventional vaping in 2019 (the so-called EVALI, or e-cigarette and vape associated lung injury, crisis), the industry has been a magnet for sensationalist and scaremongering headlines.
A Missed Opportunity – Stefanie Rossel
In February, the European Commission (EC) presented its Beating Cancer Plan (BCP), which named tobacco as the top avoidable risk factor. According to the EC, tobacco use is responsible for 15 percent to 20 percent of all European cancer cases, which corresponds to 525,000 to 700,000 new diagnoses each year. The BCP aims for less than 5 percent of the EU population to use tobacco by 2040, thus creating a "tobacco-free generation."

To achieve this, the EC wants to tighten tobacco regulations, increase minimum taxation rates on tobacco products and harmonize the taxation of novel products. "As well as dealing with traditional tobacco products…
---
Visit Nicotine Science & Policy for more News from around the World

---