Vapers Digest 9th December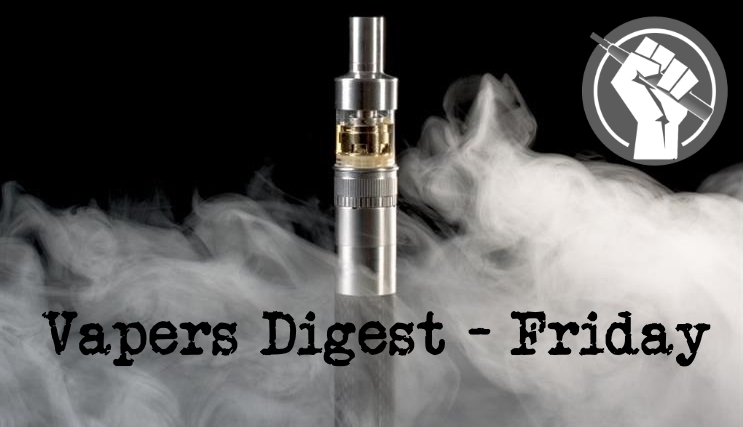 Friday's News at a glance:
Advocates For Vaping Lay Case Ahead Of COP10 – Is Teen Vaping A Public Health Crisis? – New Court-Ordered Cigarette Warnings Will Omit Harm Reduction – Juul Settles Over 5,000 Lawsuits – Vape Criticism Is "Very Tiring" – India's Vape Ban Exposed – EU Strategy fails Tobacco Harm Reduction – Overview of the Asia Harm Reduction Forum – Expert Reaction – Mission Harm Reduction – THR Science Communication Brief – Nicotine Science and Policy Daily Digest
Ahead Of COP10 – CAPHRA
CAPHRA's nine member organisations have written to FCTC delegation heads from around the world, and health ministers and leaders, urging them to review the evidence which supports a Tobacco Harm Reduction (THR) approach ahead of COP10.

With governments sending delegates to COP10 in November 2023, CAPHRA (Coalition of Asia Pacific Tobacco Harm Reduction Advocates) was keen to send leaders comprehensive reference material for their COP10 planning, submission writing, and deliberations.

COP10 will held in Panama and is hosted by the World Health Organization's Framework Convention on Tobacco Control (FCTC).
Lindsey Stroud
Cigarette smoking kills millions of Americans. Fortunately, in recent years, e-cigarettes and vapor products have shaken up the marketplace, leading to significant declines in combustible cigarette use. Yet, lawmakers and regulators are being influenced by billionaires to end the sale of e-cigarettes in America, despite the fact that these products help people quit smoking. One tactic used by anti-vaping activists is to scare parents by declaring that teen vaping is a public health crisis. But is this true?

Youth vaping is declining. Contrary to the headlines, youth vaping peaked in 2019 and has steadily declined in the years since. Between 2019 and 2022, vaping among American youth halved from 5.3 million to 2.55 million. Even better, youth vaping has not led to an increase in smoking rates.
---

---
Will Omit Harm Reduction – Alex Norcia
On December 6, the Department of Justice (DOJ) announced that tobacco companies would be required to post signs in retail stores warning about the dangers of smoking.

The order concludes a long-standing civil racketeering lawsuit by the government against the largest US cigarette companies, which has been held up to varying degrees in court ever since 1999. It's set to go into effect on July 1, 2023, and gives the relevant manufacturers—Altria, Philip Morris USA, R.J. Reynolds and ITG Brands (a subsidiary of Imperial)—a further three months to post the mandated "corrective statements."
---
---
Jim McDonald
Juul Labs has reached a financial settlement with more than 10,000 individuals, municipalities, school districts and American Indian tribes that sued the company on a variety of grounds. The lawsuits included racketeering allegations against the company and some Juul Labs directors.

The company announced yesterday that the settlement covers more than 5,000 actions against Juul, including personal injury, consumer class action, government entity, and American Indian tribes. The company said the agreement prevents Juul from disclosing the settlement amount at this time.

Three from Dave Cross, Planet of the Vapes:
New Zealand's Asthma and Respiratory Foundation (ARFNZ) has launched another "disappointing, but sadly not surprising" attack on vaping. It has called "very tiring" by the Coalition of Asia Pacific Tobacco Harm Reduction Advocates (CAPHRA). The scaremongering has been described as being without foundation.

"The latest outburst from New Zealand's Asthma and Respiratory Foundation directed at the Ministry of Health is disappointing, but sadly not surprising," says Nancy Loucas, Executive Coordinator of CAPHRA.

Her comments follow ARFNZ's claim that the Ministry of Health is not striking the right balance with New Zealand's vaping regulations.
On December 2, 2019, the upper house of the Indian parliament ratified the ban on e-cigarettes and heated tobacco products citing WHO guidelines and the threat they pose to young people. Three years on, consumer advocates and tobacco harm reduction experts say the ban has been ineffective and has caused more harm by giving rise to a black market with no safety checks and controls.

Clive Bates, public health expert and former director of UK anti-smoking organisation Action on Smoking and Health (ASH), said, "We know, from a vast number of studies, that vaping is much less harmful than smoking and is replacing combustibles. Banning e-cigarettes while allowing deadly cigarettes to be sold is therefore an absurd policy."
The EU Commission has announced in its "Global Health Strategy" that the new guiding principle will be to "prioritise tackling the root causes of ill health". Unfortunately, the strategy fails to tackle one of the leading causes of ill health — smoking. Tobacco harm reduction must be included in such a strategy to combat smoking-induced illnesses says campaigning group the World Vapers' Alliance.

Michael Landl, Director of the World Vapers' Alliance, commented: "The EU Commission is ignoring science and consumer voices again. Tobacco harm reduction must become a key element of all health policies for the EU. Seven hundred thousand people die each year due to smoking, and at the same time, the Commission fights against less harmful alternatives…."
---

---
Overview of the Asia Harm Reduction Forum
The fifth Asia Harm Reduction forum took place on 28 October in Manila Philippines. The theme for this year was "Integrating Harm Reduction in Asian Policies: A Major Win for Public Health." There were presentations from consumers and researchers alike within the theme and it was also the first public presentation of two notable research/white papers on harm reduction as well as the official launch for the Manila Declaration.

Looking at smoking, vaping and oral health
A study published in JAMA Network Open looks at tobacco use and incidence of adverse oral health outcomes among US adults.

Dr Richard Holliday, Senior Lecturer and Honorary Consultant in Restorative Dentistry, and Specialist in Periodontics, Newcastle University, said:

"This is a well conducted study from a respected collaboration of researchers.

"The study reinforces the well-known association between cigarette smoking, gum disease and tooth loss.
Embracing Innovations and New Global Regulatory Insights to Save Lives
India's tobacco harm reduction (THR) mission to save lives has received a big boost with the Government's plan to include Nicotine Replacement Therapy products (NRT) in the National List of Essential Medicines (NLEM). Harm reduction assumes critical urgency against the backdrop of tobacco addiction reaching pandemic levels. With tobacco harm reduction emerging as one of the top national priorities, The Times Group via ET Edge, India's largest media conglomerate, held a power-packed panel discussion as part of its 6th Edition of Consumer Freedom Conclave on the theme of 'Mission Harm Reduction: Embracing Innovations and New Global Regulatory Insights To Save Lives.'
Center for Critical Public Health (CCPH)
LGBTQIA+ communities, especially those disadvantaged by housing and financial insecurity, experience inequities in nicotine and tobacco use. As a result, these communities are considered important priority populations for tobacco control and prevention. This report highlights research conducted by the Center for Critical Public Health in collaboration with a Community Advisory Board. The research was designed to understand the perspectives and practices of LGBTQIA+ young adults who use nicotine and tobacco. Results from this research detail important reasons why LGBTQIA+ young adults may not be interested in or currently able to quit all nicotine and tobacco products and highlight the importance of acknowledging tobacco harm reduction strategies as a legitimate approach for reducing tobacco-related illnesses for these important priority populations.
---
A look back at how things have moved on or otherwise….
---
Visit Nicotine Science & Policy for more News from around the World

---