Vapers Digest 7th December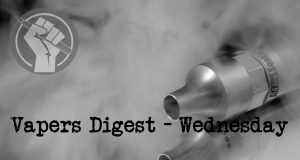 Wednesday's News at a glance:
The smearing of a tobacco scientist ~ THE NAGGING & BEGGING CONTINUE ~ Adult smoking habits in the UK: 2021 ~ Lowest proportion of UK smokers on record with vaping playing 'major role' in drop ~ Number of smokers drops as vaping rises, data shows ~ Vaping and other reduced-risk nicotine products reduce national smoking rates ~ Vaping Towards Cessation – Can Tobacco Harm Reduction Increase Smoking Quit Ratio? ~ Juul Reaches Settlement of Over 5,000 Lawsuits ~ Useless Idiots ~ Attacking Nicotine Doesn't Work ~ Vaping: A Solution to the Financial Abyss? ~ The UKVIA Forum 2022 ~ Sweden Achieves the Lowest Smoking Rate in Europe and is on Track to Become Officially Smoke-Free – The EU Must Take Note ~ Latest figures from Healthy Ireland on smoking and vaping. ~ The Future of Tobacco Taxation in Europe
Marc Gunther, Medium
Early in November, a website called Tobacco Tactics, which calls itself "the essential source for rigorous research on the tobacco industry," posted information about a small organization called the International Association on Smoking Control and Harm Reduction, or SCOHRE. Based at the University of Bath in England, Tobacco Tactics is funded by, among others, Bloomberg Philanthropies, the philanthropic vehicle of billionaire Michael Bloomberg. Bloomberg, by his own account, leads a global campaign against the tobacco industry and all its products, including safer nicotine products.
Paul Barnes, Facts Do Matter
---
Office For National Statistics, ons.gov.uk
Main points:

In the UK, in 2021, 13.3% of people aged 18 years and over smoked cigarettes, which equates to around 6.6 million people in the population; this is the lowest proportion of current smokers since records started in 2011 based on our estimates from the Annual Population Survey (APS).
Of the constituent countries, the highest proportion of current smokers in 2021 was in Scotland (14.8%) and the lowest was in England (13.0%); Wales and Northern Ireland reported 14.1% and 13.8% current smokers, respectively.
In 2021, 15.1% of men smoked compared with 11.5% of women in the UK; this trend has been consistent since 2011.
Sky News
Some 13.3% of people aged 18 and over smoked cigarettes in 2021, the equivalent of around 6.6 million people, according to new figures from the Office for National Statistics (ONS).
Rachel Russell, BBC News
The number of people smoking in the UK dropped to its lowest level on record last year but more people were using e-cigarettes, new figures have revealed.

Data from the Office for National Statistics found around 13.3% of people aged 18 or over smoked cigarettes in 2021, down from 14.0% in 2020.

But 7.7% of those aged 16 and over said they used e-cigarettes – compared to 6.4% in 2020.

The first ONS records on smoking were in 2011 and found 20.2% had smoked.
Dr. Colin Mendelsohn
A UK GOVERNMENT REPORT released today confirmed that vaping is reducing smoking rates in the UK.

In 2021, 13.3% of adults smoked in the UK according to the annual report by the Office of National Statistics. It was 14% in 2020. The report concluded that

Vaping devices such as e-cigarettes have played a major role in the decrease in smoking prevalence in the UK.

In Great Britain 7.7% of people aged 16 or older were vapers, of whom 4.9% were daily vapers and 2.8% were occasional users.
---
Michael Gwarisa, All Africa
Professor Michael Russell, often referred to as the godfather of Tobacco Harm Reduction (THR), highlighted in one of his writings that  "People smoke for nicotine but they die from the tar."  However, the general sentiment around the world including Africa is that Nicotine accounts for all smoking related morbidities and mortality.

A study on perceptions of Nicotine in current and former users of tobacco and THR products from seven countries revealed that many consumers were of the view that Nicotine is the cause of cancer in people who smoke.  While it is the addictive substance in cigarettes, studies have since exonerated Nicotine as the cause of cancer in persons who smoke.
---
Jennifer Maloney, The Wall Street Journal
Juul Labs Inc. reached a sweeping legal settlement Tuesday covering more than 5,000 lawsuits and about 10,000 individual plaintiffs, resolving much of the legal uncertainty that had pushed the e-cigarette company to the brink of bankruptcy.
---
That Got Me Thinking Blog
So Healthy Ireland has published their annual survey of the Health of the Irish. The data from Healthy Ireland Surveys are used to underpin policy development and implementation. So it matters, and how it's interpreted matters more. It's a survey of 7450 people which started out as a face-to-face interview but switched to a phone interview when the pandemic hit. Last year we saw a slight rise in smoking rates of 1%, within the margin of error and confounded by the change of method. However, this year's results show the same 18% smoking prevalence so this is a trend, albeit a small one. Interestingly the use of E-Cigs fell to 3 %.
---

---
THREE from Dave Cross, Planet of the Vapes
Attacking nicotine doesn't work as it is an attack on tobacco harm reduction. Smokefree Aotearoa 2025 is in jeopardy if New Zealand's Vaping Regulatory Authority (VRA) stands by its new interpretation of its own product standards which would dramatically reduce the maximum 'nicotine salt' limit, say smokefree advocates.
Mark Oates, director of consumer advocacy group We Vape, says that vaping poses a solution to the financial abyss faced by households due to Liz Truss's "disastrous mini budget". He argues that the promotion of vaping would also help the Prime Minister to "reduce the financial burden on a crippled NHS".
The UKVIA Forum 2022 tackled the issues of the challenges including youth vaping, environmental concerns and fake products head on. Delegates were told that vaping is now part of the healthcare sector by 'helping to save lives and reduce harm'.
---

---
Dr. Delon Human, Chairman, Oral Nicotine Commission, Yahoo
Swedish authorities officially confirmed that the current level of smoking in Sweden has fallen to 5,6%. This makes Swedes the only European nation close to reaching the smoke-free goal set by the EU 18 years ahead of the 2040 target.

In an event organised by the Oral Nicotine Commission in Stockholm, participants took stock of Sweden's incredible achievements and leadership in the race to end smoking. It is about to become the first country in the world to be defined as "smoke free", representing a share of less than 5% of the population smoking.
Harry Shapiro
COVID has accelerated the speed of fake news around the world much to the delight of the dangerous and delusional. In such times, the lay person could be forgiven for thinking that when the media cite 'peer-reviewed' papers, the publishing journals in which they appear would be an oasis of unbiased evidence and probity. The expectation is that the editors would have sufficient gravitas to weed out those papers which should never see the light of day. If only.
Dave Cross, Planet of the Vapes
In a very short-sighted announcement, doctors treating an old man following a fall say that "vaping may be hazardous to your eye". While an injury may have been sustained from a piece of an electronic cigarette, conflating accidents and human error as something caused through vaping isn't a new phenomenon.
---
Visit Nicotine Science & Policy for more News from around the World

---