Vapers Digest 5th December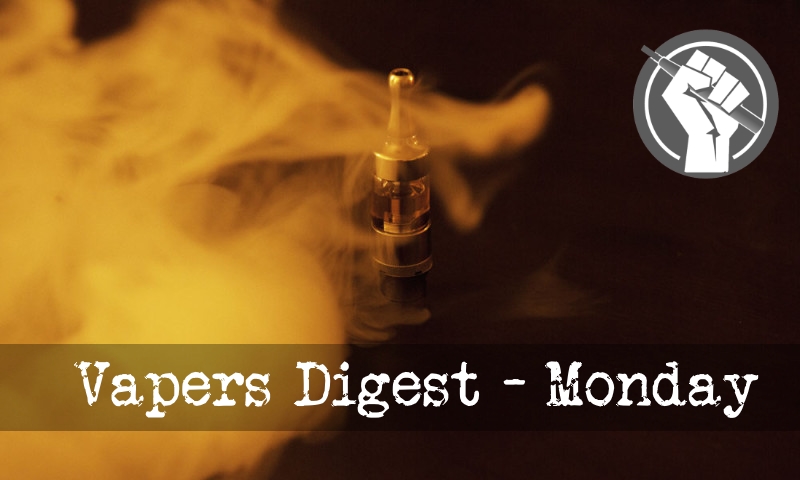 Monday's News at a glance:
Australia reaches peak clownshow – Insanity: Doctor Gives Teenage Son Cigarettes to Break Vaping Habit – Clearing the smoke: the evidence behind vaping – Netherlands Flavor Prohibition – Policy Focus: E-Cigarettes and Public Health – Small Vape Shops Save Lives – UK Report Reveals Flourishing Industry – More From Parliament – What's wrong with the prohibition of vape products? – The EU's political snus ban – Modern Oral Nicotine Meeting – Harm reduction can reduce cancer cases by 30% – India's nicotine product price paradox – Africa Must Prioritise Harm Reduction
Christopher Snowdon, Velvet Glove Iron Fist
Congratulations if you had 'doctor gives child cigarettes' on your Australian clown show bingo card. I would have never thought of it myself. Seems too much like satire. Nevertheless, here we are…

Jason* is a general practitioner used to treating those addicted to tobacco, but he is at a loss as to how to help his 14-year-old son quit vaping….

"I've tried talking to my son, warning of the health impacts of vaping and nicotine, and I've tried shouting and all of that sort of thing to get him to stop," Jason said…..

I'll say it again because it takes a while for it to sink in: a doctor is giving his own child cigarettes to smoke. 

Such an insane outcome is only possible in a country that has completely lost its mind about vaping. E-cigarettes have always been illegal in Australia and its people have been fed a constant diet of lies about them.
To Break Vaping Habit – Cameron English
In what may be the dumbest anti-vaping story ever published, The Guardian just highlighted a parent who gave his teenage son cigarettes to help him quit vaping. There's so much wrong here.

If you need further evidence that the tobacco-control movement has lost its way, consider this December 1 story from The Guardian: "'I've lost my children to vaping': the tragic stories behind the soaring rates of youth addiction." Aside from some outdated 2019 teen vaping statistics, the author cited no scientific evidence of any sort. A 2022 study found that two-thirds of Australian teenagers haven't even tried an e-cigarette. The Guardian article was instead built around two anecdotes from parents who are struggling to help their kids quit vaping.
---

---
King's College London
Cigarettes kill over half of their long-term users. The World Health Organisation (WHO) considers the tobacco epidemic to be one of the biggest public health threats the world has ever faced, killing more than eight million people per year worldwide. Smoking and exposure to second-hand smokes cause 65,000 deaths per year in England alone. It remains the largest single risk factor for death and ill-health, and is a leading cause of health inequalities in England.

E-cigarettes (vaping products) offer a substantially less harmful alternative, but there has been a heated debate about their use and wide variation in approaches to regulation. Against a backdrop of controversy and disparate knowledge, the Nicotine Research Group at King's has provided a much-needed body of research to enable an evidence-based approach to policy-making in this area.
Will Take Effect July 2023 – Jim McDonald
Following a brief public consultation, the Dutch government has announced it will carry out its plan to prohibit vaping flavors other than tobacco, although the final deadline has been postponed for the second time. The new rules specify a very limited list of allowed ingredients.

The rule will allow flavored products to be manufactured until July 1, 2023, and sold until Oct. 1, 2023. The ban includes both nicotine-containing and zero-nicotine e-liquids, and applies to bottled vape juice and pre-filled pods and disposables.

The new rules also prevent manufacturers from using words or images on packages that refer to anything but tobacco, according to Dutch public broadcaster NOS.
---
---
Beverly Hallberg & Lindsey Stroud
Lindsey Stroud joins the podcast to discuss November's Policy Focus: E-Cigarettes and Public Health. Tragically, 480,000 Americans die each year from smoking-related diseases and illnesses. Many want to stop but struggle to do so and instead have transitioned from combustible cigarette use to safer e-cigarettes and vaping products. Despite the good news of harm reduction products, there is a large effort by health organizations and lawmakers to eliminate their use. In this episode, we'll look at the data behind e-cigarettes and vaping products, the regulations imposed on them, and the best policies and products to reduce tobacco harm, especially among young people.
Many Communities Are Losing Them – Kim Murray
There's an oversimplified notion that only Big Tobacco supports vaping. On the contrary, thousands of small businesses, selling vapor products manufactured by small companies, are the backbone of tobacco harm reduction in the United States. Until recently, I ran one of them.

Much of my family smoked cigarettes. After a heart attack at age 29, my son switched to vaping. He then opened a vape shop in Brainerd, a small town in Minnesota, to help others quit smoking. That included me; I was his first accidental quitter. We both quit smoking using a rainbow sherbet flavor.

Two from Dave Cross, Planet of the Vapes:
The UK's fast-growing vaping sector is officially a multi-billion-pound industry supporting jobs for nearly 18,000 full-time equivalent workers and raking in hundreds of millions for the exchequer, according to a report commissioned by the UK Vaping Industry Association. It highlights cost savings to the NHS from adult smokers switching to vaping being around a third of a billion pounds – a figure estimated to more than double if 50% of current smokers go on to make the switch.

The report details the economic contribution of the vaping industry to the UK economy using key macroeconomic indicators such as turnover, Gross Value Added (GVA), employment and employee compensation.
Rachael Maskell MP wants the tobacco industry to fund harm reduction approaches, Alex Cunningham MP wants the government to step up and finally release the tobacco control plan, and Andrew Lewer MP wondered what data would inform the tobacco control plan. Peter Dowd was concerned about transparency, Lord Faulkner of Worcester also pressed the tobacco control plan issue, and Bob Blackman has written about tobacco control measures for Parliament News.

Rachael Maskell, the Labour representative for York Central, asked the Chancellor of the Exchequer if he will use alcohol and tobacco duties to support programmes to reduce harm from those products.
---

---
Of vape products? – Clive Bates
Richard Sörman intervjuar Bengt Wiberg från organisationen "EU for snus"
30th November 2022

Can reduce cancer cases by 30% – Gbenga Akinfenwa
Harm reduction has been described as a powerful public health tool that is capable of reducing cancer cases by 30 per cent in Africa. A renowned Oncologist and Professor of Surgery at the Cancer Institute in Senegal, Prof. Abdoul Kassé, who disclosed this at the second Harm Reduction Exchange conference for African journalists in Nairobi, Kenya, said that harm reduction should be at the centre of all public health development strategies. He said that the tool has already benefited many people in public health.

"It applies to areas where there is a need to reduce the harm associated with a
practice or consumption of a substance that is overused in society leading to increased morbidity and mortality.
The deadliest forms of tobacco are the cheapest
Dr. Sudhanshu Patwardhan & Dr. Rajesh Sharan
India is the second leading consumer (≅300 million), third largest producer and fifth largest exporter of tobacco globally. According to the GATS (2016–17), little under 30% of the adult Indian population currently use some form of tobacco. What differentiates India from many other, mainly developed countries, is the huge dominance of (a) use of smokeless tobacco (SLT) products (e.g., khaini, gutkha, zarda, mishri etc.) over the use of smoked tobacco, and (b) bidis (a cheap, local form of rolled cigarette made of tobacco flakes wrapped in a tendu leaf) over cigarettes. In India today, an estimated over 21% (199.4 million) of adults use SLT while over 10.7% (99.5 million) consume smoked forms of tobacco. Interestingly, among the smokers, bidi smoking (71.8 million smokers) far exceeds the use of cigarettes (37.5 million smokers). There is also considerable dual use between SLT and smoked tobacco products.
With about eight million persons dying annually due to smoking-related illness and outright quitting being difficult for most smokers, Africa and, indeed, the global community cannot afford to pay lip service to tobacco harm reduction, experts have warned.

The experts from different fields spoke at an exchange programme with the theme, Harm Reduction: Making a Difference in Africa.

Speaking on the need to prioritise harm reduction, a cross section of the discussants noted that there are plethora of researches which suggest that harm reduction is a veritable tool to lower death and diseases.
---
A look back at how things have moved on or otherwise…
New Nicotine Alliance
In a world where tobacco harm reduction, specifically vaping, is stigmatised daily by policy-makers and scientists desperate to search for harms and dangers of a technology that, if adopted and supported worldwide, could have already slashed rates of smoking, the new NICE guidance Overview | Tobacco: preventing uptake, promoting quitting and treating dependence | Guidance | NICE published 30.11.21 is a welcome breath of fresh air. Although conservative and cautious, as NICE guidance has to be, based on evidence rather than testimony or optimism (as my Stop Smoking Service's vape-launch was in early 2014), this provides a clear message to the rest of the world that here in the UK at least, there is support for the use of vaping to stop smoking. Vaping for recreational purposes is not considered, of course; that is outside the scope of the guidance, but longer-term nicotine use is addressed, and that is welcome.
Clive Bates, Tobacco Reporter
In November, two major treaties had their Conference of the Parties (COP) meetings. COP26 of the U.N. Framework Convention on Climate Change (UNFCCC) was held in Glasgow, and COP9 of the WHO Framework Convention on Tobacco Control (FCTC) was held online. Both aim to address a globally significant problem, and both aim to achieve radical transformations in the markets for energy and tobacco, respectively.

Yet, the approach differs significantly. There is tremendous pressure in the climate change treaty to eliminate the combustion of fossil fuels to mitigate environmental risk as rapidly as possible. Climate change activists demand a rapid transition to "net zero," with energy production moving from coal, oil and gas to renewables such as solar, wind and hydro as soon as possible.
---
Visit Nicotine Science & Policy for more News from around the World

---