Vapers Digest 12th December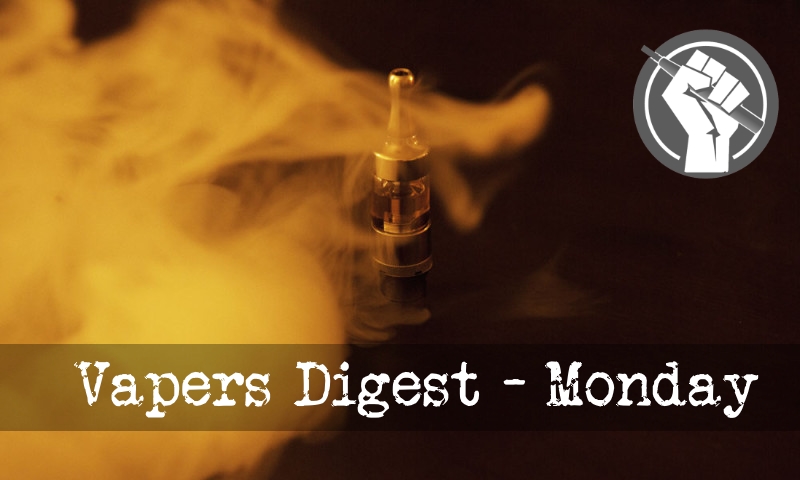 Monday's News at a glance:
E-Cigarette Summit 2022: Round Up – Rethinking nicotine: illusions, delusions and some conclusions – Free Vapes for Pregnant People Who Smoke – American Cancer Society – Youth Tobacco and Vapor Product Use Has Declined In Maine – Farewell to FastTech – ChatGPT is confused about vaping – Chapman's criticism of Cochrane review findings is deeply flawed – Please make a submission to the TGA vape consultation – Health officials need to correct e-cigarette health misinformation – Oregon's Anti-Vape Laws – It is time for the EU to listen to science – Adopt new products to curb tobacco-related deaths – Africa in need of a tobacco control policy – India must build robust consumer awareness – Nicotine Science and Policy Daily Digest
 James Dunworth
Nine years ago I walked through the streets of London towards the impressive Royal Society building to attend the inaugural E-Cigarette Summit. I went to a conference where the debate was split, where optimism based on basic science was confounded by a dearth of studies, and where it looked like the UK faced an imminent ban on vaping devices.

How things have changed. After ten years in which vaping has been banned or severely restricted in much of the world, the UK has become the beacon of hope for tobacco harm reduction in the form of vaping. Much of that is due to the E-Cigarette Summit, which brings leading researchers, policymakers and more to share the latest research and views.
Illusions, delusions and some conclusions – Clive Bates
Presentation to the UK E-cigarette Summit on 9 December 2022. Looks at how our approach to nicotine must evolve from a "tobacco harm reduction" to treating nicotine like a socially acceptable recreational stimulant with minimal harm.
Kiran Sidhu
In a bid to address health inequality and family poverty, a council in the United Kingdom will soon be handing out free vapes to pregnant people who smoke.

Lambeth Council, a local authority in South London, already runs pregnancy smoking cessation services, which include behavioral support, counseling and access to nicotine replacement therapy (NRT) like patches. But it announced in October that it will now also provide e-cigarettes as a way to help pregnant people and those who care for children. The program will begin in a few weeks.
---

---
Which De-Listed Smokeless Tobacco as a Cancer Risk, Now Targets Nicotine Pouches
Brad Rodu, Tobacco Truth
The journal JAMA Network Open last month published a short report by American Cancer Society and University of Georgia researchers who used Nielsen retail scanner point-of-purchase sales data to estimate U.S. sales of four nicotine pouch brands: Zyn, Rogue, On! and Velo.  While the authors acknowledged that their "data did not represent all nicotine pouch products and online sales," they still reported a whopping increase in consumption: "Overall sales [of nicotine pouches] increased from 126.06 million units from August to December 2019 to 808.14 million units from January to March 2022."

This raised a red flag at the American Cancer Society, which issued a press release subtitled, "Researchers at the American Cancer Society stress health interventions to continue reducing nicotine pouch use."  What health concerns did they cite?
---
---
Youth Tobacco and Vapor Product Use Has Declined In Maine
Lindsey Stroud
Over the past several years, Maine state lawmakers have attempted to address youth use of age-restricted tobacco and vapor products by introducing bans on the sale of flavored cigarettes and vapes. There's good news for those eager policymakers as both youth tobacco and vapor product use has declined. As lawmakers prepare for 2023 legislative sessions, it is imperative they have the most recent data on youth use prior to bringing forth another flavor ban.

According to the Maine Integrated Healthy Youth Survey, in 2021, only 17.6% of high schoolers and 9.3% of middle schoolers reported trying combustible cigarettes, including just one puff. Since 2009, ever cigarette use among middle schoolers has declined by 50% and among high schoolers by 56.9%.

Dave Cross, Planet of the Vapes
Posting "FastTech's story ends here" on its forum, the Chinese wholesaler has announced that changes to Chinese legislation means the end of the road for the business. The post was made on December 5th and will be greeted with mixed emotions by long-term vapers.

The company initially supplied a vast range of vaping products at a very cheap price. While the quality could be hit and miss, the cost to import from China was exceptionally cheap.

Over the years, FastTech focussed on supplying more brand name devices and demand slackened due to a narrowing of the cost when compared to buying in the United Kingdom. Also, ongoing struggles with shipping meant that customers would have to wait weeks for their purchases.
Dr John's Blog
ChatGPT is an artificial intelligence system that is being called the new Google. You can ask it a question, and it will search its knowledge base to produce a clear and well-written answer. If you are too lazy or in too much of a hurry to check out a bunch of Google links, Chat GPT will give you an answer that sounds right with no work on your part. You can try it out at ChatGPT. (The GPT stands for Generative Pre-trained Transformer.)

In this new world of artificial intelligence, there is no need for us mere mortals to think any more. If we want to know something, AI will search all human knowledge and provide the definitive answer … or will it? I tried asking ChatGPT some questions about vaping.
---

---
Findings is deeply flawed – Colin Mendelsohn
COCHRANE REVIEWS ARE THE GOLD STANDARD for determining if a treatment is effective in randomised controlled trials (RCTs). [1] The recent Cochrane review on e-cigarettes found high certainty evidence that vaping help peoples quit smoking better than traditional nicotine replacement therapies (NRTs). [2]

This my response published today in Australian Doctor here.

In his recent interview with Australian Doctor ('Why Cochrane got it badly wrong: Aussie expert unpicks 'pro-vaping' review'), Professor Chapman dismissed the Cochrane review for not reflecting real world behaviour.
Vape consultation – Colin Mendelsohn
VAPERS SHOULD MAKE a brief submission to the TGA consultation on Nicotine Vaping Products (NVPs). Without your input, even stricter regulations on vaping are likely to be introduced. The deadline for submissions is 16 January 2023.

Policy makers have consulted widely with anti-vaping groups. However, vapers and pro-vaping experts have not had the opportunity to give input and the consultation document suggests that the TGA proposes to restrict vaping further and maintain the prescription requirement.

The current regulations focus on reducing youth access. However, the harm to young people from vaping is relatively minor.
Need to correct e-cigarette health misinformation
The Surgeon General of the United States (SG) recently launched an initiative to reduce health misinformation. In an advisory [1], he wrote: 'Health misinformation is a serious threat to public health. It can cause confusion, sow mistrust, harm people's health, and undermine public health efforts. Limiting the spread of health misinformation is a moral and civic imperative.'

We agree and applaud the SG for addressing this important issue, which has garnered media attention primarily due to COVID. Questions related to risks of e-cigarettes constitute another area where there is widespread misinformation. We focus upon two specific examples that continue to be propagated by the US public health officials, despite evolving scientific data contradicting these assertions.
Will Put This Deaf Immigrant's Hookah Shop Out of Business – Jacob Grier
When it comes to drugs, Portland, Oregon, is one of the most liberal cities in the United States. Weed shops abound since the state legalized cannabis in 2015. The state decriminalized possession of nearly all drugs in 2020. Come January, Oregon will be the first state to allow therapeutic use of psilocybin. Even the liquor laws have been recently liberalized, with the state permanently legalizing the sale of to-go cocktails in June of 2021.

But even Portland must draw the line somewhere, and it draws it at flavored tobacco and nicotine products. Next week, the Multnomah County Board of Commissioners will vote on an ordinance that will make it illegal to sell any tobacco or nicotine products with a characterizing flavor other than tobacco.

And consumers – Michael Landl
How often have we heard "listen to the science" during the past two years? During the pandemic, politicians constantly repeated that the science has got it right, and that we all should listen and do as told — and maybe rightly so. It is astonishing, however, that this mantra does not seem to apply to other areas of science than the pandemic.

According to Public Health England, vaping is 95% less harmful than smoking. This was recently reconfirmed by the largest literature review of its kind by Kings College, which found that "the use of vaping products rather than smoking leads to a substantial reduction in exposure to toxicants that promote cancer, lung disease and cardiovascular disease".
To curb tobacco-related deaths – Desmond Chingarande
AFRICAN governments have been implored to adopt new strategies to reduce public health threats caused by tobacco as eight million deaths are recorded every year.

Health experts, who converged in Nairobi, Kenya, last week at the second edition of the Harm Reduction Exchange, noted that the tobacco epidemic is one of the biggest public health threats the world has ever faced.
Built on scientific risk assessment – Wallace Mawire
The Campaign for Safer Alternatives (CASA),an organisation based in Kenya working with various stakeholders including policy makers to conscientise them on key issues affecting them like health has reported that it is very crucial for Africa to have a tobacco control policy built on scientific rsik assessment and a comprehensible communication strategy.

Joseph Magero,Chairman of CASA made a presentation at the second Harm Reduction Exchange workshop for Journalists from the Southern Africa region held in Nairobi,kenya on 30 November to 1 December,2022 under the theme:Harm Reduction:Making a difference in Africa.The workshop was convened by Integrity Africa,an organization based in South Africa and focusing on sustainable solutions on the African continent.
The Indian government must try to reduce tobacco use and second-hand smoke by adopting a robust consumer awareness movement regarding the harms caused by tobacco use, a top international consumer policy expert said on Friday.

According to Professor Bejon Kumar Misra, Founder at Patient Safety and Access Initiative of India Foundation, in the area of public health, harm reduction is about developing policies to try and minimise the negative health impact of a risky activity without stopping it entirely.

Most importantly, there should be an effort to move towards less harmful alternatives as compared to conventional tobacco which has been successfully implemented by several countries, professor Misra told IANS.
Should be factored in and policies should evolve accordingly – Manoj Singh
The memorable remark by American author Mark Twain explains best the dilemma that smokers face. It is easy to quit but difficult to sustain.

Quitting the unhealthy habit of smoking is perhaps one of the best decisions that you can take. However, such is the nature of this beast, that it leaves only to return. For centuries, mankind has tried to find a suitable way to move to find a panacea.

Vaping or the use of E-cigarettes is considered by many as a possible solution that can help many get rid of the habit. There are statistics and even studies that suggest vaping is the best way to advance the global fight against smoking.
---
A look back at how things have moved on or otherwise…
Warsaw & Online: 16 – 18 June 2022
To register to participate in #GFN22 please complete the form below. Registering will give you free access to the content on the conference website, the opportunity to submit your 'GFN Five', and access to the event stream.

If you intend to participate online, enter your name, email and set a password. If you intend to participate in person in Warsaw, please also complete your address details for invoicing purposes.
Christopher Snowdon, Velvet Glove Iron Fist
New Zealand's irritating prime minister Jacinda Ardern has made it very clear that she is running a two-tier country when it comes to Covid vaccinations. Part of her legacy will be to create a two-tier society for smokers too. From 2027, most adults will be allowed to buy cigarettes but younger adults won't. Eventually, old adults will be allowed to buy cigarettes but middle-aged people won't.

Note that way that this is framed as a crackdown on the tobacco industry rather than on ordinary men and women who enjoy smoking. It is a conceit has served the anti-smoking lobby well for many years.
---
Visit Nicotine Science & Policy for more News from around the World

---