Vapers Digest 8th July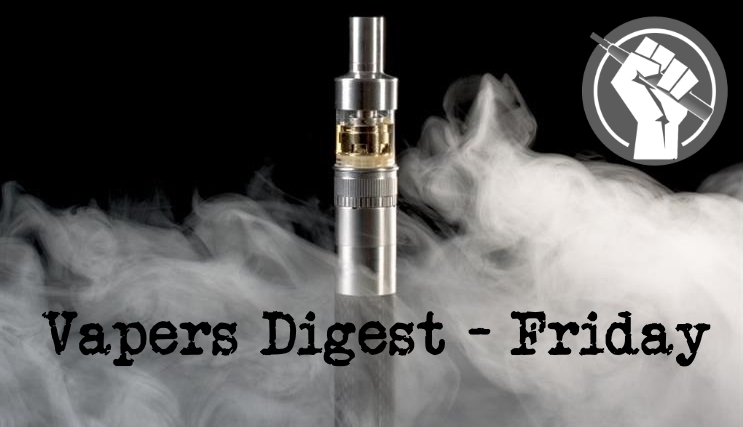 Friday's News at a glance:
Independent review of tobacco policy in England misses the point – England fans face prison or fines for taking vapes to World Cup – Czech EU presidency puts focus on THR – Lars Rutqvist: the oncologist who wants smokers to switch to Swedish snus – Vaping nicotine – making the switch –MPs must focus on cigarettes – EU's Misguided Flavour Plan – Dental Errors Dismissed – Belgium Accepts Reduced Harm – The E-Cigarette Registry – Parliament Too – FDA Backs Away From Its Own Juul Decision – FDA Chaos: Agency Reverses Itself – The FDA Misses Its Hit on Juul – The FDA's Anti-Nicotine Myopia – Harm Reduction Takes a U-Turn on Vaping – Anti-Vaping Rhetoric Misleads Public – There Ought To Be a Law, or at Least a Regulation – The FDA Has a Vaping Problem – 'No indication' if Marcos will sign vape bill – California voters should nix flavored tobacco ban – Nicotine Science and Policy Daily Digest
In England misses the point – Clive Bates
England aims to reduce smoking to less than 5% by 2030, but this will need mass switching to smoke-free products as a consumer alternative to smoking, and it must be achieved by consent rather than coercion.

The government has established a 'smoke-free' goal to reach 5% adult smoking prevalence in England by 2030. This represents a significant acceleration in progress (see chart above with linear trends). As a prelude to announcing a plan to achieve the goal, Ministers appointed Javed Khan OBE to head an independent review of tobacco policy to make recommendations for measures to meet the target and contribute to reducing health inequalities.

Here is what Dr Khan has come up with:
For taking vapes to World Cup due to strict Qatar laws
Rhys Daly, Daily Star
England fans who decide to travel to the World Cup in Qatar later this year may choose to play it safe and leave their e-cigarettes at home to avoid strong repercussions.

By the letter of the law, penalties for vaping in Qatar can include fines of up to 10,000 riyals (around £2,200) and even three month prison sentences due to regulations that came into force in 2014.

E-cigarettes have risen in popularity in the UK as both an alternative to smoking, with the process of vaping coming from the heating of a liquid that usually contains nicotine and flavourings.
---

---
Snusforumet
The six-month Czech EU presidency, which kicks off in July 2022, is set to create a forceful proponent of tobacco harm reduction within the EU as the bloc forges ahead with efforts to draw up new tobacco regulations.

The Czech Republic took over the Presidency of the Council of the European Union from France on July 1, 2022.

While the Ukraine crisis, energy security, and the economy top the Czech's stated EU presidency agenda, the Czech government will also have a six-month window to shape other EU policies.
Who wants smokers to switch to Swedish snus
In the 1980s, it was controversial to claim that snus is less harmful than smoking cigarettes, especially if you were an oncologist. But Lars Rutqvist simply wanted to let the research speak for itself. And it has. Meet the researcher who helped make sure the world understood the potential of Swedish snus.

The debate in Sweden surrounding snus has shifted dramatically over the years. Today's more nuanced understanding comes following dozens of studies published in recent decades looking specifically at the health effects of Swedish snus.
---
We need a collab with Vapo McJuicy right now. @USCPSC These two are doing more to put out helpful information than the entirety of @FDATobacco https://t.co/ZGtpSgsmMs

— Amanda Wheeler (@amandawheeler32) July 6, 2022
"A global comparison of the compounds detected in JUUL aerosol to those catalogued in cigarette smoke indicated an approximate 50-fold decrease in chemical complexity." https://t.co/7DrchkEnHs

— Jonathan Foulds PhD (@JonathanFoulds) July 6, 2022
---
From smoking tobacco – Colin Mendelsohn
Dr Colin Mendelsohn works exclusively with smokers to help them quit. Colin uses evidence-based treatments including vaping nicotine when appropriate.

Colin has worked in tobacco treatment for 40 years as a doctor (general practitioner) and academic. He is on the committee that develops Australia's national smoking guidelines and is the Founding Chairman of the Australian Tobacco Harm Reduction Association, a health promotion charity formed to raise awareness of safer alternatives to smoking. Colin is actively involved in teaching health professionals about smoking, writing articles in peer-reviewed journals, research and advocacy for tobacco harm reduction. He is the author of the recently published book Stop Smoking Start Vaping.
Not vaping beat ups – CAPHRA
"To achieve its decade long Smokefree 2025 ambition, New Zealand must stay the course when it comes to vaping regulation. The focus for MPs now must be on hitting tobacco hard," says Nancy Loucas, Executive Coordinator of the Coalition of Asia Pacific Tobacco Harm Reduction Advocates (CAPHRA).

Ms Loucas' comments follow the Smokefree Environments and Regulated Products (Smoked Tobacco) Amendment Bill being introduced into Parliament with its first reading expected later this month.

Led by Associate Health Minister, Hon Dr Ayesha Verrall, the bill significantly limits the number of retailers able to sell smoked tobacco products.

Five from Dave Cross, Planet of the Vapes:
The European Commission has announced its intention to ban the sale of all flavoured heated tobacco products. The EU Commissioner for Health and Food Safety, Stella Kyriakides, also called for "stricter enforcement" for new products entering the market. The World Vapers' Alliance described the plan as "misguided".

Michael Landl, Director of the World Vapers' Alliance, commented: "It is shocking that the EU Commission still fights tobacco harm reduction. We need as many options as possible to achieve the Commission's own 5% tobacco use target. Vaping, nicotine pouches and heat-not-burn products all help people quit smoking and are less harmful.
Experts were "disappointed" with "several basic errors and misrepresentations" in a paper published in British Dental Journal claiming that vaping causes tooth damage. The paper in question was produced by two food science lecturers at the Cardiff Metropolitan University School of Sport and Health Sciences.

Cardiff's Ruth Fairchild and Anita Setarehnejad asked if the "erosive potential" of vaping is "a cause for concern". "Relatively little is known about the erosive potential of vape products," they say – but fail to add anything to the knowledge base.
The Belgian Superior Health Council (a scientific advisory board for the Government) acknowledged that vaping is less harmful than smoking and recommends smokers to switch to vaping. The recommendation to the Government was published last Tuesday. The report states that vaping "is a better alternative than smoking and can be used as a smoking cessation aid."

The Superior Health Council says it has emphasised "that phasing out the use of traditional tobacco cigarettes must remain an absolute priority."
Planet of the Vapes members and newsletter subscribers can help contribute to a long-term health data repository of people who have quit smoking with and without using e-cigarettes. Organisers say: "With lots of people, over a long time, we hope to get a broad picture of the health effects of vaping."

Researcher Georgia Mannion-Krase was delighted to announce that the E-Cigarette Registry had begun: "Very excited to share the news that the ECigRegistry is now open to the public! Please share among your networks, the more participants who join the more beneficial the Registry will be to researchers."
A very busy period in the Houses of Parliament produces two articles this week covering questions and answers about vaping and tobacco harm reduction. This second one features Royston Smith MP, Andrew Lewer MP, George Howarth MP, and Adam Afriyie MP all pushing for the expansion of harm reduction product provision.

Southampton's Conservative Royston Smith asked the Secretary of State for Health and Social Care whether he plans to make it his policy to recommend vaping as a substitute for smoking in the Health Disparities White Paper or the Tobacco Control Plan for England.

ICYMI: Parliament 1
---

---
With "Additional Review" – Alex Norcia
On July 5, just two weeks after the Food and Drug Administration (FDA) ordered Juul to pull its products off the US market, the agency walked back on its decision, issuing an administrative stay on its own marketing denial order (MDO). In a puzzling series of events, the FDA acknowledged to Filter that it is "temporarily suspending the marketing denial order pending additional review," though not rescinding it. And this seems to be on the basis of legal documents that Juul immediately filed in response to the decision.
Grants Juul a Stay – Jim McDonald
The FDA has backed down from its decision to order all Juul products off the market, issuing an administrative stay last night that puts the previous order on hold. The agency announced on Twitter it "has determined that there are scientific issues unique to the JUUL application that warrant additional review."

The FDA had issued a Marketing Denial Order (MDO) for all current Juul products on June 23, claiming Juul had not addressed certain toxicological concerns in its Premarket Tobacco Application (PMTA), which the FDA has been reviewing for nearly two years. Juul Labs reportedly spent over $100 million preparing its PMTA.
Both Cigarettes and Harm-Reducing Alternatives Less Appealing
The Food and Drug Administration (FDA) wants to prevent smoking-related deaths by making cigarettes less appealing. Toward that end, the FDA plans to ban menthol cigarettes and limit nicotine content to "reduce the addictiveness of cigarettes."

Meanwhile, the FDA seems determined to make vaping products, the most promising harm-reducing alternative to cigarettes, less appealing to smokers. The perverse combination of these two regulatory strategies would undermine public health in the name of promoting it.

The ban on menthol cigarettes, which the FDA proposed in April, is not based on evidence that they are uniquely dangerous. Instead the agency argues that menthol cigarettes are more addictive, especially for black smokers, who overwhelmingly prefer them.
After it was sued, the agency admits that it ignored key evidence
The Food and Drug Administration last month gave Juul Labs what amounted to a death sentence without a trial. Now after being sued, the agency has stayed its execution while it apparently seeks evidence to support its conviction. Abusive is an understatement for this botched political hit.

Democrats have targeted Juul for some time, and its putative original sin was hooking young people on nicotine. It tried to assuage critics by stopping sales of fruity flavors in stores and social-media marketing. Last year two-thirds of the roughly 20% of high-school seniors who reported vaping nicotine used other brands.

Holman W. Jenkins, Jr.
Smoking causes cancer and nicotine improves mood. So guess which the Food and Drug Administration will seek to ban under a sweeping new initiative?

An ambitious rulemaking announced in recent days looks to ratchet down progressively the nicotine in cigarettes, likely causing smokers at least in the beginning to light up more often and puff harder to get the desired nicotine hit. If this weren't weird enough, in the same week, based on the inability of its manufacturer to prove a negative (an absence of any harm), the FDA moved to drive from the market the most popular consumer product that allows people to consume nicotine without the side effects of smoking, namely Juul brand electronic cigarettes.
Yael Ossowski
Public health officials and those with significant sway in setting health policy were joyous last month when the Food and Drug Administration denied the ability of Juul Labs to continue selling its vaping device.

Handed down as a Marketing Denial Order, the decision forces gas stations, retailers and vape shops to pull Juul devices off the shelves, depriving consumers of their ability to buy these products through legal means.

Though the company has won a temporary stay by the D.C. District Court of Appeals, the FDA's recent "nicotine zero" mandate — including limits on nicotine in cigarettes and bans on menthol tobacco products — shows the administration won't back down on its plans to reduce nicotine consumption.
About E-Cigarette Safety – Cameron English
The evidence is clear at this point: vaping is less dangerous than smoking and helps many people give up their deadly cigarette habit. Nobody who fairly looks at the data can dispute either conclusion, yet tobacco-control researchers, activists, and federal regulators routinely deny or downplay both observations. Science denial is always irritating, but it's especially troublesome in this case because it has polluted the public's understanding of vaping and discouraged smokers from trying an alternative that might save their lives.
Or at Least a Regulation – Laura Williams
The Biden Administration, under the auspices of the U.S. Food and Drug Administration (FDA), announced plans to force cigarette makers to reduce the amount of nicotine in their products by as much as 90 percent. The FDA also announced Juul, manufacturer of nicotine-based e-cigarettes, would no longer be allowed to sell products in the U.S. Another pending FDA rule would outlaw menthol cigarettes, preferred by 40 percent of smokers.

In doing so, the Biden Administration, which was elected partly on promises to reform our broken criminal justice system, limit the War on Drugs, and lesson the discriminatory impact of federal policy on minority communities, would criminalize more Americans, open a new theatre in the War on Drugs, and ensure disparate impacts for decades to come.
Jonathan H. Adler
In 2016, the Food & Drug Administration (FDA) deemed electronic cigarettes and other vaping products to be "tobacco" products for the purposes of federal law. This move gave the FDA's Center for Tobacco Products legal authority to regulate vaping products like combustible cigarettes. How the FDA has proceeded to regulate such products since, however, has been something of a mess, suggesting either some degree of administrative incompetence, malice against portions of the industry, if not both.
MANILA – President Ferdinand Marcos Jr. has shown "no indication" if he is for or against a bill seeking to regulate e-cigarettes, which leaves the measure still in limbo months since the 18th Congress came to a close.

The Vaporized Nicotine Products Regulation Bill or the Vape Bill had been waiting for the signature of Marcos Jr.'s predecessor, then-President Rodrigo Duterte, since early June, as health advocates and tobacco stakeholders continue to push either for its veto or passage.
For education about e-cigarettes
Last Saturday in Turin: Two professionally equipped and very well prepared cyclists started a long journey through Italy and Switzerland to Strasbourg. The 700 km tour across the Alps was anything but a pleasure trip. The riders have a mission. They want to draw attention to the topic of tobacco harm reduction with e-cigarettes. The appropriate name of the tour: "Ride for vape".

It is the third edition of the Ride4Vape. The aim is to educate the public and politicians about the reduced risk of electronic cigarettes compared to combustion tobacco. After the first two purely Italian tours in 2020 and 2021, the commitment is expanded to Europe this year. With good reason, because legislative decisions on the subject of e-cigarettes are due in the EU in the coming months.
Political campaigns already are heating up for the November general election, in which voters will face six citizen-initiated measures and one (on abortion rights) that is placed on the ballot by the Legislature. One of the most hotly contested ballot fights involves a referendum on a new state law that would ban the sale of flavored-tobacco products.

In 2020, Gov. Gavin Newsom signed Senate Bill 793. "Big Tobacco has been targeting our kids, trying to hook our kids on tobacco products, killing literally a generation," Newsom said. "It's time for us to stand up and protect our kids and to push back against Big Tobacco, not just in terms of their efforts to go after our kids but their racist marketing."
---
A look back at how things have moved on or otherwise….
Dr. Charles Gardner, Catania Conversation
---
Visit Nicotine Science & Policy for more News from around the World

---