Vapers Digest 11th July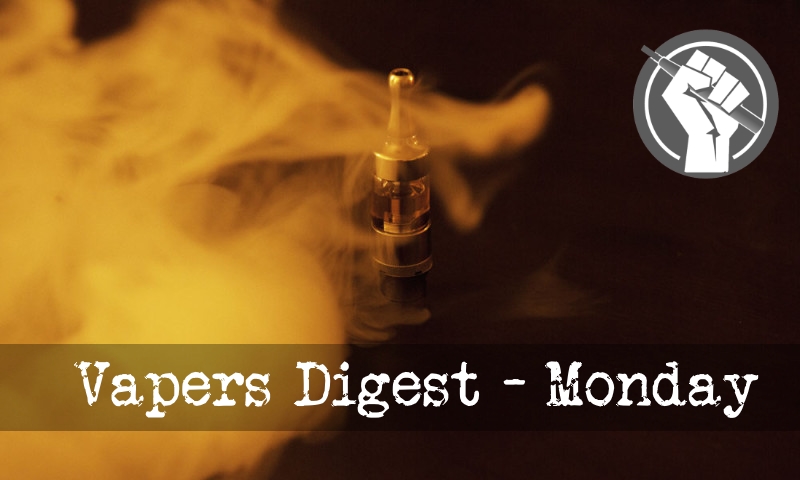 Monday's News at a glance:
The FDA's Unconscionable Campaign to Destroy Juul – Discarded Disposable Vapes Help Ukraine Fight Russia – In Banning Juul, FDA Fails to Follow the Science – Vaping 'a crucial tool to reduce inequalities for Indigenous Territorians' – Holiday Warning – Ad Rule Breach – EU's Misguided Flavour Plan – Restrictive policies block progress towards smoke-free world – Alternatives to offer many poor nations better chance to end smoking problem
To Destroy Juul – Helen Redmond
Shock and disbelief. That's what ripped through the tobacco harm reduction community when the US Food and Drug Administration (FDA) ordered Juul e-cigarettes off the market on June 23. The reason? After examining $100 million worth of scientific submissions, and with certain knowledge that millions of people have used Juul vapes for years—mostly to replace deadly cigarettes—with no significant demonstrated adverse health effects, the agency claimed, "there is insufficient evidence to assess the potential toxicological risks of using JUUL products" and that they are not "appropriate for the protection of public health."
Jim McDonald
In Ukraine, where underfunded and poorly supplied soldiers and citizens are fighting a war with a major military power, enterprising patriots have cobbled together weapons from almost every kind of ordinary consumer product. That includes some products very familiar to Vaping360 readers.

While disposable vapes have become ubiquitous around the world, and have created mini moral panics in some countries, they're now serving a valuable function in Ukraine, helping that country's effort to repel the Russian invasion.
---

---
Edward Longe
Over the past year, the Food and Drug Administration has taken an increasingly aggressive and anti-scientific approach to regulating electronic cigarettes, despite empirical evidence showing they are far safer than traditional combustible products. The agency's approach became very apparent when it ordered JUUL, a manufacturer of popular electronic cigarettes, to remove their products from the U.S. market on the grounds their application to sell their products "lacked sufficient evidence regarding the toxicological profile of the products to demonstrate that marketing of the products would be appropriate for the protection of the public health."
---
"5 AÑOS SIN FUMAR GRACIAS AL VAPEO. Sí, así, en mayúsculas. Vuelvo a repetir, GRACIAS AL VAPEO", comenta el usuario A. Barrena en nuestra campaña de recogida de firmas.

✍️Si no lo has hecho ya, firma aquí, estamos cerca de las 7⃣0⃣0⃣0⃣https://t.co/9hlRJrcOa3

— ANESVAP (@anesvap) July 11, 2022
This appeared on my feed. It received scathing remarks from a big government employee union & a Sask doctor, among others.

It's a 2003 article by the former Alberta Opposition leader who is now running for the leadership of the governing party.

Tbh, she made some good points. pic.twitter.com/sjVTyxlqXS

— Phil (@phil_w888) July 11, 2022
---
For Indigenous Territorians' –  Colin Mendelsohn
A new study published in the Medical Journal of Australia has found Indigenous people in the Northern Territory have a life expectancy 15 years less than the general population, with the gap unlikely to be eliminated for a further 60 years.

The leading cause of this health gap is smoking and urgent action is needed to address this glaring inequality.

The smoking rate of Indigenous Australian adults is three times higher than non-Indigenous people. In 2019, 43.4% of Indigenous adults smoked, compared to 15% of non-Indigenous adults.

Three from Dave Cross, Planet of the Vapes:
Vapers are being warned that they risk fines or a term in prison if they aren't careful and check prior to travelling. Dan Marchant, director of Vape Club, is warning Britain's 3.3 million ecig users to check for any restrictions on vapes and e-cigarettes in their destination. For example, importing vapes into Australia risks two years in jail, Singapore fines vapers S$2,000 and vapers could get a 10-year prison sentence in Thailand.

Vape Club is the UK's largest online retailer of vape pens, e-cigarettes and vaping accessories. Formed in 2012, Vape Club became the one-stop shop for all of the best vaping products from around the world. Vape Club gathered the best juice brands, hardware, batteries and accessories from all corners of the globe and made it a simple, fast and a pleasant experience for UK vapers to purchase them.
The Advertising Standards Authority has ruled against Geordie Shore star Louis Shaw and vape brand Relx for a promotion on Instagram. The discount code offered up by the reality celebrity was deemed to have breached the rules governing electronic cigarette advertising.

Complaints were made to the Advertising Standards Authority following an Instagram story appearing on Geordie Shore star Louis Shaw's account on 20 December 2021. The advert showed him holding two boxes of Relx e-cigarettes and the accompanying text stated "@RELXUK" and "GET YOUR OWN – RELAX WITH 15% OFF – LOUISXMAS15".
The European Commission has announced its intention to ban the sale of all flavoured heated tobacco products. The EU Commissioner for Health and Food Safety, Stella Kyriakides, also called for "stricter enforcement" for new products entering the market. The World Vapers' Alliance described the plan as "misguided".

Michael Landl, Director of the World Vapers' Alliance, commented: "It is shocking that the EU Commission still fights tobacco harm reduction. We need as many options as possible to achieve the Commission's own 5% tobacco use target. Vaping, nicotine pouches and heat-not-burn products all help people quit smoking and are less harmful.
---

---
Towards smoke-free world – Dennis Gutierrez
Restrictive policies and regulations, such as bans or excessive taxes on vaping products in many countries, block global efforts to reduce the harm caused by smoking, experts said in a global forum held in Warsaw, Poland to address the smoking problem.

In a panel discussion during the Global Forum on Nicotine (GFN) 2022, Federico N.  Fernández, executive director of Argentina-based Somos Innovación, said vaping and other smoke-free alternatives are giving humanity the best chance to end the problem of smoking.

Better chance to end smoking problem
The regulation of smoke-free products such as vapes, snus, nicotine pouches and heated tobacco products provide countries the best opportunity to address the smoking problem, public health and consumer advocates said in the recently-concluded Global Forum on Nicotine 2022.

Misinformation and restrictive policies such as bans and higher taxes on these smoke-free products, however, are preventing many low and middle-income countries from helping adults smokers, they said in a panel discussion during the GFN 2022 held in Warsaw, Poland.
---
A look back at how things have moved on or otherwise…
ETHRA
On 20 May 2021, the European Commission published its Report on the application of the Tobacco Products Directive (TPD). The report examines the performance of the TPD and will inform future regulations of safer nicotine products and determine whether or not the current TPD should be revised. The report is mandated by Article 28 of the TPD which states: "No later than five years from 20 May 2016, and whenever necessary thereafter, the Commission shall submit to the European Parliament, the Council, the European Economic and Social Committee and the Committee of the Regions a report on the application of this Directive".  See our article "What do we know about the TPD application report" for more details.
"Harm Reduction Advocates and the Tobacco Industry Capitalised on the Pandemic to Promote Nicotine"
Brad Rodu, Tobacco Truth
The British Medical Journal (BMJ) on June 2 published an article, titled "Research Integrity", authored by two investigative journalists.  Aping the position of the World Health Organization, they accuse harm reduction advocates and the tobacco industry of undermining decades of tobacco control.  The BMJ notes that the article was "externally peer reviewed."

The journal has a rapid-response comment system that is managed by the editors.  I submitted a comment on June 9, detailing specific scientific problems with the article's content.  It was not published, so I present it here.
---
Visit Nicotine Science & Policy for more News from around the World

---