Vapers Digest 13th July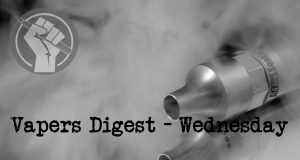 Wednesday's News at a glance:
Evaluation of a pharmacy supported e-cigarette smoking cessation intervention in Northwest England ~ Up in smoke: How Belgium regulates e-cigarettes and alternative tobacco products ~  Experts Exposing Vaping Dental Lies Deserve Praise ~ U.S. Tobacco Harm Reduction Opposition — Déjà Vu and Nothing New Since 1994 ~ Disposables Survey Fuels Teen Concern ~ Interview on Sky News with Chris Smith, 12 July 2022 ~ Innco Weekly Issue | July 11th, 2022 ~ Brazil Maintains E-cigarette Ban ~ Abboud: Congress Intended for FDA to Use Discretion
Alan D. Price, Margaret Coffey, Lawrence Houston, Penny A. Cook,
BMC Public Health
Cigarette smoking cessation has been described as the world's most important public health intervention. Electronic cigarettes are a relatively new tool for assisting smoking cessation but there is a lack of data on their efficacy. This article reports on a pharmacy supported e-cigarette smoking cessation intervention undertaken in a metropolitan area in the north of England.
---
---
When will those @WHO make the rules, @AustralianLabor, @amapresident, start listening to the FACTS!! and stop listing to the Anti-Nicotine Hater's unrealistic Ideologies?https://t.co/HYuWaQxbLl

— Broony Saint (@IamBroony) July 13, 2022
---
Dr. Brad Rodu, Tobacco Truth
Today's attacks on tobacco harm reduction (THR) follow the same playbook used against me 28 years ago, when I published my first professional medical article proposing the substitution of smoke-free products for cigarettes.
---
One from Dave Cross, Planet of the Vapes
Latest findings from an annual survey have fuelled concerns that disposable vapes are too readily accessible by young people. The annual YouGov youth survey for ASH, carried out in March and published last week, shows current vaping among children 11-17 up from 4% in 2020 to 7% in 2022. The proportion of children who admit ever having tried vaping has also risen from 14% in 2020 to 16% in 2022.
---

---

---
But You Can't Hide Facts About Smokeless Tobacco
Brad Rodu, Tobacco Truth
In a recent New England Journal of Medicine article, FDA researchers went to great lengths to conceal the fact that smokeless tobacco (ST) use has an entirely negligible impact on life expectancy.

The article, "Potential Public Health Effects of Reducing Nicotine Levels in Cigarettes in the United States," (here) by Benjamin Apelberg and colleagues, was the centerpiece of FDA Commissioner Scott Gottlieb's March 15 announcement of a radical nicotine reduction rule for cigarettes.
Carl V. Phillips, Daily Vaper
This week's headlines contain the all-too-familiar claim that a new study shows that vaping does not aid in smoking cessation, or even hinders it. Once again, this interpretation of the study results is wrong, and once again it is for most of the same reasons similar past claims were wrong. The error is not complicated, but it is easy for tobacco controllers to use it to manufacture anti-vaping results: Not every smoker who vapes is trying to switch, and smokers who have been vaping a while have already demonstrated they are not likely to switch.
---
Visit Nicotine Science & Policy for more News from around the World

---