Vapers Digest 15th July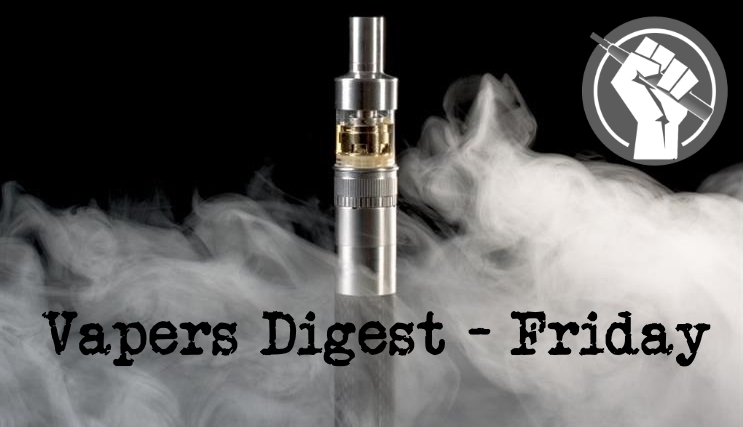 Friday's News at a glance:
Have your say – Smoke-free environments – Should vape retailers be licensed? – The EU's Bizarre Plan to Beat Cancer – Public Health's Misinformation Against Vaping – FDA and Synthetic Nicotine: All You Need to Know – FDA Begins Enforcement Over Synthetic Nicotine Vapes – Ride4Vape – Stop Beating On Vapers – AVMA Calls For Investigation – Hawaii Governor Vetoes Flavor Prohibition – Teachers 'hid in toilet cubicles' – Don't Get Sucked In By Website's Vaping Claims – Differentiate vape from tobacco when developing new policy – Mere possession of an e-cig 'won't mean jail' – GFN News Episode #10 – Nicotine Science and Policy Daily Digest
New Nicotine Alliance
At the end of June, the EU Commission launched a call for evidence on a proposal to extend a 2009 recommendation on smoke-free environments to include vaping products and heated tobacco. The purpose is to encourage all EU member states to implement bans on vaping and heated tobacco use in a variety of public places.

Additionally, a supporting document describes the current recommendation as covering "indoor and enclosed spaces" and that policies for "outdoor spaces, such as schools, playgrounds and outdoor eating establishments" are not included in the scope of the EU recommendation, but rather decided on a case-by-case basis by national or local governments.
James Dunworth
The vape industry is currently contending with two major problems. The first is illegal devices, which often have an e-liquid capacity of more than 2ml (and may have higher nicotine levels than allowed). As I've written before, the real danger is not higher nicotine levels or higher capacity, but the danger that untested, poor-quality e-liquid is used.

Secondly, more younger people are starting to experiment with vape devices, with some going on to regular use.

To some extent this was inevitable. Vape devices are easier to use, more attractive and hugely less harmful than smoking, but are still forbidden for under-18's… and still deliver a stimulant.
---

---
By Protecting Cigarette Sales – Martin Cullip
It was widely reported at the end of June that the European Commission, the European Union's executive branch, is proposing to amend its existing Tobacco Products Directive to prohibit the sale of flavored heated tobacco products in all EU member states.

In announcing the measure, Stella Kyriakides, the EU commissioner for health and food safety, explained that this was "another step towards realizing our vision under Europe's Beating Cancer Plan to create a 'Tobacco Free Generation' with less than 5 percent of the population using tobacco by 2040." She offered this justification: "With nine out of 10 lung cancers caused by tobacco, we want to make smoking as unattractive as possible to protect the health of our citizens and save lives."
Against Vaping Is Eroding Its Credibility – Martin Cullip
For several years, respected voices in the public health community have warned of a breakdown in trust in their profession if the dishonest, damaging and often vicious campaign against safer alternatives to smoking by some of their colleagues continues to misinform the public.

Prominent among those warning that public health's credibility will suffer has been Dr. Michael Siegel, a visiting professor and a researcher in the Department of Public Health and Community Medicine at the Tufts University School of Medicine. For more than 15 years, he has been lamenting the tobacco control industry's increasing departure from the truth.
---
Re: insane Daily Mail story from @mansurshaheen that cited unnamed "experts" linking popcorn lung to vaping. In a particularly deceitful move, the 'experts' he quotes say no such thing.

One person quoted feels his remarks were taken out of context. https://t.co/mHCICky0by

— Gregory Conley (@GregTHR) July 14, 2022
"as a physician, the systematic refusal to review the evidence and apply the basic concepts of tobacco harm reduction is incomprehensible, because harm reduction is something we do every day," French oncologist, Dr. David Khayathttps://t.co/oUpHneDSWn

— European Tobacco Harm Reduction Advocates (@europethra) July 14, 2022
---
Over Synthetic Nicotine Vapes – Alex Norcia
On July 13, the Food and Drug Administration (FDA) announced that it had sent two warning letters to manufacturers marketing synthetic nicotine products without authorization, and more than 100 warning letters to retailers that had sold synthetic nicotine products to minors.

The press release, issued on the FDA's website, arrived on the day the agency was granted the power to regulate and exercise its enforcement discretion on synthetic nicotine products. In March, President Joe Biden signed an omnibus spending bill that gave the FDA this authority, something that had previously eluded it. (The Family Smoking Prevention and Tobacco Control Act, signed by President Barack Obama in 2009, only gave the FDA the power to regulate nicotine products derived from tobacco—although chemically, synthetic nicotine is essentially identical.)
All You Need to Know – Jim McDonald
In a press release issued Wednesday after business hours, the FDA announced that more than 200 manufacturers of synthetic nicotine products submitted over a million Premarket Tobacco Applications (PMTAs) before the May 14 deadline. As of July 14, the agency says it is illegal to market any of those products.

A rider inserted in the federal omnibus spending bill passed by Congress in March granted the FDA new authority over all forms of nicotine, regardless of the source. That language modified the 2009 Tobacco Control Act to include nicotine not derived from tobacco.

Two from Dave Cross, Planet of the Vapes:
The third Ride for Vape began on Saturday 06 July 2022 in Turin, Italy. The tour is a proof of the benefits gained from Tobacco Harm Reduction and switching from smoking to vaping. It culminated after a journey of around 700 km as the riders arrived in Strasbourg at the European Parliament.

The Independent European Vape Alliance (IEVA) said: "This tour is a proof for Tobacco Harm Reduction. Smokers can achieve a lot when they switch to vaping. Not everyone will make it across the Alps by bike, but everyone who switches will find that they improve their health if they stop smoking."
New Zealand MPs need to focus on cigarettes, not vaping beat ups and knocking tobacco harm reduction, according to the Coalition of Asia Pacific Tobacco Harm Reduction Advocates (CAPHRA). As vaping is debated over the coming months, politicians need "to keep their eyes on the prize" of eliminating smoking.

"To achieve its decade long Smokefree 2025 ambition, New Zealand must stay the course when it comes to vaping regulation. The focus for MPs now must be on hitting tobacco hard," says Nancy Loucas, Executive Coordinator of the CAPHRA.

Ms Loucas' comments follow the Smokefree Environments and Regulated Products (Smoked Tobacco) Amendment Bill being introduced into Parliament with its first reading expected later this month.
---

---
Of Marketing Denial Orders
The American Vapor Manufacturers Association (AVMA) has asked the U.S. Department of Health and Human Services' (HHS) Inspector General to investigate whether the Food and Drug Administration's marketing denial orders for vaping products are driven by political pressure.

The AVMA says it wants the inspector general to help the public learn about FDA Commissioner Robert Califf's coordination with elected officials, allied activists and reporters as his agency continues its review of premarket tobacco product applications (PMTA).
Brad Rodu about people's attitude to smoking, vaping and nicotine
Jim McDonald
July 12 update

As expected, Gov. Ige vetoed HB 1570 today, citing the same objection he expressed earlier to the exemption in the bill that would have allowed sale of flavored vape products authorized by the FDA.

Today was the deadline for the governor to veto bills sent to him from the last legislative session. Although the state legislature could override the veto with a two-thirds vote, it probably won't, since many of the bill's supporters agree with the governor that the legislation could be stronger (meaning less favorable to vapers and the vaping industry).

A similar bill without an exemption for FDA-authorized products will almost certainly be introduced in the next legislative session, which begins in January 2023.

CAPHRA
Launched with fanfare two years ago, the 'Don't Get Sucked In' website has failed to fire or resonate with young people and for good reason," says Nancy Loucas, Executive Coordinator of the Coalition of Asia Pacific Tobacco Harm Reduction Advocates (CAPHRA).

CAPHRA has now audited the website on vaping set up by New Zealand's Asthma and Respiratory Foundation (ARFNZ). CAPHRA concludes the site cherry picks science and fails to provide the full picture on vaping. More seriously, it makes false and misleading claims about the safety of products which are saving thousands of Kiwi ex-smokers lives every year.
In bid to catch vaping students
An Auckland headmaster says it was necessary for his staff to go into student bathrooms in response to a growing problem of nicotine vaping, but it hasn't gone down well with students.

A student from Westlake Boys High School wrote to Stuff on behalf of his peers saying they had been made to feel uncomfortable by teachers "hiding in toilet cubicles".

He said the bathroom block which teachers had been staking out had become deserted because students did not want to use it.
Communication and Engagement – Part 2
When developing new policy
KUALA LUMPUR: Four industry associations from the domestic vape industry submitted a memorandum today to urge the government to consider the future of Malaysia's vape industry when developing regulations.

This is following the Ministry of Health's (MoH) plan to introduce a new policy which will be tabled in the Parliament session in July 2022.

The four associations, namely the Malaysia Retail Electronic Cigarette Association (MRECA), Malaysian Vape Chamber of Commerce (MVCC), Malay Vape Traders Association (PPVM) and the Malaysian E-Vaporizers and Tobacco Alternative Association (MEVTA) represent more than 3,000 entrepreneurs and businesses and 15,000 employees from the manufacturing, distribution and retail sectors in the domestic vape industry.
But retailers had better watch out – Aidan Semmens
Trust a politician to come up with a memorable soundbite, a catchy slogan or a simple statement that leaps out at you from the headlines. Top prize this week to Malaysia's health minister Khairy Jamaluddin, the man tasked with (or at least fronting) the drafting of a proposed Tobacco and Smoking Control Bill.

His bill, previously scheduled to be tabled in Parliament by the end of March and now expected to be ready for debate later this month, has already grabbed international attention with its innovative idea of banning the sale of all nicotine-containing products to anyone born in or after 2005.
---
A look back at how things have moved on or otherwise….
A.O.D. Media Watch
The Daily Telegraph recently reported on a distraught mother whose son had suffered a suspected seizure and stopped breathing after vaping nicotine. The mother blamed vaping for her son's seizure and warned readers that vaping "is dangerous and can be fatal".

After such a frightening experience, people often seek explanations, but it is extremely unlikely that vaping was the cause of this seizure.
ECig Intelligence
E-cigarettes manufactured by large companies may soon dominate the US vape market while many of those produced by smaller players disappear, new research by ECigIntelligence suggests.Exclusive analysis of submissions to the Food and Drug Administration (FDA) – seeking permission to continue selling vape products – shows there were many hundreds more applications for the simpler disposable and cigalike devices than for open system hardware.
---
Visit Nicotine Science & Policy for more News from around the World

---