Vapers Digest 6th July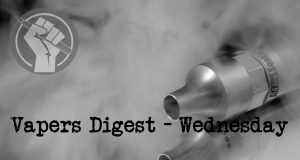 Wednesday's News at a glance:
Africa lags world in adopting alternatives to smoking ~ Prohibition Of New Nicotine Products – For Or Against Public Health? ~ A Sydney GP's advice for smokers has the medical establishment all steamed up ~ US study: Most doctors misunderstand e-cigarettes ~ The FDA's Drift Toward Harm Production ~ Episode 8: Clive Bates ~ Oz Black Market Boom ~ Parliament 1 ~ FDA temporarily suspends order banning sales of Juul ~ Court Rules FDA Acted Improperly In Regulation of Premium Cigars ~ Innco Weekly Issue ~ Vapor Taxes by State, 2022
Policy Watch Africa
Africa is falling behind the rest of the world in the battle to save the lives of millions of smokers. Policy makers' lack of support for tobacco harm reduction products is effectively a death sentence for many.

If we are serious about reducing the 250,000 tobacco-related deaths in Africa every year, we must give smokers a realistic route to quitting cigarettes.

80% of smokers live in low-and middle-income countries and have no access to safer nicotine products — resulting in greater pain and suffering, prolonged illness and preventable deaths.
Seynabou Sall, All Africa
The challenges of regulation and prohibition of new nicotine products was at the center of discussions during the ninth Global Forum on Nicotine, which took place in Warsaw, Poland, on June 16th to 18th, 2022.

Several studies have shown that new nicotine products are potentially safer alternatives to combustible cigarettes as they may deliver nicotine with dramatically reduced risk compared to combustible cigarettes. Other studies beg to differ when, in the same time, a growing number of countries have changed their regulation to help increase access to these products.
Dr Colin Mendelsohn, Editor note: PDF Version (The Daily Telegraph AU)
Respected Double Bay FP Dr. Colin Mendelsohn is taking on the medical establishment, arguing that vaping is the most effecive way to give up smoking. So committed to his argument is he that he's written a book on the subject Stop Smoking Start Vaping: The Healthy Truth About Vaping
---
---
Marc Hyden, marchyden.com
The Food and Drug Administration (FDA) made headlines recently as the hulking federal agency banned the company JUUL from selling its e-cigarettes in the United States even though they have long been on the market. The FDA justified its decision, according to the Wall Street Journal, because the agency "wasn't aware of a hazard associated with using JUUL devices but that the company hadn't submitted sufficient evidence that its devices were safe."

The e-cigarette maker vehemently disagrees, and even obtained a temporary stay from the US Court of Appeals for the District of Columbia—permitting their products to remain on store shelves for the time being.
---
WATCH: As promised, see @lmstroud89 and I discussing recent rulings by the Biden Administration and the @FDATobacco with @Clive_Bates in the latest edition of Across The Pond https://t.co/MUq5bR0VM1

— Martin C (@NannyFreeState) July 5, 2022
---
Taxpayers Protection Alliance
Clive Bates, Director of The Counterfactual joins Martin and Lindsey to discuss recent developments by the U.S. Food and Drug Administration and the alarmism towards tobacco harm reduction.
---
TWO from Dave Cross, Planet of the Vapes
Consumer group Coalition of Asia Pacific Tobacco Harm Reduction Advocates (CAPHRA) has slammed a lie-strewn document released by Australia's National Health and Medical Research Council. It comes as the country discovers the government's blinkered approach has fuelled a boom in illicit black-market trade. CAPHRA says vaping going backwards under new Aussie Government.
A very busy period in the Houses of Parliament produces two articles this week covering questions and answers about vaping and tobacco harm reduction. Our first features the Bishop of St Albans asking bout teens and long-term health in the House of Lords. Also, Andrew Gwynne MP wanted to know who the Prime Minister has spoken to regarding tobacco control policy.
---

---
Charlie Minato, Half Wheel
Earlier today, a federal court ruled that the U.S. Food & Drug Administration's (FDA) regulation of premium cigars is arbitrary and capricious. The ruling came as part of the Cigar Association of America et al. v. United States Food and Drug Administration et al. lawsuit that was originally filed in 2016 in the U.S. District Court for the District of Columbia by three cigar trade groups: Cigar Association of America, Cigar Rights of America and the Premium Cigar Association.

Today's ruling is the largest win for the premium cigar industry in court as the next step of the process could very well be the deregulating of premium cigars.Innco, International Network of Nicotine Consumer Organisations,
---

---
From A Former Smoker: Fuck Off
In the years since I quit smoking, I've heard more about my "nicotine use" than in all the years that I smoked. And I heard plenty from people before I quit, thank you. It's unavoidable if you smoke. The harassment, the shaming and shunning, is unending. It's so normalized that even the public are in it- friends and family who might otherwise be counted on to be supportive or at least normal regularly harangue and berate, oblivious to the impact that endless shaming and judgment can have on a person and their relationships. The more I talk to people, the clearer it is that they've no idea why people smoke or why they quit and they don't particularly care to learn. Hating smokers is socially acceptable, expected even. It's an activity we can all get in on, guilt-free, and now we're extending it to people who enjoy nicotine in any form. I have one message for all of you, but particularly those working in government and public health: fuck right off.
If Vaping Not Promoted – AVCA
If the Government's smokefree action plan does not adequately elevate nicotine vaping as the much safer alternative, then cigarette smuggling will become a bigger problem at New Zealand's border, says a leading Kiwi Tobacco Harm Reduction advocate.

Her comments follow a media investigation which revealed Customs is currently seizing around 125,000 smuggled cigarettes and 155 kilograms of loose tobacco every month.

New Zealand Customs describes it as a lucrative market. In fact, it's thought to be eight times more profitable than cocaine – and one which has attracted organised crime. Large scale, commercial-grade cigarette smuggling operators are now well established.
The Honorable Janet Woodcock….
On behalf of millions of taxpayers and consumers across the United States, we, the undersigned 23 organizations, believe that, in the interests of public health, adult access to safe e-cigarette products must be maintained in order to reduce cigarette consumption nationwide and save millions of lives.

A substantial body of scientific evidence suggests these products save lives by reducing the use of traditional combustible tobacco products. Pulling e-cigarettes and other vapor products from shelves will harm consumers and small businesses.
---
Visit Nicotine Science & Policy for more News from around the World

---