Vapers Digest 8th August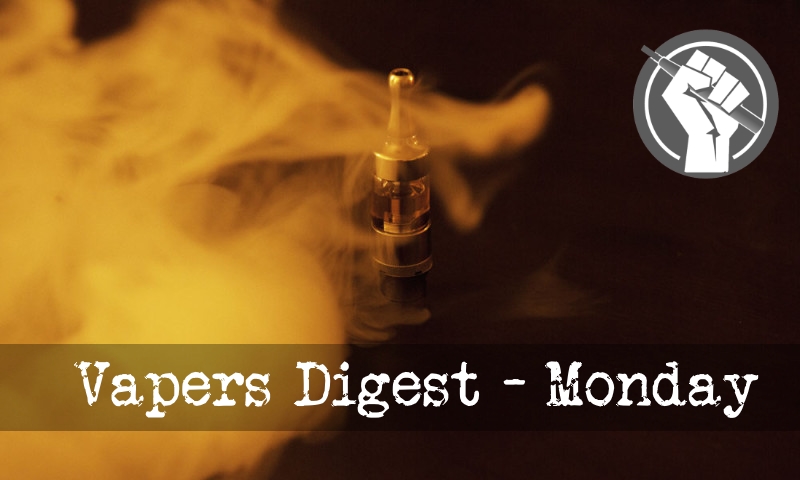 Monday's News at a glance:
Sustainability In Focus – Smoke-Free Wales – A $2,000 Vape Cam for Cops? Wait for the Clone – Youth Vaping is Down, Youth Overdoses Are Up and Parents Ought to Know – New campaign outlines the REAL truth about vaping – Article sinks to new low of misinformation about vaping – The Half Truth Initiative with Marc Gunther – Scrutiny Of Malaysian Bill Good For Vaping Legalisation – Vape sellers want electronic cigarette products excluded from smoking bill – Nicotine Science and Policy Daily Digest
Dave Cross
In 2015, Planet of the Vapes asked how should the vape community respond to concerns over the disposal of unwanted lithium-ion batteries? A handful of companies have come on board with environmentally friendly approaches, finally it seems as though the industry as a whole is on the cusp of addressing sustainability.

The problem is simple: single use plastics and lithium-ion batteries are poisoning the planet.

Sky News recently commented on the scale of the problem: "Binned disposable vapes are estimated to account for around 10 tonnes of valuable lithium being sent to landfill each year – enough to make batteries for 1,200 electric cars."
Dave Cross
The Welsh Deputy Minister for Mental Health and Wellbeing has published Wales' long-term tobacco control strategy 'A Smoke-free Wales', and a first two-year delivery plan 'Towards a Smoke-free Wales Delivery Plan 2022-24'. The move has been welcomed by ASH Wales but not by trade body the UK Vaping Industry Association (UKVIA).

Lynne Neagle, Deputy Minister for Mental Health and Wellbeing said: "The strategy sets out our ambition for Wales to be smoke-free Wales by 2030. This means reducing smoking prevalence rates among adults to 5% or less over the next eight years. To support the delivery of the strategy, we are putting in place a series of two-year delivery plans, which set out the actions we will take as we work towards a smoke-free Wales."
---

---
Youth Overdoses Are Up and Parents Ought to Know – Lindsey Stroud
For years, parents have been bombarded with the message that e-cigarettes are going to "hook the next generation on tobacco." As a parent, it's nearly impossible to ignore this alarmism. Yet, parents should recognize this as exactly that—alarmism. While the media and policymakers have continued to suggest youth vaping is an epidemic, what's actually killing teenagers—in droves—is kids consuming fake pills containing fentanyl.

In case you missed it, youth vaping numbers are declining. According to data from the National Youth Tobacco Survey, in 2021, only 11.6% of high school students and 2.8% of middle school students reported having used a vapor product on at least one occasion in the month prior to the survey.
---
Dear @sainsburys:

Vaping products are the most popular & effective way to quit smoking. It was a good decision to put them in the health aisle. Please don't let cigarette company-protecting bullies intimidate you into moving them.

Regards,
Phil https://t.co/cgujHwvSsR

— Phil (@phil_w888) August 7, 2022
The FDA deeming regs kicked in 6 yrs ago today. The day businesses had to stop telling the truth.

I'm a consumer now, I have my freedom of speech back. Here's the truth: Vaping is safer than smoking, it helps some people quit smoking, and nicotine helps some people. pic.twitter.com/efS0lZawKZ

— Skip Murray (@imaracingmom) August 8, 2022
---
Wait for the Clone – Jim McDonald
We inhabit a surveillance state. You probably can't make it through a single day outside your home without being captured on camera, and you certainly can't turn on a computer without having your online activities monitored.

After 9/11, governments around the world began building out the massive security infrastructure that now extends to virtually every aspect of our lives. Justified by the need to catch terrorists before they could launch attacks, governments used rapidly advancing computer and electronics technologies—and huge "homeland security" budgets—to put every person's movements, communications, and computer activities within their reach.

About vaping – Colin Mendelsohn
I HAVE TODAY launched 'Dr Col's Vape Truths', an evidenced-based video campaign on nicotine vaping, designed to combat the rampant misinformation being provided by state health departments, particularly Queensland Health.

New South Wales and Western Australia are also running a vaping disinformation campaign called Do You Know What You Are Vaping? I have discussed this campaign in a previous blog here.

Dr Col's Vape Truths' campaign consists of eight short videos correcting common misconceptions about vaping and is based on eight misleading and alarmist videos by Queensland Health. The videos cover the following key evidence:
Colin Mendelsohn
A RECENT OPINION PIECE in The Examiner newspaper by two Tasmanian vaping opponents Dr Sukhwinder Sohal and Dr Kathryn Barnsley has sunk to a new level of misinformation and scaremongering. The Examiner has not responded to my request to correct the errors in the article, so they are published here.

Vaping risks exaggerated

Sohal and Barnsley greatly exaggerate the risks of vaping nicotine. All credible experts agree that vaping is a far safer alternative to smokers who are unable to quit and any risk must be compared to the harm from continuing to smoke.
---

---
With Marc Gunther

Good For Vaping Legalisation – CAPHRA
Malaysia's legalisation of vape sales remains on the cards after some unexpected twists in Parliament before it adjourned for the country's imminent general election, says leading local advocacy group MOVE (Malaysian Organization of Vape Entities).

President of MOVE, Samsul Kamal Ariffin, says it's good news that the proposed 'generational endgame' anti-smoking bill has now been referred to a parliamentary special select committee for further scrutiny.
Excluded from smoking bill – Mohd Farhan Darwis
ELECTRONIC cigarette products sellers want the government to exclude their gadgets and products from the proposed law for the generation end game (GEG) policy that is aimed at stopping smoking.

The body representing the sellers, the Malaysian Organisation of Vape Entity (Move) is pushing for the exclusion because they believe their products and gadgets (vapes) can actually help smokers quit the habit.
---
A look back at how things have moved on or otherwise…
European Tobacco Harm Reduction Advocates
European Tobacco Harm Reduction Advocates (ETHRA) today publishes the report on its huge EU Nicotine Users Survey. The results – from more than 35,000 EU respondents – confirm that there is an unstoppable movement towards harm reduction in Europe.

Launched online by ETHRA in the last quarter of 2020, the questionnaire addressed consumer use of nicotine products. Topics included smoking and the desire to quit, use of safer nicotine products and barriers to switching caused by European and national regulations. Over 37,000 people, including more than 35,000 EU residents, participated in the ETHRA survey.
Heedlessly Promotes Teen Vaping in TV Interview – Brad Rodu
Anti-tobacco crusaders are doing a great job of promoting e-cigarettes and vape products to America's youth, using cartoons, hip images, photos of kids vaping, and attractive illustrations of vape flavors.

Now we have a five-minute Austin, Texas, Fox 7 TV interview (here) with Laurie Rubiner, Executive Vice President of Campaign for Tobacco-Free Kids. The clip is titled, "Advocates offer tips to parents on spotting e-cigarettes," but "Teen Vaping Guide" would be more accurate.

Right off the bat, Rubiner displays a JUUL device (at 0:50), followed by a Puff Bar (1:02), in case any teens needed educating. She slipped up by observing that JUUL "looks like a Zip drive." That was a 3.5-inch floppy drive introduced in 1994 and largely out of use when today's high schoolers were born. She meant a USB flash drive.
---
Visit Nicotine Science & Policy for more News from around the World

---