Vapers Digest 10th August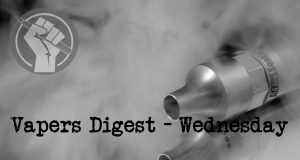 Wednesday's News at a glance:
A non-smoker's review of IQOS ~ Vapes, heated tobacco have no adverse impact on indoor air quality, studies show ~ The F.D.A.'s Misguided War on Vaping ~ New Vaping Series Exposes Aussie Propaganda – CAPHRA ~ Australian doctors campaigning to reveal what is really inside vapes claim comparisons with smoking are 'wrong' ~ The FDA Has a Science Problem — Literally ~ VPZ Challenges Government ~ Expert's Compliance Warning ~ UKVIA Knocks Welsh Plan ~ ASH Action for Smokefree 2025 on Smokefree 2025 legislation ~ Letter To Gabriel ~ Another Positive Study For Vaping! ~ Cristine Delnevo Appointed Chairperson of FDA Tobacco Products Scientific Advisory Committee
---
Nancy Loucas, CAPHRA, Scoop
"Thankfully, the inconvenient truth about vaping has now landed on the laptops of Australians smashing all the alarmist anti-vaping propaganda health agencies and officials are peddling," says Nancy Loucas, Executive Co-ordinator of CAPHRA (Coalition of Asia Pacific Tobacco Harm Reduction Advocates).
Ben Talintyre, Daily Mail Australia
Two Australian doctors trying to teach Australians what is actually inside vapes say the risks associated with the popular practice are drastically low when compared to smoking cigarettes.

Dr Colin Mendelsohn is one doctor trying to dispel the myth around vaping being terrible for your health, saying vaping is likely at least 95 per cent less dangerous than smoking.

'Some people think vapor is more toxic than smoke, well, that's wrong,' Dr Mendelsohn said.
Lindsey Stroud, Inside Sources
It was announced in July that Matthew Holman, the director of the Office of Science in the Food and Drug Administration's Center for Tobacco Products (CTP), was stepping down to take a job with Philip Morris International. The departure comes amid a crisis for CTP as the agency continues to delay determining the fate of hundreds of thousands of e-cigarette products.
---
"In a liberal society, we should not prohibit or aim to eliminate drug use or pretend that it can be risk-free, but we should try to limit the risks to the extent possible. #Vaping is the best opportunity we have to do that for nicotine." – AMEN https://t.co/whM0pSArTf

— john elliott (@johnelliott413) August 10, 2022
---
THREE from Dave Cross, Planet of the Vapes
VPZ, the UK's largest vaping retailer, has challenged the Scottish Government to implement a progressive vaping strategy as the number of Scots both quitting and attempting to quit smoking has fallen significantly, new figures show. Data from Public Health Scotland has revealed that between 2018/19 and 2021/22, the number of attempts to stop dropped from 51,115 to 23,503.
Compliance expert warns vaping industry that legacy product submissions previously approved by regulators could come back to bite manufacturers and affect retail sales. Thousands of vaping products face being shut out of the British retail market if producers fail to seek comprehensive validation as required by the Medicines and Healthcare products Regulatory Agency (MHRA).
The UK Vaping Industry Association (UKVIA) says the Welsh Government's lack of support for vaping is a "huge missed opportunity". The newly published Wales Tobacco Control Strategy says it has "yet to develop a position on vaping". UKVIA says it will continue to engage Welsh policy makers in light of support for vaping in other parts of the UK.
---

---
Fuseworks Media, Voxy.co.nz
The Government should be congratulated on its commitment to Smokefree 2025. However, it's three legislative measures to achieve 95% of New Zealanders being smokefree won't be enough to reach the goal in three years' time, says ASH Action for Smokefree 2025.

The Smokefree Environments and Regulated Products (Smoked Tobacco) Amendment Bill has just passed its first reading in Parliament and will be sent to the Health Select Committee for consideration.
---

---
Paul Barnes, Facts Do Matter
"The Eighth session of the Conference of the Parties (COP8) to the WHO Framework Convention on Tobacco Control (WHO FCTC) is less than three months away. Taking place in Geneva from 1 to 6 October, it will focus on topics such as the shaping of a medium-term strategic framework, which will determine the actions to be taken by the Parties over the next five years, and the advances and challenges revealed in the Global Progress Report on Implementation of the WHO Framework Convention on Tobacco Control.
The Comprehensive Plan for Tobacco and Nicotine Regulation at One Year
Azim Chowdhury & Adam Susser
On August 2, 2018, just over one year since FDA announced its "Comprehensive Plan for Tobacco and Nicotine Regulation"[1] (hereinafter, the "Comprehensive Plan"), FDA Commissioner, Scott Gottlieb, M.D., and Center for Tobacco Products (CTP) Director, Mitch Zeller, J.D., authored a post on the Agency's FDA Voice blog, which reviewed the progress made to date and outlined several new initiatives related to the Comprehensive Plan.[2] Among other things, these initiatives included a potential e-cigarette product standard and also proposed foundational rules on various topics related to premarket applications.
---
Visit Nicotine Science & Policy for more News from around the World

---