Vapers Digest 6th March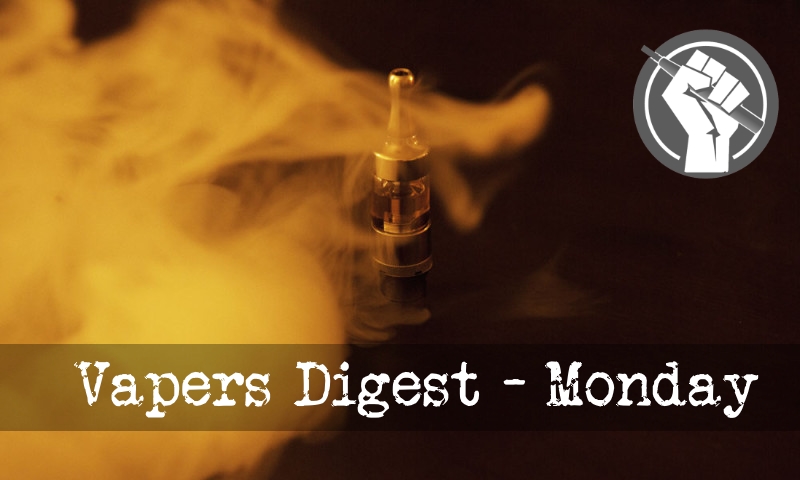 Monday's News at a glance:
Simon Chapman spreads fear and misinformation in The Monologue – Current vaping regulations a "resounding failure" – Altria Buys NJOY for $2.75 Billion – While UK Helps Smokers Quit, U.S. Cracks Down on Vapes – School Toilet Closure "Riots" – Addiction Researchers Condemn Oz Statement – Quebec Moves to Ban Flavours – TAV Live – Sunday Sessions 2023 – Why Are My Classmates Switching From Vaping to Smoking? – Is RRP waste the biggest threat to THR? – Open letter to NSW's vaping premier – MLB players turning to nicotine pouches – Who has the answer for India's big tobacco debate? – Only Science Will Save Kenyan Smokers – Nicotine Science and Policy Daily Digest
Dr. Colin Mendelsohn
THE CONVERSATION has launched yet another anti-vaping diatribe in its recent series of biased and misleading stories on vaping, this time by serial anti-vaping promoter and vaper-hater, Simon Chapman.

As usual, the Conversation refuses to accept comments on Chapman's sermon in case the weak arguments are challenged and revealed to be baseless. The Conversation should be renamed The Monologue.

Therefore, I have prepared a response to some of the more egregious misinformation he promotes.
Dr. Colin Mendelsohn
THERE are daily media reports about Australia's desperate battle with youth vaping and rampant black-market sales.

The current regulations on vaping have been a resounding failure.

Illegally imported disposable vaping products are flooding the market and youth vaping rates are skyrocketing.

Meanwhile, adult smokers are unable to legally access an effective substitute which could help them live longer and healthier lives.
---

---
For $2.75 Billion – Jim McDonald
Altria Group has bought NJOY Holdings, just three days after trading its 35 percent share in Juul Labs for rights to some Juul intellectual property. The Juul deal marks the end of Altria's equity ownership in the troubled vape manufacturer, and ends all underlying agreements between the companies.

The purchase of NJOY gives Altria entry to the tiny realm of vaping products granted FDA marketing permission in the United States. NJOY sells two of the seven vaping devices authorized by the FDA. The company has been exploring a sale to a major tobacco firm since last summer. It was reported last week that Altria and NJOY were in serious talks.
---
Vaping with flavors other than "tobacco" flavour further increases the chances of quitting smokinghttps://t.co/2WQw8MHzHg

— European Tobacco Harm Reduction Advocates (@europethra) March 6, 2023
9 years ago today I smoked my last cigarette and switched to vaping.

I used to smoke one pack a day and I've thus avoided smoking 3285 packs of cigarettes.

That's 328,5 cartons.

That's about three times more than the amount of cartons in this image.

That's a lot. 🙂 pic.twitter.com/n7Gh2QXeIm

— Jukka Kelovuori (@jkelovuori) March 6, 2023
---
U.S. Cracks Down on Vapes – Elijah Gullett
The Food and Drug Administration (FDA) is cracking down on vape companies yet again after recently issuing new fines to four companies. These fines are a continuation of the FDA's anti-vaping policies which have resulted in several years of burdensome restrictions, including banning flavored vapes and increasing the legal smoking age to 21.

Yet, across the pond, the UK has embraced e-cigarettes as a tool to help smokers quit. America should learn from the UK and ease restrictions on vape products and integrate them into cessation protocols, saving countless lives in the process.

Two from Dave Cross, Planet of the Vapes:
We are accustomed to seeing ridiculous measures put in place in Australia and the USA. Recently, more schools have adopted similar bizarre approaches to teen vaping in the UK. This has included placing video cameras outside student toilets, removing toilet doors, locking toilets, and demanding students go to reception to ask for toilet paper. Videos on the TikTok social media platform show a succession of protests sweeping the country's schools as pupils object.

The school principal at Duston School, Northampton, told journalists at the Guardian that parents were being "ridiculous" in supporting their children to protest the removal of access to toilet facilities.
Eleven top international addiction scientists have denounced a statement made about vaping and electronic cigarettes by Australia's peak health and medical body, the National Health and Medical Research Council, saying the 2022 statement fails to meet the high scientific standard expected of a leading national scientific body.

The NHMRC statement, published in June 2022, aims to provide "public health advice on the safety and impacts of electronic cigarettes (e-cigarettes) based on review of the current evidence."
---

---
RegWatch
On Thursday, the government of Quebec unleashed Armageddon on the 250,000 nicotine vapers in the province by confirming reports that it is reviewing draft legislation to ban flavours.
Indeed, a Quebec flavour ban is not only likely but expected!

Joining us today to discuss the impact of Quebec's War on Vaping and what the industry is doing to fight back is Darryl Tempest, executive director at the Canadian Vaping Association.
From Vaping to Smoking? – M.L. Lanzillotta
When I first arrived in Rome to attend university last summer, I was surprised by both the widespread cigarette smoking and the lack of vaping I witnessed.

In the Washington, DC, metro area, where I spent the first 23 years of my life, vaping is significantly more commonplace. Many of my friends there vape, either nicotine or THC. Vape shops, with their familiar neon signs, are a common sight.

Here, I've yet to see a single one, although I've been to many a tobacconist for everyday items like stamps or bus tickets, and some of these do carry vaping products.
CAPHRA Asia Pacific
In November of this year, Tobacco Controllers from countries around the world are meeting to discuss and decide how to approach Tobacco Harm Reduction. The time is NOW to get involved. We will discuss the who, what, when and how to do that with special guest Martin Cullip, former director of NNA UK and International Fellow for the Taxpayers Protection Alliance.

IF you are passionate about your right to health and wellbeing, and the rights of adults to make informed choices, please join us. You can ask questions and get answers.

Idwala Research
Tobacco harm reduction (THR) continues to face many hurdles, the most significant of which has been the influence of Bloomberg Philanthropies over global health policy through its funding of the WHO.

In our blog post, Bloomberg Philanthropies – Taking Tobacco Tactics to the Next Level, we argued that it was reminiscent of the tactics and pseudo-science employed by the US tobacco industry after the formation of the Tobacco Industry Research Committee in 1954. In the end, the pseudo-science was exposed for what it was, and it is only a question of time before the same happens to the misinformation propagated by those opposed to THR.
Legalise Vaping Australia
In a recent interview, the Premier highlighted how vaping helped him finally quit smoking, and how vaping can play an essential role in reducing smoking related harms.

Legalise Vaping Australia believes that the Premier's switch to vaping can inspire more smokers to quit smoking. If the NSW Premier can kick a deadly habit by switching to a 95% less harmful product, we believe this sends a stronger message to addicted smokers that vaping can help them too" said Mr. Marlow, Director of Legalise Vaping Australia.
Jake Mintz
In 1912, the American Tobacco Company advertised its popular "Bull Durham" brand of loose-leaf chewing tobacco by erecting enormous wooden bull statues beyond outfield fences in the majority of MLB stadiums.

Any player who struck a homer off the bull would win a $50 check and 72 "sacks" of tobacco as a reward.

By season's end, the company paid out $10,550 in prize money and gave away 254,700 sacks to players, but also saw sales skyrocket in what is considered one of the more successful and influential baseball advertising campaigns of the early 20th century.
Shantanu Guha Ray
Top orthopedic surgeon Dr Kiran Melkote – also a top official of AHER, a harm reduction group – spoke to seasoned journalist Shantanu Guha Ray on ways to handle the crisis. He answered some tough questions, including why tobacco control is not working in a billion-plus nation like India.

The big tobacco debate is gaining ground in India with experts asking mandarins of the health ministry to do some serious rethinking on ways to control tobacco consumption. India's moves, claim experts, can help drive positive change for the rest of the world and set a prime example for emerging economies which are struggling to find the right way to cut down on smoking.
Joseph Magero
Activists spreading false information about alternative nicotine products are endangering the lives of millions of Kenyan smokers, according to the Campaign for Safer Alternatives (CASA).

"The recent proliferation of dogmatic and unscientific opposition to alternative nicotine products like tobacco-free vapes and pouches is dangerous and should be repudiated," CASA chairman Joseph Magero says.

"It only serves to harm the millions of Kenyan smokers who could benefit from switching to these safer products, which are already saving lives around the world.
---
A look back at how things have moved on or otherwise…
Christopher Snowdon, Velvet Glove Iron Fist
The Scottish government is running a public consultation on banning e-cigarette advertising. It's exactly the kind of thing the SNP would do. Devolution doesn't give them many levers of power to pull so they tend to pull them all. And since they don't have much ability (or inclination) to liberalise anything, it's a one-way ratchet of illiberalism.

Obviously, they shouldn't do it, but let's look at their reasoning…
To the government's Independent Tobacco Review
At the beginning of February, The Secretary of State for Health and Social Care, Sajid Javid, announced an independent review into tobacco control policies in order to achieve the government's target of making England smoke free by 2030.

The review is led by Javed Khan, OBE, who is tasked with providing "independent, evidence-based advice that will inform the government's approach to tackling the stark health disparities associated with tobacco use" and is expected to report back in April. Mr Khan has appealed on Twitter for suggestions as to how the smokefree target can be reached on the hashtag #IndependentSmokingReview.
---
Visit Nicotine Science & Policy for more News from around the World

---