Vapers Digest 8th March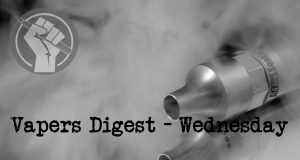 Wednesday's News at a glance:
The European Commission has opened a new call for evidence as part of an ongoing assessment of whether current tobacco control legislation has kept up with the "rapid rise" in new products.

Officially launched on February 21st 2023, the latest public consultation on tobacco policy comes just months after the completion of a similar process carried out last year that resulted in a record number of responses from citizens, industry groups, and NGOs.
---
Martin Cullip, Spiked Online
The past two years of UK political turmoil and government chaos have meant that the fruits of Brexit have often seemed disappointingly rare. Yet one of the key long-term promises of Brexit was enabling the UK to free itself from nonsensical EU regulation. As a result, the EU's questionable new tax on less harmful alternatives to smoking will not apply in Britain.

EU lawmakers appear intent on implementing a bloc-wide tax on novel tobacco products, such as e-cigarettes, nicotine pouches and heated tobacco.
---
---
Two from Dave Cross, Planet Of The Vapes
The latest release from the #GFN23 Conference Team states that "500,000 people from 178 countries say you should come to GFN". It goes on to point out that this is "not quite true", but "500,000 people from 178 countries did recently vote Warsaw the best travel destination in Europe". The Global Forum on Nicotine will take place in the Polish capital of Warsaw, and so "you can pair a city break in the poll-topping Polish capital with the delights of the only global conference devoted to tobacco harm reduction".
Focus on the disposable sector continues to intensify, but new entrant Blo Bar hopes to assuage concerns with its original approach to a recycling scheme. The newly formed brand "With A Difference" claims it can tackle the recognised problems that come with single-use vape products with the launch of its initiative.
---

---
World Vapers' Alliance
Last week, on 4th March, the Italian Health Minister Orazio Schillaci notified the Italian College of Ministers of his intentions to present a draft law aimed to ban outdoor smoking and vaping in public places. The ban includes alternative products to combustion cigarettes, such as e-cigarettes and heat-not-burn products. More than 700 thousand vapers in Italy could see their switch from smoking to vaping endangered if the Italian Government accepts the Health Ministry's proposal, suggests World Vapers' Alliance.
---

---
---
A look back at how things have moved on or otherwise…
Catania Conversation
Every year, over seven million deaths worldwide for tobacco use. Hundreds of thousands of people affected by illness related to smoke. Numbers that could be compared to the losses caused by drug use around the world. However, while Drug control policies have been implemented in the last decades, governments still don't consider the fight against smoke as a priority. Why?
The Ministry of Health has submitted a written submission to the Health Select Committee, dismissing a Parliamentary petition signed by 17,357 Kiwis supporting ongoing access to vape flavours. Aotearoa Vapers Community Advocacy (AVCA) has called for government doctors to intervene.
---
Visit Nicotine Science & Policy for more News from around the World

---