Vapers Digest 31st July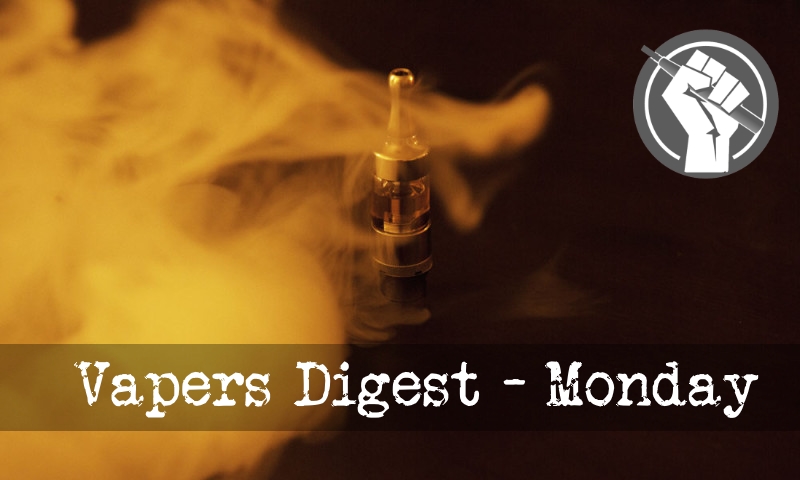 Monday's News at a glance:
Good news, but don't relax – FDA Announcement: What Does it Mean? – Very Low Intelligence – PMTA Delay Buys Vapers Some Breathing Space – New Vision for Tobacco Harm Reduction – New FDA Commissioner Saves the Day – Big Tobacco told to read FDA smoke signals – A sea change in the war on smoking – Should nicotine be limited to 20mg/ml? – Inhaling the nicotine without the toxins – ALP takes 'illegal' tobacco donations – Vaping In The News, July 23rd – 29th – Nicotine in the News – 31 July – Nicotine Science and Policy Daily Digest
Fergus Mason
By now you probably all know how much I hate the European Union's idiotic Tobacco Products Directive. Actually I hate almost everything about the EU, but the TPD is definitely the rancid icing on that particular cake of shit. I can only think of one positive thing to say about it, which is that it's not quite as bad as what the FDA is doing on the other side of the Atlantic.
Paul Barnes, Facts Do Matter
When I finally finished reading all the articles on the announcement from the FDA, I found it difficult to tally what I'd read with the celebrations of vapers. Don't get me wrong, there's a lot to be hopeful for from the announcement. But that's all it is. Hope.
Dick Puddlecote
Here is another to file in the "how e-cigs expose the hypocrisy and ignorance of tobacco controllers" folder.

There has been a lot written about the announcement on Friday that the FDA in Yankeeland has shifted very slightly on the subject of e-cigs.

Of course, this is very welcome, they have frozen their appalling policy designed – most probably at the behest of pharma lobbying – to take as many competitive vaping products off the market as possible by pricing them out.
---

---
Buys Vapers Some Breathing Space
Since the FDA first revealed its Deeming Regulations for e-cigarettes in April 2014, the looming threat of the new law has been the biggest worry for everyone involved with the US vaping scene – and, as Deeming is likely to wipe out hundreds of favorite juice flavors, it's not that popular in the rest of the world either. So it's no surprise that, when FDA Commissioner Scott Gottlieb announced a four-year delay this morning, there was widespread celebration.
Brad Rodu, Tobacco Truth
U.S. Food and Drug Administration Commissioner Scott Gottlieb on July 28 fully endorsed tobacco harm reduction. In a speech (here), he clearly defined the problem: "[I]t's cigarettes that are the primary cause of tobacco-related disease and death."

Dr. Gottlieb cited facts about nicotine, emphasizing its addictive qualities and the need to keep children away from all tobacco products. He also made one critical distinction:
Dr Farsalinos
There is an ongoing debate, especially in the US, about the mandatory reduction of nicotine levels in tobacco cigarettes to levels so low that "cigarettes would no longer create or sustain addiction". I am skeptical about this approach for two reasons. One is that nicotine is not the only determinant of dependence on smoking, and this approach does not deal with the behavioral aspect of smoking dependence.
Embraces Harm Reduction Strategy for Tobacco Control
Michael Siegel – The Rest of the Story
On Friday, the new FDA Commissioner – Dr. Scott Gottlieb – saved the day for the public's health by officially embracing a harm reduction approach to tobacco control. Commissioner Gottlieb announced a new approach to the regulation of tobacco products that, unlike the FDA's previous strategy, acknowledges the vastly different risks of tobacco cigarettes compared to electronic cigarettes and proposes to regulate each product in alignment with its risk level.
---
---
Conor Sullivan, Anna Nicolaou
For decades, tobacco groups have puffed along steadily, churning out their deadly product to smokers and deliveringhandsome dividends to shareholders.  In recent years, however, they have been disrupted by new ways of getting a nicotine hit, such as ecigarettes. Some have embraced it, while others have been more cautious — but now US regulators have told all of them to sit up and take notice.
Andre Picard
Scott Gottlieb, commissioner of the U.S. Food and Drug Administration, announced on Friday that the agency is going to force cigarette manufacturers to reduce the level of nicotine in their products to make them less addictive.

More importantly, he said the FDA was delaying regulation of e-cigarettes and, instead, urging makers of those products to have them designated and regulated as smoking cessation products.
Simon Clark, Taking Liberties
Yesterday's announcement by the US Food and Drug Administration that it aims to lower nicotine levels in combustible cigarettes took many people by surprise, myself included.

I got the news from a friend in Dublin who was watching Bloomberg News. Thirty minutes later the story began to trickle in from other sources.
Colin Mendelsohn
The Australian Senate Inquiry is considering the Vaporised Nicotine Products Bill 2017 which proposes an arbitrary 20 mg/ml upper limit (2%) for nicotine e-liquid for vaping, as set by the European regulators. Is this too low?

Some users require higher concentrations of nicotine. In the UK, 6% of vapersuse >20 mg/ml nicotine e-liquid. Many vapers also start with a high strength initially and reduce nicotine concentration later
---

---
Richard Lehman reviews the latest research in the top medical journals
There's a reluctance in most of us to accept addictive substances being sold to the public for profit, even if they are relatively harmless. In the US (and often in The BMJ) this aversion has extended to e-cigarettes, so it's good to see this American observational study appear in The BMJ to redress the balance. The point of course is that most nicotine addicted people currently breathe in products of combustion that damage their lungs and circulation and shorten their lives, so a relatively harmless, pleasurable substitute may be a very good thing. In the US, greater use of vaping has coincided with a steeper drop in smoking, and many vapers say that they are using e-cigarettes as a means of smoking cessation.
Nick McKenzie, Richard Baker, James Massola
A director of a tobacco company that is suspected of smuggling cigarettes has donated $400,000 to the Labor Party, possibly breaching NSW law and the ALP's own ban on taking tobacco industry funds.

Peter Chen, the sole Australian director of Sydney tobacco company ATA International, donated to the NSW and federal Labor parties via another of his companies, Wei Wah, which retails the cheap Chinese brand cigarettes ATA imports.
Jamie Morton
The once-cool appeal of smoking to teens now appears to have been stubbed out, with new research showing young Kiwis are discouraging mates from the harmful habit.

Otago University researchers behind the study were also encouraged to see it was Maori and Pacific teens who were most likely to talk peers out of smoking.
Hayleigh Colombo
At Vapenindy on the city's far-south side, owner Greg Niece is one of nearly 100 manufacturers who are now allowed to produce e-liquid—the juice used in electronic cigarettes—to sell in Indiana. He and others had been shut out under a controversial law passed in 2016 that essentially gave one private firm the ability to determine who could participate in production of the juice sold here.
Kevin Crowley, Vaping Links
Vape Shop Employees: Public Health Advocates? ~ Is vapor also unhealthy for lungs? ~ TRIPLE cessation. ~ Dance, monkey, dance ~ Huh ~ Budget Cuts ~ FDA Announcement
Comprises digests of published news on smoking-related topics
Swapping cigarettes for e-cigarettes could 'prevent you and your kids getting meningitis'
It's thought that smoking is responsible for a third to half of all meningococcal cases, according to campaign group Action on Smoking and Health (ASH). But e-cigarettes are safer than cigarettes, and could lower the risk of meningococcal disease.

Isle of Man: Transition to e-cigarettes at prison having positive impact

Midway through a trial period for e-cigarettes at Isle of Man Prison, it appears the measure is having a positive effect.

The specialist devices, which are tamper proof, are issued with a unique index number so inmates are unable to swap them.
Harry Shapiro
Tobacco harm reduction is on a roll right now – and I don't mean a roll-up. Let me count the ways.

The big one of course is the announcement by Scott Gottlieb on the FDA's revised approach to THR. Here is the full FDA news release
---
A look back at how things have moved on or otherwise….
In your e-cigarette vapor – The Drip Club
Well, here we are again. Another published paper with all the familiar methodological flaws is generating headlines that say "e-cigarettes are going to give us all cancer". The reality is that the researchers who published this study failed to look through the literature and resolve the mistakes their predecessors made. It seems they didn't even bother to read studies they themselves cited in their own paper.
Paul Barnes – Facts Do Matter
I'm pretty sure we've been down this road before. The whole formaldehyde scare – leading to the "10 times more cancer causing chemicals" headlines. That particular study (which started life in the NEJM as a letter to the editor) has been roundly debunked – not least of which because to inhale burning e-liquid, is frankly a rather dumb idea. Any researcher that believes us vapers do that on a regular basis, most definitely need to get out more.
Christopher Snowdon – Velvet Glove Iron Fist
On Wednesday I mentioned the tendency of 'public health' folk to compare their ample budgets with a completely unrelated number. In that instance, it was Yoni Freedhof comparing the cost of a single cancer research programme to the combined marketing budgets of US food companies. What point was he making? God only knows.
---
Visit Nicotine Science & Policy for more News from around the World

---