Vapers Digest 28th July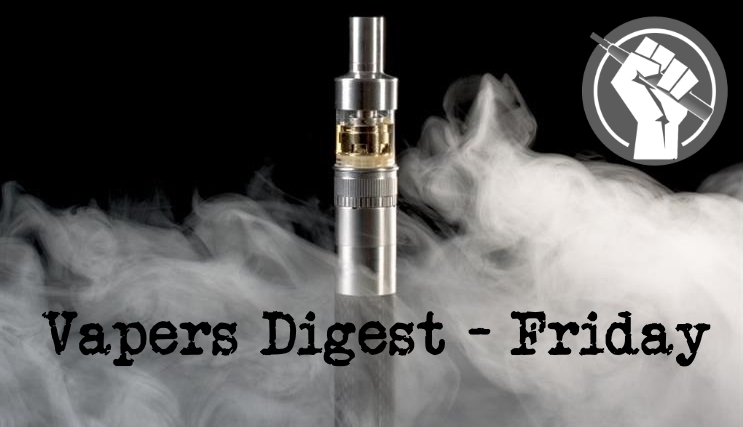 Friday's News at a glance:
Huge FDA announcement on future tobacco and nicotine strategy – You Too Can Own A Rarity! – Mathematical Warfare – Steaming Mad – United Kingdom – Consumer Survey 2017 – Marewa Glover – NicoGen Pharma Solutions – Embracing Harm Reduction – Deeming Deadline Postponed until 2022 – Vape is saved. Deeming dead? – Major Changes to FDA Vaping Regulations – Nicotine Science and Policy Daily Digest
On future tobacco and nicotine strategy
Clive Bates, The Counterfactual
It came as a surprise, but today's announcement from FDA on tobacco policy is huge.  The video of Dr Gottlieb's speech is available here.

The new Commissioner, Scott Gottlieb calls for FDA to develop a 'new comprehensive plan for tobacco and nicotine regulation' and announced 'bold and far-reaching measures' based on ' a firm foundation of rules and standards for newly-regulated products'.
Scroll down for many more articles on the FDA announcement
Dick Puddlecote
I don't half treat you guys sometimes. Today I have listed an item on eBay so rare that I don't think you will see another one this decade. Rarer even than a first folio Shakespeare!

And yet you can own it. Yes, you really can! What's more, this copy is signed by the author himself in tribute to your humble host, and contains a quote of mine which you can read about in an article I wrote earlier this year.
---

---
Frank Davis
Dick Puddlecote wrote yesterday:

I've long believed that e-cigs carry the potential to expose the lies and hypocrisy of tobacco control..

Well, he might be right. I've always thought that the rapidity with which TC deemed e-cigs to be just as bad as cigarettes, if not a lot worse, showed that they could produce convenient "research" findings more or less to order, at very short notice.
Dr Rachel Hodder
The Whanganui District Council has taken the bold step of banning the use of electronic cigarettes (vaping) in public areas.

Experts recognise that vaping is a much safer alternative to smoking and has been a critical factor in helping people quit. But thankfully, Whanganui mayor Hamish McDouall does not bother wasting his time informing himself on the "research" or "evidence". The mayor 'knew of' young people who had become smokers after starting vaping.
---
---
ECigIntelligence
This survey has been produced by ECigIntelligence, an independent information service focused on tracking regulatory change and market intelligence for the e-cigarette sector.

The purpose of this survey is to study how and why people use electronic cigarettes and to understand their journey in usage over time. The survey is completely anonymous and should take no more than 10 minutes to complete.
Western Institute of Technology at Taranaki
New Zealand must put a moratorium on punitive taxes on tobacco and embrace vaporiser technology which poses the first real threat to tobacco smoking.

In a far reaching address at WITT on Wednesday, Marewa Glover said Maori smoking rates had not declined at a rate to justify the punitive costs added each year to tobacco and the increased costs were causing wide social damage, most of it in lower socio-economic areas.
PL Developments (PLD) announced today the formation of a new subsidiary; NicoGen Pharma Solutions, LLC (NicoGen). PLD recognizes the vast opportunity related to the development and introduction of innovative non-combustible nicotine products and smoking cessation aids. As PLD's efforts have intensified, the company has decided to focus its efforts via the creation of NicoGen and has installed Darren Quinn as NicoGen's president.
---

---
FDA Gives E-Cigarette Industry a Regulatory Reprieve
Today the Food and Drug Administration (FDA) said it is giving manufacturers of electronic cigarettes until August 8, 2022, to apply for approval of their products under regulations announced last year, which were widely expected to drive most companies out of business. The original deadline was November 8, 2018, and the four-year extension is supposed to provide more time for public comment and industry guidance as part of a "comprehensive regulatory plan" that aims to strike "an appropriate balance between regulation and encouraging development of innovative tobacco products that may be less dangerous than cigarettes."
Jim McDonald, Vaping 360
In a dramatic announcement Friday morning, FDA Commissioner Dr. Scott Gottlieb postponed the future deadlines in the deeming rule from 2018 to 2022, and promised a complete rethinking of tobacco, smoking, and nicotine by the agency.

The postponement will allow currently marketed vapor products to continue to be sold for at least four more years, which will give the vaping industry some breathing room to work on a new legislative strategy, and possibly to have some input into the new FDA plans.
Oliver Kershaw
In a somewhat extraordinary and unexpected development Scott Gottlieb, the newly appointed head of FDA, has announced that the submission deadline for PMTAs is to be delayed until 2022. 

This is a de-facto endorsement of the vaping industry and heads off the cataclysmic demise that was set in motion by the previous administration
American Vaping Association
Today, the American Vaping Association reacted to a landmark announcement from Dr. Scott Gottlieb, the Commissioner of the Food & Drug Administration (FDA), on the future of tobacco and nicotine regulation in the United States.
To Tobacco Harm Reduction – Elizabeth Wright
Passage of the Family Smoking Prevention and Tobacco Control Act (TCA) in June 2009 gave the Food and Drug Administration (FDA) regulatory control over tobacco products.  The purpose of the TCA, as stated in the bill's report language, was to permit the FDA "to restrict the sale and distribution of tobacco products, including advertising and promotion" and to "take specified actions, including public notification and recall, against unreasonably harmful products."
The Guardian:
Wall Street Journal:
Washington Post:
---
A look back at how things have moved on or otherwise….
Paul Barnes – Facts Do Matter
I'm pretty sure we've been down this road before. The whole formaldehyde scare – leading to the "10 times more cancer causing chemicals" headlines. That particular study (which started life in the NEJM as a letter to the editor) has been roundly debunked – not least of which because to inhale burning e-liquid, is frankly a rather dumb idea. Any researcher that believes us vapers do that on a regular basis, most definitely need to get out more.
To battle the FDA e-cig regulations – Matt Rowland
In its ongoing struggle to overturn the FDA e-cig regulations, the American vaping industry might have recently discovered a very unlikely friend and ally. China might be the industry's secret weapon, one with tremendous amounts of political influence, power, and money.
Daniel Hall
This week incredulity has crept into my head as I've watched vapers on social media complain that manufacturers are releasing device after device and a hundred new e-liquid lines. This post is probably going to aggravate a few people, but only because they haven't bothered to read something other than a headline. In this one I'm not going to show my usual restraint — we're all adults here so I am going to lay the facts on the line and let the chips fall where they may
---
Visit Nicotine Science & Policy for more News from around the World

---