Vapers Digest 25th July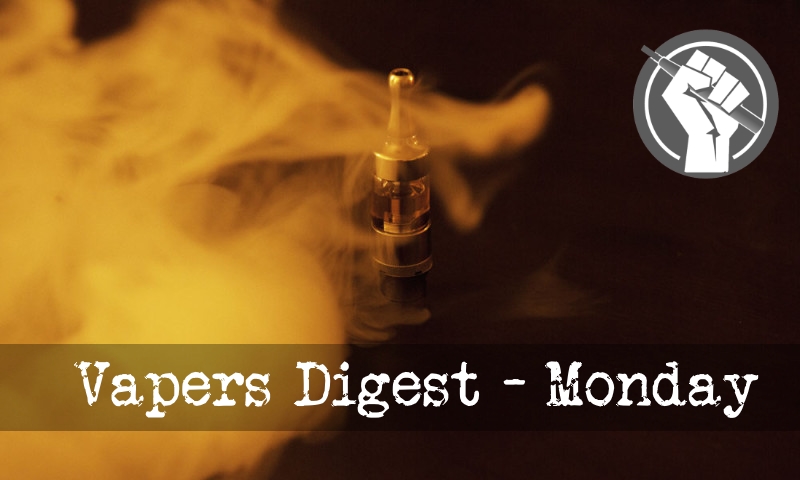 Monday's News at a glance:
The Impact of Conflicting Advice – Scots smokers should be encouraged to switch to vaping – Swedish Match results will embolden deal resisters – Rutgers researchers highlight the need for a balanced approach – For Many, Vaping Was A Fad And Not An Addiction – Calculating Crisis | Truth Behind Teen Vaping & Tobacco Mortality Data
Dave Cross, Planet of the Vapes
Researchers at the University of Bath and the University of Bristol have looked at the effect of conflicting public health guidance on smokers' and vapers' e-cigarette harm perceptions. The paper was published in the journal Nicotine & Tobacco Research. It comes as ex-New Nicotine Alliance chair Martin Cullip warns that Public Health's misinformation against vaping is eroding its credibility.

The Bath and Bristol team say that the growing view of electronic cigarettes and vaping is negative and that, "incorrectly", vapes are seen as more harmful than cigarettes.
To switch to vaping according to new survey – Dan Barker, Jon Hebditch
Almost half of Scots think Holyrood should encourage cigarette smokers to switch to vapes, a poll has suggested, after a consultation called on advertising rules to be tightened.

According to the new survey for the Scottish Grocers' Federation, 45% said they tended to agree or strongly agree that the Government should encourage tobacco smokers to switch to e-cigarettes.

Some 23% indicated they did not agree, 23% said they held no opinion either way, and 9% said they did not know.
---

---
Will embolden deal resisters – Reuters
Swedish Match (SWMA.ST) investors will be watching its financial performance more closely than usual. The Nordic nicotine pouch maker is the target of a $16 billion takeover by rival tobacco group Philip Morris International (PM.N). Investors including activist Elliott Investment Management oppose the deal, and Friday's results make the dissenters' argument marginally stronger.

Swedish Match's second-quarter sales and operating profit beat market expectations, aided by growth in the United States. Sales grew 23% to 5.5 billion Swedish crowns ($535 million), compared to 5.3 billion crowns expected by analysts. These results make it more difficult for PMI Chief Executive Jacek Olczak to convince 90% of investors that Swedish Match will be worse off alone.
---
Sweden: Thousands of retailers, especially convenience stores and gas stations, could be unable to sell #vaping products after changes to the retail licencing systemhttps://t.co/waRuVM9Gpe

— European Tobacco Harm Reduction Advocates (@europethra) July 25, 2022
---
For a balanced approach to examine adult e-cigarette use
Julia Chen-Sankey, an assistant professor in the Department of Health Behavior, Society and Policy at the Rutgers School of Public Health, and Michelle T. Bover-Manderski, an instructor in the Department of Biostatistics and Epidemiology at Rutgers, said that while there are clear health concerns with e-cigarette use, particularly the adoption by those who previously hadn't used tobacco products, there also are potential benefits that can't be ignored.

The Rutgers researchers published an invited commentary in the Journal of the American Medical Association (JAMA) Network Open, reviewing new data on the trend of e-cigarette use among U.S. adults.

Vaping Was A Fad And Not An Addiction – Hank Campbell
Vaping devices, e.g. the unfortunately named e-cigarettes, were a valuable tool for smoking cessation and harm reduction, with better results in ending smoking that nicotine patches and gums.

Then suddenly they were everywhere, a market so large that a tobacco company whose primary business was cigarettes spent billions for a small stake in Juul, which had become the leader in vaping products. Now they have written 90 percent of that investment down because it turns out that while nicotine is addictive, vaping never had the 'cool' factor of cigarettes. Cigarettes were boosted in culture by film and television prevalence but vaping never attained that kind of traction.
---

---
Truth Behind Teen Vaping & Tobacco Mortality Data | RegWatch
The research flow of "exaggerated" and "distorted" information about safer nicotine products is "not going to end any time soon," says Dr. Brad Rodu, professor of medicine from the University of Louisville.
Rodu has made a career battling forces responsible for pushing suspect science in the field of tobacco control.
In this episode of RegWatch, he takes the CDC to task over EVALI and its teen vaping and smoking-related deaths data.

Is there truth behind the CDC's numbers?

---
A look back at how things have moved on or otherwise…
During presentation BECA Draft report – ETHRA
Thursday 15 July saw the first discussion of the Special Committee on Beating Cancer (BECA) draft report, "Strengthening Europe in the fight against cancer towards a comprehensive and coordinated strategy," presented by BECA Rapporteur Véronique Trillet-Lenoir (Renew). The report is the result of months of work involving high-level meetings, public hearings, and exchanges of views with experts. The report provides an overview of areas where the EU can complement and strengthen measures in Europe's Beating Cancer Plan, with a focus on the key areas of prevention, screening and early diagnosis, high quality treatment, and quality of life of cancer patients and survivors.

The presentation and discussion marked the start of the assessment phase of the draft report. The work of the Committee will commence after the summer recess (see link to European Parliament calendar), and this will include the tabling of amendments, a first and second consideration of amendments, and a vote in Committee.
Based Only on NYTS, FDA-Funded PATH Survey Ignored
Brad Rodu, Tobacco Truth
Teen vaping estimates from the CDC and other anti-tobacco crusaders are hyperinflated by the National Youth Tobacco Survey (NYTS).  As I have shown previously, the CDC routinely ignores the federal government's premier tobacco survey, the Population Assessment of Tobacco and Health (PATH), which supports far lower vaping figures.

The chart at left, which includes the latest comparison from 2017, is crystal clear. It shows only underage high schoolers (age 15-17 years), since until recently tobacco products were legal for those 18 or older. Based on the 2017 NYTS, 11.8% of those youths used an e-cigarette in the past 30 days; that contrasts with the 7.3% estimate from PATH.  The NYTS percentage translates to 1.35 million underage vapers; the PATH number is half a million fewer, at 832,000.
---
Visit Nicotine Science & Policy for more News from around the World

---