Vapers Digest 22nd July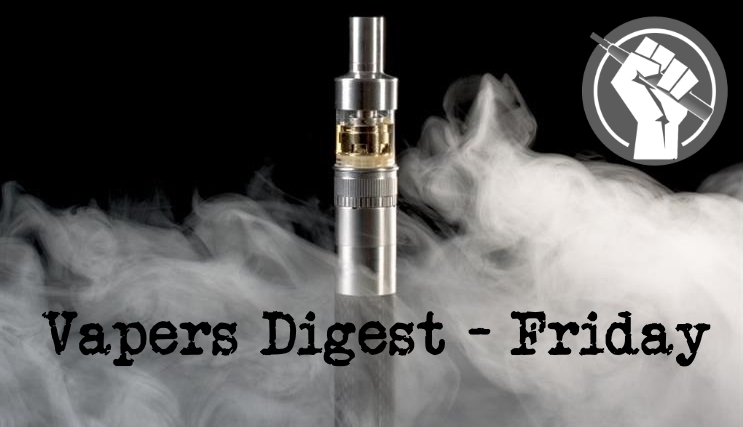 Friday's News at a glance:
Why are we waging a war on e-cigarettes? – Is Public Health Guided by Ethics? – JAMA Research Letter Over-Reported Quit Attempts – fMRI Lung Scans Show Promising Results – FDA Is Funding and Approving Cigarettes – FDA Head Orders a Review of Its Nicotine Division – FDA Authorizations Make NJOY a Target – Ecigs Fighting Putin – Reinforcing Oz Evidence – Pouches Snapshot – CAPHRA: Praise Experts – Letter Warns of Boost to Tobacco – The Banks review of vaping is flawed – Vape strategy stoking the black market – WA vape retailers call on government for more regulation – Vaping: complicated, conflated and confusing – Rutgers University study – Misinformation, Consumer Risk Perceptions, and Markets – The news on e-cigarette research – Elf Bar is Officially Illegal in Hungary – Nicotine Science and Policy Daily Digest
When they help smokers quit? – Dr Garrett McGovern
THE JOINT COMMITTEE on Health published its report this week on pre-legislative scrutiny of the Public Health (Tobacco and Nicotine Inhaling Products) Bill 2019. A number of recommendations were made including a ban on all flavours added to electronic cigarettes (other than tobacco flavour).

The rationale given was that flavours attract young people and that removing their availability would be less appealing to adolescents and this would curtail their use.

The report also states that "tobacco costs the Irish exchequer €10.6 billion every year and that 6,000 deaths a year are caused as a result of smoking". Nobody can argue with those eye-watering statistics and every effort should be made to reduce smoking harm to all of our citizens.
Kevin Crowley, Vaping Links
Is "public health" guided by a code of ethics? Do they manufacture fear, utilizing a 'greater good' behavioral "science" theory as form of social control? Is adding 'we can all agree' to narrate manipulate public opinions changing health outcomes for the public at large?

Have expectations vs reality concerning what's 'best for you' reared their ugly head(s)? Over time – trust, and the morality factor public health thrives on – had to come to light, eventually.

Lets see if I have this right: #Science is science. Junk science isn't science. Correlation isn't science, pseudoscience isn't 'science'. Science-based isn't science, behavioral science is pseudoscience, "trust the science" means there was no science, depending on someone's interpretation, and eventually, presentation with a long silent wink of encouraged speculation.
---

---
Teen E-Cigarette Quit Attempts & Over-Prescribed a Remedy
Dr. Brad Rodu, Tobacco Truth
The Journal of the American Medical Association in March published a research letter summarizing "Failed Attempts to Quit Combustible Cigarettes and e-Cigarettes Among US Adolescents."  The two-page missive included a call for FDA action: "The contribution of e-cigarettes to unsuccessful nicotine quit attempts among adolescents is substantial and warrants consideration as the US formulates policies to regulate e-cigarettes."

The authors studied nationally representative samples of 8th, 10th and 12th graders in the annual Monitoring the Future study (MTF) from 1997 to 2020.  For all years, students were asked if they had ever smoked a cigarette; those who did were then asked, "Have you ever tried to stop smoking cigarettes and found that you could not?"  In recent years, the MTF asked students if they had ever vaped nicotine; only in 2020 were they asked, "Have you ever tried to stop vaping nicotine and found that you could not?"
Michelle, ecigclick
An article on the Radiology Business website discusses a study regarding the health of the lungs and using fMRI Lung scans to assess the effects of smoking and vaping.

The author of the study Sylvia Nyilas PhD of Bern University Hospital in Switzerland and colleagues sent 44 healthy adults for various lung tests.

Functional lung tests and Un-enhanced Lung fMRI's (functional Magnetic Resonance Imaging) were performed to establish baseline results and to observe changes after the participants vaped or smoked.
---
---
Mazen Saleh
With how news moves these days, it is easy to miss the drama unfolding in the tobacco world. Over the course of this year, the Food and Drug Administration announced a plan to reduce the nicotine in all cigarettes, outright ban all menthol cigarettes, and denied an application by JUUL to sell its products, only to turn around and suspend that ban as the company appealed the decision. All of this is eclipsed, however, by the fact that U.S. health agencies funded research trials for two very low nicotine (VLN) cigarette products — one of which is a menthol — that went on to receive approvals by the FDA as reduced-risk products.
Alex Norcia
On July 20, Robert Califf, the head of the Food and Drug Administration (FDA), announced that he would commission external experts to conduct "a comprehensive evaluation" of the agency's food and nicotine divisions.

The move comes after the FDA's Center for Tobacco Products (CTP) has been under relentless fire over its handling of its PMTA authorization process for vaping products—including a high-profile apparent reversal over Juul earlier this month.

Califf, however, painted a rosy picture of a workforce eager to be rigorously reviewed.
Jim McDonald
American e-cigarette manufacturer NJOY LLC could be sold soon, according to the Wall Street Journal. The NJOY brand has a long history as a leader in the U.S. vaping market.

NJOY has hired bankers to advise it on possible deals. According to the Journal, the company could be valued as high as $5 billion—higher than the current valuation of Juul Labs, which has about 10 times greater market share than NJOY.

Potential buyers would likely come from the ranks of major tobacco companies, including Imperial Brands, Philip Morris International, Japan Tobacco, and possibly even Altria. British American Tobacco could also be a buyer if its popular Vuse Alto device doesn't receive FDA authorization.

Five from Dave Cross, Planet of the Vapes:
Russia invaded the Ukraine back in February and it resulted in death, destruction, and human displacement. It escalated a conflict that had been simmering since 2014 and led to over 8.8 million Ukrainians seeking refuge in other countries. But now the fightback is being aided by vapes.

Disposable vapes have become a highly contentious issue in the United Kingdom. On one side, a lot of traditional vapers and retailers are concerned about the environmental damage caused by the single-use plastics and the toxic components such as the lithium-ion cells. In January, the Department for Environment, Food and Rural Affairs (DEFRA) announced that it was launching a consultation looking at the plastic pollution of the environment caused by disposable vapes.
A study by researchers from around the world looking at smoker quit attempts has been published in the journal Addictive Behaviors. Public health expert Martin Dockrell says this study from Australia, the United States, Canada and England reinforces the evidence that smokers who vape are more likely to attempt to quit smoking and more likely to quit successfully.

The multinational research team may have been Canadian led but it included the formidable Ann McNeill – the researcher responsible for the annual Public Health England 'Vaping in England Evidence Updates'.
The Foundation for a Smokefree World (FSFW) has published a snapshot on nicotine pouches, detailing a geographic footprint, company presence, and legislative overview. As it explains: "nicotine pouches are a relatively niche category and not widely available but are developing rapidly in select geographies".

The Tobacco Transformation Index™ "measures the extent to which nicotine and tobacco companies are making material progress toward reducing the consumption of high-risk products (HRPs) and contributing to tobacco harm reduction."
The Coalition of Asia Pacific Tobacco Harm Reduction Advocates say that experts who are exposing vaping dental lies are deserving of praise. The statement comes following the publication of a paper in British Dental Journal, that Planet of the Vapes covered on 7 July.

The Coalition of Asia Pacific Tobacco Harm Advocates (CAPHRA) is a regional alliance of consumer tobacco harm reduction advocacy organizations. Its mission is to educate, advocate and represent the right of adult alternative nicotine consumers to access and use of products that reduce harm from tobacco use.
15 international experts in nicotine science and policy, and tobacco harm reduction advocates have sent a letter to Ireland's Department of Health. They have warned that plans to ban flavours in vaping products in Ireland could boost cigarette sales and promote smoking.

The experts say the proposal, announced as part of the Health Committee's new report, is likely to do more harm than good and would be a significant setback for the country's public health policy.
---

---
And misleading, study finds – Dr. Colin Mendelsohn
THE REVIEW OF VAPING by Banks and colleagues commissioned by the Australian Department of Health is flawed and misleading according to an analysis by four leading Australian academics, published today in Drug and Alcohol Review.

The review from the Australian National University omitted important information, made critical scientific flaws and did not achieve its objective of providing an accurate analysis of the available scientific information.

The analysis concluded that the Banks review is not suitable for guiding Australian policy on vaping.
COLIN MENDELSOHN was the founding chair of the charity Australian Tobacco Harm Reduction Association. In this week's Speaker's Corner he argues that a blanket ban on nicotine in vapes is creating a black market that's out of control. ATHRA is a big advocate of using vapes to help people quit smoking, and while it received funding from two vaping companies while getting set up, Dr Mendelsohn says there's no on-going involvement of the industry and all his involvement and advocacy has been "honorary and self-funded and was forthe purpose of improving public health".

WE have been inundated recently by reports about the rise of vaping among young people. Alarming stories about schools installing vape detectors in toilet blocks and brightly-coloured disposable vapes being sold to children appear in our papers nearly every day.
For more regulation as uncertainty in industry grows
A crackdown on the sale of vapes has left Western Australian store owners concerned for the future of their businesses.
Wet Wicks was one of 3000 stores to receive a notice from the Department of Health reminding owners that it is illegal for e-cigarette devices, whether they contain nicotine or not, to be sold by tobacco or general retailers.

However, owner Daniel Graham Davis said he assumed his store was legal as he set it up with the help of the Department of Health and had been subject to regular compliance checks.
Patrick Lawrence
"Everything you think you know about addiction is wrong" – Johann Hari

So, it's happened again. A really important public health issue in the realm of addiction is a bit complicated, aspects are being conflated, scientists disagree and we're all terribly confused.

Let's break it down just a little bit.

Firstly, smoking cigarettes is still the biggest single cause of disease and death in Australia – more than road accidents, alcohol, illicit drugs, overdose and suicide put together.

Patients asking doctors about better alternatives to smoking
A study conducted by Rutgers University in the United States reveals that 70 per cent of doctors reported their adult smoking patients had asked them about e-cigarettes and other smoke-free products, evidencing an important interest in better alternatives than the traditional cigarette. A third of the doctors also said their patients had asked them in the past 30 days.

The study was published by the Journal of The American Medical Association, one of the world's leading popular science journals. According to the study, doctors are significantly more likely to recommend e-cigarettes for heavy smokers, while recommending FDA-approved drugs, such as nicotine gum, for occasional smokers.
On Vaping and Smoking Cessation
Lawrence Jin, Donald S. Kenkel, Michael F. Lovenheim, Alan D. Mathios & Hua Wang
Smoking is the leading preventable cause of death in the U.S. Because e-cigarettes do not involve the combustion of tobacco, vaping offers the potential to prevent most of the health consequences of smoking. We study the impact of an information shock created by an outbreak of lung injuries apparently related to e-cigarettes. We use data from multiple sources: surveys of risk perceptions conducted before, during, and after the outbreak; an in-depth survey we conducted on risk perceptions and vaping and smoking behavior; and national aggregate time-series sales data.
May seem relentlessly bad – but do you buy it? – Aidan Semmens
Bad news is like sex – it sells. A headline like the old East German classic "Half the harvest safely gathered in" was never going to make it onto front pages in the West, where readers had a choice over which paper to buy, or in post-Communist Germany. So perhaps it's inevitable that scare stories about vaping greatly outnumber the positive ones in any significant sample of the the world's media.

And, of course, for every reasoned, careful and balanced report – and there a few of those out there – there are hundreds dashed off by journalists with no specialist knowledge but a desire to get the attention-grabbing headline in print quickly then on to the next story about something completely different.
Motivate Countries to Implement Tobacco Cessation Support?
Background and aims: The World Health Organization (WHO) Framework Convention on Tobacco Control (FCTC) seeks to realize the right to health through national tobacco control policies. However, few States have met their obligations under Article 14 of the FCTC to develop evidence-based policies to support tobacco cessation. This article examines how human rights obligations could provide a legal and moral basis for States to implement greater support for people who use tobacco to overcome their addiction.
A new type of disposable electric cigarette is gaining ground in the domestic illegal market. The National Tax and Customs Administration (NAV) and the Regulatory Authority for Regulated Activities (SZTFH) are strictly controlling the illegal trade in products and have recently organized several actions to filter out this specialty tobacco product, which is also popular with young people, on the black market. The balance of the last few weeks alone is at least HUF 135 million of seized goods, 4 detentions, and a fine of HUF 20 million, NAV and SZTFH wrote in a joint statement sent to hirado.hu.
Key executive departments expressed support for the enactment of the Vape Bill into law to regulate e-cigarettes and heated tobacco products, protect minors, stop illicit trade, generate jobs and raise revenues.

The Department of Trade and Industry (DTI), Department of Labor and Employment (DOLE), Department of Interior and Local Government (DILG) and Department of National Defense (DND) expressed their support for the bill in response to the request by Malacanang Palace for comments and recommendation on the consolidated House Bill No. 9007 and Senate Bill No. 2239.
Urged to seize opportunity to save Filipino smokers, sign Vape Bill into law
Respected medical and scientific experts have asked President Ferdinand "Bongbong" Marcos, Jr. to seize a major opportunity to save 16 million Filipino smokers from the harmful impact of combustible cigarettes by signing the Vape Bill that will provide less harmful alternatives.

"The potential benefits of saving, or at the very least enhancing the quality of lives and improving long-term outcomes of smokers, with this bill once enacted into law, is a big opportunity we could not afford to lose," a group of medical practitioners, healthcare professionals, academicians, researchers and experts in various scientific fields said in a letter addressed to the President through Executive Secretary Victor D. Rodriguez on July 8, 2022.
---
A look back at how things have moved on or otherwise….
Sunstar, CEBU
THE introduction of heated tobacco products (HTPs), considered a harm reduction approach, has reduced cigarette sales in Japan by 30 percent in a span of three to four years.

"Since 2014, three heated tobacco products have been launched officially nationwide in Japan and these have been penetrating 25 percent [of total smoking population], and this product has been successful to reduce cigarette smoking in Japan so far by 30 percent in three to four years," Dr. Kumamaru Hiroya, a preventive physician specializing in smoking cessation, said.
Catania Conversation
While the rest of the world is witnessing fierce opposition to e-liquids, Italy once again proves to be the leader in Europe for innovative policies towards electronic cigarettes.

The amendment presented by the Lega asking for tax reduction on liquids for vaping has been confirmed. The reduction proposed by the Lega cut the fiscal taxes of 10% on e-liquids with nicotine and 5 % for products without nicotine. Specifically, the charge is 0.42 cents for bottles of liquids without nicotine, and double (0.84 cents) for those containing nicotine.
---
Visit Nicotine Science & Policy for more News from around the World

---