Vapers Digest 1st August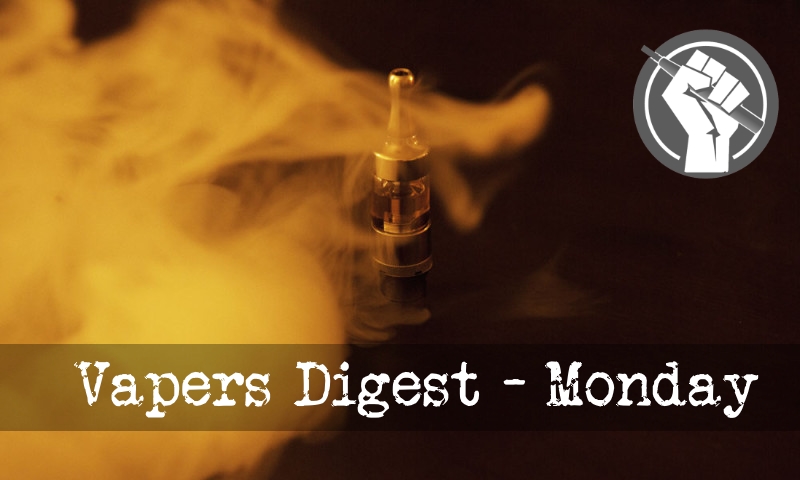 Monday's News at a glance:
Nicotine And The Weirdness Of Harm – The Big Tobacco Control playbook – ETHRA July news roundup – E-cigarette facts and evidence – Coalition Crackdown Call – Bridging Walls – FDA Says One MDO Appeal Won't Be Resolved Till 2025 – Vaping Is Sublime – The New Era of Nicotine – The New Prohibition – Life as a Vaping Advocate Under India's Prohibition – Are Oral Nicotine Products Africa's Ideal Route Out Of Smoking? – E-cigarettes and vaping: what we know so far – Is the Canadian government unreasonable – House drugs panel chairman – Vape traders claim Khairy misled them on GEG – Vaping numbers down among high school, middle school students – Nicotine Science and Policy Daily Digest
Clive Bates, Tobacco Reporter
The availability of nicotine with minimal harm justifies a complete rethink of our approach to this legal recreational drug.

Whisper it quietly, but people use nicotine for a reason. Nicotine has psychoactive effects that provide functional benefits and pleasurable sensations to its users. Neal Benowitz, a global authority on nicotine, writing in the U.S. Annual Review of Pharmacology and Toxicology in 2009, summarized the effects: "In humans, nicotine from tobacco induces stimulation and pleasure and reduces stress and anxiety. Smokers come to use nicotine to modulate their level of arousal and for mood control in daily life. Smoking may improve concentration, reaction time and performance of certain tasks."
Harry's blog 114:
Huge disruption has been caused by the evidence that non-combustible vaping and heated tobacco products and Swedish-style snus can have a game-changing impact on reducing death and disease from smoking. The advent of these products has disrupted industry thinking while governments have been trying to play catch-up with often knee-jerk and harmful revisions to tobacco control policies. But the disruption has been most keenly felt within the global public health community.

Organisations have been founded, professional careers and reputations built, and millions of research dollars acquired based on the immutable division between the devils of Big Tobacco with their lethal products and the angels of public health. The tobacco wars were fought on the premise that there were irreconcilable differences between these warring factions.
---

---
European Tobacco Harm Reduction Advocates
ETHRA's monthly roundup of news: Threat to ban flavours in Ireland – ETHRA & partners submit to EU call for evidence – WHO announce knowledge hub in France – The Half-Truth Initiative – The consequences of regressive vape policy – Master list of junk vaping studies – Country updates. Read on for more.
---
The INNCO weekly global news digest : 1st August 2022
If it's not included ~ it hasn't happened yet…
Subscribe and receive new editions direct — because it probably will. https://t.co/K1SzpWN34b

— INNCOorg (@INNCOorg) August 1, 2022
The Dutch Secretary of State for Health has said that he won't reverse the ban on vaping flavours even if it leads to more people smoking. Anyone still doubt me when I say it's #NotAboutHealth? https://t.co/nzFIldS0vY

— Dick Puddlecote (@Dick_Puddlecote) August 1, 2022
---
Christopher Snowdon, Velvet Glove Iron Fist
Colin Mendelsohn and colleagues have written a very nice response to a barking mad report commissioned by the Australian government about e-cigarettes. As you might expect from the Aussies, the report was a hatchet job on vaping. It made such claims as…

There is conclusive evidence that the use of e-cigarettes can cause respiratory disease

(Based on the EVALI outbreak which had nothing to do with e-cigarettes.)

And…

Dave Cross
A coalition of international vapers calls on the Australian Health Department to end the crackdown on vape businesses and consumers. In a letter released on Wednesday, 20 July 2022, vaping activists from around the world called on the Australian Department of Health to stop the crackdown on legal vape businesses and instead seek other regulatory measures. Aside from destroyed businesses, the coalition is worried that the measures will hurt consumers by pushing them to the black market.

The letter was released after vape shop owners across Western Australia received a 14-day notice to cease operations from the Western Australian (WA) health department inspectors.

Seventeen vaping consumer organisations worldwide signed the letter in support of the WA vapers.
Skip Murray
How often have you felt angry when someone calls you a name or accuses you of being a troll just because you disagreed with them? Have you been called a bot, accused of having a financial conflict of interest, or some other ad hominem attack against you, derailing the conversation from the issue at hand? Have you had someone make fun of you, belittle you, and put you in the position of having to defend yourself instead of staying on the topic of dissent? How do you react? Should you back away from the "fight" or lash out in an "eye for an eye" fashion? Do you maintain a cool head and steer the discussion back to the topic?
---

---
Won't Be Resolved Till 2025 – Jim McDonald
Five vaping manufacturers got bad news in court last week, but another received welcome confirmation that the FDA will kick the can on its review far down the road. In fact, the FDA says My Vape Order's internal agency appeal will likely take until January 2025 to resolve.

About 40 vaping manufacturers are currently challenging FDA marketing denial orders (MDOs) in court, or pursuing MDO appeals through the FDA's own internal appeals process.
Michael C. Moynihan
In 2017, after an adulthood of joyful and guiltless tobacco consumption, I abruptly quit smoking. This was an improbable outcome; I rather enjoyed smoking and rarely made threats to give it up. But having seen enough friends and family members die with a vigorous assist from Big Tobacco, I decided that upon publication of a book review in The Wall Street Journal, in which I praised an obscure German writer's memoir of nicotine addiction and reluctant abstinence, I would try my hand at teutonic discipline and finally ditch the smokes.
Devin LaSarre
"Opportunity often comes disguised in the form of misfortune, or temporary defeat." – Napoleon Hill

Is it weird that the best investment of all time is now practically universally ignored?

A single dollar invested into tobacco companies at the turn of the 20th century would be worth over $7 million today—an annual compound return of over 14 percent for over a century. Nothing else comes close.
Ronald W. Dworkin
Years ago, during my psychiatry clerkship in medical school, I learned to classify people with personality disorders as either "onions" or "garlics," depending on their degree of self-knowledge. The "onions" were offensive to other people and knew they were offensive. The "garlics" were offensive to other people but didn't know they were offensive. A person with a dependent personality was an "onion." A narcissist was a "garlic." Yet all of us are "onions" or "garlics" to one degree or another. People who purposely belch after big meals are "onions." Leaf blowers who start work at the crack of dawn and dog-owners who run their big dogs off leash are "garlics." Yet we don't say these people have personality disorders, let alone herd them into therapy. The reason seems obvious, and yet that reason is hard to explain.

Under India's Prohibition – Kiran Sidhu
In late 2019, the Indian government issued a ban on vaping products. The ordinance, originally announced by the finance minister, Nirmala Sitharaman, and passed by parliament months later, not only disallows the sale, manufacturing, and distribution of e-cigarettes, but also their importation, exportation, transport, storage and advertisement.

Sitharaman couched the move with the usual context—youth were experimenting with them too much, or at least would do so—and even said that "unfortunately, e-cigarettes got promoted initially as a way in which people can get out of the habit of smoking cigarettes." Much evidence shows that vaping is far safer than smoking, and that many people successfully use vapes to quit deadly cigarettes.
Africa's Ideal Route Out Of Smoking?
Although many African countries have policies regarding tobacco control, very few have programs to support smokers who wish to quit. Despite the number of smokers on the continent may still be lower than in North America and the East Mediterranean, that number is growing at the fastest rate on the planet.

It can't be denied that significant disparities in health statistics around the world are often driven by unequal access to essential health products.
What we know so far – Dr Janni Leung
Around the world and in Australia, parents and teachers are alarmed about increasing youth vaping and e-cigarette use. News and media stories have labelled it as the 'vaping epidemic' that creates a cohort of nicotine-addicted youth. UQ's Dr Janni Leung, Emerging Leadership Fellow of the National Centre for Youth Substance Use Research (NCYSUR), explains what we know from the research so far?
Among high school, middle school students
After years of sharp growth, the rate of vaping among high school and middle school students dropped significantly nationwide last year, though experts are unsure whether the decrease is part of a long-term trend or mostly a pandemic-related blip.

The percent of high school seniors who vaped in the previous year fell from 40.6% in 2019 to 31.5% in 2021, according to a federally funded University of Michigan study. A separate study by federal researchers also found a big drop in recent use.
Unreasonably attacking the vaping industry? – Drea Humphrey
E-cigarettes and vape pens are two names to describe Electronic Nicotine Delivery Systems (ENDS), whose industry has steadily surged in recent years as many buyers continue to choose vaping over conventional cigarette smoking.

According to Statista, as of last month, ENDS and their fillers such as vaping pods, e-liquids, & nicotine salt, have brought in 1.26 Billion US dollars in revenue so far for Canada, and the industry's revenue is projected to continue to rise annually.
Cites importance of Vape Law in fight vs illegal drugs
"Vaping is a fast growing industry and vape products have been prevalent in the country for years now. They were being sold in various forms and chemical combinations to any Tom, Dick and Harry who has the money and the interest to try them, including minors," Barbers, the Committee on Dangerous Drugs chairman, said in a statement Saturday, July 30.

"Sadly, there was no law regulating them since, like technology, these vape products were new inventions that were not covered by prevailing laws on smoking," he noted.
PETALING JAYA
Local vape industry players have claimed health ministry Khairy Jamaluddin pressured and misled them into supporting the Generational End Game (GEG) to ban tobacco and vape products for those born after 2007.

Industry leaders claim that they were presented with an ultimatum from Khairy at recent meetings. FMT has reached out to Khairy's office and the health ministry for comment.

Samsul Kamal Ariffin, president of the Malaysian Organisation of Vape Entity, is among those who claimed Khairy put them under pressure when he spoke at a gathering with other industry people on Friday.
---
A look back at how things have moved on or otherwise…
European Tobacco Harm Reduction Advocates
ETHRA's monthly roundup of news: WHO's war on safer nicotine products scales up – BECA draft report presentation & ETHRA letter – Clearing up EVALI misinformation – Good news for Italian vapers – Anti-THR measures in Norway. Read on for more.
But Anti-Tobacco Crusaders Are Doing It For Them
Brad Rodu, Tobacco Truth
Anti-tobacco crusaders have for three years been blaming e-cigarette manufacturers and retailers for increased teen vaping, which the CDC, citing National Youth Tobacco Survey results, dramatically terms an epidemic.

The vape industry is accused of enticing youth with kid-friendly flavors, cartoons and images, however, it may not be industry advertising that's driving young vapers. Anti-vape organizations are running pervasive information campaigns that inundate youth with cartoons and other hip images, photos of kids vaping, and attractive illustrations of vape flavors. Anti-tobacco forces are actually encouraging kids to try e-cigarettes by underscoring how easy it is to use the products, the array of available flavors, and the enticing nicotine buzz that accompanies their use.
---
Visit Nicotine Science & Policy for more News from around the World

---