Vapers Digest 29th July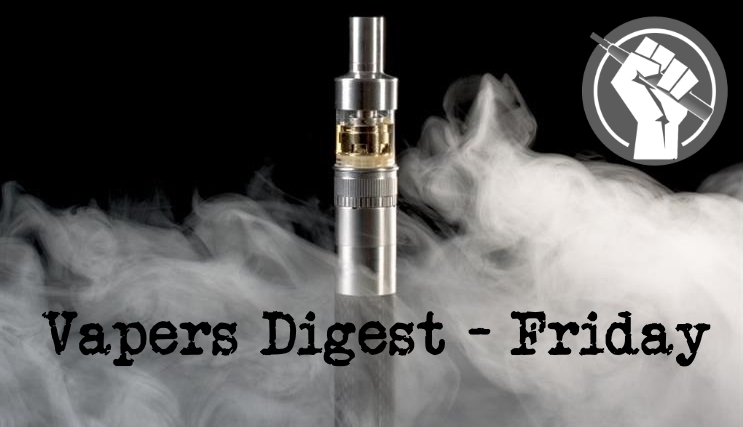 Friday's News at a glance:
From FDA to PMI – a sell-out or a bold move for public health? – Top FDA Tobacco Official Quits – Pro-Consumer Vaping Bill Becomes Law – Gregory Conley Takes External Affairs Job at AVM – The Half-Truth Initiative – FDA's Chance to Right the Ship on Harm Reduction – WVA Attacks Irish Plans – ELFBAR and Illegality – Don't Get Sucked In – Parliament – An editor invited me to submit a commentary, then he rejected it – Coventry shopkeepers want to stop selling cigarettes – Nicotine Pouch Use Is on the Rise – Nicotine is not the devil, cigarettes are – Driven By Snobbery | Prohibitionists' War on Vaping – Australia's Vaping Witch Hunt – Pragmatism over idealism – Nicotine Science and Policy Daily Digest
A sell-out or a bold move for public health?
Clive Bates, The Counterfactual
Matt Holman resigns as Director of the Office of Science at the Center for Tobacco Products at the FDA. He is moving to the tobacco company Philip Morris International to be Vice President of US Scientific Engagement & Regulatory Strategy. What to make of this? I write him an open letter.
To Take Job at Philip Morris International – Alex Norcia
On July 26, Matthew Holman, the director of the Office of Science at the Food and Drug Administration's Center for Tobacco Products (CTP), told staff that he would be leaving his role for an undisclosed position at Philip Morris International (PMI).

Brian King, who became CTP's director in early July, wrote in a letter to colleagues that Holman would be departing "effective immediately," revealing that the former OS head "has been on leave since before my tenure began at the Center" and saying that "he recused himself, consistent with agency ethics policies, from all CTP/FDA work while exploring career opportunities outside of government."
---

---
Jim McDonald
After more than a decade as one of vaping's most prominent freelance defenders, Gregory Conley will join the American Vapor Manufacturers Association. His title is Director of Legislative and External Affairs, and he will focus on government and media relations.

Conley has a long history of speaking for vaping consumers and the independent vaping industry at legislative hearings and in radio and television appearances, as president of the American Vaping Association (AVA). He will also continue to lead the AVA, which will shift its efforts to voter education and outreach. The AVA name may change, Conley says.
Jim McDonald
The vaping regulation bill passed by the Philippines legislature in January has become law. The legislation makes the Philippines one of very few Asian countries with reasonable vaping regulations intended to benefit people who smoke or would smoke if vapor products weren't available.

The Vaporized Nicotine Products Regulation Act overwhelmingly (19-2) passed the Philippines Senate in January, and was quickly reconciled with a version passed earlier by the House of Representatives. Since then, the bill has been the subject of intense debate, with major lobbying efforts by groups both in support and opposition to the law.
---
This really is very good – @ethannadelmann is a top class interrogator and André Calantzopoulos @PMIScience is an articulate advocate for tobacco harm reduction from the perspective of a Big Tobacco boss. He explains how huge corporate transitions work – we should listen. https://t.co/v1ceE6go3u

— Clive Bates (@Clive_Bates) July 28, 2022
---
How an Anti-Smoking Group Lost Its Way – Marc Gunther
The most famous anti-smoking campaign in history was branded, simply, as @truth. It was launched in 2000 by the American Legacy Foundation, a nonprofit organization funded with $1.5 billion from the proceeds of a class-action suit against Big Tobacco companies. Legacy and its advertising agency, Crispin Porter & Bogusky, produced hard-hitting TV commercials, including one called "Body Bag" in which young people piled bags of dead bodies outside the headquarters of Philip Morris, in a graphic reminder that smoking kills.

The industry hated the campaign, and for good reason. One in five teenagers then smoked. Over time, the work of the Legacy Foundation, which has been renamed Truth Initiative, helped to drive teen smoking to historic lows, according to researchers who studied the @truth campaign.
Karl Abramson
Last week, Food and Drug Administration (FDA) Commissioner Dr. Robert Califf announced that he is ordering an external review of "key agency activities", including the Center for Tobacco Products (CTP). This review offers the opportunity for FDA to re-examine the overarching aim of their tobacco "control" efforts and shift the focus to harm reduction, rather than harmful prohibitions.

Since April, a slew of FDA decisions has brought increased attention to the ambiguous, often disorderly operations of the agency. FDA has announced proposed rules to ban menthol cigarettes, ban flavored cigars including premium cigars, and force tobacco companies to decrease nicotine in cigarettes by 95%, essentially a total prohibition on cigarettes in the United States.

Four from Dave Cross, Planet of the Vapes:
The World Vapers' Alliance says that vapers oppose the Irish plans to ban e-liquid flavours and enforce strict plain packaging on vape products. Last Friday, the Oireachtas Health Committee published a Pre-Legislative Scrutiny report that includes a vaping flavour ban, plain packaging requirements and a ban on vape advertisements. The report contains recommendations from ten Members of the Dáil and might serve as an early draft of the Bill.

Vaping advocacy groups express their disagreement with the proposed report. Michael Landl, Director of World Vapers' Alliance, commented: "Banning flavours would spell disaster for smokers who want to quit, current vapers, and public health because flavours help former smokers stay away from cigarettes forever.
ELFBAR, a popular disposable vape brand in the UK, has claimed it has successfully intercepted over a million fake vape products bearing its product names, the majority of which it says would have likely ended up with UK retailers and in the hands of British consumers. It comes as media outlets are reporting the vaping giant has flouted UK advertising regulations on selling to children.

The company says it has been working closely with Chinese authorities to close down more than 20 counterfeit factories, which were found to have collectively produced over a million counterfeits.
Don't get sucked in by a website's vaping claims. "Launched with fanfare two years ago, the 'Don't Get Sucked In' website has failed to fire or resonate with young people and for good reason," says Nancy Loucas, Executive Coordinator of the Coalition of Asia Pacific Tobacco Harm Reduction Advocates (CAPHRA).

CAPHRA has now audited the website on vaping set up by New Zealand's Asthma and Respiratory Foundation (ARFNZ). CAPHRA concludes the site cherry picks science and fails to provide the full picture on vaping. More seriously, it makes false and misleading claims about the safety of products which are saving thousands of Kiwi ex-smokers lives every year.
In a month of turmoil, James Morris has been appointed as a new primary care minister. Mary Kelly Foy and Daisy Cooper posed questions to the Department for Health and Social Care. The House of Lords debated smokefree pavement licences, and Professor John Britton has called on the government to adopt the recommendations from Javed Khan's independent review into tobacco control.

The Department of Health and Social Care appointed James Morris MP as the new minister for primary care. The reshuffle saw Maria Caulfield MP moved from the role to minister of state for Health and Social Care. Morris has previously served as a government whip and has not really engaged in voting on health matters previously.
---

---
Then he rejected it – Brad Rodu
The American Journal of Public Health is the flagship publication of the American Public Health Association, which has more than 25,000 members worldwide.  The AJPH boasts that it is "a highly influential publication," which is why I accepted an invitation from editor-in-chief Alfredo Morabia in 2020 to comment in a journal forum on FDA regulation of e-cigarettes. At that time Morabia invited a range of experts, both advocates and supporters of FDA tobacco regulation and critics.
A Coventry shopkeeper has helped three generations of one family quit smoking. Aman Uppal, 37, runs One Stop Mount Nod on Alderminster Road which has been trading in the city for 30 years.

Aman helped the local family, which included an 80-year-old woman, switch to smoke-free alternatives. He described his store as a 'hub for community' and takes great pride in helping his customers, and now he and other city store owners want to stop selling cigarettes altogether.
Prohibitionists' War on Vaping | RegWatch
What motives seemingly rational people: professionals, scientists, and so-called experts in public health to proselytize and propagandize against safer nicotine products?

Joining us today to pick through this question and more is Martin Cullip, International Fellow at the Taxpayers Protection Alliance and prolific writer on harm reduction policy issues for major publications such as InsideSources, Center Square, Townhall, and Filter.
Lynn T. Kozlowski
Nicotine pouches are one of the fastest growing nicotine delivery products in the United States. There are a variety of reasons why people are using these small sacks full of nicotine and other ingredients, including as a substitute for cigarette smoking.

Pouches can deliver as much or more nicotine as medicinal nicotine—gum and lozenges used to help people quit smoking—and they have a similar toxicity profile. They are sold under brand names, including ZYN, Verve, on!, Rogue, and NIIN. Placed between the upper lip and gums for up to an hour, they also contain as much nicotine as moist snuff, though they do not promote spitting as many moist snuffs do.
Dr. Jasjit Ahluwalia
Thirty years ago, as a young public health researcher and professor, I would begin my lectures by telling students that 480,000 Americans die from cigarette smoking every year, making it the leading cause of preventable death. Sadly, 30 years later, I still begin my talks with the same fact. In those 30 years, 15 million Americans have died unnecessarily from cigarette smoking. To change this trajectory, it is time for the FDA to embrace bold, new thinking, including offering smokers safer nicotine-containing alternatives.

Is Only Killing Smokers – CAPHRA
"Much needed health resources should be directed towards providing Australians more urgent healthcare and elective surgeries, not on a pointless vaping witch hunt," says Nancy Loucas, Executive Co-ordinator of CAPHRA

Her comments follow ongoing publicly funded anti-vaping propaganda and policing at both a federal and state level. Australia's Chief Medical Officer has even labelled vaping the next biggest health issue after COVID-19.
Supports development of national plan to educate kids on e-cigarettes and nicotine addiction
Teachers and health groups have been increasingly vocal about the problem of vaping in schools and South Australia's education minister Blair Boyer and health minister Chris Picton this week called for national leadership to curb the use of e-cigarettes by minors. Mr Boyer met yesterday in Canberra with federal education minister Jason Clare to discuss the issue.

The position of Legalise Vaping has been consistent in arguing that e-cigarettes should not be available to or used by children, and that vaping is not risk-free.
Cameron English
Anti-vaping activists have put themselves in an awkward position. They want to demonize e-cigarettes because, they allege, nicotine poses a risk to teenagers. But they also want teenagers to use nicotine gums and patches to quit smoking. What sense does that make? None.

On July 22, Fox News ran a confused listicle by Angelica Stabile titled How to quit vaping as the e-cigarette fad fires up: 6 smart steps to take. There was nothing especially concerning about the thesis of the story. E-cigarettes primarily serve as quit-smoking tools. If someone no longer needs them for that purpose and wants to stop vaping, more power to them.
It's time to rethink our tobacco control stance
If we were living in an ideal world, people who smoke would have easily quit tobacco and nicotine outright, our public health would not have still been battling its decades-long fight against smoking and exhausting its resources, and over 1.1 billion people from across the world would not have been dealing with the multitude of diseases and health complications that are otherwise caused by cigarette smoking. But as we are well aware, our world is far from ideal. Despite regulations and public health campaigns about the well-known health risks associated with smoking, a number of people choose to continue to smoke.
Tobacco alternatives differently
Health Minister Khairy Jamaluddin proposed the Generation End Game (GEG) plan, which would ban tobacco and smoking products for those born in 2005 and after.

Just this week, he said that the government had decided to push the limit to 2007, allowing two more years for "community education, a robust implementation plan and to ramp up enforcement."

The GEG plan, otherwise known as the Tobacco and Smoking Control Bill, will be put to a vote in the Dewan Rakyat this coming week. If passed, it would make Malaysia the first country to ban smoking and prohibit the ownership of tobacco and vape products by those born after 2007.
---
A look back at how things have moved on or otherwise….
Alex Norcia, Filter Magazine
On July 27, the World Health Organization (WHO) released its eighth report on the global tobacco "epidemic," highlighting the "need to tackle threats posed by new nicotine and tobacco products."

Amid a series of ominous tweets—including one featuring a toy duck wearing a "VAPE ON" hat and another with an e-cigarette used as bait in a mousetrap—the agency emphasized that "countries around the world are making progress in the fight against tobacco but some still need to address new products such as e-cigarettes."
World Vapers' Alliance (WVA)
Among the worn-out and debunked theories peddled by the WHO report 'on the global tobacco epidemic 2021: New and Emerging Products' is the so-called gateway effect theory, which postulates that vaping leads to smoking. This dangerous and misleading theory has long since been disproved by numerous studies, as well as through nationwide case studies, such as in England where upwards of 50,000 smokers are using vapes as a gateway out of (not into) smoking every year.
---
Visit Nicotine Science & Policy for more News from around the World

---