Vapers Digest 19th May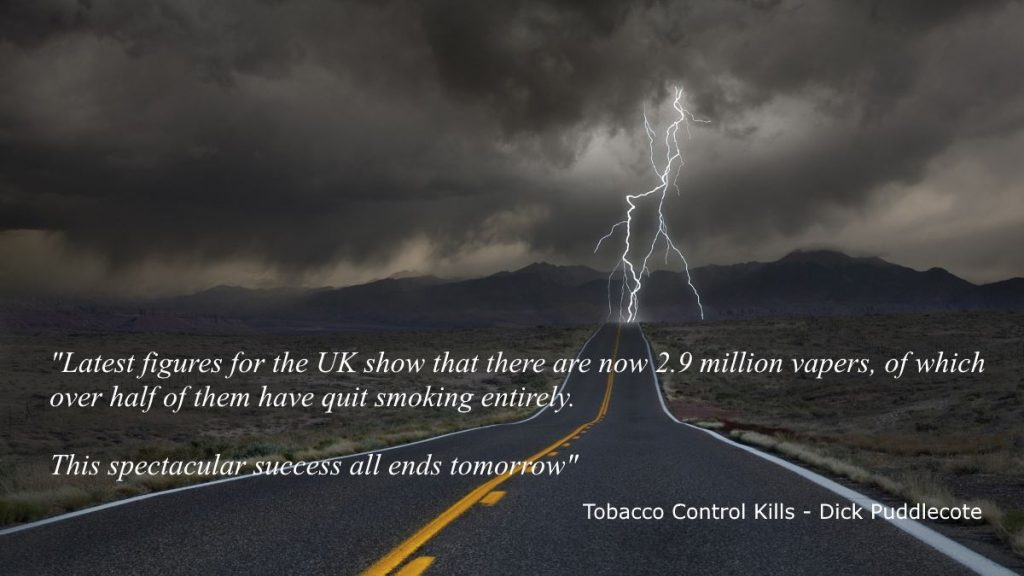 Friday's News at a glance:
End of an Era – Tobacco Control Kills – We see it oh so often! – A triumph of the busybodies: – Why the vaping industry is ready to send Brussels' ill- conceived red tape up in smoke – New Battery Tech – Smoke in public and face jail – Johnson urges FDA commissioner – World Vape News Roundup – Nicotine in the News – 19 May
Paul Barnes, Facts Do Matter
Well. This is it. Today is the last day of the transition period. Tomorrow, May 20th, is the day when any non-notified vaping product can no longer be legally sold. Tomorrow is when the new legislation will really start to bite.

What will happen? There isn't a straightforward answer to that. Let's look at what we, as a community of consumers have been able to enjoy…
Dick Puddlecote
Prior to the EU's disastrous Tobacco Products Directive (TPD) – overseen by a crook and driven through by vacuous MEPs – e-cigs operated as a consumer product in a bustling and innovative free market. It was not – despite what tobacco control liars say – unregulated considering manufacturers were abiding by 20 or so consumer product regulations. The results were stunning! Latest figures for the UK show that there are now 2.9 million vapers, of which over half of them have quit smoking entirely.

This spectacular success all ends tomorrow.
Robert Innes, Vaping Post
The same rubbish repeated over and over and over again. How long will vapers have to put up with misinformation being spewed out from disingenuous sources: a literal flood of falsehood; a deluge of deception, and when created by the pens of 'professional' critics – murderous misconceptions.

What exactly do I mean by this..?
---

---
The EU begins its crackdown on smokers and vapers
Christopher Snowdon, Spectator Health
One day last summer I walked into my local e-cigarette shop and bought their entire stock of my favourite vape juice. For good measure, I also bought their entire stock of the same flavour in a higher nicotine concentration and 10 bottles of the same flavour with zero nicotine to be mixed at home.

It cost me the best part of £300, but I knew it was my last chance. On previous visits, I had noticed the shelves getting barer. Less popular flavours like mine were being discontinued, so I bought the lot. The stock has never been replenished and I have bought nothing from them since.
---
When the TPD hits tomorrow, remember that MEPs did this to you and @ASH_LDN cheered them on.

— Fergus (@FergusMason1) May 19, 2017
---
Is ready to send Brussels' ill- conceived red tape up in smoke
Doug Mutter – City AM
The 8 June is clearly going to be the date at the forefront of everyone's mind over the coming weeks. But there's another date soon upon us that has huge ramifications for the UK's 3m vapers and the vaping industry. On 20 May, the next phase of the EU's Tobacco Products Directive (TPD) takes effect.
Mawsley, Planet of the Vapes
Barely a week goes by without a newspaper carrying a story about a vape-related explosion due to incorrect charging or equipment misuse. It's an easy stick to beat vaping with, but the technology blights many other types of products. Now scientists may have developed a suitable alternative to Li-ion batteries.
---

---
Lydia Wheeler, The Hill
Sen. Ron Johnson (R-Wis.) is urging Scott Gottlieb, the newly minted commissioner of the Food and Drug Administration, to consider repealing first-ever rules for electronic cigarettes finalized under former President Barack Obama.
 Brendan Cole
First it was drug dealers, now smokers are in the crosshairs of the Philippine president. People who smoke in public could face a four-month prison sentence or a $100 fine after a decree passed by Rodrigo Duterte aims to clamp down on those who light up.

The law which was announced on Thursday (18 May) will forbid tobacco use, as well as e-cigarettes, in all public spaces including pavements.
---

---
Mawsley, Planet of the Vapes
Hong Kong struggles against Big Tobacco, vape products are confiscated in a Gulf state, and ecig companies are fined in Australia. It's just another week in the world of global vaping where research says vaping doesn't promote cancer by a warehouse owner frets over the danger next door's ecigs pose to his stock. Come with us around the world.
Harry Shapiro
Writing for Vice magazine, Martin Robbins told the tale of how he entrusted some inheritance money to a company whose business it is to invest in stocks and shares on your behalf. Having got tired of sitting around waiting to get rich, he decided to check out exactly where his money had gone. "The results were a bit of a shock. In my top ten were BP, Shell Oil, British American Tobacco, Imperial Tobacco, GlaxoSmithKline and AstraZeneca.
---
A look back at how things have moved on or otherwise…
As TPD comes into force – Fergus Mason – Vaping Post
Vaping in Europe stands at the edge of an undiscovered country this week, with the EU's revised Tobacco Products Directive coming into force today.

While restrictions on liquid strengths and tank sizes won't take full effect for another six months – a year in the case of the UK – a raft of other regulations apply right away. For example, it's now illegal for online vendors to make cross-border sales.
Paul Barnes – New Nicotine Alliance
In the House of Lords Lord Callanan has put down a motion (link to text of press release) which if passed would stop implementation of the TPD in the UK. This is a critical development.

Why this is different….
For tobacco packaging and e-cigarettes – University of Stirling
On Friday, 20th May 2016, the laws around tobacco packaging will change. Under new regulations voted for by MPs, tobacco and cigarettes can only be sold in plain, standardised packaging.

The decision to make these changes as a public health measure to protect children's health was informed by the work of the University of Stirling's Institute for Social Marketing (ISM).
---
Visit Nicotine Science & Policy for more News from around the World

---

Original Image via imgur