Vapers Digest 18th May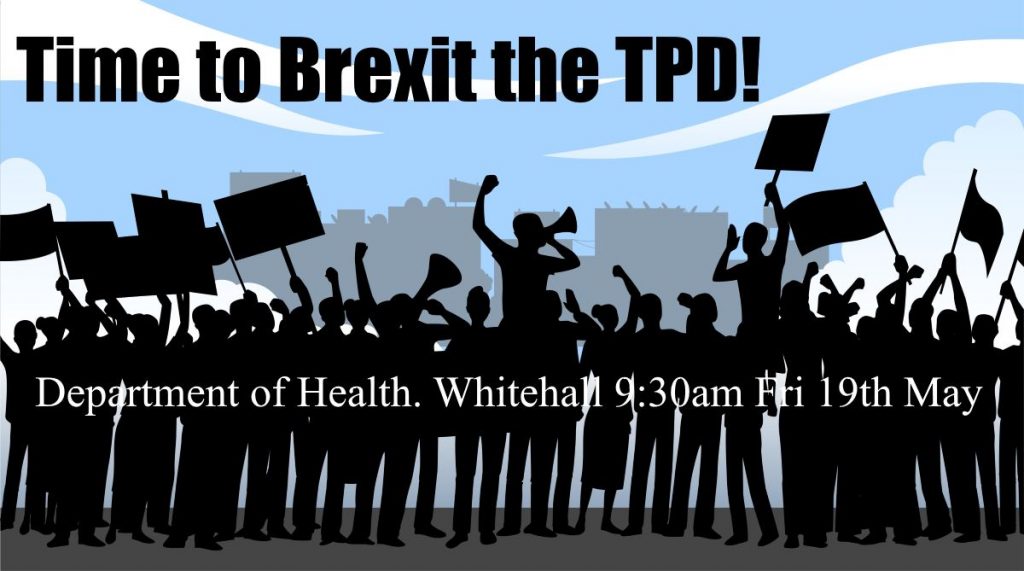 Thursday's News at a glance:
Joined-Up Lobbying – Farsalinos In Pinoy Plea – E-cigs causing bladder cancer based on non-specific biomarkers – Charlie, Cheeseman, Debrett's and me – Advice for Antivape Activists – E-Cigarette Competitors Fund Critics' Research – San Francisco – Stop the Flavor Ban! – Tobacco company charged over importing prohibited product – Action On IQOS Demonstrates Urgent Need for Reform – FDA urged to kill Obama's e-cig regs – Statewide e-cigarette bill
Dick Puddlecote
ITV's Chris Choi is today asking for thoughts on the new regulations being brought in at the end of this week as a result of the EU's appalling Tobacco Products Directive which was presided over by a crook.

One of the new rules is, of course, that packs of 10 cigarettes will be banned. So here is a view which he might like to hear…
Mawsley, Planet of the Vapes
Doctor Konstantinos Farsalinos is a research fellow at the Onassis Cardiac Surgery Centre and University of Patras in Greece. He is very well known to long-term vapers for having been an outspoken supporter of harm reduction, his research work and his love of vaping. He recently made a plea to law makers in the Philippines to take the pragmatic route and factor in the value of harm reduction.
---

---
Causing bladder cancer based on non-specific biomarkers
Dr Farsalinos
It is all over the news today that e-cigarette use is associated with bladder cancer. This is an impressive statement that would certainly raise concerns if any such association was really shown in any study. First, this is based just on a conference abstract, not a published study. Second, the abstract did not measure any association between e-cigarette use and bladder cancer.
Simon Clark, Taking Liberties
As I mentioned yesterday I was booked to do a radio interview about vaping today.

I was told we were going to discuss the "rise of vaping" but we ended up talking about the new regulations that have been introduced as part of the revised Tobacco Products Directive (TPD2).
---
---
Dave Cross, Stealth Vape
We cherish freedom of expression and thought at Stealthvape Towers. If you want to believe the Moon is made of cheese or the world is flatter than the enthusiasm for a Spice Girls reunion, great. Some people really want to hate vaping and vapers but aren't sure how to go about it, so here's our helpful guide.
Kathy Hoekstra, Heartland Institute
"I got a few free nicotine patches," Stier said. "I was interested in seeing if I could feel the nicotine, but the next morning in the shower, I felt something strange on my skin and I was like, 'Oh yeah, I forgot!' It was imperceptible."

Stier says he's alarmed by the government's support of the patch as a smoking-cessation product.
---

---
CASAA
San Francisco Supervisor, Malia Cohen is introducing an ordinance that would ban the sale of flavored tobacco and vapor products. The first opportunity for this ordinance to be heard in committee will be on

Wednesday, May 24th, 2017 10:30 AM
Over importing prohibited product
A big tobacco company being prosecuted for importing and selling a prohibited tobacco product says the device could help create a smoke-free New Zealand.

The Ministry of Health today laid charges against Philip Morris in connection with its tobacco sticks known as HEETS.

Philip Morris general manager Jason Erickson said the company firmly believed it would be helping to advance the Government's goal of securing a smoke-free New Zealand when it introduced its smoke-free product IQOS here last year.
BBC Radio4 'You & Yours'
Demonstrates Urgent Need for Reform
The Ministry of Health's decision to take action against Philip Morris New Zealand over the sale of its smoke-free heated tobacco product demonstrates the urgent need for comprehensive reform so that smokers can switch from cigarettes to smoke-free alternatives including heated tobacco products.
---

---
Paul Bedard – Washington Examiner
With the burgeoning vaping industry facing crushing potential fees, supporters of e-cigarettes in Congress are stepping up their push on the administration to completely knock out former President Obama's bid kill the product some see as a safer alternative to cigarettes.
Will likely outlaw devices' use indoors
State lawmakers moved on Wednesday to place greater restrictions on the use of electronic cigarettes indoors.

The Democrat-controlled Assembly overwhelmingly approved a measure placing the same indoor prohibitions on e-cigarettes that currently exist for traditional cigarettes, effectively banning their use in most restaurants, bars and workplaces.
---
A look back at how things have moved on or otherwise…
MIT Brickman
Before I go on, I want to make it clear that I have no connection with Aaron Biebert, or any of the people at Attention Era Media who have made the documentary called A Billion Lives – which is the equivalent of An Inconvenient Truth, Sicko, and Making a Murderer for the vaping / tobacco harm reduction issue.

I just know an effective thing when I see it.
Louise Ross – Leicester Mercury
The name "e-cigarette" has led to some confusion in the quit smoking debate, according to experts. Louise Ross, manager of the city's Stop smoking service believes the name is misleading – the word vaporiser might be more apt – and people who use them are not classed at smokers.

She said e-cigs have an important part to play in the Leicester Mercury campaign to get 200 smokers to quit.
8Bit Just Became the First Vaping Company to Fold Because of New Regulations –
Kaleigh Rogers
Many people, including yours truly, have been predicting for months that the dawn of serious federal regulations on vaping would be a death knell for many companies. On Monday, the first casualty emerged….
Rhydian Mann – New Nicotine Alliance
Initially, after seeing what Louise Ross (NNA Associate) was doing with Stop Smoking Leicester by becoming e-cig friendly, I knew that it was something that had to be done in Wales. However, I knew that it would be difficult on many grounds…..
---
Visit Nicotine Science & Policy for more News from around the World

---