In the News May 18th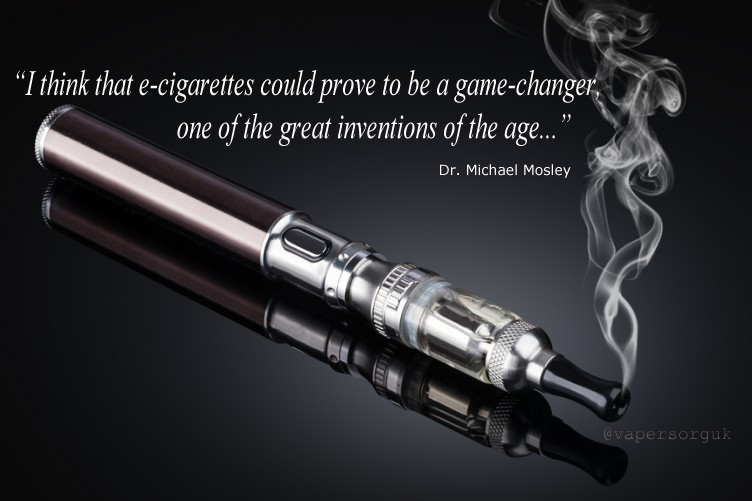 Wednesdays News at a glance:
Saving a billion lives – E-cig user is not a smoker – First Vaping Company to Fold – The first small step to something better…? – 10 common questions about e-cigarettes answered – Prices and E-Cigarette Demand – French Federation of Cardiology publishes Ecig factsheet – American Lung Association and CVS Health Campaign – Negligent Medical Advice About Vaping – Analysis of the new ASH ecig survey – FDA Lives In 'Alternate Universe' – Ontario's e-cigarette industry -E-cigarettes should be regulated – Maori women calling for easier access to E-cigarettes – Nicotine Science and Policy Daily Digest – Wednesday, 18 May 2016
MIT Brickman
Before I go on, I want to make it clear that I have no connection with Aaron Biebert, or any of the people at Attention Era Media who have made the documentary called A Billion Lives – which is the equivalent of An Inconvenient Truth, Sicko, and Making a Murderer for the vaping / tobacco harm reduction issue.

I just know an effective thing when I see it.
Louise Ross – Leicester Mercury
The name "e-cigarette" has led to some confusion in the quit smoking debate, according to experts. Louise Ross, manager of the city's Stop smoking service believes the name is misleading – the word vaporiser might be more apt – and people who use them are not classed at smokers.

She said e-cigs have an important part to play in the Leicester Mercury campaign to get 200 smokers to quit.
8Bit Just Became the First Vaping Company to Fold Because of New Regulations – Kaleigh Rogers
Many people, including yours truly, have been predicting for months that the dawn of serious federal regulations on vaping would be a death knell for many companies. On Monday, the first casualty emerged….
Rhydian Mann – New Nicotine Alliance
Initially, after seeing what Louise Ross (NNA Associate) was doing with Stop Smoking Leicester by becoming e-cig friendly, I knew that it was something that had to be done in Wales. However, I knew that it would be difficult on many grounds…..
---

---
Following last month's high-profile Royal College of Physicians' report encouraging smokers to consider e-cigarettes as a less harmful alternative, we asked Dr Andy McEwen, executive director of the National Centre for Smoking Cessation and Training, to answer some of the most commonly asked questions about the devices.
Evidence from the European Union – Tobacconomics
Many European Union (EU) Member States have expressed the need for EU legislation to clarify the issue of e-cigarette taxation, but the economic evidence to inform creation of such policies has been lacking. To date, only one study – on the U.S. only – has examined responsiveness of e-cigarette demand to price changes.
1 Assume unethical goal w/o defending it. 2 Run uninformative numbers as camouflage. 3 Repeat assumtion as conclhttps://t.co/ZOlVm7Xl6S

— Carl V Phillips (@carlvphillips) May 18, 2016
Publishes Ecig factsheet – Nathalie Dunand – Vaping Post
The French Federation of Cardiology (FFC) adopts a positive position with regard to the e-cigarette in a factsheet that has just been released: "The e-cigarette, a smoking cessation help?"
---

---
Downplays the Importance of Smoking in Preventing Lung Cancer – The Rest of the Story
The American Lung Association (ALA), with primary financial support from CVS Health (CVS), has initiated a campaign called "Lung Force." The campaign features a video ad with the theme of "Anyone Can Get Lung Cancer….."
Disseminates Negligent Medical Advice About Vaping – The Rest of the Story
The president of the American Lung Association yesterday disseminated negligent medical advice regarding vaping through a tweet that included advice from six physicians.

Each of these six physicians provides negligent medical advice regarding smoking cessation using electronic cigarettes.
Carl V. Phillips – Anti-THR Lies
ASH's report can be found here. The reporting is typical for a public health article, which is to say that it is woefully inadequate for real scientific assessment. I have to guess at most of their methodology…..
Guy Bentley – Daily Caller
The Food and Drug Administration (FDA) was incapable of conceding e-cigarettes are safer than tobacco cigarettes in a Tweet Monday.

In a Twitter exchange with Jeff Stier, a senior fellow at the National Center for Public Policy Research, the FDA refused to accept that e-cigarettes are less harmful than combustible cigarettes.
Says it's only trying to help people quit smoking – Michelle Da Silva – NOW Toronto
Like many teenagers, Terri-Lynn Vader was introduced to cigarettes because her friends smoked. She was 14 years old, and for the 14 years that followed, the Port Hope resident continued smoking – at one point, over a pack a day – until she quit in September 2014…

Reply from Jenny Stone
"E-cigarettes have at least two distinct roles. The first is as products that may assist in smoking cessation, […] Second, they are a means for the tobacco industry to circumvent restrictions on promoting both their image and their tobacco products."
To E-cigarettes to help them quit – ONE News
Selling the devices and nicotine liquid is a criminal act – Maori Affairs reporter Yvonne Tahana explains..