In the News May 19th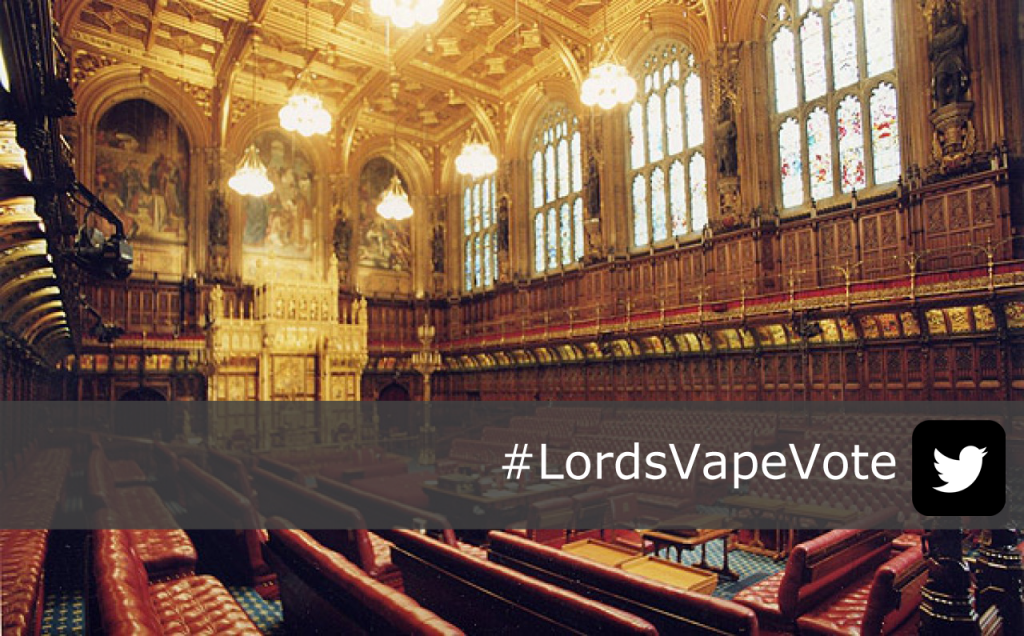 Thursdays News at a glance:
Decisive week for EU vapers as TPD comes into force – House Of Lords Vote Would Scupper TPD – House of Lords vote could defeat UK TPD – 'Fatal Motion' tabled in the House of Lords – We support the Parliamentary moves to block crazy e-cigarette regulations – Press statement on UK House of Lords vote – TPD Twitter Bomb – Experts comment on new laws – Feedback from the Department of Health – The Robust Public Health Case – FDA opportunities for action and update! – Twitter Censors Critic Of FDA's E-Cigarette Crackdown – How The New E-Cig Rules  Hurt Americans – Debunking FDA's 'Deeming' Claims – Nicotine Science and Policy Daily Digest – Thursday, 19 May 2016
As TPD comes into force – Fergus Mason – Vaping Post
Vaping in Europe stands at the edge of an undiscovered country this week, with the EU's revised Tobacco Products Directive coming into force today.

While restrictions on liquid strengths and tank sizes won't take full effect for another six months – a year in the case of the UK – a raft of other regulations apply right away. For example, it's now illegal for online vendors to make cross-border sales.
Paul Barnes – New Nicotine Alliance
In the House of Lords Lord Callanan has put down a motion (link to text of press release) which if passed would stop implementation of the TPD in the UK. This is a critical development.

Why this is different….
Junglist – Planet of the Vapes
Following the savaging of the TPD last week, Lord Callanan has put down a motion which if passed will stop implementation of the TPD in the UK. This is a critical development that all vapers need to be aware of. The more pressure that we can apply now the greater the likelihood of a positive response and the greater chance we have of getting even more people out of the clutches of smoking….
To block crazy e-cigarette regulations – Abzed.com
This petition is requesting the House of Lords to back Lord Callanan's motion to stop harsh regulations on e-cigarettes which would force vapers back to smoking. We urge our House of Commons to debate the implications for public health of the Tobacco Products Directive on e-cigarettes. And we plead with the Prime Minister to use his influence in Brussels to get a British opt-out from Article 20 before the EU referendum so this issue does not affect that vote.
Irish Vape Vendors Association  (IVVA)
In a surprise move, a former British MEP who now sits in the House of Lords has tabled what's known as a "Fatal Motion" that would block Article 20 of the EU Tobacco Products Directive from being introduced into UK law.

Lord Callanan's motion gives the Government the opportunity to address the issues with the part of the EU legislation that pertains to e-cigarettes….
Is this the end of TPD Article 20 for the UK? – ECITA
In an astonishing eleventh hour move, Lord Callanan – who many will remember as former MEP Martin Callanan, one of a small group who fought so valiantly to prevent Article 20 from being dragged up from the bowels of hell and put into law – has tabled a 'fatal motion' to kill off the TPD, and prevent its being implemented into UK law…
---

---
Vapers in Power
Timetable for Friday May 20th with the names, Twitter addresses and (in some cases) Facebook pages of people relevant to vaping and with influence on the subject. Some are pro vaping, some are not so pro, and some are downright anti.

The concept of the Twitter bomb is that everyone tweets to the the same individual at approximately the same time: this can help produce 'trends' which receive media attention.
For tobacco packaging and e-cigarettes – University of Stirling
On Friday, 20th May 2016, the laws around tobacco packaging will change. Under new regulations voted for by MPs, tobacco and cigarettes can only be sold in plain, standardised packaging.

The decision to make these changes as a public health measure to protect children's health was informed by the work of the University of Stirling's Institute for Social Marketing (ISM).
John Summers – GlosVaper
Well, that's not the day I was expecting. From out of the blue a Lords session and a petition popped up that we all pitched in behind…

And pretty impressive it's been, we're currently sitting at 18,607 signatures! Sadly we need far more and I think it's fair to say we should have more. If only 10% of vapers signed up that would be nearly 280,000! That would send an undeniable message that cannot be ignored.
On what might not be the last night of freedom, the team discusses exciting news
For Tobacco Harm Reduction – Brad Rodu – Tobacco Truth
Last year, Margarete Kulik and Stanton Glantz ("KG") proclaimed in Tobacco Control that there is no public health basis for telling smokers about smokeless tobacco and e-cigarettes as safer cigarette alternatives, because the smoking population in the U.S. was "softening," i.e., becoming more likely to quit…
Need To Go Up In Smoke – Colin Mendelsohn – Huffington Post Australia
In spite of legal barriers and restricted availability, smokers in New South Wales are turning to electronic cigarettes (e-cigarettes) to reduce the harm from tobacco.According to a recent study by the Cancer Institute NSW, nine percent of smokers and seven percent of recent quitters are currently using an e-cigarette, principally to help them quit.
---

---
CASAA
CASAA's May 2016 Newsletter is coming soon, but, we wanted to make sure our members had some important information and engagement opportunities at their fingertips while we work out the finishing touches.

Here's what you need to know for Thursday, May 19th, 2016:
E-Cigarette Crackdown – Guy Bentley – Daily Caller
Twitter suspended a spoof account of the Food and Drug Administration's (FDA) Center for Tobacco Products Wednesday after the account mocked the FDA's e-cigarette policy.

Jeff Stier, senior fellow at the National Center for Public Policy Research (NCPPR) and one of the nation's leading critics of the FDA's e-cigarette crackdown, set up the account to mock the agency's monotonous Twitter feed.
Jared Meyer – The Federalist
It is disheartening to see that the media's near-exclusive focus while covering the Food and Drug Administration's recent tobacco "deeming regs" has been on the provision that restricts e-cigarette sales to minors…

Melissa Vonder Haar – CSP Daily News
It's been nearly two weeks since the U.S. Food and Drug Administration (FDA) announced its final "deeming" regulations on cigars, pipe tobacco, hookah tobacco and electronic cigarettes. Since then, concerns have been raised, a lawsuit has been filed and the expected consolidation of tobacco and vaping manufacturers has already begun.
The U.S. Transportation Department said Wednesday it is permanently banning passengers and crew members from carrying e-cigarettes in checked baggage or charging the devices onboard aircraft…