In the News May 20th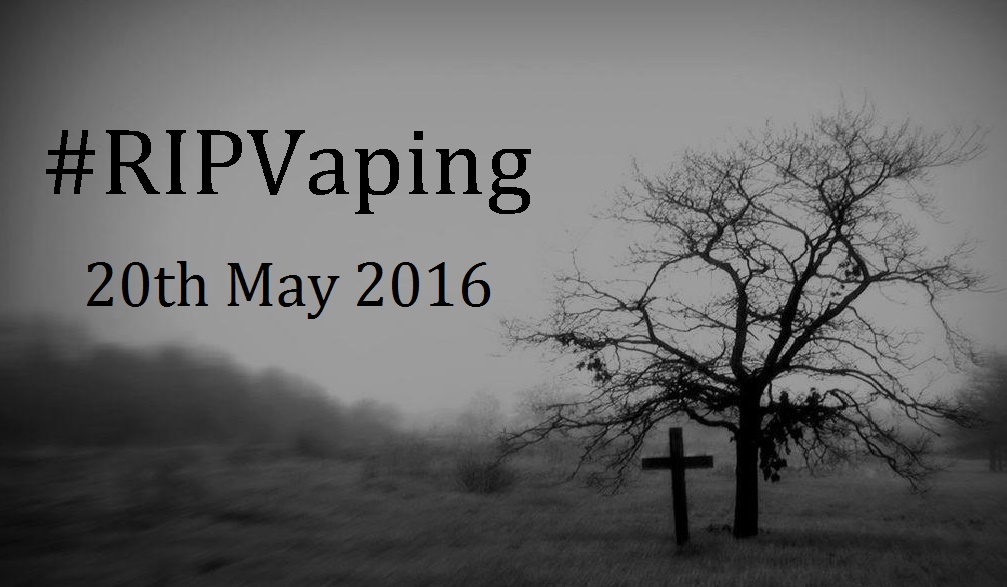 Black Fridays News at a glance:
Good Lord! Done but not dusted – The Real Deal; A Fatal Attraction – Last chance to defeat the TPD – Urgent Call to Action: – My story – Smoker to vaper – Ireland transposes the TPD – Are e-cigarettes really a menace? – Will the Tobacco Products Directive Prevent Vaping Achieving Its True Potential? – Another step towards bootleg Britain – The "potential risks to public health" of refillable e-cigs – British vapers unite behind Lord's – 10 key changes for tobacco products sold in the EU – CAP's response – Experts discuss TPD and #plainpacks legislation – The 'Vaping Crackdown' starts today – Nicotine Science and Policy Daily Digest – Friday, 20 May 2016
Robert Innes – Vaping Post
A motion which would effectively scupper the TPD in the UK has been placed by Lord Callanan in the House of Lords.

The motion 'requests' that the TPD be annulled. The grounds for doing this, the motion states, are because of the fact that restrictions on product choice, and restrictions on advertising were devised before the accumulation of evidence that e-cigarettes were enabling so many people to stop smoking.
Dick Puddlecote
There's been a bit of misguided excitement of late about an Early Day Motion on the subject of the negative effect of the Tobacco Products Directive (TPD) on e-cigs.

I say misguided because EDMs are the laziest possible thing an MP can do, they mean absolutely nothing and will achieve nothing. I have met MPs who have been unaware that they have even signed them because EDMs are such a low-level priority that they leave it up to their staff to handle; the political equivalent of routine filing.
The Vaping Forum
Throughout the TPD 'war' and its numerous battles, one message has come through loud and clear from those we have sought to influence and that is that it is the hundreds or thousands of individual stories which have made politicians and regulators listen and in many cases change their minds.
#LordsVapeVote Writing Campaign – Vapers in Power
Please write to members of the House of Lords to ask them to support Lord Callanan's fatal motion. There is a chance that the TPD in the UK could get overturned if enough emails and letters are sent over the next few days….
Peering Throught the Mists – @Entropy
I was the kind of smoker who would deliberately smoke more on no-smoking day. I would flick V's at anti-smoking public health messages and turn TV programs over that were nagging me to quit. I knew the risks, and I accepted them. I knew that smoking would kill me, and I didnt care.

But the thing is, you see, I liked smoking….
ECig Intelligence
The Republic of Ireland has succeeded in transposing the EU's Tobacco Products Directive (TPD) at the eleventh hour, with recently-appointed health minister Simon Harris signing the necessary regulations to come into force today.
---

---
E-cigarettes, devices that give you a nicotine-hit by heating up a liquid which you then inhale, have become all the rage. But is the concern about them justified, asks Michael Mosley.

A few years ago they were a rarity, but now there are nearly three million e-cigarettes out there. Many people think that they are as bad for you as normal cigarettes. But are they?
Prevent Vaping Achieving Its True Potential? – IBVTA
The revised European Tobacco Products Directives (TPD) comes into force across the European Union today, subjecting vape products to regulation at the European level for the first time.

What impact will the TPD have on vapers and the independent vape industry?
Are another step towards bootleg Britain – Spectator Health
It is a reflection of the EU's democratic deficit that smokers and vapers have only recently become aware of a Brussels directive that will directly affect them. The public shouldn't feel too bad about being kept in the dark. David Cameron and several members of the House of Lords didn't know much about it either. Nor did Anna Soubry, and she was minister for public health when the directive was passed…
Thanks as always to @dnglos for YouTubage
On the "potential risks to public health" of refillable e-cigs – ECITA
As someone who has been involved in the regulation of e-cigs for a considerable period of time, this report is everything I was expecting it to be…. Awful.

It is framed in an unhelpful way, and raises hypothetical concerns that have little basis in reality…
Jasper Hamill – Daily Mirror
Tens of thousands of people have backed a bid to reverse highly-controversial European rules governing electronic cigarettes. Vapers are FURIOUS that Britain has implemented a hated EU order called Tobacco Products Directive 2014/14/EU (TPD) , which comes into force today.

Critics fear these "draconian new regulations" will legislate the "freewheeling" e-cig industry out of existence….
There is still time to register to participate. To find out how click here. You can find all the information about the programme and speakers here and there is a message from the Conference Chair, Professor David Sweanor here.
---

---
European Commission – Press release
The Tobacco Products Directive does not ban e-cigarettes. See here to correct any other misconceptions about what will change. Instead, for the first time, certain safety and quality requirements have been introduced for e-cigarettes containing nicotine.
To the Tobacco and Related Products Regulations 2016
On Friday 20 May 2016 the Tobacco and Related Products Regulations 2016 (TRPRs) become law in the UK, implementing the European Tobacco Products Directive. The TRPRs contain significant prohibitions on ads for nicotine-containing e-cigarettes that are not licensed as medicines.

UK Centre for Tobacco and Alcohol Studies
A systematic review of evidence of standardised packaging carried out by the Institute of Social Marketing at the University of Stirling showed that standard packs are less appealing, make health warnings more effective, and reduce the ability of the packaging to mislead consumers about the harms of smoking.
Andrew Orlowski – The Register
Draconian new regulations on vaping come into effect today – but for many vapers, it won't feel like a crackdown, at least, not right away,

Written into the EU's revised Tobacco Products Directive were new rules restricting the supply, manufacture and promotion of things which aren't tobacco products at all, but which have helped millions kick the tobacco habit: e-cigarette technology.