Update – #LordsVapeVote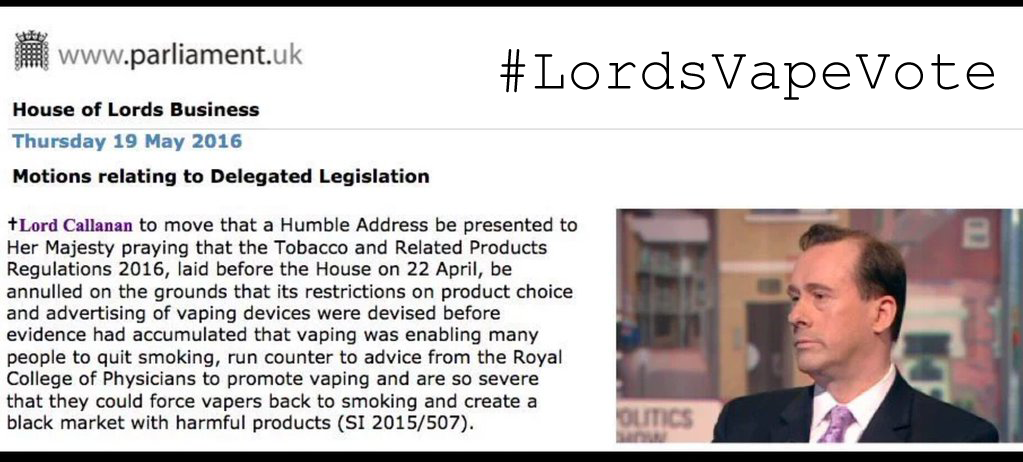 Saturday 21st May
A quick round up on what's been happening in a rather hectic couple of days for Vaping! – No surrender! – #LordsVapeVote Writing Campaign – Vapers in Power – Tell them your story – Dave Dorn Vapour Trails TV – Petition Update – D-day for Vaping – Vaping and the TPD on BBC News – British vapers unite behind Lord's
The fight against harmful, incompetent and pointless European law goes on – Clive Bates – The Counterfactual
Fantastic to see the increasingly powerful UK vaping consumer voice tearing into poor policy and bad law that will do nothing but harm while meddling incompetently in the free choices of adults and free movement of goods. The Tobacco Products Directive (TPD) and its UK implementing regulations are truly dreadful.

Here are three things to look at:

New Nicotine Alliance – Letter to the Department of Health – on the harmful unintended consequences of the TPD
New Nicotine Alliance – Letter to the Prime Minister – on the escape from the TPD
#LordsVapeVote Writing Campaign – Vapers in Power
Please write to members of the House of Lords to ask them to support Lord Callanan's fatal motion. There is a chance that the TPD in the UK could get overturned if enough emails and letters are sent over the next few days….
Tell them your story – Dave Dorn Vapour Trails TV
This Weekend Let's Persuade The Labour Party
21 MAY 2016 — 34,000** have now signed! Your extraordinary petition is waking up politicians to vaper power. They will respect our growing numbers as we get more confident and more organised in precisely targeting those who make decisions. (Don't forget that 99% of your vaping friends have still to sign).

To win the House of Lords vote that will literally block the TPD it is absolutely crucial that Lord Callanan's motion gets the backing of the Labour Party.
**35,113 At the time of writing this!
Mawsley – Planet of the Vapes
Months of action, debate and protest come to an end as Article 20 of the Tobacco Products Directive (TPD) is implemented. The day arrived against a backdrop of hope sparked by the moves in the House of Lords and news of the first casualty for the independent sector. Some we thought were allies to the vaping cause have betrayed their true colours, those we thought would be opposed have suddenly spoken out in our favour – like a football team battling relegation, despite appearances to the contrary, our season is not yet over….
Thanks as always to @dnglos for the YouTubage!
Jasper Hamill – Daily Mirror
Tens of thousands of people have backed a bid to reverse highly-controversial European rules governing electronic cigarettes. Vapers are FURIOUS that Britain has implemented a hated EU order called Tobacco Products Directive 2014/14/EU (TPD) , which comes into force today.

Critics fear these "draconian new regulations" will legislate the "freewheeling" e-cig industry out of existence….
---

---